Veggie Cauliflower Fried Rice with Crispy Baked Tofu
October 21, 2016
This cauliflower fried rice is packed with vegetables and protein, and is much healthier than the classic Chinese take-out version.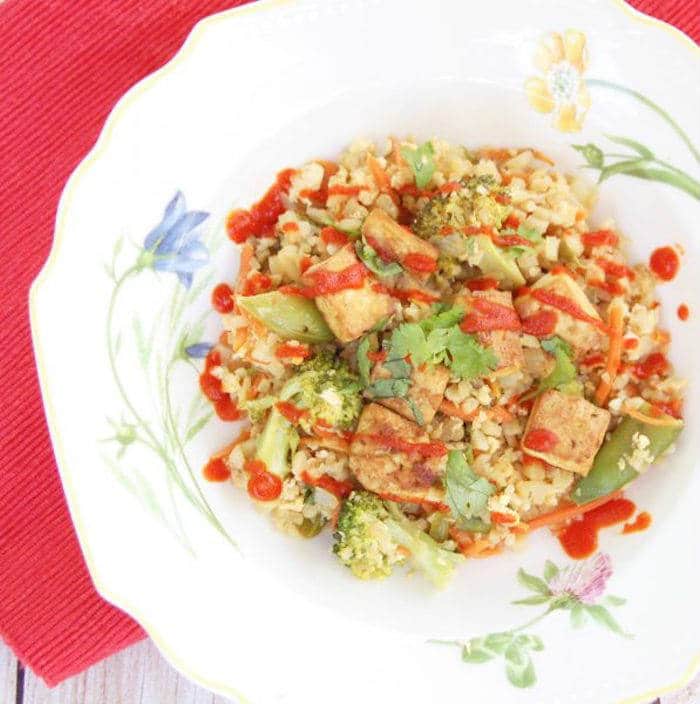 I am so excited to share this cauliflower fried rice recipe with you today! It's one that has been on my to-post list for quite a while (you may have seen it in one or more of my Menu Plan Monday menus!), but the first few times I made it I didn't photograph it or even write down ingredient measurements, and then when I finally did and was ready to post I saw the theme of this month's Recipe ReDux challenge and decided to hold out a wee bit longer.
You see, this month's theme is Plant Protein Power Bowls, and this Veggie Cauliflower Fried Rice with Crispy Tofu is just the perfect fit. Keep reading and you'll see why!
Plant Protein Power Bowls
Packed with protein and fiber and color, plant power bowls are trendy and delicious. Show us what's in your bowl.
How Fried Rice Became a Winning Recipe In My House
I've never been a fan of Chinese takeout (to my husband's chagrin!), so fried rice isn't something I ever craved or thought very much about, but when I first started making this recipe for my family I saw the appeal of fried rice and was so happy to be able to provide my husband with a healthier version of something he loves. The icing on the cake is that my kids devour it too. That, plus it's easy to make, relatively quick (the part that takes the longest is the crispy tofu), and pretty much a one-pot meal (other than baking the tofu).
By now I'm guessing you're familiar with the cauliflower rice trend – if not, you need to get on that! I've shared a few recipes before, including my Cauliflower Burnt Rice and Spiced Plum Cauliflower Rice, and the first bunch of times I made cauliflower rice I started from a head of cauliflower, which really is easy enough, but the mess….oh the mess!
Trader Joe's has been selling a frozen cauliflower rice for a while, but I find it gets mushy, so I was ecstatic when a few months ago they came out with a fresh packaged cauli rice sold in the produce section. It's been my go-to since and I don't think I can go back to ricing it myself.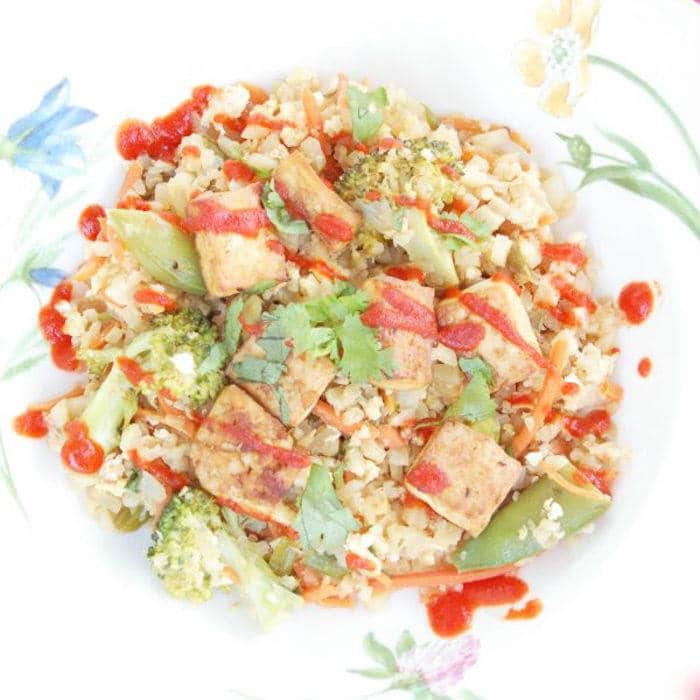 Recipe Notes
A few things to make note of before we get to the recipe:
First, if you don't have access to Trader Joe's or another brand that sells packaged cauliflower rice, you can definitely make this recipe starting with one head of cauliflower and pulsing the florets in the food processor.
Second, you may recognize the crispy baked tofu from my Peanut Soba Noodles or Asian Style Farro Buddha Bowl – this is another of my go-to recipes because it's a winner every time! You can certainly top this cauliflower fried rice with chicken, beef, or any other protein of your choice, or keep it meatless and add some edamame.
Third, the veggies listed in the recipe below are what I typically include, but feel free to change it up based on what's in your fridge, freezer, and pantry, personal preferences, and what's in season.
Lastly, this recipe is vegetarian and easily gluten-free if you sub gluten-free soy sauce. If you follow a vegan diet, leave out the eggs and you're good to go. Trust me, there's a way to make this recipe friendly for anyone!
Alright, I think that about covers it. Let's get to the recipe, shall we?!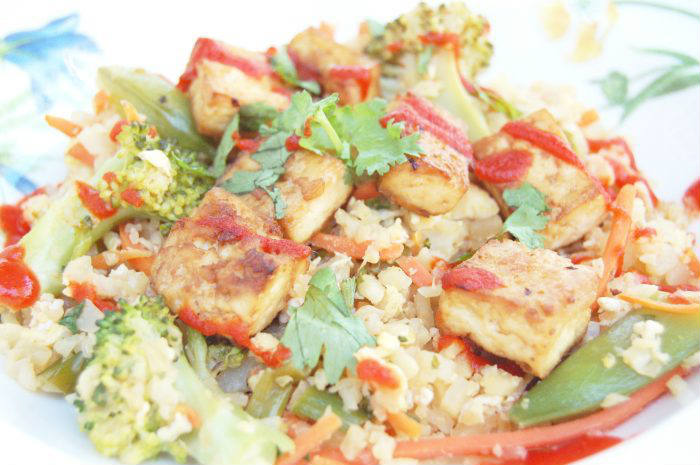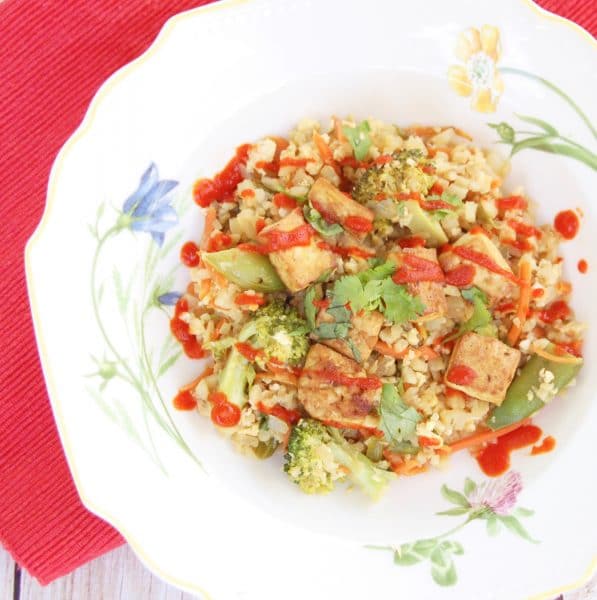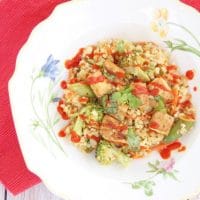 Veggie Cauliflower Fried Rice with Crispy Baked Tofu
This cauliflower fried rice is packed with vegetables and vegetarian protein, making it much healthier than the classic Chinese take-out version.
Ingredients
For the tofu:
1

tablespoon

sesame oil

1

tablespoon

lime juice

1

tablespoon

unseasoned rice vinegar

1 1/2

tablespoons

low-sodium soy sauce

(or gluten-free soy sauce)

1

14-ounce package

extra firm tofu, drained, pressed*, and cubed small

(or two 8-ounce packages cubed super firm tofu)
For the cauliflower fried rice:
4

teaspoons

canola oil,

divided

3

large eggs,

whisked

1

tablespoon

minced garlic

2

cups

chopped broccoli

1

cup

shredded carrots

1/2

cup

green peas, fresh or frozen

(or snap peas)

1/2

cup

chopped scallions

(green onions)

1/2

cup

chopped water chestnuts

1

16-ounce bag

cauliflower rice

(or 1 head cauliflower, riced in food processor)

Zest of one lime

1

tablespoon

lime juice

1

tablespoon

unseasoned rice vinegar

3

tablespoons

low-sodium soy sauce

(or gluten-free soy sauce)

1/2

teaspoon

sriracha,

plus more for serving if desired

1/2

teaspoon

Kosher salt

1/4

cup

chopped cilantro,

plus more for garnish (optional)
Instructions
To make the tofu:
Combine sesame oil, lime juice, rice vinegar, and soy sauce in a small bowl and whisk until emulsified.

Pour marinade over cubed tofu in a medium mixing bowl and marinate for at least 30 minutes, tossing occasionally.

Preheat oven to bake at 425 degrees. Spread marinated tofu in one layer on a foil-lined baking sheet. Bake in the top shelf for 20 minutes; turn tofu and bake another 10 minutes until crispy.
To make the cauliflower fried rice:
In a large straight-sided skillet that has a cover, heat 2 teaspoons oil over medium-high heat.

Add eggs and stir with a wooden spoon, breaking up the eggs, until they are cooked, but still a little jiggly (you don't want to overcook them). Transfer to a bowl and set aside.

Add the remaining 2 teaspoons of oil to the skillet and swirl to coat the bottom. Add the garlic and stir until fragrant, about 30 seconds. Add the broccoli and stir 2 to 3 minutes. Add the carrots and peas (or snap peas) and stir another 3 minutes. Add scallions and water chestnuts, and stir for 2 minutes. Finally, add the cauliflower rice and stir all the vegetables together.

Cover skillet and cook for about 7 minutes, stirring occasionally until the cauliflower rice is soft and the texture of cooked rice.

Return scrambled eggs to skillet along with lime zest, lime juice, rice vinegar, soy sauce, sriracha, salt, and cilantro. Toss everything together.

Serve topped with crispy tofu and additional sriracha and cilantro if desired.
Recipe Notes
Directions to drain and press tofu:
If you have a tofu press, place block of tofu in the press and refrigerate for 15 to 20 minutes. 
If you do not have a press, press the tofu as follows: Place the block of tofu between multiple layers of paper towel or a couple of clean kitchen towels. Place the wrapped up tofu on a cutting board or plate and top with another cutting board or heavy pan. Set aside for about 30 minutes until most of the liquid is pressed out of the tofu.
Note: I usually drain the tofu overnight and add marinate it in the morning.
Have you joined the cauliflower rice bandwagon yet?
What's your favorite plant protein power bowl?
Share with me in the comments below!