Spiced Plum Cauliflower Rice {Recipe ReDux}
May 6, 2015
Spiced Plum Cauliflower Rice is a Nutritioulicious sweet and savory side dish that will satisfy all the senses and help support healthy bones.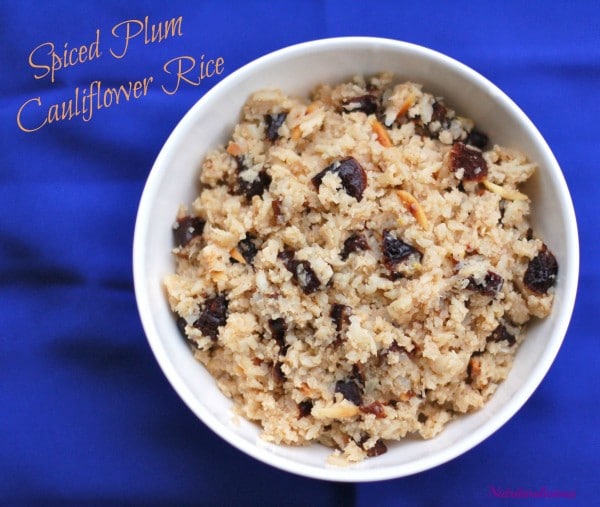 By posting this recipe I am entering a recipe contest sponsored by California Dried Plum Board and am eligible to win prizes associated with the contest. I was not compensated for my time.
As I mentioned earlier this week, May is a month full of celebrations, including National Osteoporosis Month. In honor of this month-long celebration of bone health, The Recipe ReDux has teamed up with California Dried Plums to sponsor a recipe contest showcasing this nutritious and delicious dried fruit.
Now you may be thinking to yourself two things:
1) What are dried plums? I've never heard of this dried fruit before.
2) What do dried plums have to do with bone health?
To answer your first question, dried plums are the new age name for prunes. That's right – your grandma's good old dried fruit of choice has gotten a name change! But guess what? Prunes or dried plums – whatever you want to call them – are the same flavorful, moist, juicy, and nutrient-packed dried fruit they always were. Only now we have even more reasons to love them thanks to some fabulous research showcasing their positive effects on bone health.
And that answers your second question. Studies have shown that as little as one serving of dried plums (4-5 dried plums) can help maintain and rebuild bone mineral density. The reason? Vitamins and minerals that play a key role in bone health are found in dried plums:
Potassium – may help increase bone mineral density and decrease bone breakdown
Magnesium – important for bone structure; 50-60% of the magnesium in the body is found in the bones
Vitamin K – plays an important role in bone mineralization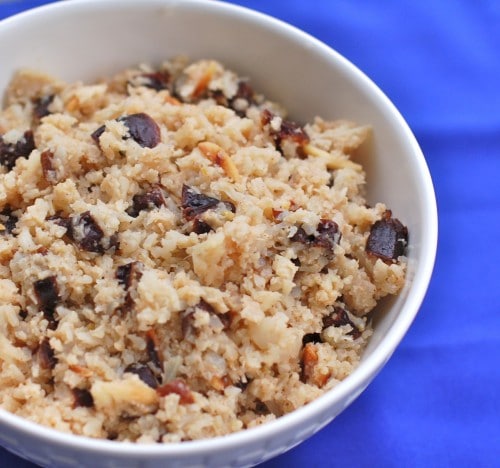 Not that you need any more reasons to cook with and eat dried plums, I'm going to share some with you anyway!
1 serving (4-5 dried plums) is less than 100 calories and provides 3 g of fiber (a good source).
Dried plums can serve as a substitute for fats (like butter or oil) or sugars to reduce calories while boosting flavor.
Emerging research suggests dried plums may support heart health, digestive health, immunity, and healthy aging.
Dried plums are versatile and can be used in a variety of ways. They can be enjoyed as a snack, added to baked goods, a topping for yogurt, oatmeal, or salads, pureed into sauces, added to savory meat entrees, or included in grain salads.
That last method of inclusion is the way I used dried plums in the recipe I have for you today. A few weeks ago I shared my newfound love for cauliflower rice. I knew it wouldn't be long before I experimented further with this way of cooking cauliflower, and here we are: Spiced Plum Cauliflower Rice with some creaminess from coconut milk, sweetness from dried plums, zing from lemon zest and juice, and crunch from toasted almonds!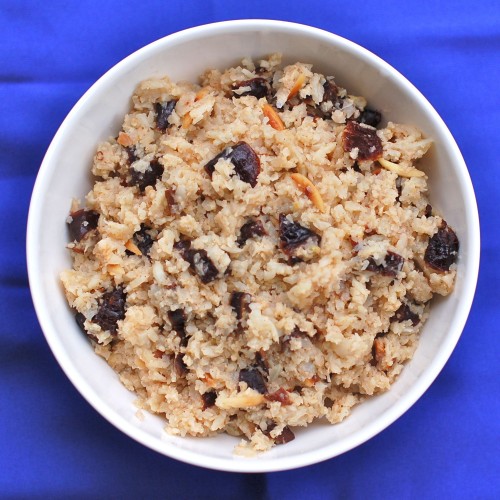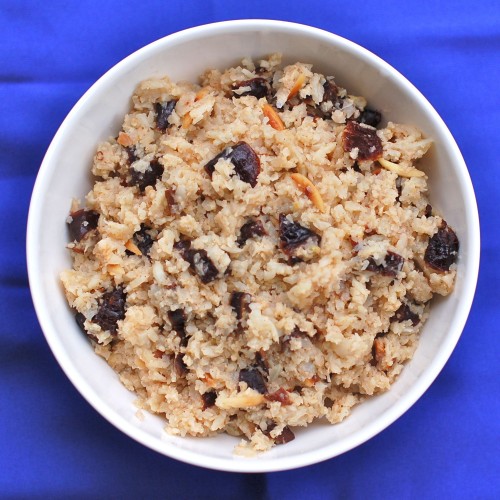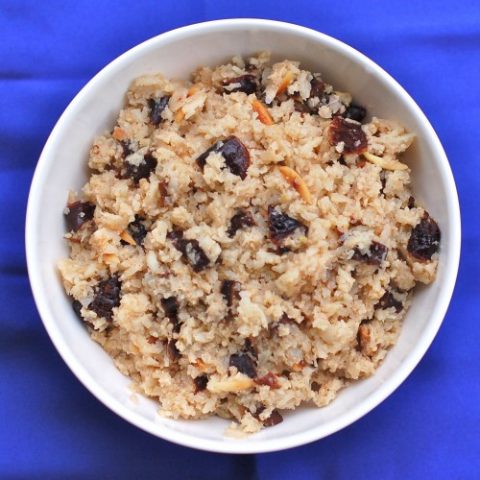 Spiced Plum Cauliflower Rice
Spiced Plum Cauliflower Rice is a sweet and savory side dish that will satisfy all the senses. A perfect accompaniment to any meal!
Ingredients
3 pounds cauliflower, about 2 heads, cut into florets
1/2 cup slivered almonds
2 teaspoons vegetable oil
2 tablespoons minced garlic
1 teaspoon ground cinnamon
1/4 cup lite coconut milk
1 teaspoon lemon zest
2 tablespoons lemon juice
1/2 cup chopped California Dried Plums
1/2 teaspoon Kosher salt
Freshly ground pepper
Instructions
In a food processor, pulse cauliflower florets until finely grated and rice-like granules.
In a straight-sided sauté pan, toast slivered almonds over medium-high heat until browned and fragrant (about 3 minutes). Remove from pan and set aside.
Add oil to the hot pan and swirl around to coat. Add garlic and sauté for 30 seconds. Add cinnamon and stir together until fragrant, about another 30 seconds.
Add riced cauliflower to pan and carefully toss with the spiced garlic. Reduce heat to medium, cover and cook about 5 minutes until the volume has slightly reduced. Add coconut milk and stir into the cauliflower rice, being sure to scrape the bottom of the pan to release brown bits. Cover and continue cooking for another 15 minutes.
Stir in lemon zest, lemon juice, dried plums, salt, and pepper. Cook another 5-7 minutes until the dried plums have heated up and softened and the flavors have all melded together. Remove from heat and serve hot.
Nutrition Information:
Yield:

10
Serving Size:

10 Servings
Amount Per Serving:
Calories:

100
Saturated Fat:

0.5g
Sodium:

140mg
Carbohydrates:

13g
Fiber:

4g
Sugar:

5g
Protein:

4g
To find out more ways to cook with dried plums, check out my fellow ReDuxer's recipes below.
[inlinkz_linkup id=512935 mode=1]