Lightened-Up Sweet Potato Carrot Casserole with Maple Pecans
November 16, 2016
Lighten up a Thanksgiving classic with this naturally sweet and creamy Sweet Potato Carrot Casserole that's full of flavor and nutrition. Topped with sweet and crunchy maple pecans, I promise you won't miss the marshmallows!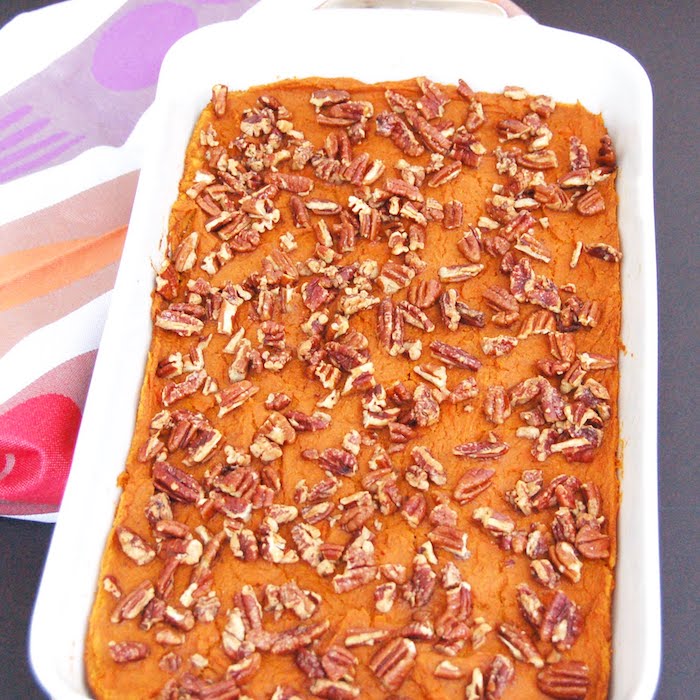 This recipe originally appeared in the November 2016 issue of Today's Dietitian Magazine. I was compensated for writing the original article, "Sweet Potatoes + Carrots," and developing the recipe, but I was not compensated for sharing the column or magazine with readers on my blog. All opinions are my own.
I may have mentioned this once or twice before, but it bears repeating – Thanksgiving is my favorite holiday. I love everything about it: the casual day at home hanging out with family, the tradition we have of going around the table saying what we're thankful for, and of course the aroma that envelops the house as we cook all our traditional Thanksgiving dishes.
Some of my favorite Thanksgiving recipes include my Spiced Pumpkin Bread, Roasted Butternut Squash and Sweet Potato Soup, roasted Brussels sprouts, Orange-Ginger Cranberry Sauce, roasted turkey (of course!), Roasted Butternut Squash and Cranberry Quinoa Salad, and sweet potato casserole.
Side Dish or Dessert?
I'm actually not the biggest fan of the classic marshmallow-topped sweet potato casserole, but my husband is so in the past I've made two casseroles – one with marshmallows and one without. The problem with most of the sweet potato casseroles you find recipes for this time of year is that they're often more like dessert than a savory side dish. Between the butter, brown sugar, marshmallows, and number of eggs used in the casserole, you quickly have a side dish that's a disaster for your waistline.
Don't you want to have room for all the other amazing side dishes on the menu? And you definitely want a bite of that apple crumble or cranberry upside down cake waiting on the dessert buffet!
You're in luck, because I'm here to help! This Lightened-Up Sweet Potato Carrot Casserole with Maple Pecans is a nutritious and delicious makeover of the classic recipe you know. It's naturally sweet and creamy, it's full of flavor and nutrition, and it's a winner with the whole family – kids included!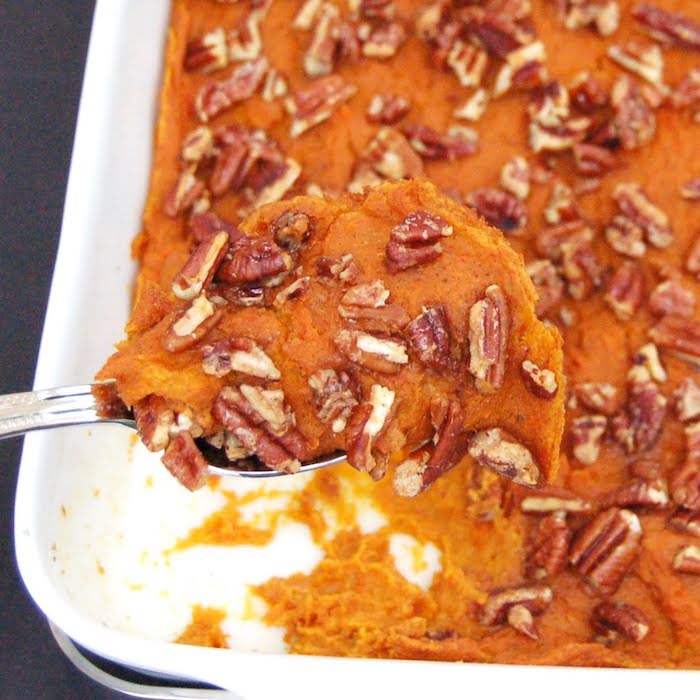 Better for You Sweet Potato Casserole
Sweet potatoes and carrots are the stars of the show here. It should come as no surprise to you that I roast them to bring out their natural sweetness and then they get pureed with freshly squeezed orange juice and zest, creamy coconut milk, and warming spices including ginger, cinnamon, and nutmeg. All these ingredients add so much flavor without overdoing it on fat, calories, sugar, and sodium. Plus, these ingredients keep the recipe dairy-free, egg-free, and gluten-free – so there's something for everyone on the Turkey Day table!
The only added sugar you'll find in this sweet potato carrot casserole is in the maple pecans sprinkled on top, and with that there's only two teaspoons of maple syrup. That sure is a lot less than the 1/2 cup of sugar found in many sweet potato casseroles that come up in a Google search (and that's not including the marshmallows!).
The maple pecans are a sweet and crunchy topping that provides a nice textural contrast to the creaminess of the casserole. Plus pecans are a good source of healthy monounsaturated fats and they add some more fiber to the dish. You definitely won't miss the marshmallows here and you'll save room for an actual dessert – not just a side dish imposter!
This Thanksgiving, give this easy (and better for you) sweet potato carrot casserole a place on your holiday table. It's sure to satisfy everyone's tastebuds and may even start a new tradition – lightened-up Thanksgiving recipes everyone loves and can feel better about enjoying! Now that's something to be thankful about!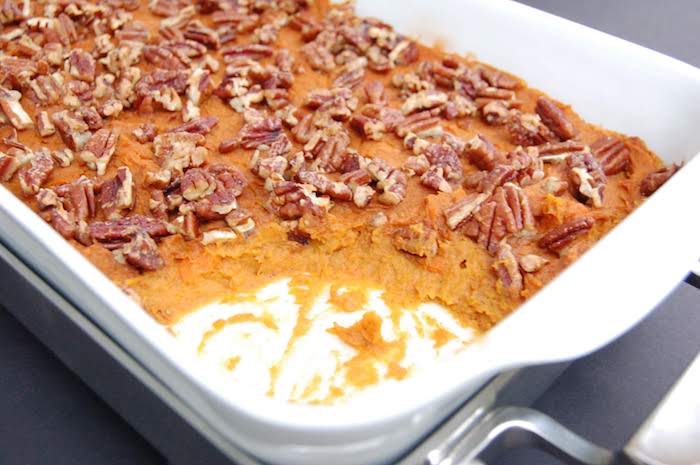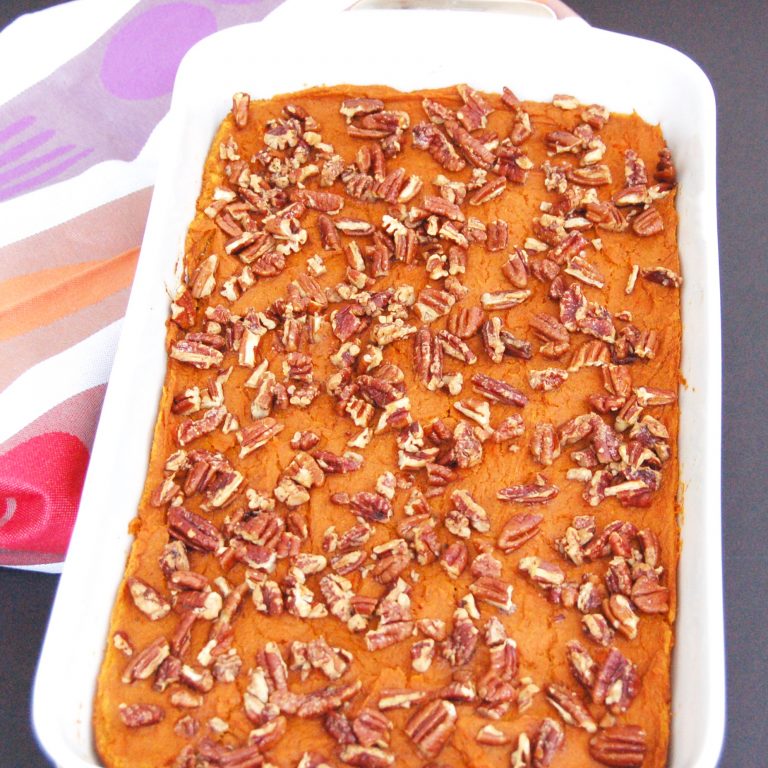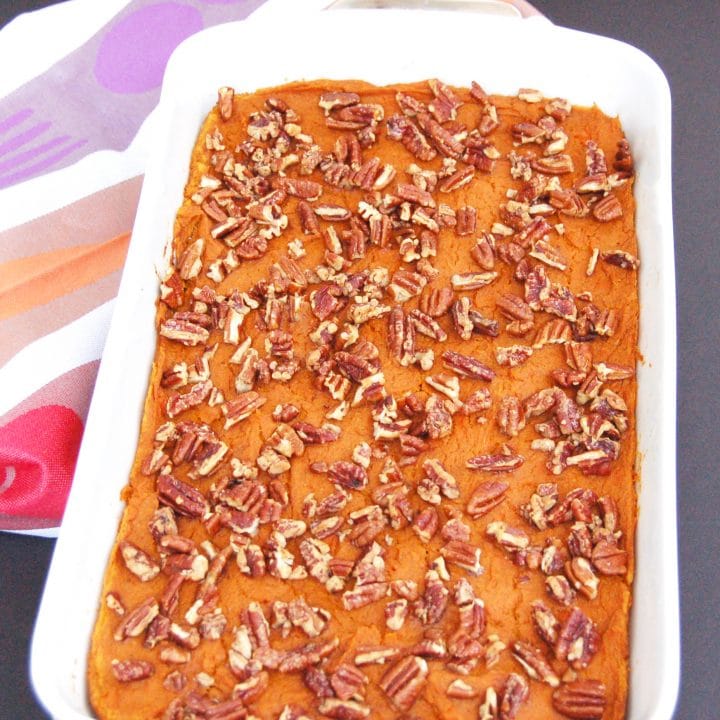 Lightened-Up Sweet Potato Carrot Casserole with Maple Pecans
Cook Time:
1 hour
10 minutes
Total Time:
1 hour
40 minutes
Sweet potatoes and carrots are roasted and then puréed with flavorful spices to produce a naturally sweet and creamy base for a lightened-up version of the classic Thanksgiving casserole. It's topped off with maple pecans that add some crunch and sweetness and still leaves you room for dessert!
Vegan, Gluten-Free, Kosher
Ingredients
Nonstick cooking spray
2 pounds sweet potatoes, peeled and cut into large chunks
1 pound carrots, peeled and cut into large chunks
1 tablespoon olive oil
3/4 cup chopped pecans
2 teaspoons maple syrup
1 teaspoon grated ginger
1 teaspoon orange zest
2 tablespoons freshly squeezed orange juice
1 cup light coconut milk
1 teaspoon ground cinnamon
1/2 teaspoon ground nutmeg
1/2 teaspoon kosher salt
Freshly ground pepper, to taste
Instructions
Preheat oven to 400° F. Line large baking sheet with aluminum foil. Coat a 9x13-inch baking dish with cooking spray and set aside.
Toss sweet potatoes and carrots with olive oil and spread on baking sheet. Roast 30 minutes until caramelized, stirring once or twice during cooking.
While vegetables are roasting, in a small bowl toss pecans with maple syrup and set aside.
When vegetables are finished cooking, remove from oven and reduce oven temperature to 350° F.
Transfer roasted vegetables to a large food processor; add ginger, orange zest, orange juice, and coconut milk, and process until smooth, scraping down the sides of the bowl as necessary. Add cinnamon, nutmeg, salt, and pepper, to taste, and process again until blended. Taste and adjust seasoning as desired.
Spread the sweet potato carrot purée in the prepared baking dish and sprinkle with prepared pecans. Bake until hot and beginning to brown around the edges, 40 minutes.
Recommended Products
As an Amazon Associate and member of other affiliate programs, I earn from qualifying purchases.
Nutrition Information:
Yield:

10
Serving Size:

10 Servings
Amount Per Serving:
Calories:

200
Is sweet potato casserole on your Thanksgiving menu?
Do you have a holiday recipe makeover you'd like to share?
Share with me in the comments section below!