Top 5 Tips For Packing a Healthy & Delicious School Lunch
October 13, 2015
Packing lunch for the kids doesn't have to be a chore. Keep school lunch nutritious, delicious, and varied with these five tips!
I'm a nutrition consultant for various food and beverage companies, but my opinions are my own.
When I was in grade school, I remember eating a hot lunch every day. My favorite was probably the pasta bake – elbow macaroni with tomato sauce and cheese in casserole form. Not necessarily the best meal for me, but it sure did taste good! When I reached high school, I became a little more conscientious about nutrition and in tune with how what I ate affected me.
Knowing that I needed to eat more healthfully, I started to brown bag my lunch to school every day, which meant on most days lunch was a peanut butter sandwich on whole wheat bread with a big container of fruit salad. I didn't get bored of it, but now as a mom of two children I can't fathom the idea of sending them to school with the same lunch every day.
Luckily, school lunch has improved considerably over the years, which means parents don't need to pack lunch for their kids on a daily basis. A few of the amazing changes that have been made to the school lunch program are an increased emphasis on whole grains, reduced levels of sodium and saturated fat, and greater offerings of fruits and vegetables.
While the options are so much better from a nutritional standpoint, not everyone is taking part in the school lunch program. Often the result is brown-bag lunches that are less nutritionally sound than what's being offered at school. Given how many Pins and blog posts I see for healthy lunchbox ideas, it's important to make sure parents know how to feed their kids well while away from home. I know I am not alone in wanting to give my children a variety of school lunch meals that are quick and easy to prepare in the mornings or the night-before.
With the School Nutrition Association celebrating National School Lunch Week this week, what better time is there to share a few ways parents can help their children stay fueled throughout the school day if they choose to send lunch a couple of times a week. Stocking a varied lunch box week after week can be tricky, so keep these five things in mind when packing your children's lunchbox.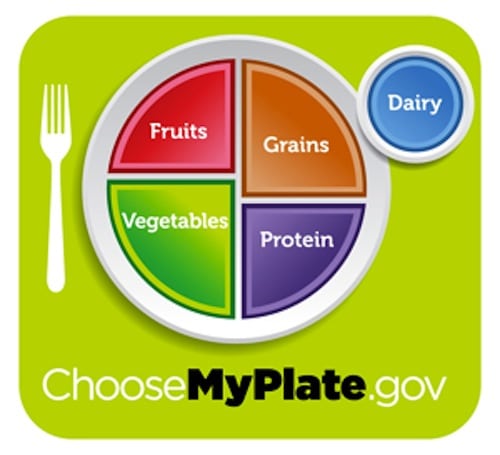 Nutrition. It goes without saying that what kids eat for lunch is just as crucial as everything else. Lunch needs to provide kids with energy that will get them through the rest of their classes and beyond. The most nutritionally sound and satisfying lunch should include at least one serving of each of these food groups: vegetables, fruit, grains (preferably whole wheat), lean protein, and low-fat dairy. You can mix and match items from each of these food groups to get a balanced lunch that will be different every day.
Taste. What good is nutritious food if kids won't eat it?! Keep lunch flavorful by providing in-season ripe fruit, roasted vegetables if your kids won't eat raw (roasting brings out the sweetness), cooked meats and grains made with herbs and spices, and flavored yogurts or milk if the kids don't like plain. Don't be afraid to throw in a sweet treat once in a while either – your kids won't feel deprived and they will learn that all foods can be part of a healthy diet when consumed in moderation.
Convenience. Most lunch periods aren't too long, so lunch can't be a 5-course meal. Keep it on the simpler side by including some pre-packaged products like individual containers of yogurt, applesauce, hummus, and string cheese. You can also pre-pack resealable baggies of fruits and veggies like baby carrots, cucumber slices, pepper sticks, and apple slices, which can easily be thrown into the lunchbox.
Food Safety. Hot lunch needs to stay hot and cold food cold from the time kids get on the bus in the morning until they get to the cafeteria. To keep lunch safe, keep cold food in the refrigerator until right before the kids run out the door. Then pack it in a cooler bag with two ice packs or freeze a water bottle the night before and use it as a second ice pack. For hot food, use a thermos that has been preheated using boiling water. Make sure to heat the lunch fully before placing in the thermos and keep the thermos closed until lunchtime. You can find more lunch bag food safety tips in this USDA article.
Food Quality. In addition to food safety, you want to think about how your packed lunch will hold up until lunchtime. Try packing each component of a sandwich separately and have kids assemble it at lunchtime. You can also make lunch kebabs as an alternative to sandwiches – just put your sandwich fillings on a skewer and pair with a dipping sauce. Try grape tomatoes, cucumbers, mozzarella balls, and grilled chicken with a side of honey mustard. Another popular idea is to use bento box lunchboxes, which are already divided into sections and make it easy to incorporate different food groups. For bento box lunch ideas, check out fellow registered dietitian and mom Holley Grainger's weekly lunchbox posts.
Check out my Back to School Meal Planning post for some more great ideas and recipes.
What's your children's favorite school lunch?