Golden Roasted Turmeric Cauliflower (aka Popcorn Cauliflower)
March 21, 2018
Golden Roasted Turmeric Cauliflower is a simple side dish that is healthy, delicious, and brightens up any table. You may even find it as addictive as popcorn!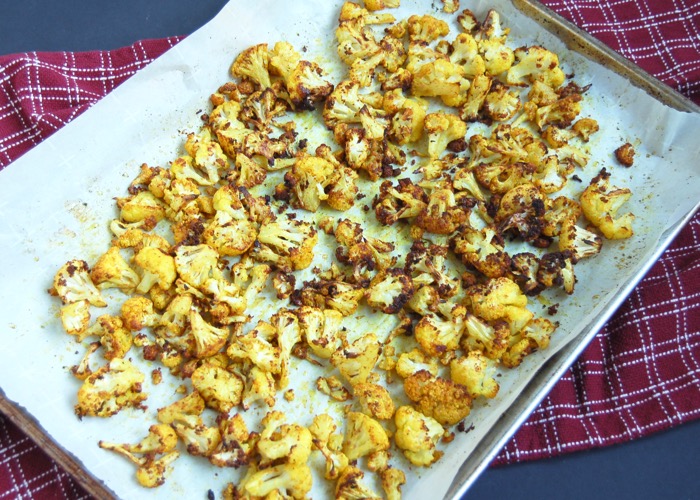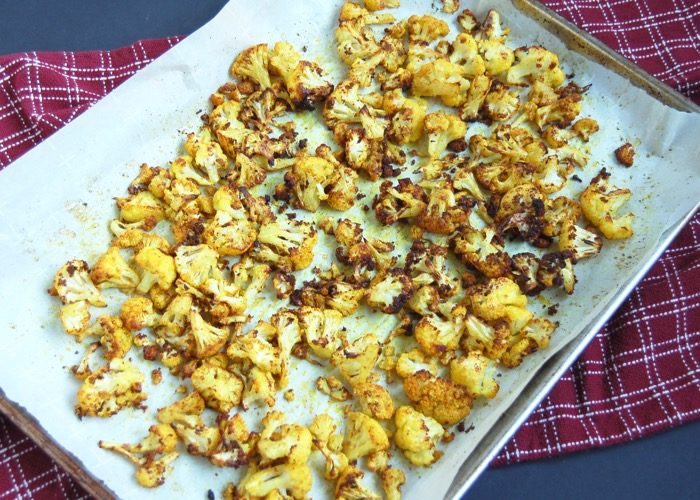 This page contains affiliate links. See below for full disclosure statement.
Spring is here, spring is here! That's what we should be shouting, but instead, I'm staring out my window at the fourth nor'easter to hit our area in less than a month. My backyard is covered in snow with not a flower bud in sight. I have some Florida strawberries in my refrigerator, but that's about the only spring fruit or vegetable I have been able to buy so far.
I'm dreaming of all the spring produce that awaits – visions of bright green asparagus and peas and pretty-in-pink rhubarb and radishes are the first to come to mind. But alas, I will have to wait a bit longer, at least until the fresh coating of snow melts and the flowers can start to bloom.
In the meantime, Passover and Easter, the quintessential spring holidays, will be here in a little more than a week. Thanks to one of the previous nor'easters and associated power outages I got an early start on my spring cleaning, but it doesn't look like anything I'll be cooking for Passover this year will fall in the typical spring recipe category.
Cauliflower All Year Long
Cauliflower is at its peak in the fall, but this cruciferous vegetable is pretty much available all year round. Roasted turmeric cauliflower is an easy side dish to add to the holiday table or make for a random weeknight dinner.
Cauliflower rice may be the most popular use of this veggie right now, but let's not forget about the good old florets. Ever since I started making this cauliflower dish it's been on my menu plan at least once a week. My girls – especially one of them – can't get enough of it!
You may have heard of popcorn cauliflower, which is what I call this when I tell the kids what's for dinner. The idea of popcorn goes over better than plain old roasted cauliflower. When it comes to feeding kids, persuasion is often all in the name!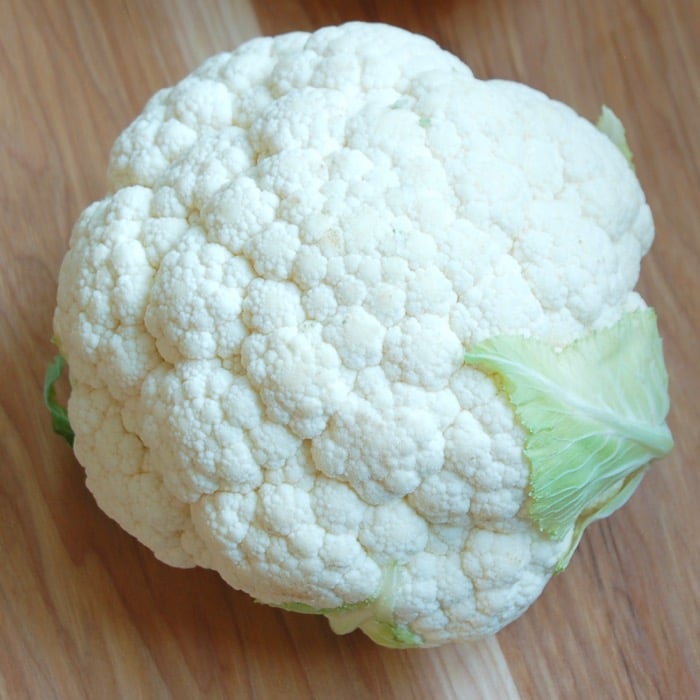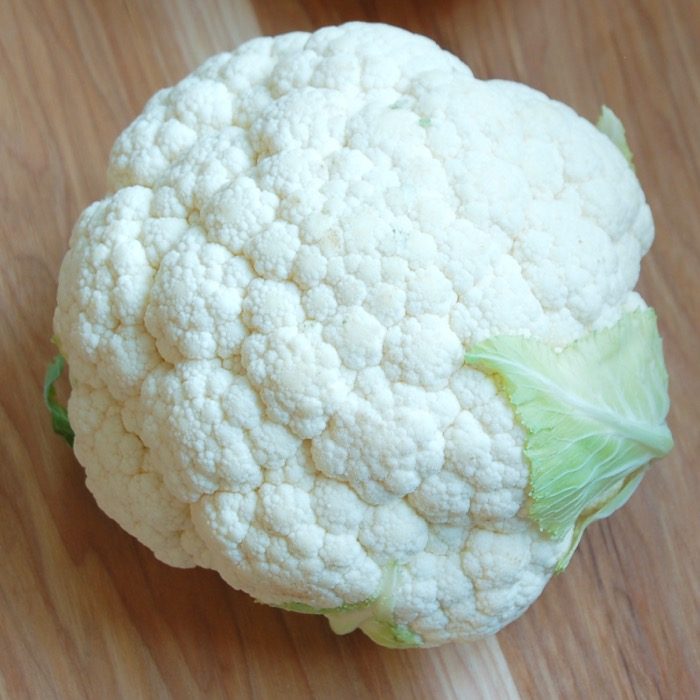 How to Make Golden Roasted Turmeric Cauliflower
Golden Roasted Turmeric Cauliflower is made with four ingredients: cauliflower, garlic powder, turmeric, and garam masala. (I don't count olive oil and salt in my ingredient count since both are pantry staples IMO.)
This recipe couldn't be simpler – just check out the recipe video below to see for yourself! All you have to do is mix the spices with olive oil, pour over cauliflower florets, and roast at a high temperature. The end result is pieces of tender and caramelized cauliflower with bright and savory flavors, and of course that golden color thanks to turmeric.
One important note: turmeric stains! It will stain your wood cutting boards, your clothes, and your hands. My best advice is to use gloves when cooking with turmeric! (I always have a box of disposable food service gloves like these in my kitchen.)
Quite like popcorn, my husband will tell you this Golden Roasted Turmeric Cauliflower is addictive!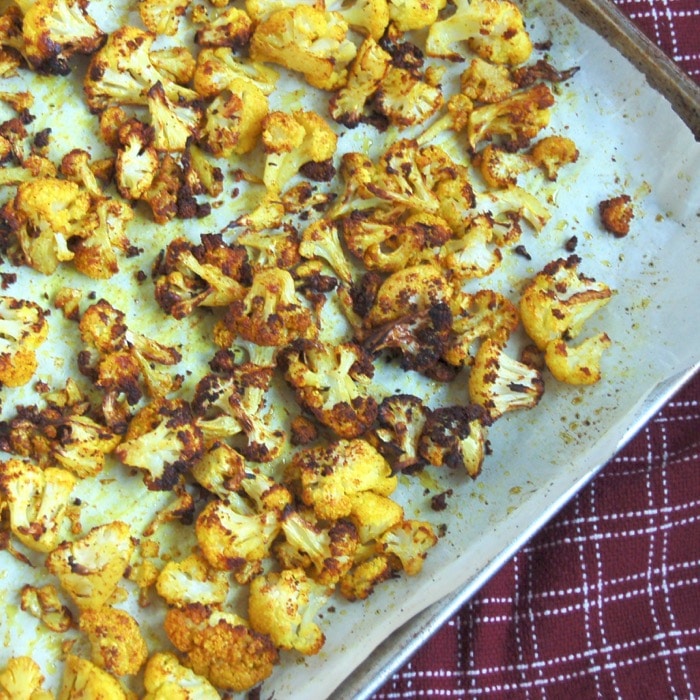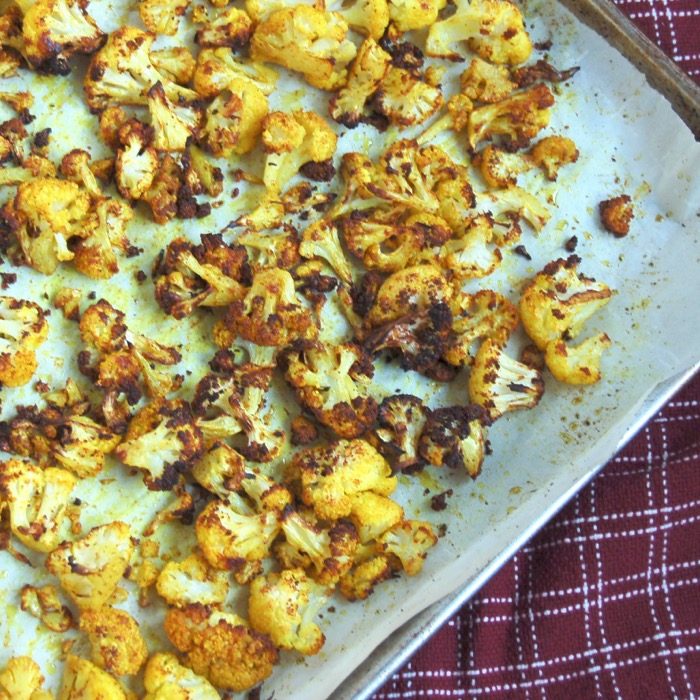 Golden Turmeric
Since turmeric is especially popular right now and the spice responsible for the name of this recipe, let me quickly highlight a couple of things about it.
It's a warming spice (like cinnamon, ginger, and cumin) with peppery flavor notes.
Nutritionally it is touted for it's anti-inflammatory and antioxidant benefits and it has been associated with arthritis relief, reduced risk of Alzheimer's disease, and depression relief.
Curcumin, the active compound in turmeric, is responsible for most of these benefits when given in supplemental form. Unfortunately we could never take in the amount of supplemental curcumin from food, but it definitely doesn't hurt to add fresh or ground turmeric to your recipes and it sure makes for a pretty and delicious dish. (You can read more about turmeric here.)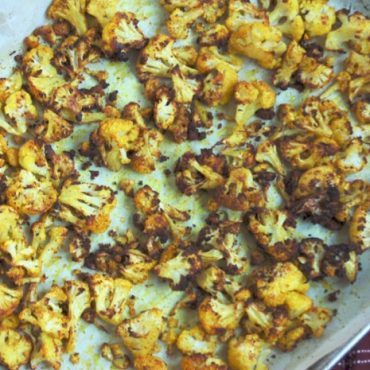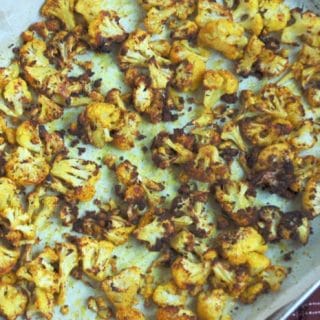 Golden Roasted Turmeric Cauliflower
Golden Roasted Cauliflower is a simple side dish that is healthy, delicious, and brightens up any table. It's almost as addictive as popcorn! 
Vegan, Gluten-Free, Nut-Free, Kosher
Ingredients
Cooking spray
6 tablespoons olive oil
2 teaspoons garlic powder
1 teaspoon ground turmeric
1/2 teaspoon garam masala
1/2 teaspoon kosher salt (up to 1 teaspoon if preferred)
1 large head or 2 small heads cauliflower, cut into florets (~2 1/2 pounds)
Instructions
Preheat oven to 425 degrees F. Line one or two baking sheets with aluminum foil, spray with cooking spray, and set aside.
In a large mixing bowl, whisk together olive oil, garlic powder, turmeric, garam masala, and salt.
Add cauliflower florets to bowl and toss until florets are well coated with olive oil and spice mixture.
Spread coated cauliflower on prepared baking sheet (or two if needed), transfer to oven, and roast for 10 minutes. Remove baking sheet(s), stir cauliflower, rotate the pan(s), and roast another 10 minutes until tender and caramelized.
Notes
For crispier cauliflower, cut florets on the smaller side.
This recipe calls for more olive oil than normally used, but I find it increases the flavor and helps coat the cauliflower better. Feel free to use less if desired. 
Recommended Products
As an Amazon Associate and member of other affiliate programs, I earn from qualifying purchases.
Nutrition Information:
Yield:

6
Serving Size:

1 Servings
Amount Per Serving:
Calories:

146
Total Fat:

14g
Saturated Fat:

2g
Trans Fat:

0g
Unsaturated Fat:

12g
Cholesterol:

0mg
Sodium:

191mg
Carbohydrates:

5g
Fiber:

2g
Sugar:

2g
Protein:

2g
Nutrition information was calculated by Nutritionix. It may not be 100% accurate.
Do you cook with turmeric?
If so, what are your favorite recipes?
Share with me in the comments below!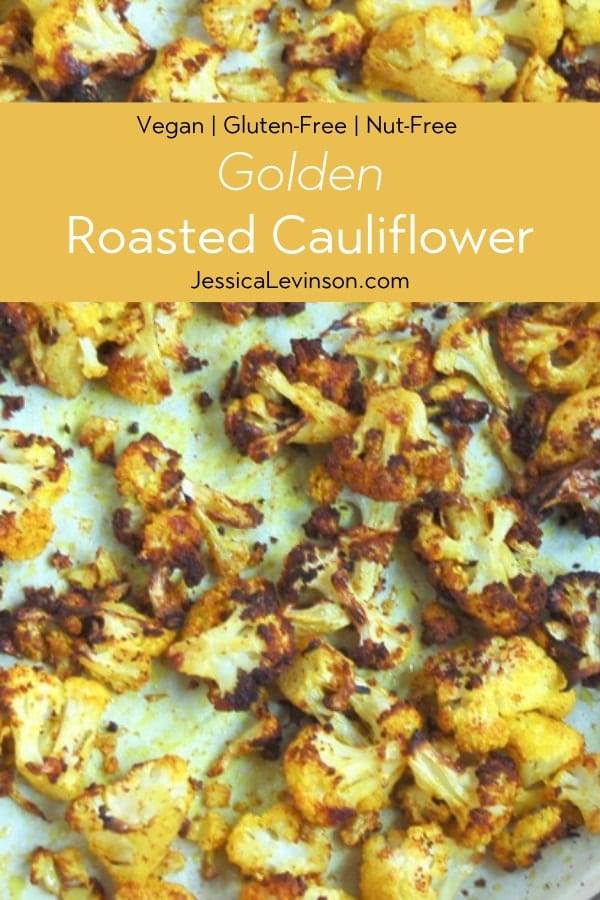 Disclosure: This page contains affiliate links. If you purchase products through these links, your cost will be the same but I will receive a small commission to help with operating costs of this blog. As always, all thoughts and opinions are my own and I only recommend products I truly believe in.