10 Tips to Get Kids to Eat Vegetables
January 25, 2018
Tired of mealtime battles about veggie intake? Learn how to get kids to eat vegetables and spend more time enjoying family meals!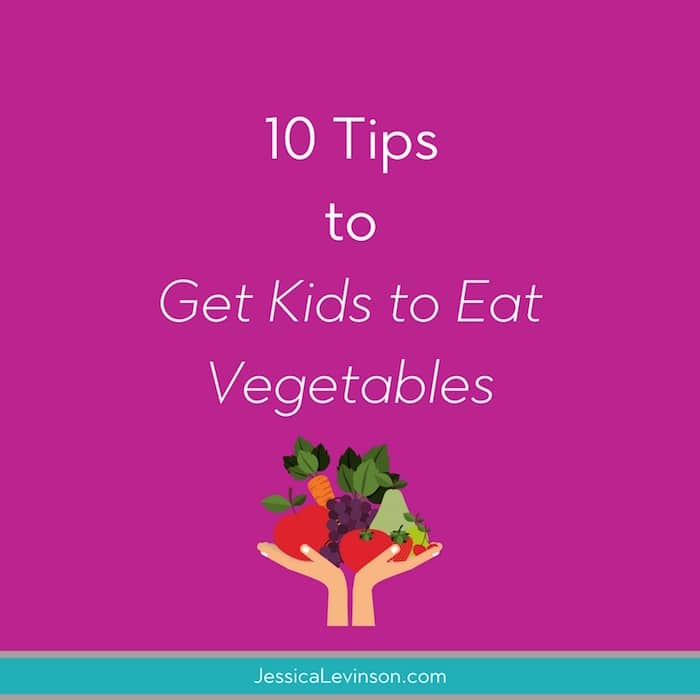 This page contains affiliate links. See below for full disclosure statement.
How many times a day do you find yourself telling your kids to eat their veggies? For most parents I know it's more often than they'd like! Although I am a registered dietitian nutritionist, I too struggle with my girls consuming the recommended amount of vegetables per day. (Not sure what's recommended? My friend Sally lays it out for you in this post.)
How My Children's Vegetable Intake Changed
It wasn't always this way. When my girls were two and three they ate pretty much anything I put in front of them – just look at them go to town on these Peanut Soba Noodles and Chipotle Beef Tacos when they were three years old! But much to my chagrin, times have changed. Peer influence and more exposure to food outside of the home have led to decreased veggie intake.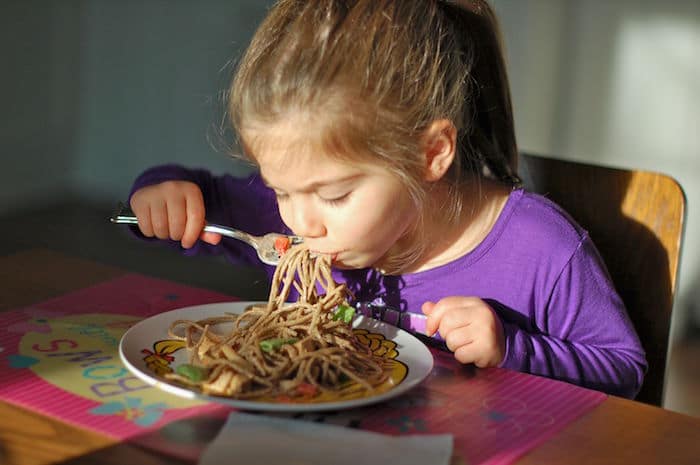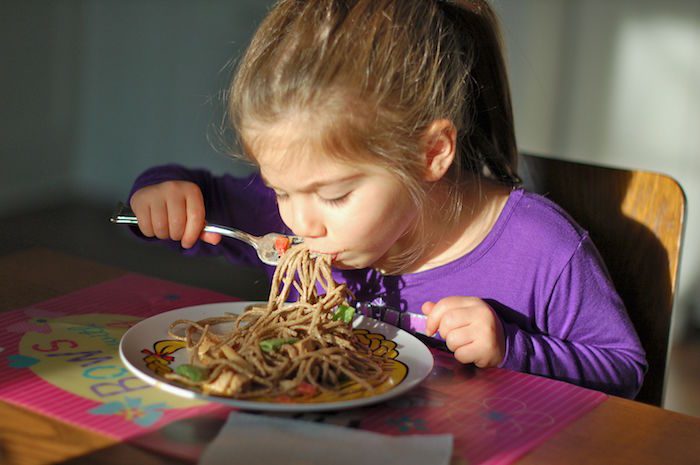 Take yesterday for example, when I served lunch at their school. I used to pack lunch for the girls every day, but after they begged me to sign them up for hot lunch I agreed to two days of their choosing – "breakfast for lunch" and "cheesy day."
Yesterday was breakfast for lunch day, which consisted of french toast made with white bread, scrambled eggs, roasted potatoes, and steamed carrots. There is also a salad bar that has lettuce, cucumbers, red and green peppers, carrots, tomatoes, tuna salad, chickpeas, blanched broccoli, and a few other items; fresh fruit; whole wheat bagels with butter, cream cheese, sun-butter, and jelly available as spreads; and a "smoothie," which is just fruit and water pureed together.
Veggies (or lack thereof) at School Lunch
It's not the best school lunch spread I've seen, but surely not the worst either. The two main things that bothered me were that the French toast wasn't made with whole wheat bread and the syrup was not pure maple syrup (and the kids took A LOT of syrup). I could go on with my thoughts about what I saw in the lunchroom, but let's get back to the topic of vegetable intake.
The number of kids who asked for the carrots at the hot food station was limited, and my two kids were not included in that count. I didn't take my girls by the hand to the salad bar to put a veggie on each of their trays, but we have talked about the concept of a balanced plate enough times that they know that's what they need to do.
What counts as a vegetable is still a work in progress. So when I went to their tables to say hello, one of my girls had olives as her "vegetable" and the other had carrots, which were not eaten. Needless to say, my girls did not get the recommended amount of veggies at lunch time yesterday.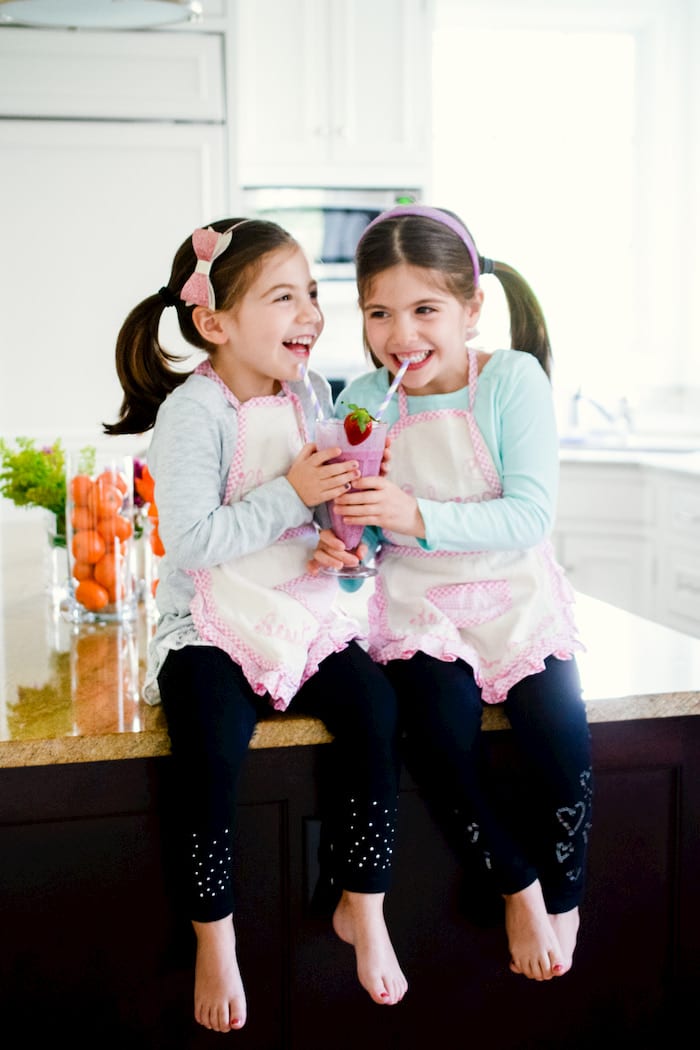 Mom Brain vs RDN Brain
I'm not going to sit here and tell you what I saw in the lunchroom didn't bother me – it did. I'm definitely frustrated by the change in their eating habits and occasionally I may push them too hard to eat what I serve. But with my RDN hat on (and remembering back to my childhood when I was a self-proclaimed selective eater who only ate peas and carrots), I know that food preferences ebb and flow and forcing certain foods (i.e., produce) and restricting preferred foods (i.e., treats) doesn't work and can backfire.
When I get down about the girls not eating something that they ate a year or two ago, I think about what my husband often reminds me: I laid the foundation for healthy eating and hopefully (and most likely) they will come back to that as they get older.
That doesn't mean I stop trying to encourage their vegetable intake; rather, I have to put more thought and effort into doing so, especially at family meals. That's where my top 10 tips for how to get kids to eat vegetables come in and I hope they help you too. You don't need to put them all into effect at once – try one new tip a week or do a few of them at a time, whatever makes the most sense for you.
How To Get Kids to Eat Vegetables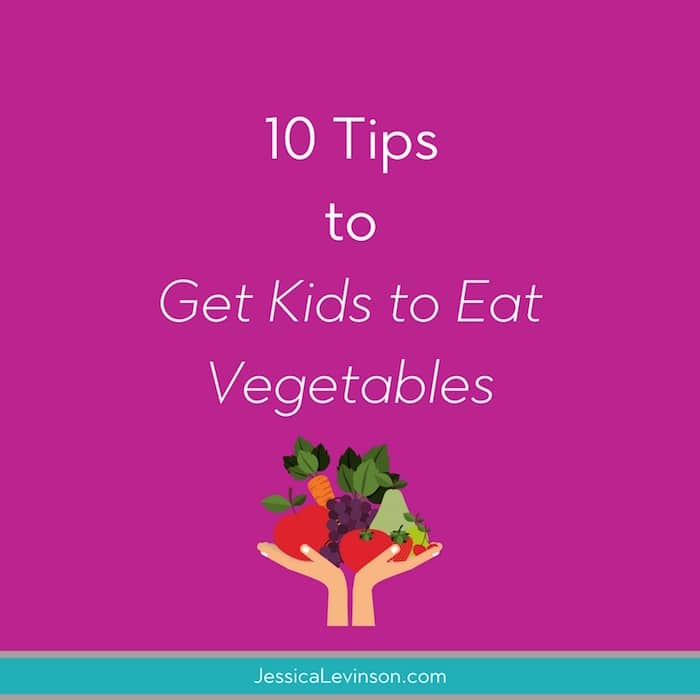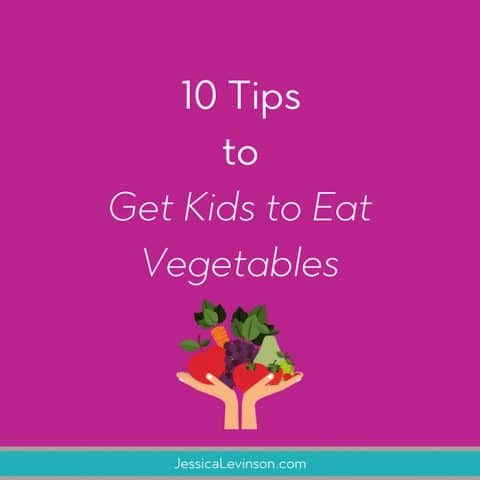 How to Get Kids to Eat Vegetables
Do your kids resist eating any vegetable you cook? Here are ten tips to help you get them to eat their veggies!
Instructions
Lead by example.
Make a veggie of the week.
Enlist help in the kitchen.
Present veggies when kids are hungriest.
Make them flavorful.
Add veggies to well-liked dishes.
Make one meal.
Make meals interactive.
Keep dinner separate from dessert.
Keep offering them.
I recently shared these tips (plus more elaborate explanation of them) over at
The Six O'Clock Scramble
, an online family meal planning service targeted at busy moms and dads who want to put healthy meals on the table for their families each night. You know I'm a big fan of
meal planning
, so I highly recommend you
try out The Scramble
(
affiliate link
) if you need some more hand holding for the process.
Now I want to hear from you!
What's your top tip to get kids to eat vegetables?
Share with me in the comments below and let me know if any of these tips work for you!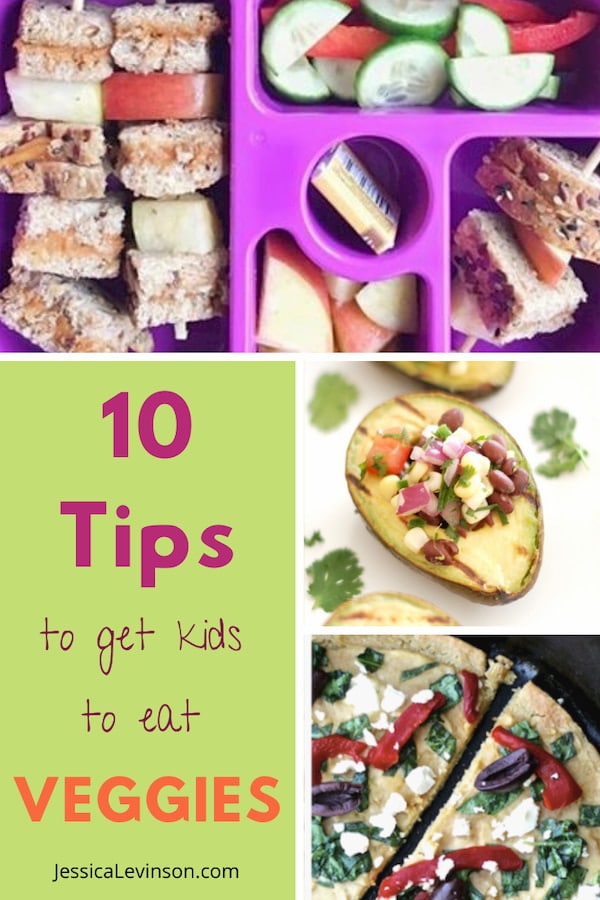 Disclosure: This page contains affiliate links. If you purchase products through these link, your cost will be the same but I will receive a small commission to help with operating costs of this blog. As always, all thoughts and opinions are my own and I only recommend products I truly believe in.