Beet and Goat Cheese Quinoa Salad
May 17, 2017
Beet and Goat Cheese Quinoa Salad is a quick and easy recipe you can put on top of a bed of greens for lunch or serve as a side dish at dinner.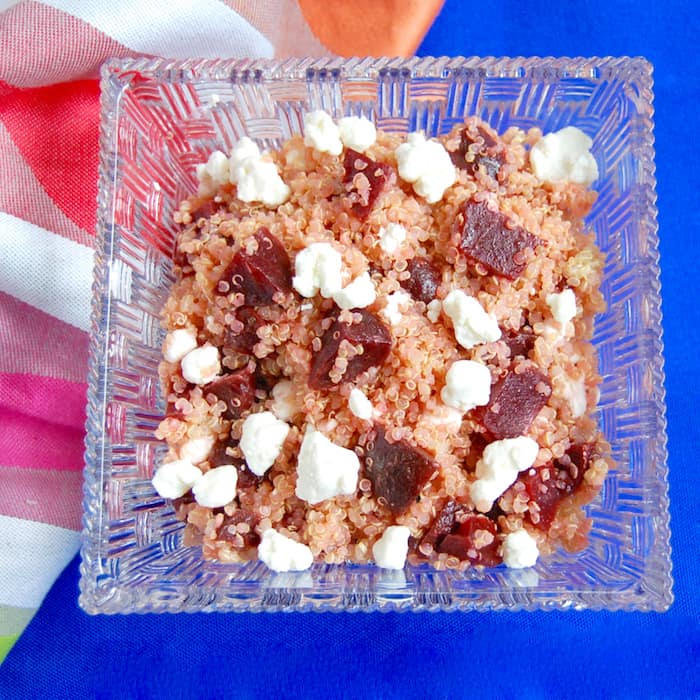 By now you probably know that I don't pack my girls the typical school lunch you'd find in most kids lunchboxes. Soynut Butter (no PB allowed in our school) and plain old tuna sandwiches are rarely on the menu, but Lentil Chickpea Vegetable Salad, Smoked Salmon Cucumber Roll Ups, and Tuna Edamame Salad often are. And so is this Beet and Goat Cheese Quinoa Salad.
Ever since my girls were babies, the beet and goat cheese combo has been a favorite of theirs. Beets are naturally sweet, which is why many kids like them, although a lot of parents don't think to offer them early on. Some parents don't even eat beets themselves! I'm pretty sure the ruby red color of beets is also partly responsible for why my girls like this root vegetable – anything veering close to pink and purple seems to go over well with these girls!
If you want to learn more about beets, my friend Diana, aka The Baby Steps Dietitian, wrote about kids eating beets for her series "What Is It and Will My Kid Eat It?," where she also shares some family-friendly beet recipes.
As for the goat cheese, well my girls are cheese lovers and the beet and goat cheese pairing is a popular one they were introduced to at restaurants and at home early on. I actually was able to get my husband to like goat cheese over the years (he's still working on getting me into blue cheese!), so if it's not your cheese of choice, see below for alternatives.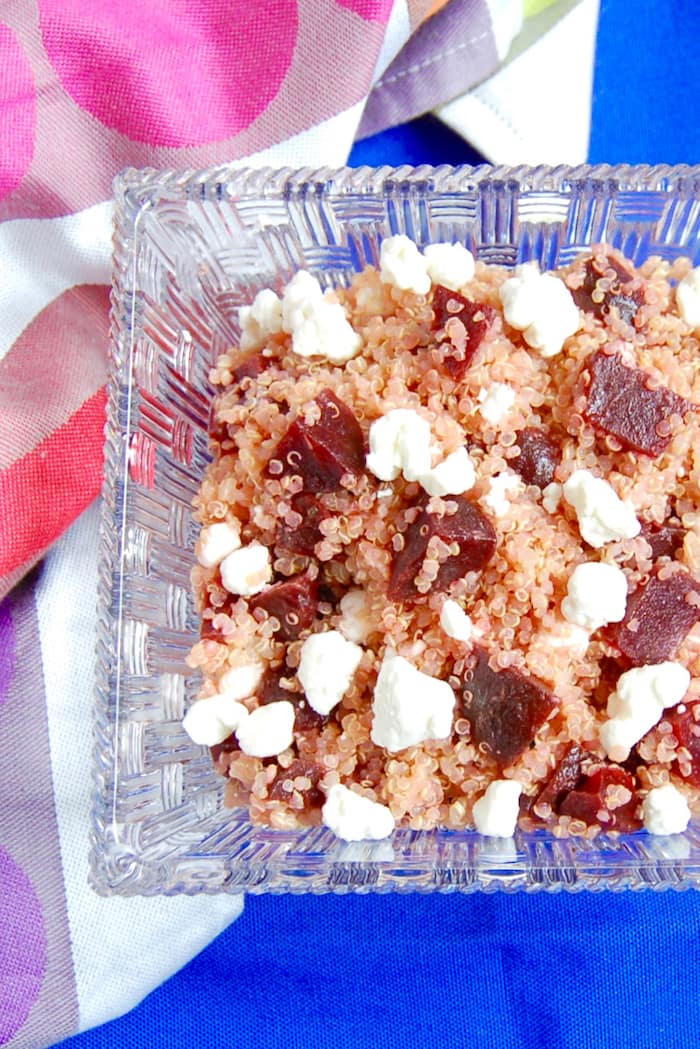 Ingredients & Preparation
This Beet and Goat Cheese Quinoa Salad is super easy to make, especially if you rely on some convenience products like the steamed and peeled baby beets and packaged crumbled goat cheese, both of which I get at Trader Joe's. Ready-to-eat beets are also available from other brands (e.g. Love Beets) at mainstream supermarkets and the same goes for the cheese.
Quinoa is one of my favorite grains because it cooks up so quickly – 10 to 15 minutes max, depending on how much you make at one time. One of my top meal planning tips is to do advance meal prep and cook in bulk, and quinoa is one of those items that's perfect for this.
I usually make a larger batch of quinoa over the weekend or early in the week and then use some for dinner, some for lunches, and, depending on how much I make, I'll store some in the freezer for another day. If you freeze the quinoa in small amounts it defrosts rather quickly and you won't compromise the texture or flavor. I've also seen cooked plain quinoa in the freezer aisle at Trader Joe's, so that's another option.
If you cook the quinoa in advance and use ready-to-eat beets, this recipe will take you no more than 10 minutes to put together.You can of course steam or roast beets yourself, but if you do, make sure you account for that cooking time or make them a day or two before you plan to use them.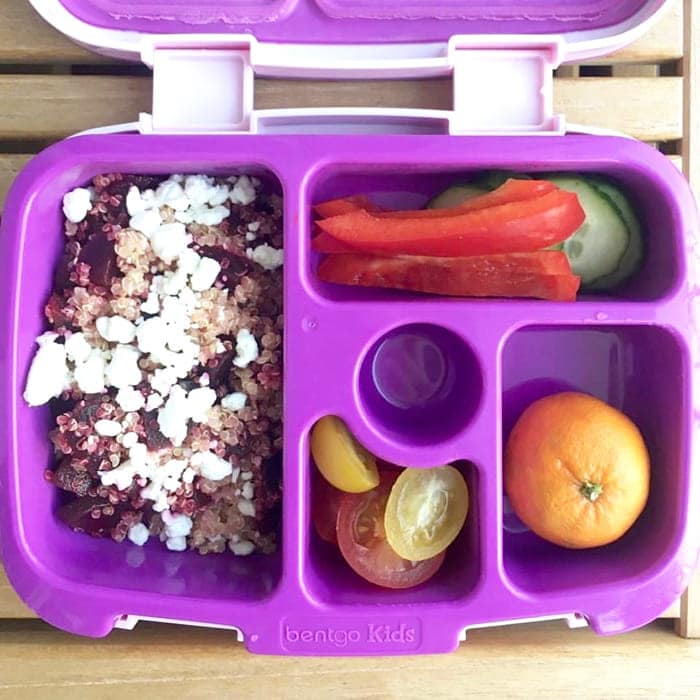 Because my girls' school is nut-free and meat-free, I simply mix the beets, goat cheese, and quinoa with olive oil and lemon juice and then add it to their lunchbox with some additional vegetables and fruit. Sometimes I also include some roasted chickpeas for additional protein. Toasted slivered almonds or pecans would be a great addition to this salad if you don't need to be nut-free. Here are some other ways you can tweak this recipe based on your kids and your preferences:
Not a quinoa fan? Try farro, brown rice, or barley instead (just keep in mind not all of those options are gluten-free).
Goat cheese isn't your favorite? Feta and mozzarella are also a great pairing with beets (the small mozzarella balls, aka bocconcini, are a fave of my girls).
Need to be dairy-free? Skip the cheese and add some beans to keep it vegetarian (or for a vegan option) or throw in some cubed chicken breast if meat is more your thing.
Want to bulk up the salad? Put it over a bed of mixed greens or toss in some arugula. When I add greens to the quinoa salad for my lunch, I also drizzle some olive oil and balsamic vinegar on top.
Once again, there are numerous ways you can make this Beet and Goat Cheese Quinoa Salad your own. And although I usually make this for the kids' lunchbox, this recipe is also a great side dish to add to any meal.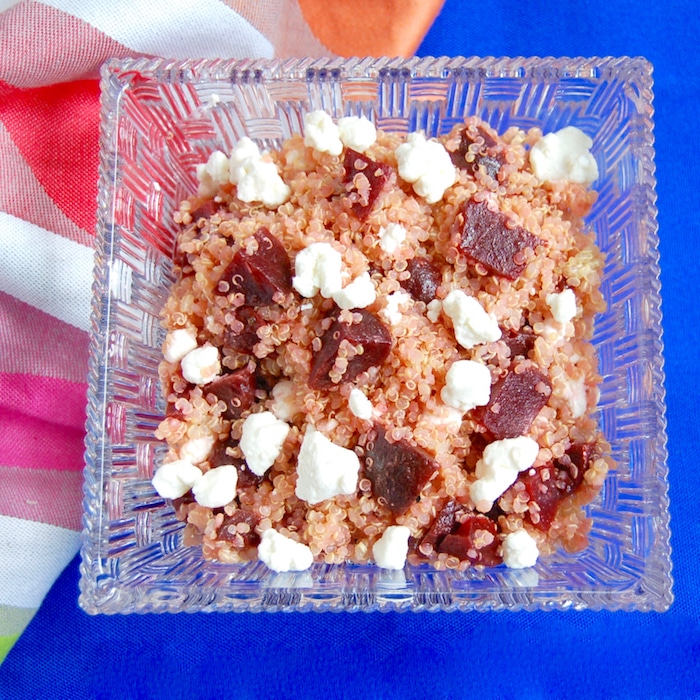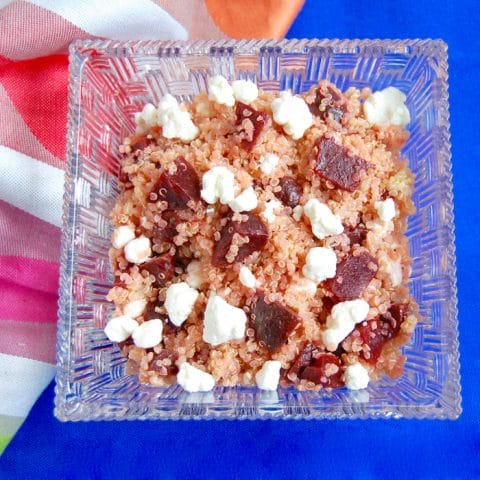 Beet and Goat Cheese Quinoa Salad
Yield:
4 (3/4 cup/svg for lunch)
The classic and simple pairing of beets and goat cheese is added to quinoa and tossed with olive oil and lemon juice for a quick and easy lunch. Delicious on its own, over a bed of greens, or as a side dish next to your main course. This vegetarian, gluten-free, and nut-free recipe can be easily modified to fit your preferences and make your own.
Ingredients
1 1/2 cups cooked quinoa (made from ~1/2 cup dry quinoa)
1 cup ready-to-eat diced beets
1 tablespoon olive oil
2 teaspoons lemon juice
1/4 teaspoon Kosher salt
Freshly ground black pepper, to taste
1/3 cup crumbled goat cheese
Instructions
In a medium mixing bowl, toss together cooked quinoa, diced beets, olive oil, lemon juice, salt, and pepper, to taste.
Gently fold the goat cheese into the quinoa mixture.
Serve room temperature or cold.
Notes
The 3/4 cup serving size is for a lunch portion. If you add greens or serve it as a side dish, you may reduce to 1/2 cup. 
Recommended Products
As an Amazon Associate and member of other affiliate programs, I earn from qualifying purchases.
Nutrition Information:
Yield:

4
Serving Size:

3/4 cup
Amount Per Serving:
Calories:

183
Total Fat:

9g
Saturated Fat:

3g
Trans Fat:

0g
Unsaturated Fat:

5g
Cholesterol:

9mg
Sodium:

256mg
Carbohydrates:

20g
Fiber:

3g
Sugar:

4g
Protein:

7g
Nutrition information was calculated by Nutritionix. It may not be 100% accurate.
Do your kids like beets?
Is this a lunch they would be happy taking to school?
Share with me in the comments section below!