Baked Panko Crusted Chicken with Honey Mustard Sauce
March 22, 2017
Satisfy your kids' cravings for chicken fingers in a healthier way with this crispy whole grain baked panko crusted chicken.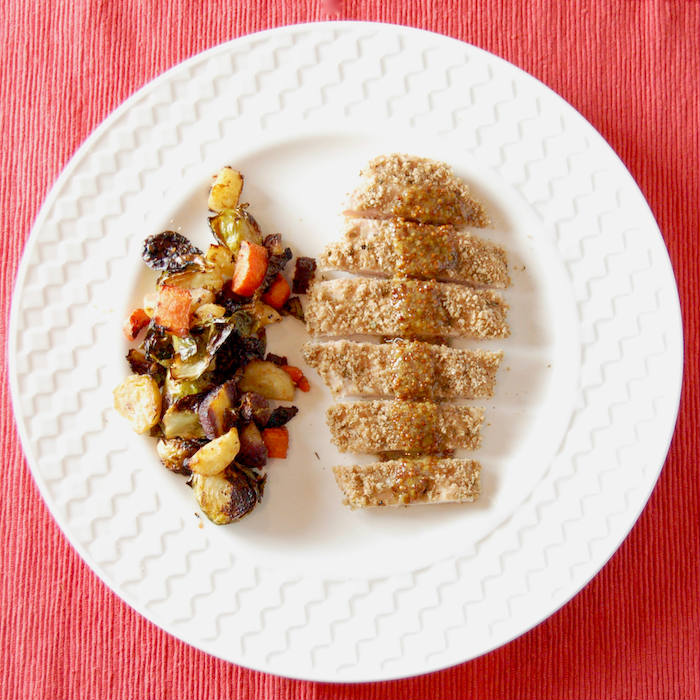 Can I let you in on a little secret? My five year old girls have never had chicken fingers or chicken nuggets. While you're picking up your jaw from the ground, let me explain.
I was actually a very avid chicken nugget eater as a child, but not the kind from fast food places. Rather I'd eat the ones from a box you'd find in the freezer aisle. Definitely not as unhealthy as the deep fried nuggets and chicken fingers that are on every children's menu, but not the healthiest option either.
My mother also made an amazing chicken schnitzel, which was breaded and pan-fried – I could never get enough of that meal as a kid. In case you're wondering, I wasn't exactly the most adventurous eater as a child and most people would probably say I was "picky" (by the way, I strongly dislike classifying kids that way).
When it came time to bring my own children to restaurants, I didn't want to go the traditional route of ordering off the kids' menu, where the options generally consist of chicken fingers and fries, macaroni and cheese, grilled cheese and fries, and pizza. My girls, who I like to call little gourmet foodies, have always eaten what my husband and I eat at home (no short order cooking in my house!), so when it came to restaurant meals I was not going to make an exception.
As the girls have gotten older, I have worried that if we go out to eat with their friends they would ask for the chicken fingers they see on their peer's plates, but luckily for me this hasn't happened yet. They love their grilled cheese with (sweet potato) fries just as much as any other kid, but they're also happy getting a veggie burger, fish tacos, or sharing what I order for myself.
And in fact, my girls have never actually asked for chicken fingers at a restaurant or at home. Maybe because I make my own version – this Baked Panko Crusted Chicken, which is crispy, flavorful, and doesn't compare to what's served from a package.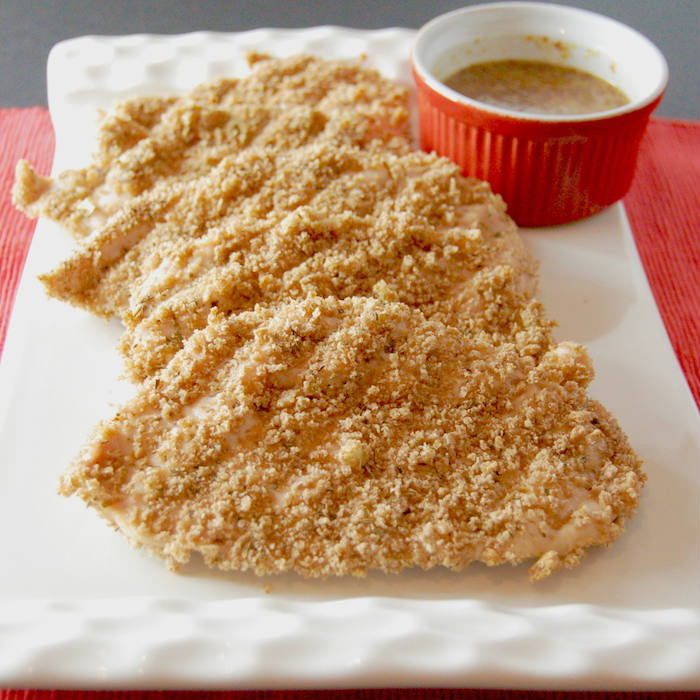 March Recipe ReDux
I have been making baked panko crusted chicken for a long time – well before my girls were born. My husband happens to love fried chicken (who doesn't?!), but he knows I would never make it at home, so this has been the substitute for years. I've tweaked the ingredients and the way I prepare it along the way, and have finally perfected the recipe.
Today is the perfect day to share this recipe with you because it fit within this month's theme for The Recipe ReDux.
Spring Clean the Kitchen
Cook with at least 3 ingredients that are actually in your refrigerator or pantry right now. Try not to go to the store to buy anything new.
This recipe includes numerous items I always have on hand – chicken breasts in the freezer; whole wheat panko, dried herbs and spices, and honey in the pantry; whole grain Dijon mustard and eggs in the refrigerator; and garlic on my kitchen counter. Let's just say that this is a meal I can whip up in 30 minutes even if I haven't been to the supermarket in days.
Ingredients & Preparation
I use thinly pounded boneless, skinless chicken breasts, which I find work better than using thick cutlets that get crispy on the outside but not fully cooked on the inside. The thin cutlets also cook up quickly, making this a quick and easy weeknight dinner – definitely something every family wants and needs! My butcher sells thin sliced chicken breasts, but if you can't find them you can pound regular chicken cutlets or buy chicken tenders.
Instead of traditional bread crumbs, I use whole wheat panko. If you're not familiar, panko are Japanese breadcrumbs that are lighter and coarser than regular bread crumbs, which helps keep your "fried" food healthier because they don't absorb as much oil and fat. They're lower in calories and sodium and higher in fiber than traditional Italian bread crumbs, plus they stay crisper after cooking.
Most panko that's widely available is not whole wheat, so be sure to look for the whole grain variety (Kikkoman and Ian's are two brands I have found at the supermarket). Panko is pretty bland on it's own, but I don't mind that at all because it allows me to flavor it with the herbs and spices I want. For this panko crusted chicken I add marjoram, herbes de Provence, kosher salt, and freshly ground pepper to the dry panko. I have also at times added chili powder and other spices, so feel free to mix it up and make your own flavored panko.
Unlike most recipes that call for breading, I don't use any flour to make this panko crusted chicken. I coat each chicken cutlet in a garlic egg wash (simply made by whisking one egg with freshly minced garlic), followed by the herb panko. I then place the cutlets on a wire rack set over a foil-lined baking sheet. This last step is the KEY to crispy baked chicken. For years I made the chicken directly on the baking sheet, but one side would always get soggy. Baking the chicken on the wire rack allows for air flow all around the chicken, which maintains the crispy texture of the coating.
While most kids eat chicken fingers and nuggets with fries and ketchup, I love serving my panko crusted chicken with a side of roasted vegetables and a simple honey mustard sauce for dipping. You really can't get easier than this – grainy Dijon mustard and honey are whisked together. That's it. Yes, it takes about a minute longer than just squeezing the ketchup out of the bottle, but it adds a little kick to the chicken and takes the dish up a notch.
Ready to satisfy your kids' cravings for chicken fingers in a healthier way? Here's the recipe!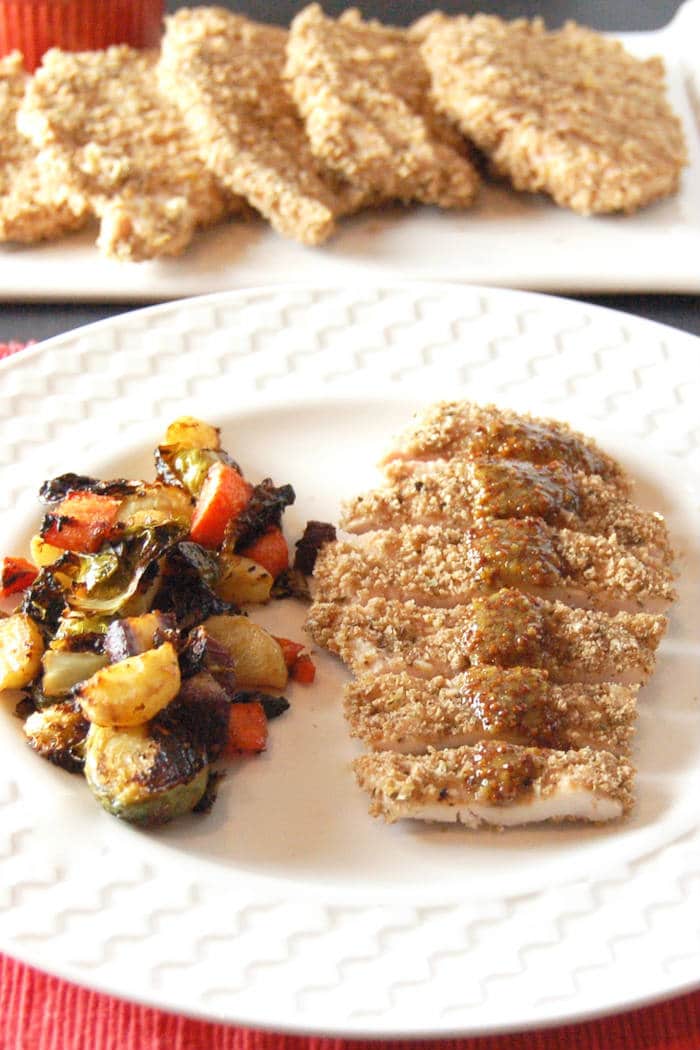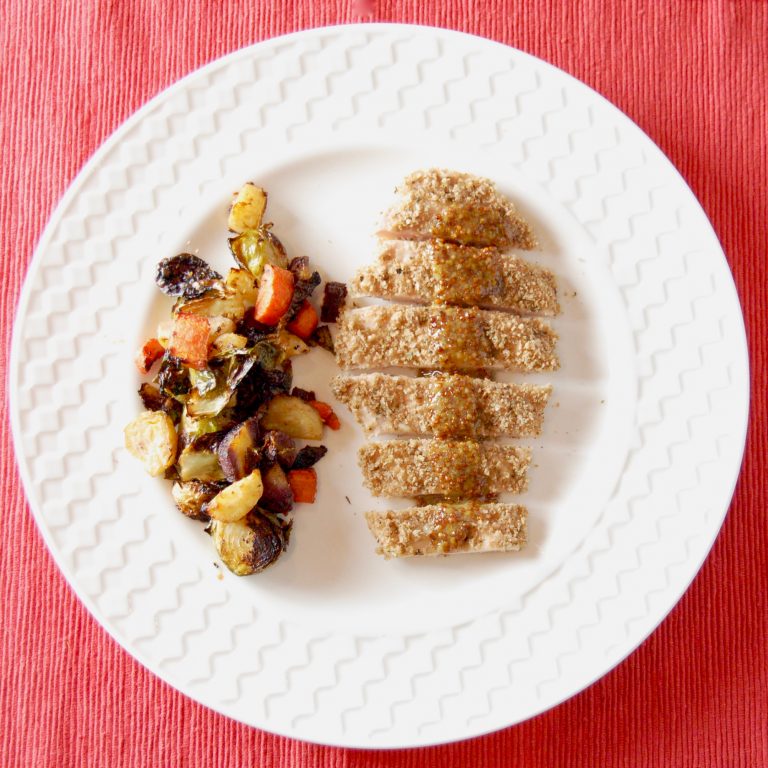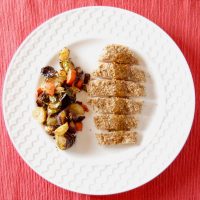 Baked Panko Crusted Chicken with Honey Mustard Sauce
Thinly sliced chicken breasts are coated with a whole grain panko-herb mixture and baked until crispy. Serve with a simple honey mustard sauce for a dinner the whole family will love.
Ingredients
Cooking spray

1

pound

thin sliced boneless, skinless chicken breasts

(or chicken tenders)

1

cup

whole wheat panko breadcrumbs

1

teaspoon

dried marjoram

1

teaspoon

dried herbes de Provence

1/4

teaspoon

Kosher salt

Freshly ground pepper,

to taste

1

large egg

1

tablespoon

minced garlic

3

tablespoons

whole grain Dijon mustard

2

tablespoons

honey
Instructions
Preheat oven to bake at 400 degrees F. Place a wire rack on a foil-lined baking sheet and coat rack with cooking spray. Set aside.

In a shallow bowl, combine panko, marjoram, herbes de Provence, salt, and pepper, to taste.

In another shallow bowl, whisk together the egg and minced garlic.

Dip each piece of chicken in the egg wash, coating both sides, and then transfer to the panko herb mixture, making sure to coat each piece evenly. Remove the chicken from the panko, shaking off any excess coating, and place on the prepared wire rack.

Bake chicken for 12 minutes and then flip and cook another 5 to 8 minutes until the outside is crisp and the chicken is cooked through.

To make the honey mustard sauce, whisk together the mustard and honey. Serve with panko crusted chicken.
Are your kids nuggets fans?
Do you think they'd like this healthier version?
Try it out and share with me in the comments below.