Miso-Glazed Chicken Breasts
January 29, 2017
Miso-Glazed Chicken Breasts are the perfect weeknight dinner – quick and easy to make, kid-friendly, and full of flavor and nutrition!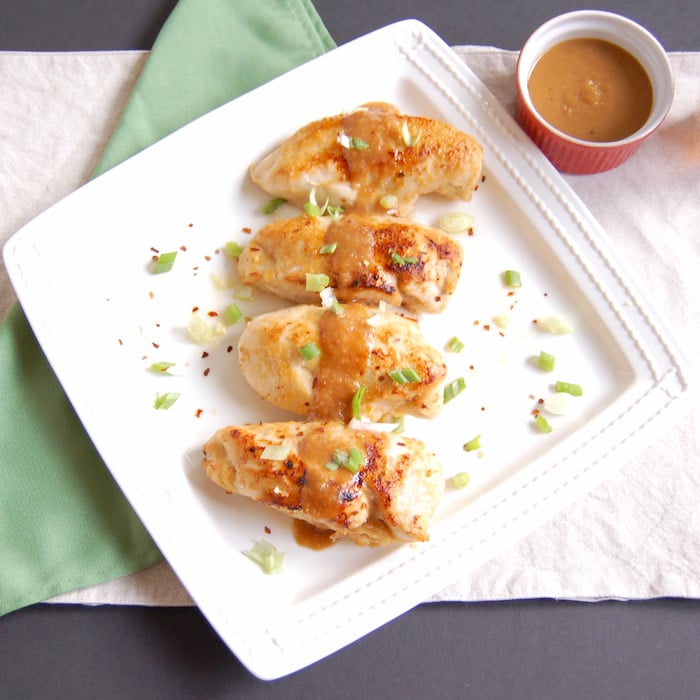 If you follow my Menu Plan Monday series, you've probably noticed that weeknight dinners tend to be a lot of vegetarian meals like frittatas, all-in-one pasta dishes, and meals based around beans and lentils. We are by no means a vegetarian family – in fact my husband loves his meat – but meatless meals tend to cook up more quickly, which is a necessity during the hectic week.
Of course we do have our occasional fish dish, like my 5-Ingredient Orange Maple Salmon, which is as quick and easy as it gets in my house, but we tend to save the steak dinners and roasted chicken for Friday nights when we celebrate the Jewish Sabbath and I make a larger, more involved meal for the family.
As a result, I haven't shared too many chicken dishes with you over the years, but every time I do – like my Pistachio-Stuffed Chicken Breasts and Summer Chicken Kebabs with Herb Sauce – they're always a crowd pleaser.
So I thought it was about time for me to share another one and this Miso-Glazed Chicken recipe is a perfect 30 minute meal for those busy weeknights when you want some chicken but don't have hours to spend in the kitchen.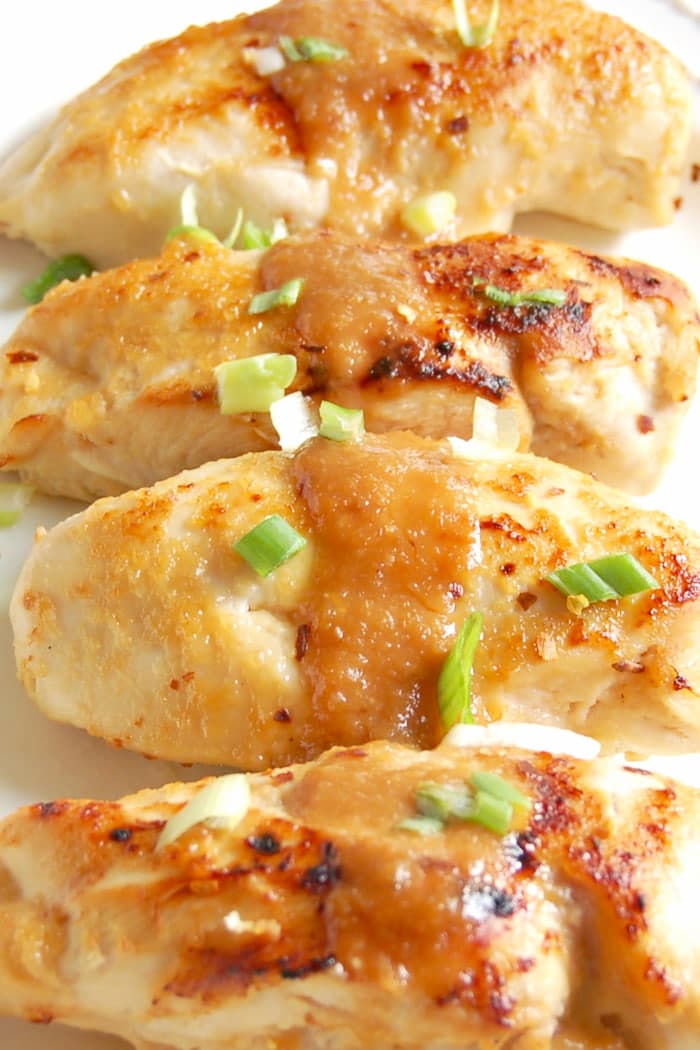 Boneless Chicken For the Win
One of the reasons this chicken recipe is so quick to make is because I use chicken cutlets without the bone and without the skin, which means they cook up much more quickly than bone-in chicken.
I happen to love bone-in chicken (or chicken on the bone as my girls call it), but my husband has a weird thing about seeing the bone of the chicken and having to deal with it. Whenever I make bone-in chicken I have to cut the breast off the bone for him, so I might as well make boneless chicken anyway (although I do love that I get the extra bone from his piece!).
To keep boneless, skinless chicken moist and juicy you need a good sauce and this miso-based sauce totally fits the bill. It is so flavorful and delicious you'll want to start putting it on everything you cook – fish, tofu, beef, veggies. I bet it would even be good on pasta!
All About Miso
If you're not familiar, miso is a Japanese seasoning made into a paste from fermented soybeans, making it a great source of probiotics. There are a number of varieties, some of which are saltier or sweeter than others. I tend to use the mellow white miso because it's a little sweet and not overly salty.
Miso adds so much umami flavor to whatever you're cooking it with and a little definitely goes a long way. I always keep a tub of it in the fridge since it lasts a long time and I love adding it to dressings and sauces, like I do for my Miso-Roasted Brussels Sprouts and Root Veggies and Buddha bowl.
If you love miso, you'll want to give my Ginger Miso Turkey Burgers a try too! Click here to get the recipe!
To make this miso-glazed chicken, I first marinate the chicken breasts in a sauce made of miso, rice vinegar, soy sauce, sesame oil, grated ginger, garlic, and honey. You can marinate the chicken overnight if it's easier for you to prep it in advance or do it the same day, just make sure you let it marinate for at least 30 minutes for the flavors to permeate the chicken.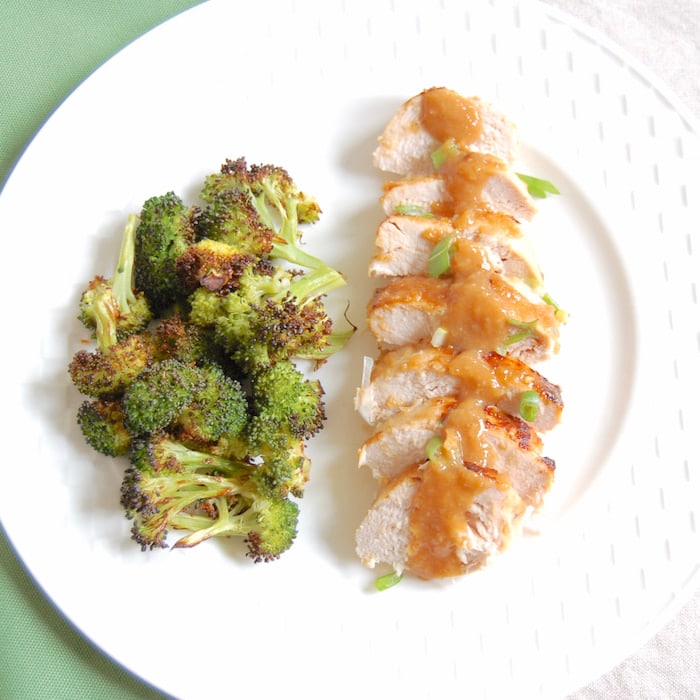 Once the chicken is marinated, I bake it in the oven for 25 minutes, basting it with the sauce about halfway through, and then broil it for a few minutes to get that beautiful golden top.
While the chicken bakes, I bring the reserved marinade to a boil and reduce it into a thicker, more syrupy glaze to serve on top of the finished product with some chopped scallions.
Make it a Balanced Meal
All you need to round out the meal are some roasted veggies (which can be made while the chicken is cooking) and a side of brown rice or quinoa if you're in the mood for a more filling meal.
I served this miso-glazed chicken with a side of roasted broccoli, which one of my girls isn't a big fan of but happily ate with some of the extra miso-glaze on top – I told you the sauce is good!
I'm a big fan of leftovers, which is why I make two pounds of chicken in this recipe. This leftover miso-glazed chicken is perfect on top of a salad for lunch the next day, added to my Asian-Style Farro Buddha Bowl, as a filling for chicken tacos, or simply between two slices of whole grain bread.
However you choose to enjoy it, I am sure your family will enjoy this recipe. If you do, drop me a line on Twitter, Facebook, or Instagram or leave me a comment below!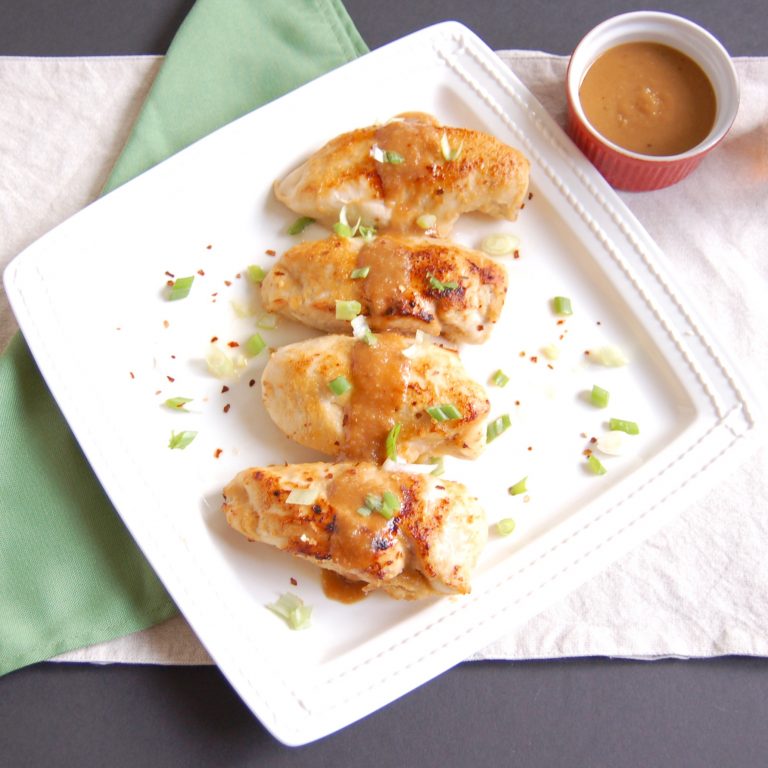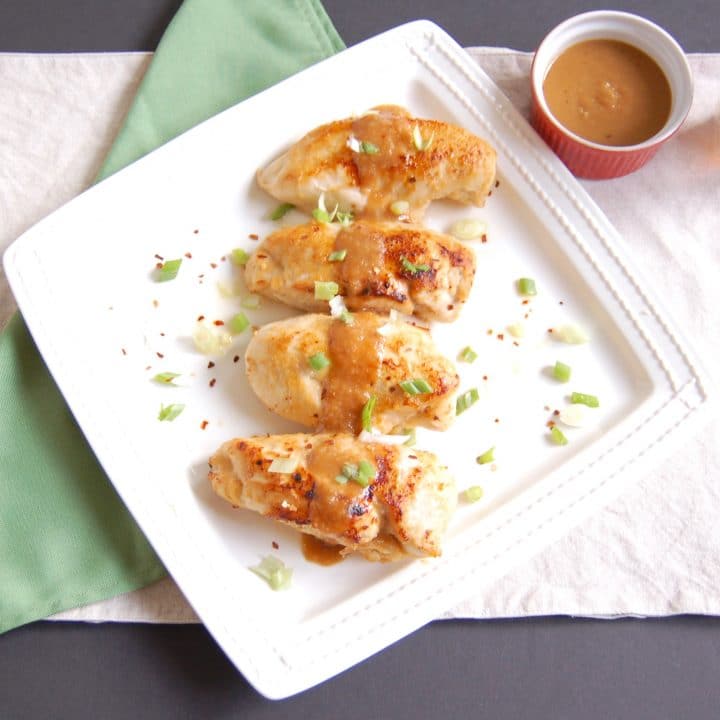 Miso-Glazed Chicken Breasts
Boneless, skinless chicken breasts are marinated in a miso-based sauce and baked in this quick and easy weeknight dinner that's packed with flavor and nutrition. Serve with a side of your family's favorite roasted veggies and a whole grain for a complete and balanced meal.
Dairy-Free, Gluten-free, Nut-free, Kosher
Ingredients
1/3 cup unseasoned rice vinegar
1/4 cup white miso paste
2 tablespoons honey
1 tablespoon low-sodium soy sauce (or gluten-free soy sauce)
1 tablespoon sesame oil
1 tablespoon freshly grated ginger
1 tablespoon grated garlic
Cooking Spray
2 pounds skinless, boneless chicken breasts
Chopped scallions, for garnish (optional)
Instructions
In a large bowl, whisk together rice vinegar, miso paste, honey, soy sauce, sesame oil, ginger, and garlic. Add chicken breasts to bowl and coat with the sauce. Cover and refrigerate for at least 30 minutes.
Preheat oven to 400 degrees F. Coat a baking dish with nonstick cooking spray and transfer chicken to the dish, reserving marinade. Bake chicken for 15 minutes. Baste the chicken with pan juices and bake another 10 minutes. Turn on broiler and broil chicken for 3 to 5 minutes until golden brown on top.
While chicken is baking, transfer marinade to a small saucepan and bring to a boil. Reduce heat and simmer until reduced by half and sauce is syrupy, about 2 to 3 minutes.
Serve chicken with chopped scallions and miso-glaze drizzled on top.
Notes
You can marinate the chicken the night before to save time.
Recommended Products
As an Amazon Associate and member of other affiliate programs, I earn from qualifying purchases.
Nutrition Information:
Yield:

6
Amount Per Serving:
Calories:

322
Total Fat:

8g
Saturated Fat:

2g
Trans Fat:

0g
Unsaturated Fat:

5g
Cholesterol:

129mg
Sodium:

628mg
Carbohydrates:

10g
Fiber:

1g
Sugar:

7g
Protein:

49g
Nutrition information was calculated by Nutritionix. It may not be 100% accurate.
Do you cook chicken during the week?
Have you ever cooked with miso?
Share with me in the comments below!