Roasted Chicken with Fennel, Carrots, & Dried Plums
March 22, 2015
Juicy, savory, and flavorful roasted chicken with fennel, carrots, onions, and dried plums is easy enough for a weeknight meal and elegant enough for company. Also a great recipe for leftovers – if there are any!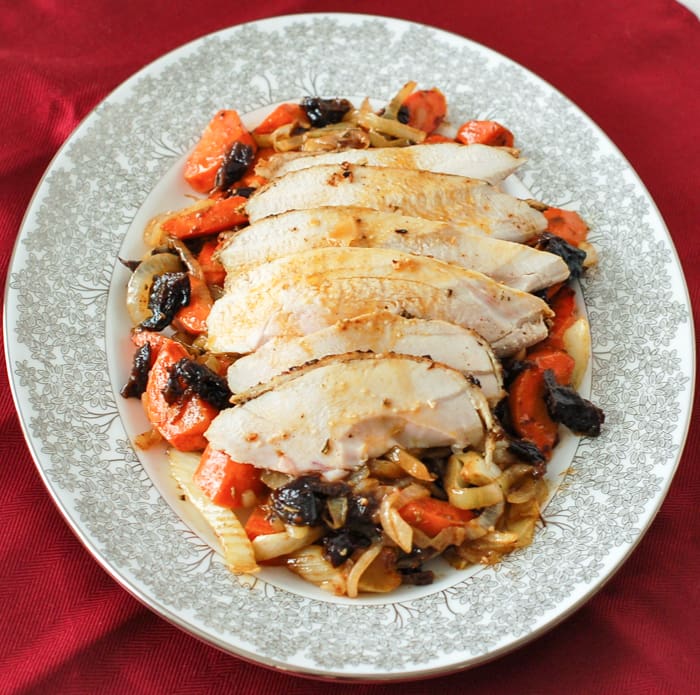 Most recipes I am inspired to make come from something I ate at a restaurant, a recipe featured in one of the magazines I read (these days that's primarily Real Simple and Better Homes and Gardens), or something I've seen on Pinterest or Instagram. Occasionally I'll be inspired to make a healthier version of a recipe I remember from growing up, like my Baked Panko Crusted Chicken in place of fried schnitzel. And then sometimes a recipe just comes about from sheer luck of combining ingredients I think will go well together.
To be honest, I am not really sure what inspired this roasted chicken with fennel recipe – that's how long ago I first made it! But whatever it is that inspired it, it came out so good that I knew I had to make it again and this time write down everything I did. So months ago I got to it, and since then the recipe has been sitting on my desk, the photos in iPhoto waiting to be edited, and the date for posting moving every week on my editorial calendar. Until now.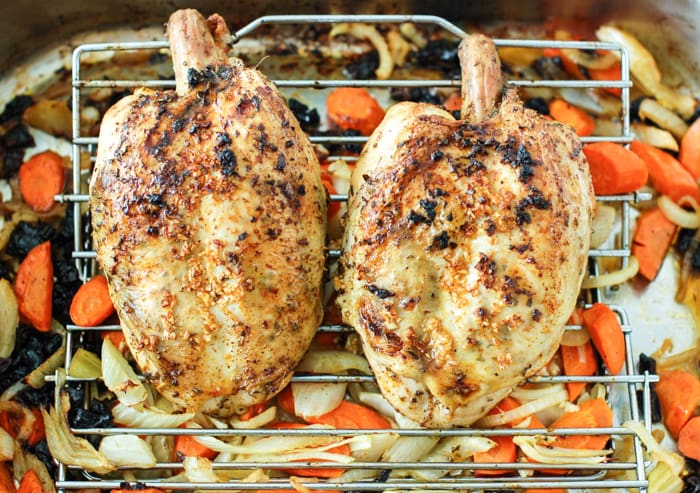 Double Duty Dinner
I love this theme! I mean, who wants to cook a new meal every night? Truth be told, I am guilty of doing just that pretty often because I underestimate how much my little girls will eat or how much we will love something and eat more of it than expected. But when I'm putting together my weekly Menu Plan Monday, I try to take into account having leftovers or making something new with what remains of a previous night's meals.
One of my favorite Two for One meals is making Thai Chicken Salad with leftover Coconut-Lime Chicken – it's a great way to use up the leftover sauce, which is so finger-licking good you won't want to throw it out!
In the meantime, here's this month's Recipe ReDux. The leftover chicken from this roasted chicken with fennels, carrots, & dried plums can also be made into chicken salad – just shred the chicken, dice up the veggie mixture, and mix with the gravy. Then fill a whole wheat pita pocket and there's your lunch or dinner for the next day. You can also add the chicken to a mixed salad or put it between two slices of bread- even without the cooked vegetables, the chicken is so moist and juicy, you'll be happy to eat it on it's own!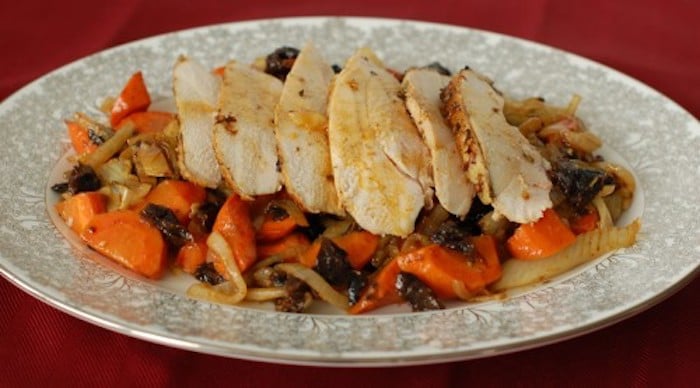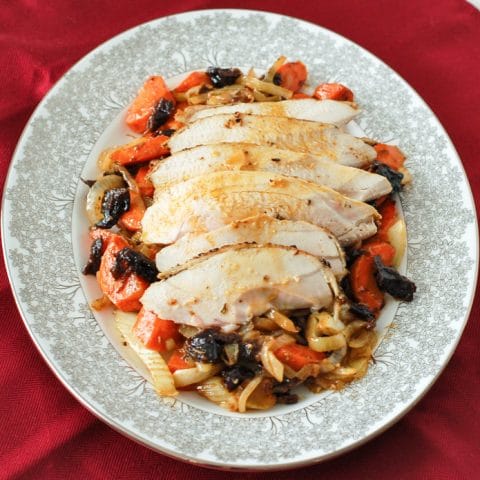 Roasted Chicken with Fennel, Carrots, & Dried Plums
Total Time:
1 hour
10 minutes
Juicy, savory, and flavorful roasted chicken with fennel, carrots, onions, and dried plums is easy enough for a weeknight meal and elegant enough for company. Also a great recipe for leftovers – if there are any!
Dairy-Free, Gluten-Free, Nut-Free, Kosher
Ingredients
1 pound carrots, peeled, halved lengthwise, and cut into 1/2-inch chunks (~3 cups)
1 large fennel bulb, sliced (~3 cups)
2 onions, sliced into half moons
3 tablespoons olive oil, divided
1 tablespoon chopped fresh rosemary (or 1 teaspoon dried)
1 teaspoon dried marjoram
1 teaspoon chili powder
2 bone-in chicken breasts (2.5-3 pounds total)
1 tablespoon lemon juice
2 cloves garlic, chopped
3/4 cup dry white wine or low-sodium chicken broth, divided
Kosher salt & freshly ground pepper, to taste
1 cup dried plums (prunes), chopped
Instructions
Preheat oven to 400 degrees F.
Spread carrots, fennel, and onions on bottom of a large roasting pan. Toss with 1 tablespoon olive oil.
In a small bowl, whisk remaining 2 tablespoons olive oil with rosemary, marjoram, and chili powder to form a paste. Spread on chicken breasts, being sure to get under the skin as well. Place on a roasting rack over the vegetables.
Drizzle lemon juice over chicken breasts and sprinkle with chopped garlic. Pour 1/2 cup wine (or broth) around chicken (not on top). Sprinkle chicken and vegetables with salt and pepper.
Roast chicken and vegetables for 35 minutes. Baste top of chicken, toss in prunes, and cook another 15-20 minutes until chicken skin is nicely browned and internal temperature is 150 degrees. Let chicken rest. (Note: Food safety recommendations for chicken is an internal temp of 165 degrees; however, as I previously mentioned, chicken continues cooking after removed from the oven, so to retain moisture I remove it at 150 degrees.)
If vegetables need to cook longer, transfer chicken to a cutting board and continue roasting vegetables for another 5-10 minutes.
Pour pan drippings into sauce pan. Add remaining 1/4 cup wine or broth. Simmer about 5-10 minutes until gravy reduces.
To serve, slice chicken off bone and serve with vegetable/dried plum mixture with gravy on top.
Notes
If chicken skin is not as crisp as you'd like, put it under the broiler for about 5 minutes.
Recommended Products
As an Amazon Associate and member of other affiliate programs, I earn from qualifying purchases.
Nutrition Information:
Yield:

8
Serving Size:

1 Servings
Amount Per Serving:
Calories:

206
Total Fat:

7g
Saturated Fat:

1g
Trans Fat:

0g
Unsaturated Fat:

5g
Cholesterol:

26mg
Sodium:

119mg
Carbohydrates:

23g
Fiber:

4g
Sugar:

12g
Protein:

11g
Nutrition information was calculated by Nutritionix. It may not be 100% accurate.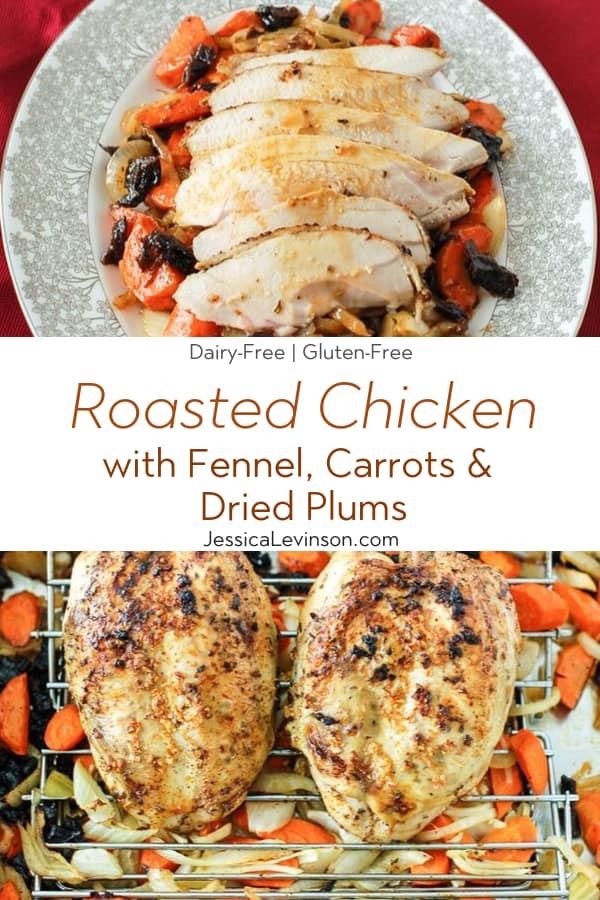 Do you like leftovers?
What's your favorite Two for One meal?
Share with me in the comments below! And let me know if you try this roasted chicken with fennel!