Miso-Roasted Brussels Sprouts and Root Veggies + Natural Pregnancy Cookbook Review
November 4, 2015
Sweet and salty glazed Brussels sprouts and root vegetables are inspired by Dr. Sonali Ruder, aka The Foodie Physician, author of the Natural Pregnancy Cookbook.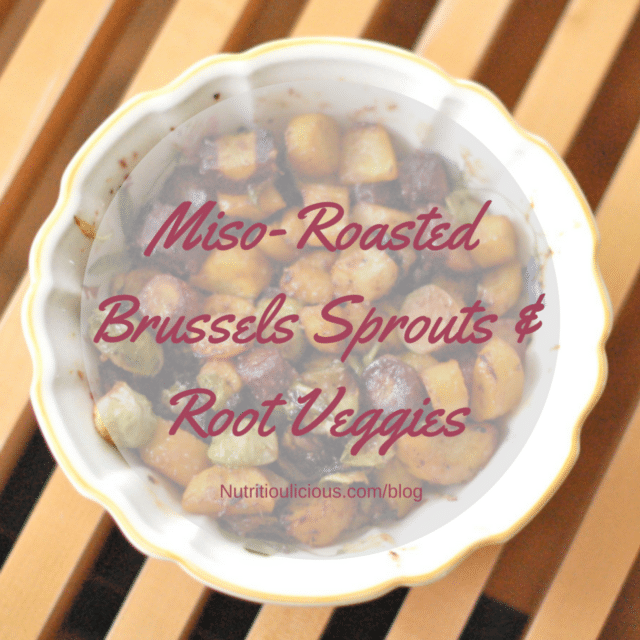 I received a complimentary copy of the Natural Pregnancy Cookbook to review. No compensation was involved and as always, all opinions are my own.
It's a funny thing how you make friends these days. Yes, there are my mommy friends who I have met through my kids' nursery school, my old college and graduate school friends, and of course many acquaintances from the community I live in. But I have a whole world of friends who I only know online, through their food and nutrition blogs and social media. Some I have been lucky enough to meet at events like FNCE and the Blog Brûlée retreat I attended last year. Others I have never met, but we connect so often on Twitter, Facebook, and Instagram that it's as if we know each other for ages.
One of those friends is Sonali Ruder, aka The Foodie Physician. I was first introduced to Sonali a few years ago through The Recipe ReDux community. And while I have never met Sonali in person, I know we will hit it off immediately if and when we do. (Coincidentally, my sister in law has met her – they went to high school together!) There have been numerous occasions when Sonali and I have posted similar recipes  for the monthly ReDux posts or recipe contests, showing just how much great minds think alike (and how sympatico we are!).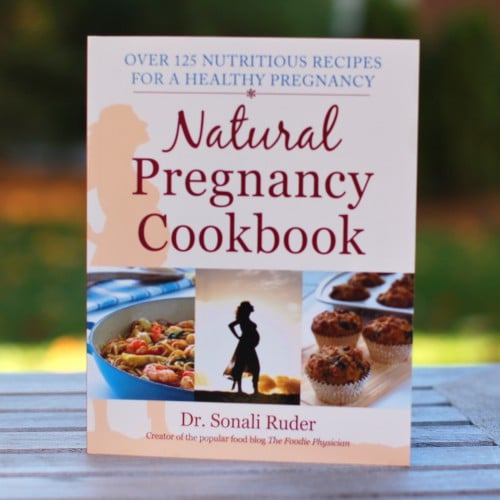 I am in constant awe of Sonali – she is an emergency medicine physician, chef, recipe developer and cookbook author, and mom to an adorable toddler. How she gets it all done amazes me. So when Sonali invited me to join the virtual blog tour for her new cookbook, The Natural Pregnancy Cookbook (affiliate link), I said yes without hesitation. I love making Sonali's recipes – they are always husband- and kid-approved in my house – and I am proud to support her book and get the word out.
Now before you start jumping to conclusions – NO, I am not pregnant! Twins are enough for me, thank you very much! But no matter whether you are or aren't expecting a child, you will want to pick up this book because the recipes are amazing.
If you are pregnant or planning to get pregnant, the first 63 pages of the book are filled with information for you: Pregnancy nutrition, sample food plans, tips for combating morning sickness and cravings, a section on food safety, and of course tips for healthy cooking during pregnancy.
Part two is where you'll find over 125 nutritious and delicious recipes like Baby Bump Banana Flax Bread, Cauliflower Cheesy Bread, Baby Bellini, Sunday Beef Stew, and Cannoli Cream-Filled Strawberries. Last week's menu plan featured a handful of Sonali's recipes from the book: one night we had her Quick and Easy Miso-Glazed Salmon with Roasted Butternut Squash Salad with Maple Dijon Vinaigrette and Miso Roasted Brussels Sprouts, and another night we had her Spaghetti Squash Lasagna. All of them were hits, even with the kids.
I added the Brussels sprouts to the menu after seeing I had some in my produce bin from the previous week, but it turned out I didn't have enough for the full recipe, so I added some other root veggies I had on hand. The combo of Brussels sprouts, beets, heirloom carrots, and parsnip was delish, and the salty sweet miso glaze was to die for. I seriously could eat anything with that on top!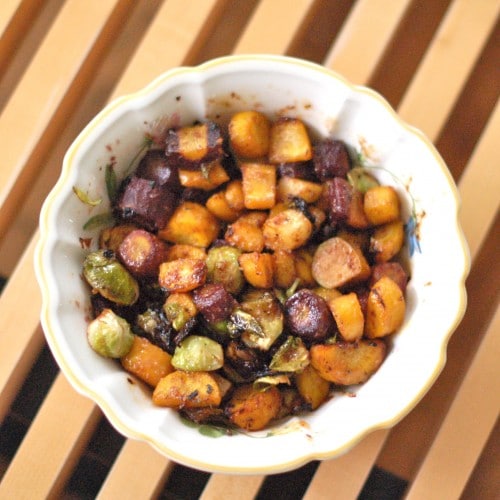 I hope you'll give it a try and check out Sonali's website and The Natural Pregnancy Cookbook for more awesome recipes you can feel good about eating whether you're pregnant or not!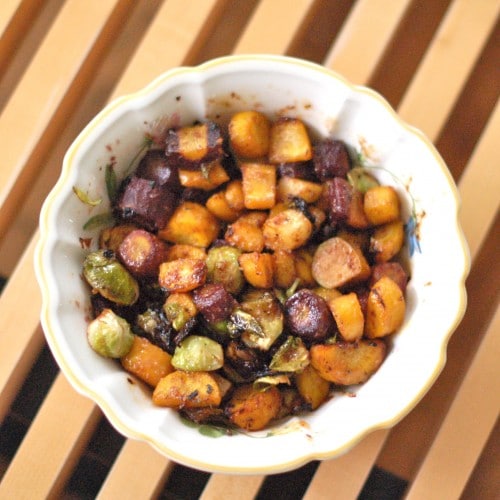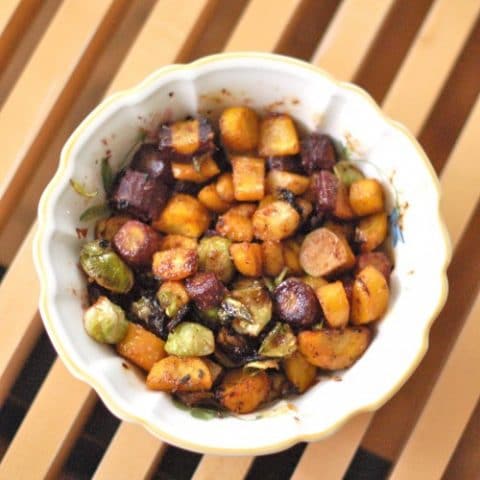 Miso-Roasted Brussels Sprouts and Root Veggies
Brussels sprouts, carrots, parsnips, and beets are tossed with a salty sweet glaze and roasted in the oven until caramelized. A delicious side dish to be paired with fish, beef, or chicken.
Ingredients
1 pound mixed halved Brussels sprouts, cubed carrots, beets, and parsnips
1 1/2 tablespoons olive oil
2 1/2 tablespoons white, shiro miso paste
1 tablespoon maple syrup
1 tablespoon cider vinegar
1 teaspoon low-sodium soy sauce, or tamari
1/2 teaspoon Sriracha or other hot sauce, optional
Instructions
Preheat oven to 400 degrees F.
Mix the oil, miso paste, maple syrup, vinegar, soy sauce, and Sriracha together in a large bowl. Remove about 1 tablespoon of the sauce and save it to toss with the vegetables later. Add the vegetables to the bowl and toss to coat them with the sauce. Transfer the vegetables to a baking sheet sprayed with olive oil cooking spray and spread them out in a single layer.
Roast vegetables in the oven until caramelized and tender, 20-25 minutes. Stir them once or twice during cooking. Remove the tray from the oven and drizzle the reserved sauce on top. Toss to combine. Serve warm.
I know I'm not alone in having lots of virtual friends. Tell me about your experience with this!