Roasted Brussels Sprouts with Pomegranate Glaze
December 15, 2016
Roasted Brussels sprouts are tossed with a sweet pomegranate maple glaze and topped with pomegranate seeds in this simple and delicious side dish perfect for the holiday season and beyond.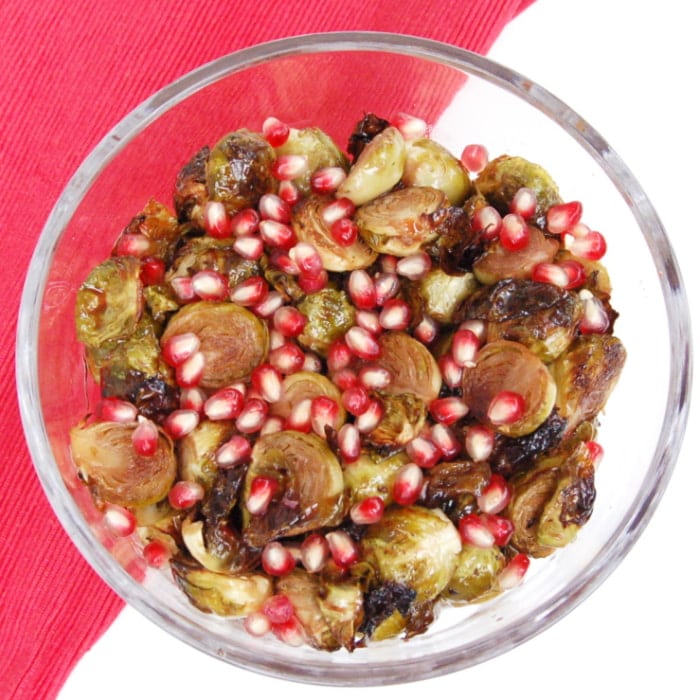 This recipe originally appeared in the December 2016 issue of Today's Dietitian Magazine. I was compensated for writing the original article, "Brussels Sprouts: Little Cabbages with Big Flavor and Nutrition," and developing the recipe, but I was not compensated for sharing the column or magazine with readers on my blog. All opinions are my own.
Have you had enough of all the holiday recipes yet? I for one can't get enough of the festive dishes I'm seeing all over Instagram, Pinterest, and Facebook – I don't have time to make them all, but I love just looking at the pretty morsels of food!
Maybe it's the food blogger in me, I don't know, but I sure hope you agree, because I have a new recipe for you today and more on the way before Hanukkah and Christmas hit! The great thing about all these recipes is that they're delicious to enjoy all winter long, even once the holidays are over.
I originally developed these Roasted Brussels Sprouts with Pomegranate Glaze back in September for my December Culinary Corner column in Today's Dietitian Magazine, and I have been making them ever since. I just can't get enough! Between the roasted Brussels sprouts, the pomegranate maple glaze, and the fresh pomegranate arils there's so much nutrition and deliciousness I'm sure you too will want to make this recipe over and over again!
How to Cook Brussels Sprouts
I know Brussels sprouts aren't everyone's favorite vegetable, especially not the kids', but I have to say that when they are prepared right they are absolutely delicious. And when I say right, I mean when they are roasted. I have mentioned before that roasting is my favorite method for cooking all vegetables, and while there are many vegetables I enjoy raw or cooked in other ways, when it comes to Brussels sprouts, no other cooking method compares (IMO!).
Roasted Brussels sprouts are so full of flavor and have that crispy outer layer and tender interior that keep me going back for more. And who wouldn't want to keep eating more and more Brussels sprouts given all the nutritional benefits they hold? (As I mention in the Today's Dietitian column, they're a good source of fiber and potassium, and an excellent source of folate and vitamins C, A, and K.)
You can certainly cook Brussels sprouts with other methods like sautéing, steaming, or even cooking in the microwave. I do not recommend boiling Brussels sprouts though, as they'll lose most of their vitamin C in the process. And honestly, if you want to get the kids to eat those Brussels, just do yourself a favor and roast them. Even better, roast them and add them to a pasta dish like I do in this Roasted Butternut Squash & Brussels Sprouts Pasta with Lemon-Sage Ricotta.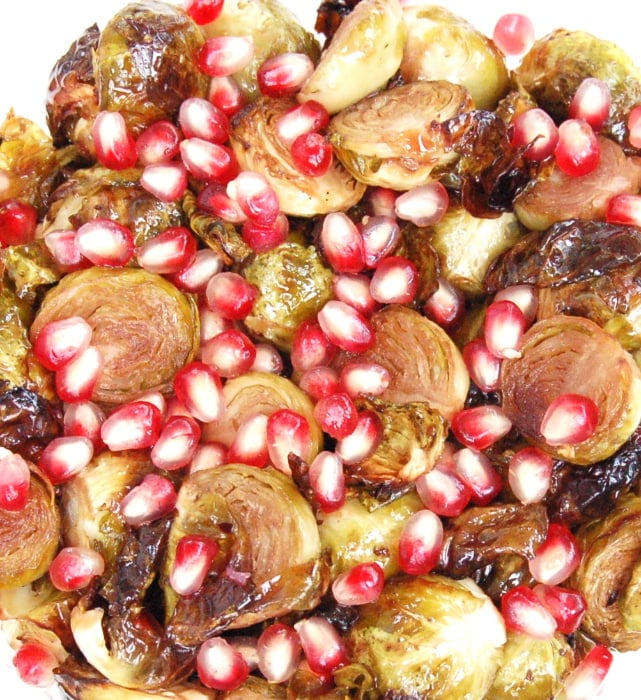 Don't Skip the Glaze
Back to this recipe. Once you add the pomegranate glaze and fresh pomegranate arils to these roasted Brussels sprouts you have a side dish that will satisfy your tastebuds and keep you healthy. Plus, this gluten-free and vegan recipe is a great addition to the table if you or guests need a recipe that's free of the top allergens.
To make the glaze, combine 100% pomegranate juice with maple syrup and reduce it to a syrupy consistency. The longer it simmers, the thicker the syrup it will be. I have also found that the syrup thickens and becomes stickier as it sits, which isn't a bad thing, just something to note depending on your taste preferences!
You may have noticed I've been adding pomegranate seeds to pretty much everything lately – yogurt, oatmeal, salads, little finger food appetizers, and this Maple Roasted Delicata Squash Quinoa Salad.
Why do I love poms so much? First, the health benefits of pomegranates are amazing! Second, who doesn't love little ruby red jewels that add the most vibrant pop of color and burst of flavor to any dish?! Personally, I think all holiday recipes should have pomegranate seeds on top, but maybe that's just me! What do you think?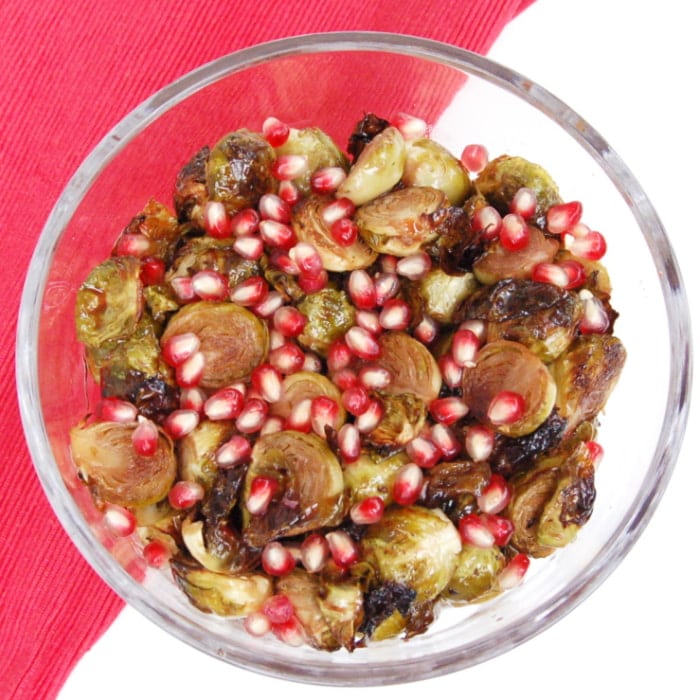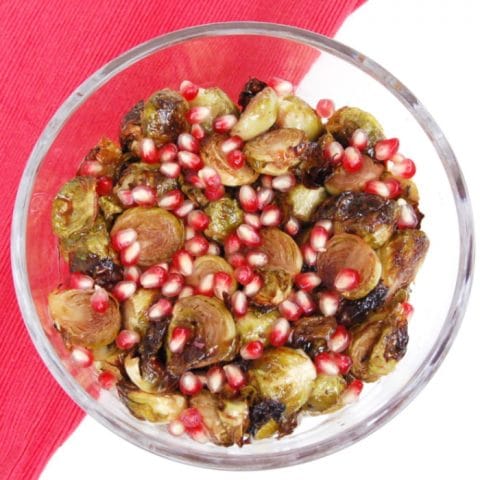 Roasted Brussels Sprouts with Pomegranate Glaze
Toss roasted Brussels sprouts with pomegranate maple glaze and top with fresh pomegranate seeds for a burst of flavor in every bite. A simple and delicious side dish perfect for the holiday season and beyond.
Vegan, Gluten-Free, Nut-Free, Kosher
Ingredients
2 pounds Brussels sprouts, trimmed and halved lengthwise (if Brussels sprouts are very large, quarter them)
2 tablespoons olive oil
1/2 teaspoon Kosher salt (or more to taste)
1/2 cup 100% pomegranate juice
2 tablespoons maple syrup
1/2 cup pomegranate seeds
Instructions
Preheat oven to roast at 400° F. Line a large baking sheet with aluminum foil.
Toss Brussels sprouts with olive oil and salt and spread on baking sheet. Roast 20 minutes*, stirring occasionally, until crisp and browned on the outside and tender on the inside.
While the Brussels sprouts are roasting, make the pomegranate glaze. In a small saucepan, bring pomegranate juice and maple syrup to a boil, reduce heat and simmer until reduced by half and glaze mixture coats the back of a spoon, about 8 minutes.
Toss roasted Brussels sprouts with pomegranate glaze and pomegranate seeds. Serve.
Notes
*Roasting time may vary - keep an eye on the Brussels sprouts so they don't burn, especially leaves that have separated.
Recommended Products
As an Amazon Associate and member of other affiliate programs, I earn from qualifying purchases.
Nutrition Information:
Yield:

8
Amount Per Serving:
Calories:

101
Total Fat:

4g
Saturated Fat:

1g
Trans Fat:

0g
Unsaturated Fat:

3g
Cholesterol:

0mg
Sodium:

158mg
Carbohydrates:

15g
Fiber:

3g
Sugar:

8g
Protein:

3g
Nutrition information was calculated by Nutritionix. It may not be 100% accurate.
Do you like Brussels sprouts?
If so, what's your favorite way to cook them?
Share with me in the comments section below!