All About Tomatoes + Caprese Couscous Stuffed Tomatoes
July 29, 2016
Learn about the varieties, health benefits, & culinary uses of fresh summer tomatoes. Then enjoy delicious & healthy Caprese Couscous Stuffed Tomatoes!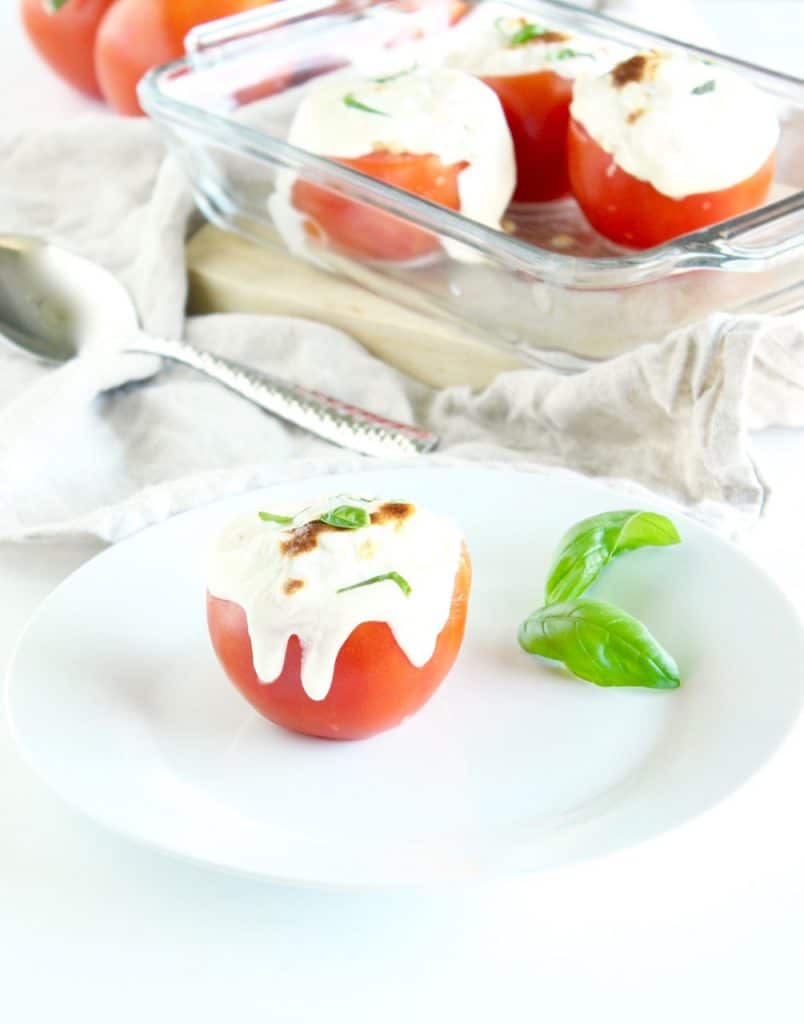 Summer is the ultimate season for fresh, juicy tomatoes! I personally love summer tomatoes, especially ones that are home grown in my parents' garden or purchased from the farmers market. Not only are tomatoes delicious and versatile, but they are also a great source of nutrients. Since summer is the season to spotlight this summer veggie (…or fruit. We'll get to that!), I thought I'd share the tomato love with some helpful tips and a yummy tomato recipe!
Summer Tomato Varieties
There are hundreds of varieties of tomatoes available commercially. They range in size and color (tomatoes can be red, pink, green, yellow, orange, and even purple!). Some of the more common commercial varieties include:
Beefsteak and Beefmaster: These large, round tomatoes are best for slicing and eating fresh on sandwiches and salads.
Plum or Roma: These tomatoes are medium in size and more oblong in shape. They are often used for processing in pastes and sauces. They stay good longer, so they can also be eaten fresh.
Cherry and grape: These tiny tomatoes, true to their name, resemble grapes or cherries in size and shape. They are delicious eaten on their own as a snack or dipped in hummus. They are also great for salads and hold up well to grilling or roasting.
Campari: These medium tomatoes are round and somewhere in between Roma and Cherry tomatoes in size. They are sweeter and less acidic than other varieties.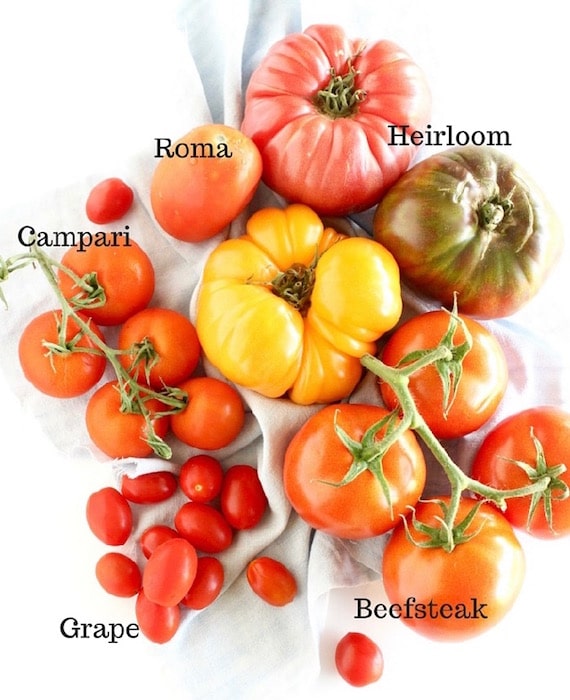 Then, of course, there are several varieties of heirloom tomatoes. You may recognize them as the colorful, sometimes oddly-shaped tomatoes. They are named 'heirloom' because they are self-pollinating and, traditionally, the seeds of heirloom tomatoes have been passed down from generation to generation. They are typically grown by home gardeners, but there are now commercial varieties available.
Oh, and tomatoes are technically a fruit, though the culinary world (and even the U.S. Supreme Court!) regard them as vegetables. So you can use either term and be correct!
Tomato Health Benefits
Nutritionally, tomatoes are excellent sources of several nutrients. While low in calories, tomatoes are high in fiber, vitamins A, C, the B vitamins riboflavin and folate, and the mineral chromium. They are a good source of potassium, too. Just one large tomato contains around 430 mg of potassium, which is important for heart health and muscle and nerve function. Tomatoes are also high in antioxidants and the phytonutrients beta-carotene and lycopene. Lycopene is especially high in cooked tomatoes. The stellar nutrient profile of tomatoes adds up to some serious health benefits, including:
Reduced risk of heart disease and metabolic syndrome
Prevention of oxidative damage
Bone, eye and skin health
Improved digestion (thanks to fiber!)
Reduced risk of some cancers, especially prostate, lung, and stomach cancers due to lycopene content
Reduced risk of stroke
Protection against cognitive decline
Nerve and muscle health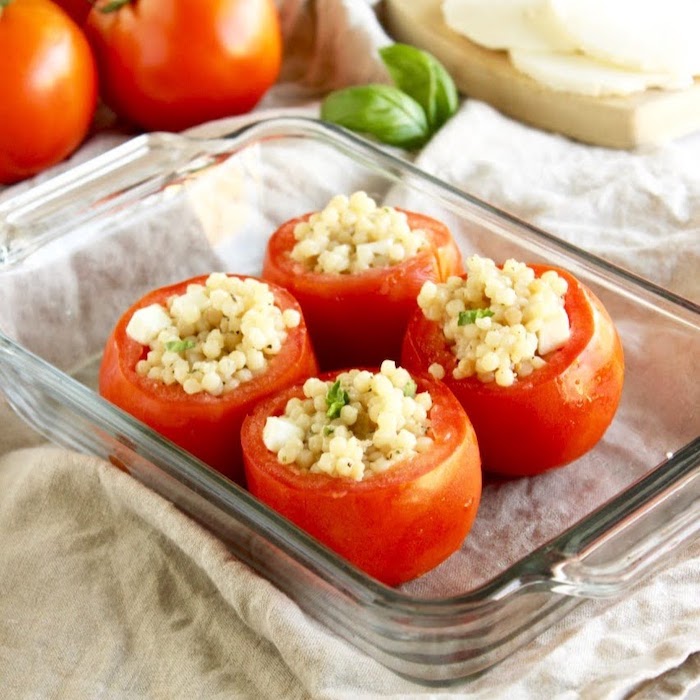 Culinary Uses of Tomatoes
Now that you know how healthy tomatoes are, you have no reason not to enjoy them this summer. Tomatoes are extremely versatile and can go with almost anything, but to get you started on ideas, here are some uses for this amazing veggie/fruit:
Enjoy sliced fresh tomatoes with fresh mozzarella, basil, and olive oil
Snack on cherry tomatoes with hummus or your favorite dip
Freeze tomatoes for later and use in soups, stews, and pasta sauce
Add cherry tomatoes to kebabs on the grill
Stuff them with whole grains or veggies like I did in the recipe below!
For the best flavor, store tomatoes on your counter, not in the refrigerator. Then use as soon as they are ripe! Enjoy!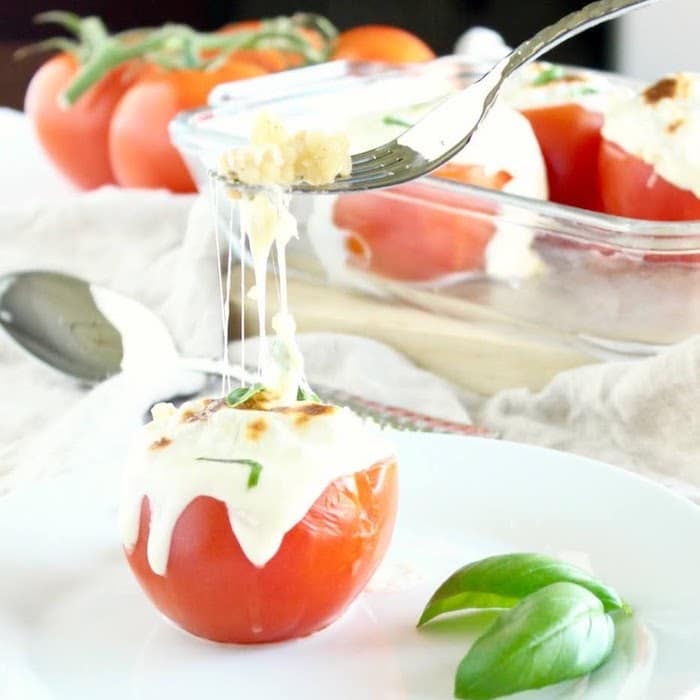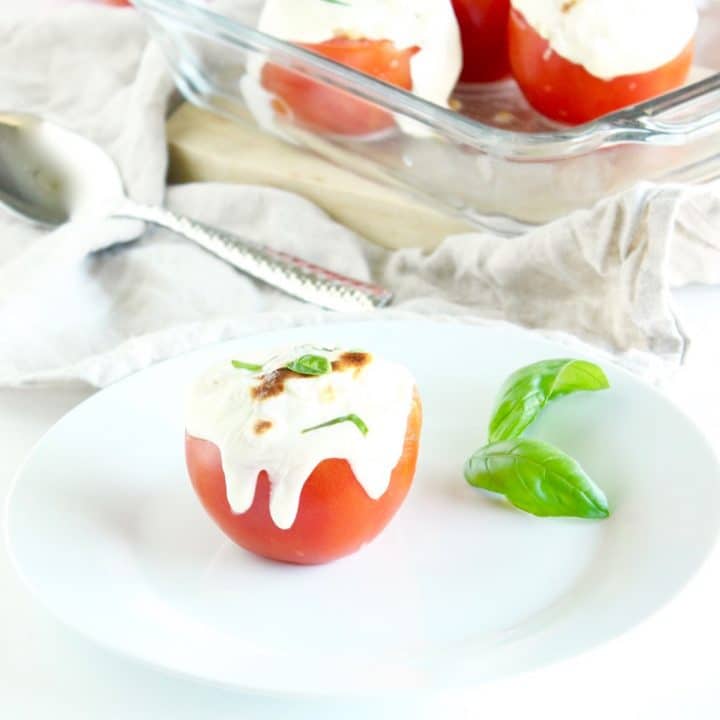 Caprese Couscous Stuffed Tomatoes
Fresh tomatoes stuffed with basil and mozzarella couscous and baked until bubbly. They are the perfect summer side dish, lunch, or appetizer!
Ingredients
4 Beefsteak tomatoes
1 cup cooked Israeli Couscous, (also known as pearl couscous)*
Pinch freshly ground black pepper
Pinch garlic powder
1 teaspoon extra virgin olive oil
3 ounces fresh mozzarella, (a little less than half of an 8-ounce mozzarella ball)
5 to 6 basil leaves
Instructions
Preheat oven to 350° F. Lightly oil a square baking dish.
Use a paring knife to scoop out the inside of each tomato. (Don't discard the insides- save them for salsa or my Catalan Toast!)
In a small bowl, combine cooked couscous, black pepper, garlic powder, and olive oil.
Slice 4 thin slices off of your mozzarella ball and set aside. Chop the remaining mozzarella into small cubes (about 1/4 inch). Thinly slice basil, reserving a few ribbons for garnish. Add the mozzarella cubes and basil to the couscous and stir to combine.
Scoop couscous mixture into the hollowed tomatoes, filling to the top. Place a slice of mozzarella over each tomato and bake for 10 minutes. Turn oven up to broil and broil for a few more minutes, watching closely, until the tops are golden and bubbly.
Remove from the oven and garnish with reserved basil ribbons. Serve immediately.
Notes
*Cook couscous with low-sodium chicken or vegetable broth for more flavor.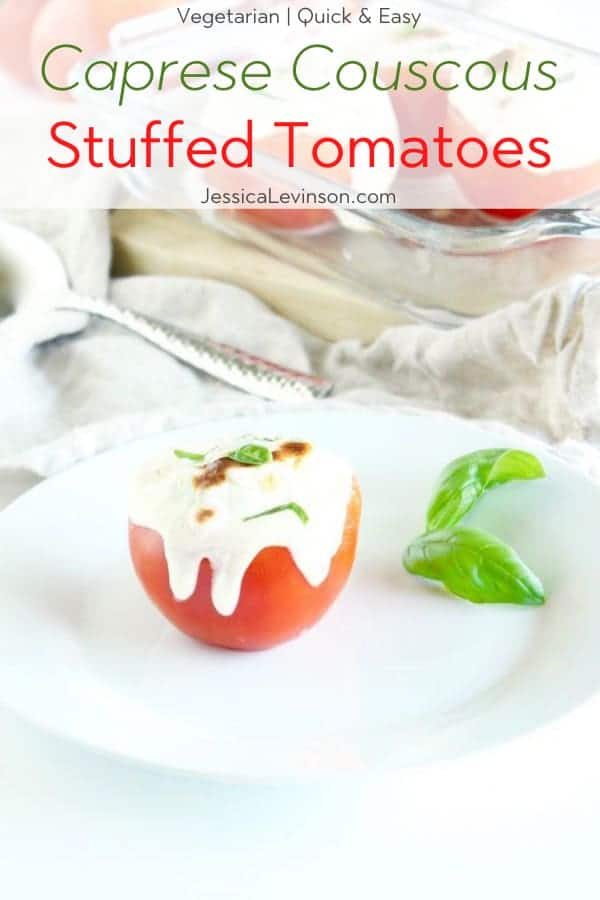 What's your favorite way to enjoy all the nutritious and delicious summer tomatoes?
Share with me in the comments below!