Crispy Baked Sweet Potato Fries
July 12, 2017
Crispy baked sweet potato fries are easy to make, kid-friendly, and delicious. The perfect side dish for any weeknight family dinner!
These Crispy Baked Sweet Potato Fries are one of my go-to side dishes for the family – my girls, hubby, and I all love them equally, sometimes to the point of fighting over the last few! In fact, one of my daughters has caught on to the deliciousness of well-done, crispy roasted veggies, and now I have to share my portion with her. Whomp, whomp 😭
Just like any good French fry should be, these sweet potato fries are thin cut, crispy on the outside, tender on the inside, and finger-licking good. You can't just stop at one, and why should you?! These fries are a healthier twist on classic French fries, and even better for you than sweet potato fries you'd get at any restaurant.
Granted, this recipe is not going to knock your socks off – if you Google baked sweet potato fries you'll get over 13 million search results! However, I thought it was about time I added my version of crispy baked sweet potato fries so that you can see just how easy they are to make, and so you can put together your whole menu plan in one place. Next time you're making my Ginger Miso Turkey Burgers, Panko Crusted Chicken, or Grilled Cilantro Lime Steak, you'll have the perfect side dish to add to the plan.
One Ingredient Recipe
One of the best things about this recipe, is that it requires only one ingredient – sweet potatoes.
*If you remember from my 3-Ingredient Minty Pea Dip, 5-Ingredient Orange Maple Salmon, and Creamy Roasted Red Pepper and Tomato Pasta recipes, I don't count oil, salt, and pepper to the number of ingredients since they are pantry staples. If that's not the case for you, then email me and I'll write a separate post about that!
While I have nothing against white potatoes as they do provide some important nutrients like potassium and vitamin C, my preference is for sweet potatoes due to the flavor and nutritional benefits. Sweet potatoes are a very good source of potassium, fiber, and the antioxidants beta-carotene and vitamins C and E. And as it pertains to getting your kids to eat more vegetables, the sweetness of sweet potatoes certainly helps. (Not that I've ever seen any kid turn down any type of fry!).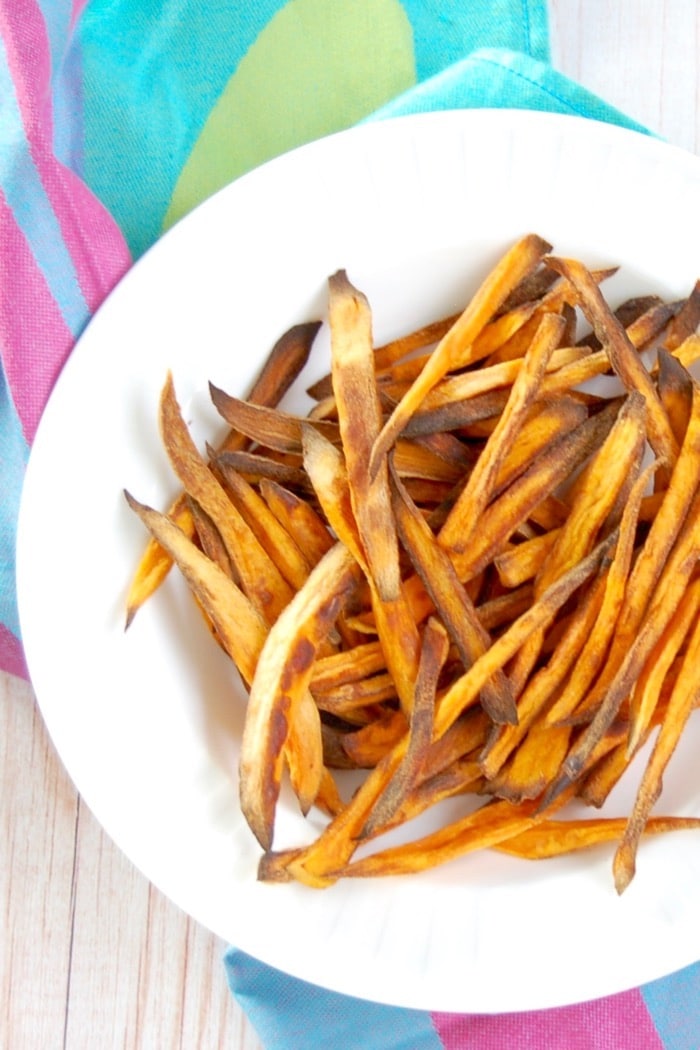 Three Step Recipe
The most basic version of these crispy baked sweet potato fries involves three steps:
Slicing sweet potatoes lengthwise into long, thin strips
Tossing fries with oil, and
Baking in a high temperature oven for 30 minutes, flipping halfway through.
Pretty easy, right? If you want to add more flavor, you can certainly do so by adding dried herbs and spices. Some of my favorites to sprinkle on top are cinnamon and chili powder, but rosemary, oregano, and thyme are also delicious if pairing these fries with a more Mediterranean style meal.
I'd say the two most difficult parts of making these fries (or any fries really) are making sure that the fries are cut evenly so they cook evenly, and flipping the fries, which isn't really hard, just tedious.
How to Successfully Make Crispy Baked Sweet Potato Fries
There are five keys to success when making crispy baked sweet potato fries:
Slice the sweet potatoes thin
Don't overdo it on the olive oil
Don't overcrowd the sweet potatoes on the baking sheets
Cook them at high heat
Rotate the pans after flipping
Don't be turned off by the lengthy preparation steps in the recipe below – I included a lot of details since the cooking technique is what makes these crispy baked sweet potato fries crispy!
One word about the oven temperature for this recipe. My oven has multiple settings including bake, convection bake, roast, and convection roast. Don't ask me what the difference is between all of these, because I still don't really know. But what I do know is that I use convection roast at 400-425 degrees F for almost all of my roasted vegetables.
If your oven only has one setting (bake), you will want to choose the higher temperature and may need to cook the fries longer. This is definitely a recipe you want to keep an eye on, because trust me when I tell you that you will be disappointed if you have burnt sweet potato fries!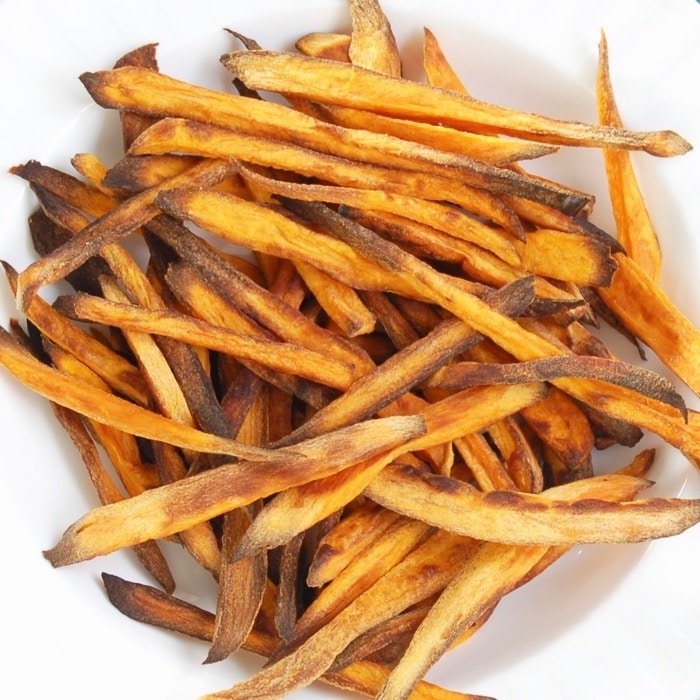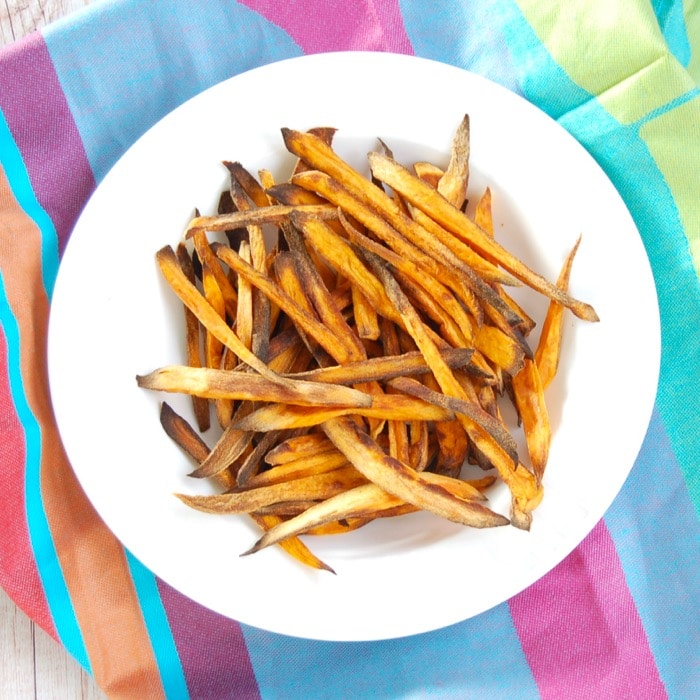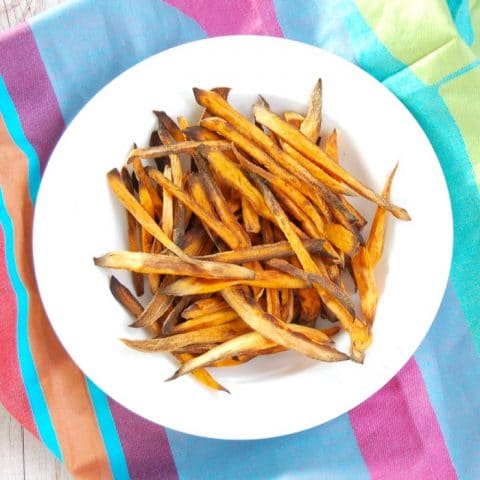 Crispy Baked Sweet Potato Fries
Crispy baked sweet potato fries are easy to make, kid-friendly, and delicious. The perfect side dish for any weeknight family dinner! For more flavor or to change it up, sprinkle with your favorite herbs and spices like cinnamon, chili pepper, and rosemary. 
Vegan, Gluten-Free
Ingredients
4 medium sweet potatoes (or 2 large)
2-3 tablespoons olive oil
Cinnamon, chili powder, rosemary, thyme, oregano, to taste (optional)
1/2 teaspoon Kosher salt
Instructions
Preheat oven to bake or roast at 425 degrees F. Line two large baking sheets with parchment paper or foil and set aside. If using foil, coat with cooking spray.
Peel sweet potatoes and slice into 1/4-inch thick matchstick slices (i.e. thin strips).
In a large bowl, toss sliced sweet potatoes with oil and seasonings other than salt, if using. Use your hands to make sure everything is nicely coated.
Spread fries in an even layer on baking sheets and sprinkle evenly with salt. Do not overcrowd the baking sheet, otherwise the fries will steam and not get crispy. Depending on the size of the baking sheets, you may need to work in batches.
Place baking sheets on top and middle racks of oven, and bake/roast for 15 minutes. Remove baking sheets from oven, flip fries, and return to oven to bake/roast for 10 to 15 minutes more, until browned with crispy edges. (When returning baking sheets to oven, switch which sheet goes on top and rotate the sheets to avoid uneven browning.)
Let cool about 5 minutes before removing fries from baking sheets and serve immediately. (Allowing them to cool slightly will prevent sticking to sheet/foil.)
Notes
I season with salt once the fries are spread out on the baking sheets to ensure even coating and keep salt use to a minimum.
Recommended Products
As an Amazon Associate and member of other affiliate programs, I earn from qualifying purchases.
Nutrition Information:
Yield:

4
Serving Size:

1/4th recipe
Amount Per Serving:
Calories:

160
Total Fat:

7g
Saturated Fat:

1g
Trans Fat:

0g
Unsaturated Fat:

0g
Cholesterol:

0mg
Sodium:

361mg
Carbohydrates:

23g
Fiber:

4g
Sugar:

7g
Protein:

2g
Nutrition information may not be 100% accurate.
Do you like crispy baked sweet potato fries?
What seasoning would you add?
Share with me in the comments below!