Grilled Cilantro Lime Steak
June 16, 2017
Perfectly grilled cilantro lime steak is easy to make and a delicious entrée to serve guests at your next summer barbecue.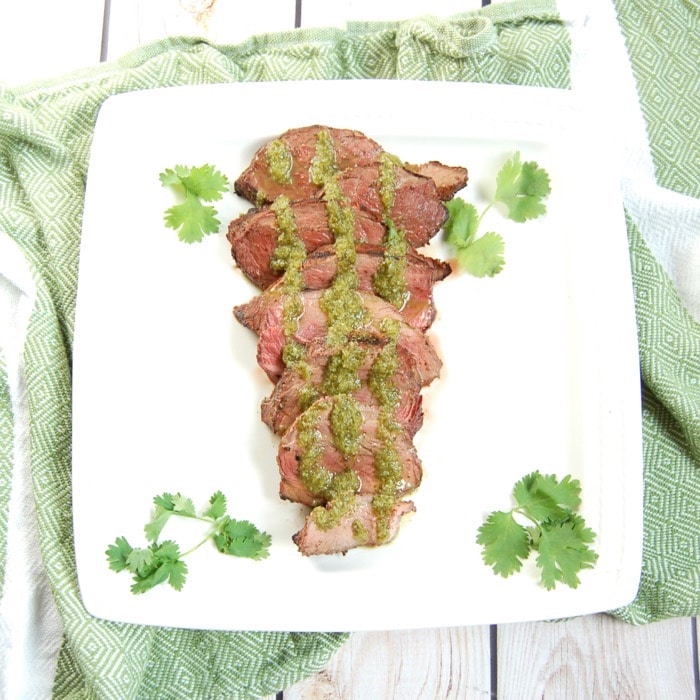 I'm telling you right now, come Monday morning, after the dad's in your life have had the most delicious Father's Day dinner ever, you're going to be thanking me! This Cilantro Lime Steak has been sitting on the back burner for a while and it's finally getting it's day in the spotlight. And just in time for Father's Day and all your other upcoming summer barbecues.
I originally made this recipe back in 2012, but it has long been in need of new photos and a slight adjustment to the recipe itself. I developed this recipe as an adaptation of a recipe I saw in the now defunct Everyday Food Magazine. The recipe called for cilantro and buttermilk, but since we keep a kosher home (and don't mix milk and meat) I needed to find a dairy-free alternative.
Ingredients & Preparation
Enter lime juice. First of all, how amazing is the flavor combo of cilantro and lime?! It's a classic pairing that needs no explanation – I mean just look at the popularity of Taco Tuesday and Mexican cuisine in general.
Second, lime juice is an awesome ingredient to add to marinades for beef. You know why? Because the high acidity of this citrus fruit acts as a tenderizer and breaks down the tough muscle fibers of beef. If you've ever had ceviche, you're familiar with the use of citrus to partially "cook" the fish, and the same is true here for meat.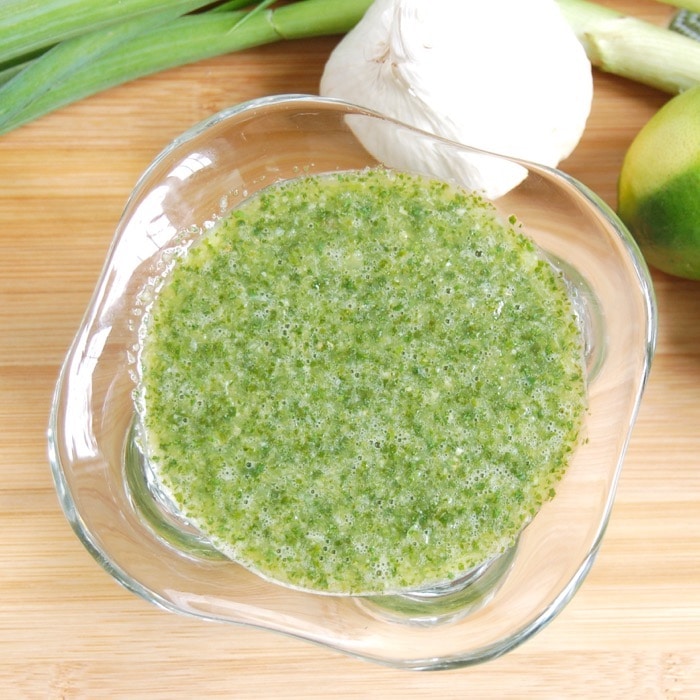 The end result: a softer, more tender and juicy piece of steak you can sink your teeth into (without having to worry about losing one to tear the meat apart!).
The rest of the ingredients in this Cilantro Lime Steak marinade make perfect sense to complement the cilantro and lime pairing: Scallions, garlic, and lime zest. So easy.
To make the marinade, you simply combine all the ingredients (minus the steak, obviously) in a blender/food processor and puree until combined. You will get about one cup of marinade from the recipe that follows. Cover the steak with half the marinade, reserving the other half for serving over the cooked beef. You want to let the steak marinate for at least 30 minutes, but the longer you leave it the more tender and juicier your end result will be.
I've written about steak before, but I will add here that for the grill I recommend a flank steak – it's a lean cut of meat that does well with high heat and shorter cooking times, which is what you get on the grill or under the broiler. This is especially true when you tenderize it with a marinade.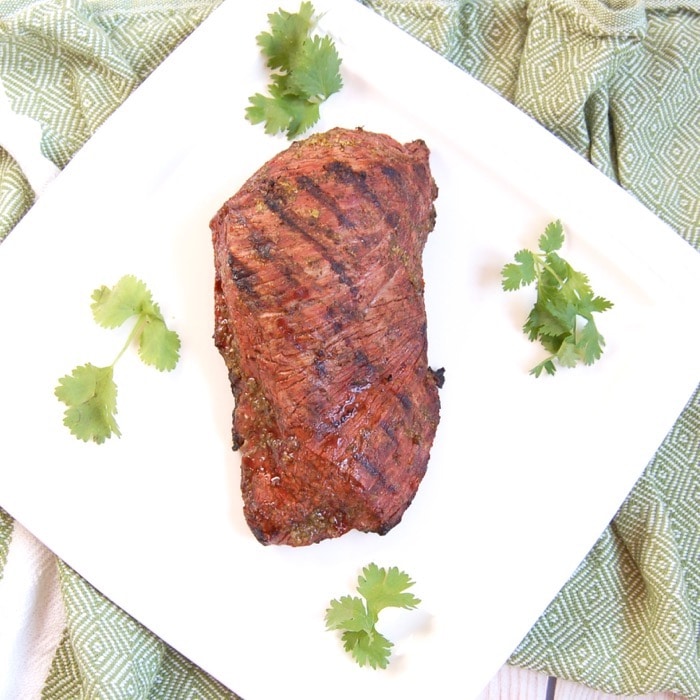 Steak Grilling Tips
When it comes to grilling, there are a few things I like to point out for the best medium-rare steak (which is my temperature of preference):
Bring steak to room temperature before grilling. Granted if it's a really hot day you don't want to leave it on the counter too long, but you definitely want to take off the chill.
Leave it alone! I have learned over the years that if you move around the steak too much you end up with uneven cooking. It's tempting to flip and check it every few minutes, but trust the system!
When it's done cooking, let it rest. The meat will continue cooking while resting, so make sure you account for that in your cook time. If you cut into it too soon, all your juices will get lost to the cutting board, so it's important to have patience. I know, that's a lot to ask for!
Cooking time will vary depending on thickness of your cut of meat, but for a flank steak I usually do 6 to 8 minutes per side. Keep in mind, the ends are usually thinner so they will get more well done in 6 minutes, but the center will be more rare. You can always cut your steak into pieces with more even thickness prior to marinating, or you can air on the side of caution and cook for shorter and throw the less cooked part on the grill after you cut into it.
I would dare to say that my adapted version of the Martha Stewart recipe is actually a wee bit better than the original. If you don't believe me, just see for yourself when you light the grill and cook up this delicious piece of beef!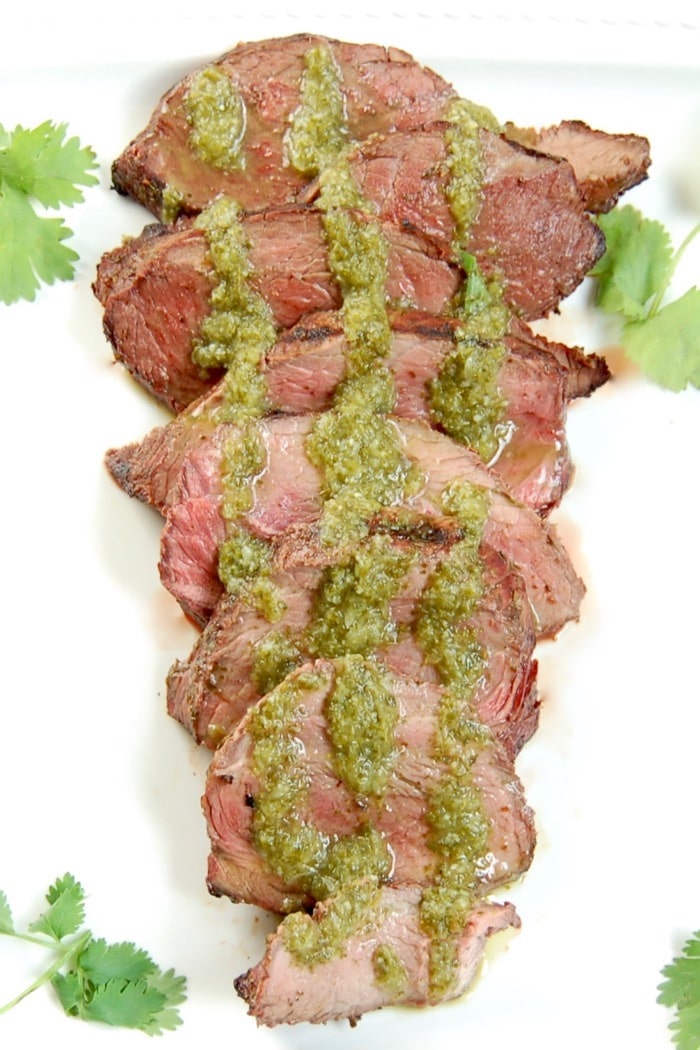 Need an idea of what to serve with this delicious Grilled Cilantro Lime Steak? Grilled veggies (especially corn) always go well, as do my Roasted Cherry Farro Salad and Corn & Black Bean Quinoa Salad. And if you do mix meat and dairy, try my Lightened-Up Esquites on the side!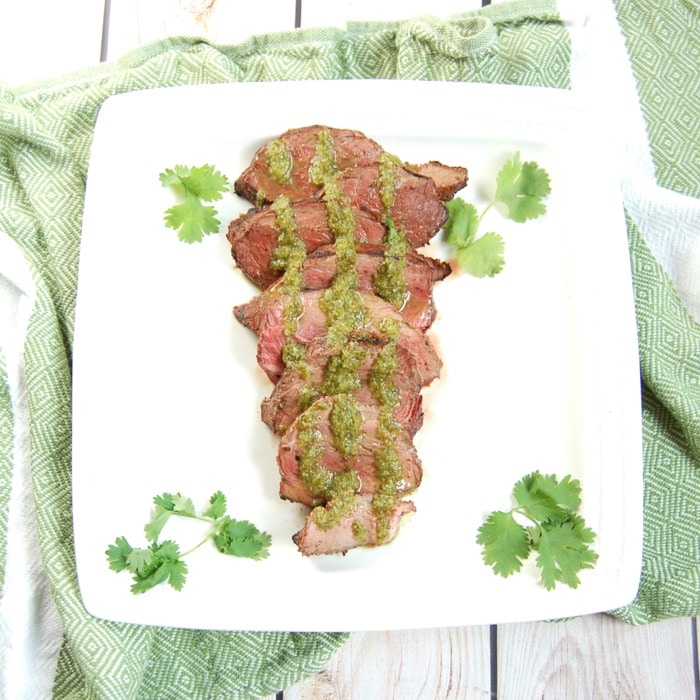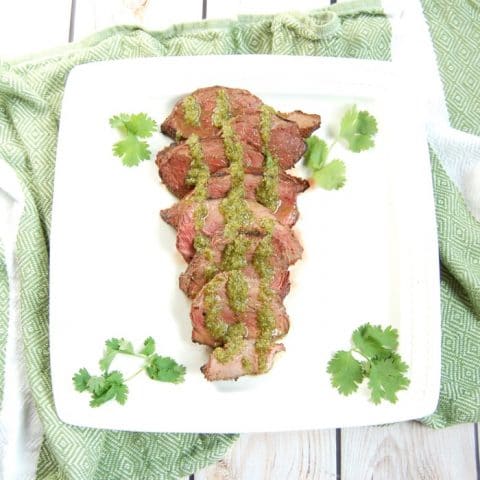 Grilled Cilantro Lime Steak
Cilantro and lime are a perfect pairing as a marinade for grilled steak. Lime acts as a tenderizer, making a lean cut of beef soft and juicy. This recipe is quick to prepare and cook and only requires some patience as you let the meat marinate before cooking and rest once it's off the grill.
Ingredients
1 packed cup cilantro
1/2 cup roughly chopped scallions, (~3 large)
2 medium cloves garlic,, smashed
Zest of 2 limes, (~1 tablespoon)
1/2 cup lime juice, (from ~5 small limes)
1/4 teaspoon Kosher salt
Freshly ground pepper,, to taste
1 1/2-2 pounds flank steak
Instructions
In a blender or small food processor, combine cilantro, scallions, garlic, lime zest, lime juice, salt, and pepper. Process until completely pureed and no chunks remain.
Place steak in a resealable bag or a medium baking dish and coat with half the marinade. Cover with saran wrap and place in the refrigerator to marinate for at least 30 minutes.
Put remaining cilantro lime sauce in a bowl and reserve in the fridge.
Spray grill grates with nonstick cooking spray or brush grates with oil. Heat grill to 500° F. While the grill is heating, remove steak from the refrigerator and let it come to room temperature.
Remove steak from marinade, place steak on the grill, and cover to cook, flipping once, 6 to 8 minutes per side for medium rare.
While the steak is grilling, heat reserved marinade in a small saucepan and keep warm for serving.
Remove steak from the grill and let rest for 5 to 10 minutes before slicing against the grain. Serve sliced steak with warmed cilantro lime sauce drizzled on top.
Notes
Prep and cook time are less than 30 minutes, but remember to reserve time for marinating the beef!

What are you serving up dad this Father's Day?
Check out my Summer Barbecue Recipe Roundup for more ideas and share your menu with me in the comments below!