3-Ingredient Minty Pea Dip
March 7, 2019
This bright and refreshing dip is quick and easy to make, requires only three ingredients, and can be used in a variety of ways.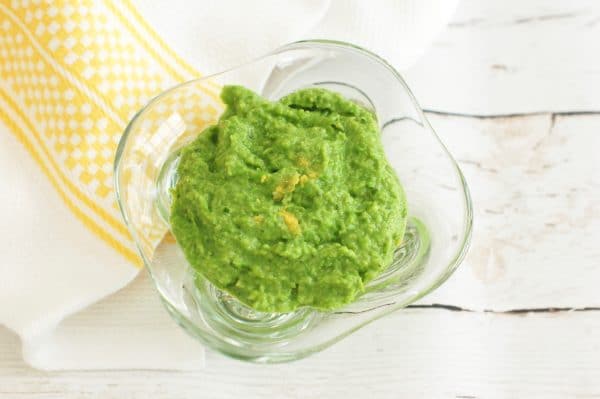 I have a really quick and easy recipe for you today. This 3-Ingredient Minty Pea Dip probably falls within the top 5 easiest recipes you will ever make. I promise! So let's get to it, shall we?!
Some people are turned off by peas because it reminds them of their childhood and being forced to eat whatever was on their plate. For many years I wasn't so into peas either, but as I mentioned in my post about my Spring Pea & Radish Farro Salad, I have a newfound love of sweet peas, especially when they're in season in the spring.
Fresh pea season is basically over, although you may still be able to find some shelled peas in the refrigerator section at Trader Joe's (I just saw some there yesterday, but it's hit or miss) – but that shouldn't stop you for making this Minty Pea Dip before the summer is over. You can easily use frozen peas to make this recipe, and if you do you'll even shave an extra couple of minutes off the prep time.
Using Fresh vs. Frozen Peas
When using fresh peas, I like to blanch the peas before pureeing. The blanching process – cooking for a minute in boiling water and then shocking in an ice bath – brings out the sweetness and green color of the peas and softens them up a little bit. If I'm using frozen peas I take the bag of peas out the night before and thaw it in the refrigerator. Then all I have to do is add them to the food processor – no blanching required. In addition to saving those extra few minutes, the defrosted peas also make the dip nice and chilled, which is perfect for the hot summer days we've been having.
3-Ingredient Recipe
Now, let's talk for a minute about this being a 3-ingredient recipe. I have mentioned before that I don't include salt and pepper in my count of ingredients. Not sure if you agree, but that's my feeling and I'm sticking with it. So all you need for this recipe is a bag of peas, mint, and a lemon. You should have kosher salt in your kitchen already, and if you don't we'll have to discuss that separately.
Ways to Use Minty Pea Dip
One last thing before the recipe – ways to use this Minty Pea Dip. I recently served it at a barbecue along with olives, hummus, and my watermelon salsa and a basket full of tortilla chips and a variety of whole grain crackers. Everyone loved it. Here's some ways you can take it to the next level.
Make a pea crostini by spreading it on lightly oiled and toasted slices of baguette. Add a dollop of ricotta cheese to take it up a notch more.
Treat this dip as a pesto and toss it with pasta or ravioli.
Use it as a sandwich spread paired with slices of mozzarella and tomato or a piece of grilled chicken.
No matter how you use it, you will enjoy. Remember, I promised!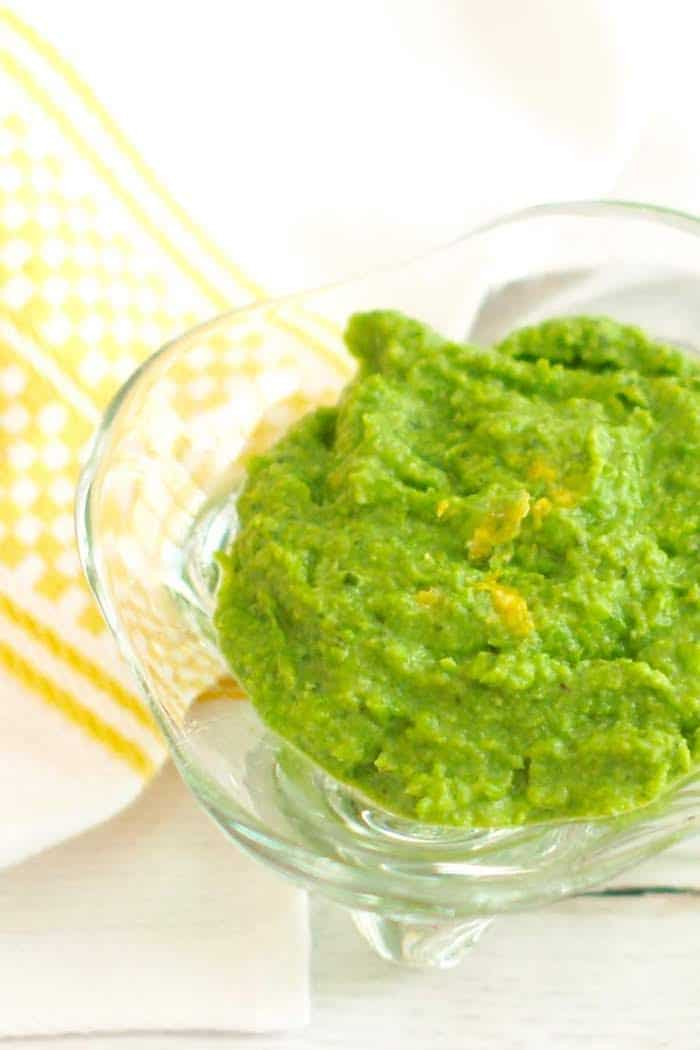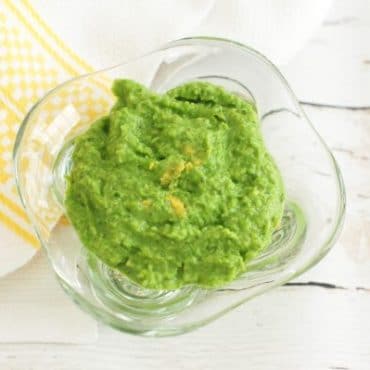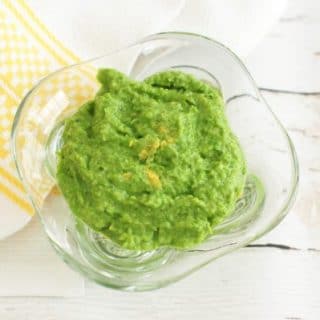 3-Ingredient Minty Pea Dip
This bright and refreshing dip is quick and easy to make, requires only three ingredients, and can be used in a variety of ways. Vegan, vegetarian, dairy-free, and gluten-free.
Ingredients
16 ounces peas, fresh or frozen
1/3 cup roughly chopped mint
1 lemon, zested and juiced (reserve some zest for garnish)
1/4 teaspoon Kosher salt
Freshly ground pepper
Instructions
If using fresh peas: Bring a small pot of water to boil, add the peas and cook for 1 minutes. Strain and plunge into an ice bath to stop cooking.
If using frozen peas: Defrost peas overnight in refrigerator.
Place blanched or defrosted peas in a small food processor with mint, lemon zest and juice. Puree until smooth. Season with salt and pepper.
Serve immediately or cover with saran wrap and refrigerate until ready to serve.
Do you like peas?
How would you enjoy this Minty Pea Dip?
Share with me in the comments!