Cinnamon Apple Noodle Kugel
September 21, 2016
Passed down for generations, Cinnamon Apple Noodle Kugel is a sweet and comforting side dish the whole family loves, especially with my healthier twists!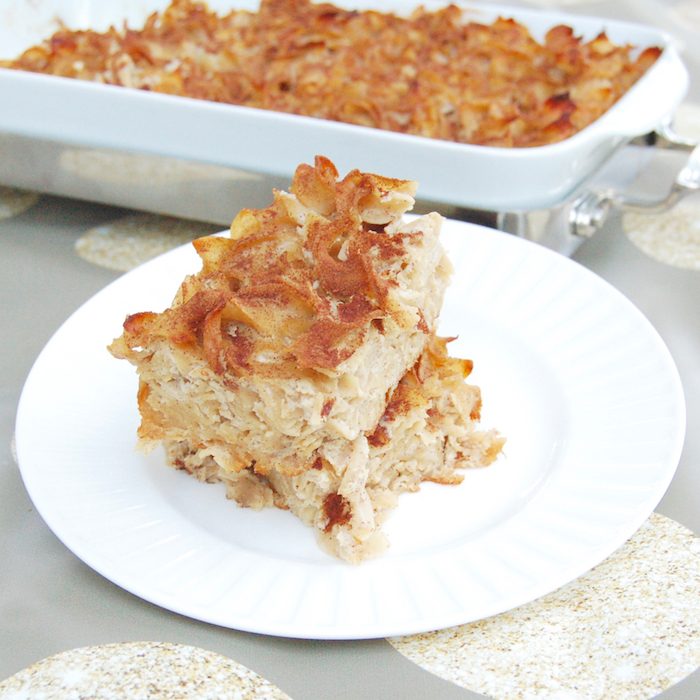 It should come as no surprise to anyone who has followed me here that I love to cook, but when asked about my first cooking memories for this month's Recipe ReDux, I was stumped.
First Cooking Recollections
Stir up some of your earliest culinary recollections. Did you stand at your grandmother's elbow to learn to cook? Or did you learn by stumbling through a cookbook by yourself? Share a healthy recipe and the accompanying story about one of your first cooking memories.
I don't really remember when I fell in love with cooking, but I do remember spending a lot of time in the kitchen with my mother when I was growing up. Most of that time was spent setting and clearing the table and helping dry the dishes, but we would sing and chat all the while so it was always fun and never felt like a chore.
I never really helped my mother cook, but I definitely watched and admired her ability to make huge pots of chicken soup, trays of stuffed cabbage, and the biggest roast turkey I've ever seen. And no one makes meatballs the way my mom does – they are so soft and tender without any dairy and since we keep kosher they also have no pork.
Needless to say, I always thought my mom was a great cook, and to this day there is nothing like the aroma in my parents' house when they're hosting a holiday meal or even just cooking up a traditional Shabbat (Friday night) dinner.
That said, my mother doesn't veer too much from traditional Jewish food, which isn't always the healthiest, so it's not too often that I make the classic recipes she would cook up. And when I do, have no doubt I will make some changes to healthify them just a bit.
With Rosh Hashana, the Jewish new year, right around the corner, I knew exactly what I would make for this month's ReDux. The original recipe for this Cinnamon Apple Noodle Kugel has been in my family for many years – my mother's mother, who I called Bubby, passed it down to my mother who passed it down to me and actually included it in my bridal shower recipe book in honor of my Bubby (see below).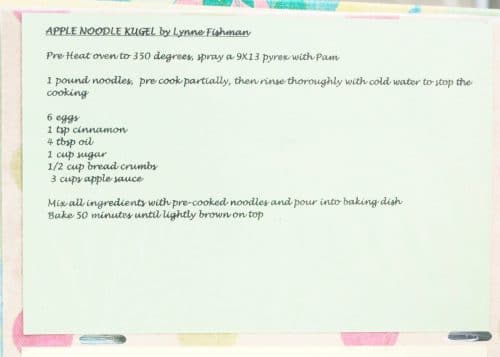 I absolutely love the original version of this noodle kugel – I can eat piece after piece of it – but it's not the healthiest recipe, and once I saw what actually went in it I knew there was room for improvement. And so, off I went to the kitchen to tweak it and make it just a little more nutritious while making sure it was still delicious.
Ingredients & Preparation
The new and improved version that I feed my family is definitely not as sweet as the original, but it is sweet enough and it's higher in fiber too. If you look at the nutrition facts for the new recipe and the original (see the recipe below), you can see that my makeover has about 30% fewer calories, 40% less fat, 65% less saturated fat, 45% less sugar, and 50% more fiber than the original.
Here are the changes I made that account for all those nutritional differences:
Whole grain noodles instead of egg noodles
A combination of whole eggs and egg whites instead of all whole eggs
Half the amount of oil
Half the amount of sugar
Natural, unsweetened applesauce instead of original sweetened applesauce
No bread crumbs
Something I kept the same: Letting the top layer of noodles and the corner pieces get crispy! I've been known to pick a crunchy noodle off the top of my mom's kugel if I'm there when it comes out of the oven piping hot. I may or may not also eat a whole corner piece before it's served. I'm telling you, this is a recipe that memories are made of!
If you're not familiar with noodle kugel you may have heard of noodle pudding or noodle casserole. They're pretty much the same thing, but Kugel is the Eastern European word for this Jewish dish.
What's different about most noodle kugels compared to most noodle casseroles and puddings is that the kugel tends to be dairy-free, so you won't find cottage cheese, ricotta, butter, or milk in my recipe, whereas you may in some others (for example, my friend Robin's Noodle Kugel/Noodle Pudding). It actually irks me that my husband calls it noodle pudding, because this is not pudding!
Ok, enough about semantics, let's get to the recipe!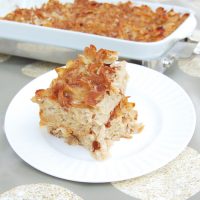 Cinnamon Apple Noodle Kugel
Cinnamon Apple Noodle Kugel is a sweet and comforting side dish traditionally served at Jewish holiday meals. Also known as noodle pudding or noodle casserole, this kugel can be enjoyed for a sweet weekend breakfast. This version is a dairy-free, nut-free lightened up makeover of the classic.
Ingredients
Nonstick cooking spray

1

pound

whole grain wide noodles

4

large eggs,

whisked

2

large egg whites

2

teaspoons

cinnamon,

and more to sprinkle on top

1/2

cup

sugar

Pinch

of Kosher salt

3

cups

unsweetened applesauce

2

tablespoons

canola oil
Instructions
Preheat oven to bake at 350° F. Spray a 9 X 13 baking dish with cooking spray and set aside.

Bring a large pot of water to boil and cook noodles for 5 minutes. Drain and rinse noodles with cold water to stop cooking.

While noodles are cooking, whisk together eggs, egg whites, 2 teaspoons cinnamon, sugar, salt, and applesauce.

Coat empty pot with oil, return noodles to pot and fold with oil and egg/applesauce mixture. Transfer noodles to prepared baking dish and sprinkle with cinnamon.

Bake 45 to 50 minutes until the kugel is completely set and the noodles on top are slightly crispy and browned.
Recipe Notes
Current Recipe Nutrition Facts (per 1/15th of casserole):
180 calories, 4 g total fat, 0.5 g saturated fat, 34 g carbohydrate, 3 g fiber, 12 g sugar, 7 g protein, 40 mg sodium, 50 mg Cholesterol
Original Recipe Nutrition Facts (per 1/15th of casserole):
260 calories, 7 g total fat, 1.5 g saturated fat, 43 g carbohydrate, 2 g fiber, 22 g sugar, 7 g protein, 40 mg sodium, 110 mg cholesterol,

Have you ever had cinnamon apple noodle kugel before?
What are some of your first cooking recollections?
Share with me in the comments below!