Rosemary-Roasted Tomato Pesto Pizza
March 14, 2017
Top whole wheat crust with nut-free kale pesto, rosemary-roasted tomatoes, and fresh mozzarella for this delicious and healthier Rosemary-Roasted Tomato Pesto Pizza.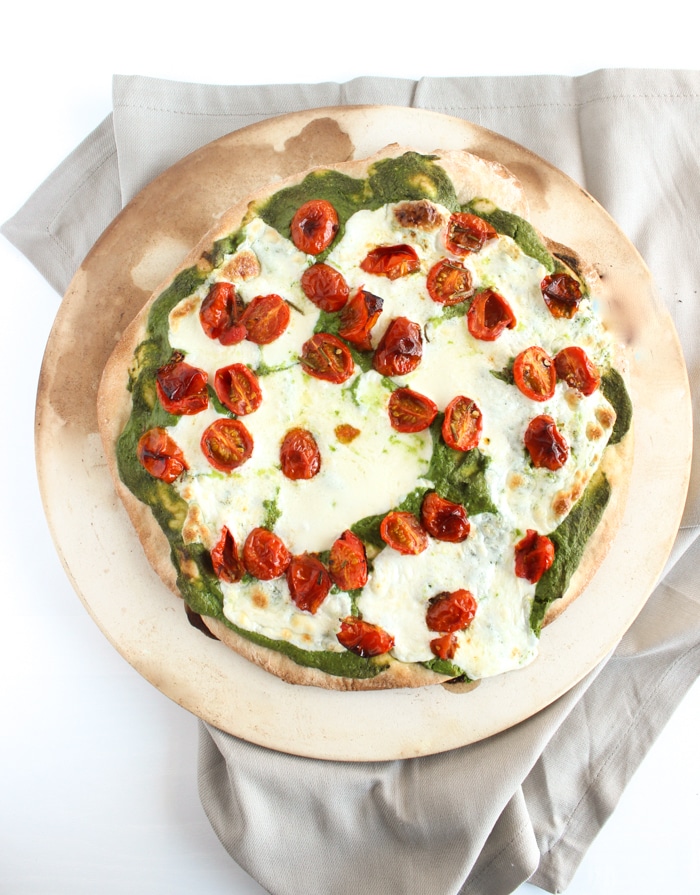 Pizza is a favorite food of almost everyone I know. My husband always says he would be a happy man having pancakes or French toast for breakfast, bagels for lunch, and pizza for dinner.
We all know that's not exactly the most balanced diet, which is why it's a rare occasion he gets all three of those in one day, but the point is these are foods most people can't resist, and why should they?! All of them can be included in a balanced diet when made in a healthier way. That means using whole grains, adding vegetables and fruit, and adding a satiating protein source.
These days many pizza parlors offer whole wheat crust and loads of toppings to choose from, which makes it much easier to make pizza night a healthier meal that can be enjoyed more often, especially when paired with a salad. And while it takes no effort to click a few buttons to place a takeout order online, it's also quite easy to whip up your own pizza pie at home. Plus, making pizza as a family is so much fun – the kids can take turns rolling out the dough, spreading sauce, and adding their toppings.
Not to mention that you can make sure everyone has a slice of his or her choice – every eighth of the pizza can have a different topping if you want. There's no need to be a short order cook, which you know I don't allow in my house and don't recommend for yours!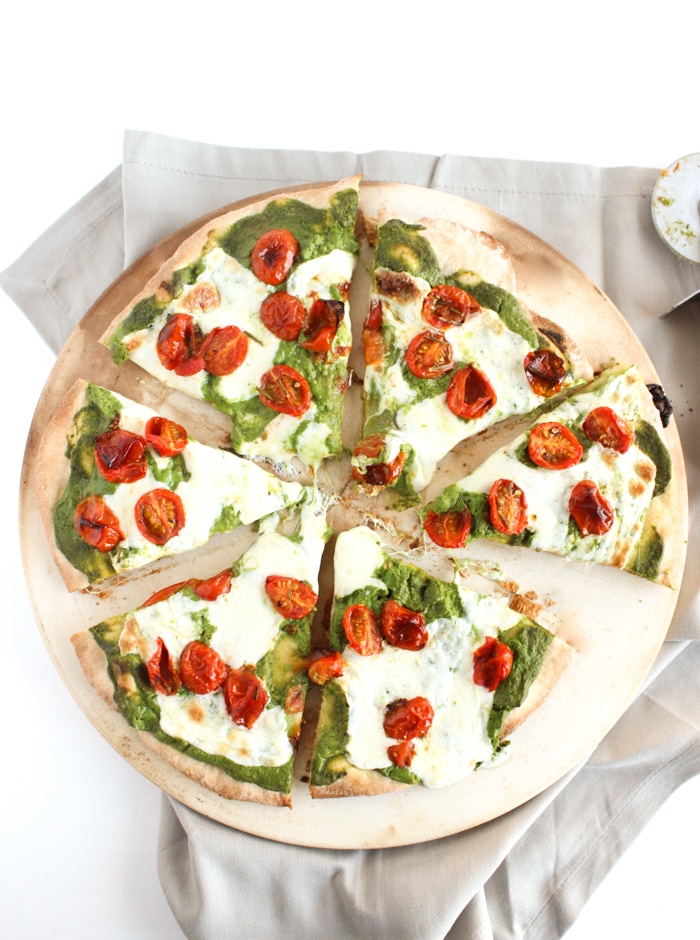 Ingredients & Preparation
There are so many ways to top pizza and this Rosemary-Roasted Tomato Pesto Pizza is just one variation. I love a basic margarita with tomato sauce, mozzarella, and fresh basil, but I also like to keep things interesting with different sauces and toppings.
There are four main components to this pizza – the crust, rosemary-roasted tomatoes, pesto, and cheese.
Whole Wheat Crust
I use pre-made whole wheat pizza dough, which you can find in the refrigerator section of most grocery stores. I happen to like the one I find at Trader Joe's, but there are definitely others you can find. This pre-made dough is very easy to work with, and one package (16 ounces) is enough for two pizza pies, so you'll see I only use half the package in this recipe. You can make both pies at once and top them differently, do two of the same, or save the other half of the dough for another time. It freezes well.
After I roll the dough into my pizza pie shape (you can make whatever shape you want), I like to bake it for a few minutes before adding the toppings. This ensures the crust is crispier, which is how I like it!
If you want to make your life easier or just don't want to roll out the dough yourself for whatever reason, you can also use a pre-made whole grain pizza crust or lavash flatbread as the base of the pizza.
Rosemary-Roasted Tomatoes
These tomatoes are packed with flavor and super easy to make. Just slice cherry tomatoes in half lengthwise, toss with olive oil, freshly chopped rosemary, and salt, and roast for 10 minutes. These tomatoes are very similar to the Rosemary Garlic Roasted Tomatoes I make as a side dish – they are so yummy! If you don't have fresh rosemary, use 1 teaspoon dried.

Kale Pesto
Instead of traditional tomato sauce, I make a lightened-up kale pesto as the base of this roasted tomato pesto pizza. The pesto is a little different from most traditional pestos (and different from other kale pesto I've made before) – it's made with kale instead of basil, is completely nut-free, and is made with part-skim ricotta and just two tablespoons of Parmesan cheese instead of all Parmesan. This pesto recipe makes about 2 cups, which is more than you need for one pizza pie. Save the rest for another pizza (like this Mushroom Pesto Pizza) or to top pasta – it can be refrigerated for about a week or frozen for a couple of months.
Feel free to use pre-made pesto to save time in the kitchen – Trader Joe's has a delicious traditional basil pesto you'll find right near the pre-made pizza dough.
Cheese
For this pizza I use an 8 ounce ball of fresh mozzarella cheese (not the part-skim low-moisture mozzarella), which I find in the cheese section of Trader Joe's. I slice the ball of mozzarella into medallions, but you can also cube it or if you prefer shredded mozzarella that works just as well too.
Once all the components of the pizza are ready, all you have to do is put the pizza together. Spread about 1/2 to 3/4 cup of pesto on the par-baked crust and top with the mozzarella medallions and rosemary-roasted tomatoes. The pizza bakes for about 12 minutes, which is just enough time to put together a side salad to round out the meal!
This pizza is a delicious dinner for any night of the week, Sunday dinner with the family, or any movie night or TV watching gatherings with friends (think Super Bowl and the Oscars).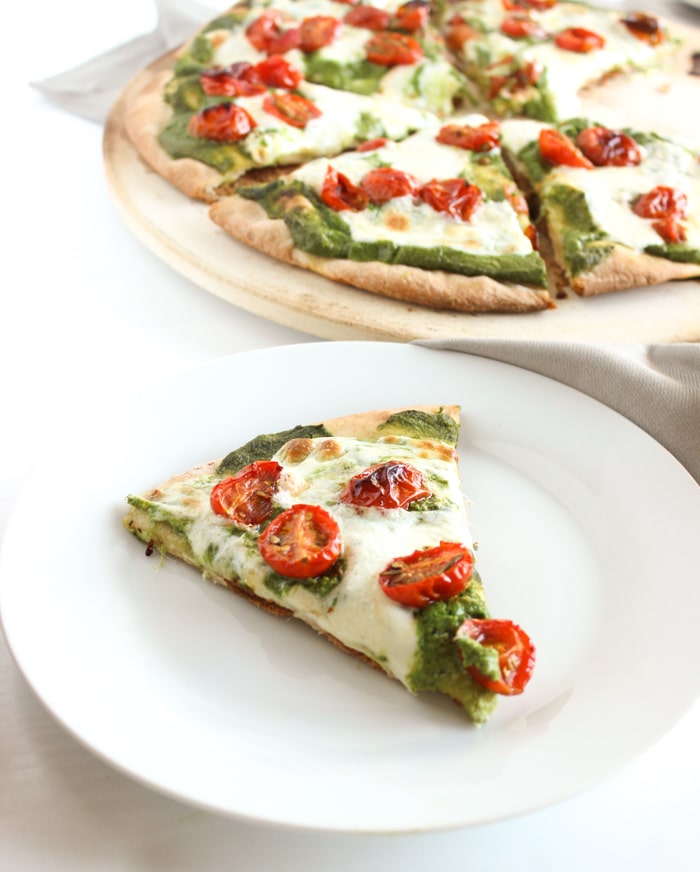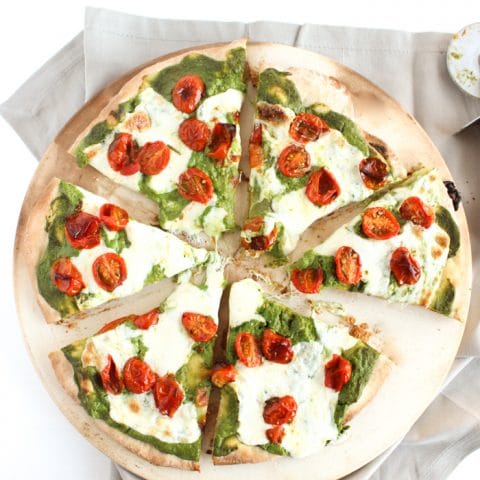 Rosemary-Roasted Tomato Pesto Pizza
Total Time:
1 hour
10 minutes
This Rosemary-Roasted Tomato Pesto Pizza is made on a whole wheat crust and topped with a nut-free kale pesto lightened up with ricotta cheese, rosemary-roasted tomatoes, and fresh mozzarella cheese. A delicious and healthier way to enjoy pizza night at home.
Vegetarian, Nut-Free, Kosher
Ingredients
Kale Pesto:
5 ounces chopped kale
2 cloves peeled garlic
2 tablespoons olive oil
2 tablespoons lemon juice
1/2 cup part-skim ricotta cheese
2 tablespoons grated parmesan cheese
1/4 teaspoon Kosher salt
Rosemary-Roasted Tomatoes:
1 cup cherry tomatoes, halved lengthwise
1 tablespoon olive oil
1 tablespoon chopped fresh rosemary (or 1 teaspoon dried rosemary)
Pinch Kosher salt
Pizza:
Whole wheat flour for dusting
8 ounces refrigerated whole-wheat pizza dough (I like Trader Joe's)
Olive oil for brushing
8 ounce ball fresh mozzarella cheese, sliced into medallions
Instructions
For the Kale Pesto:
Bring a large pot of water to a boil and blanch the kale. Squeeze out excess water from the kale and add to a food processor. Add the remaining pesto ingredients and pulse until well combined and smooth. Strain the pesto to remove some of the excess moisture and set aside.
For the Rosemary-Roasted Tomatoes:
Preheat oven to 400 degrees F. Line a baking sheet with aluminum foil and toss tomatoes on it with olive oil, rosemary, and salt. Roast for 10 minutes, stirring halfway through.
For the Pizza:
Prepare a pizza stone or round pizza tray. If using a metallic tray, coat with oil or cooking spray.
Spread some whole wheat flour on the counter or non-stick rolling mat. Roll the dough into a medium-thin circle. Carefully transfer dough to pizza tray. Brush top of dough with olive oil and bake 2-3 minutes until dough is lightly cooked.
Spread about 1/2 to 3/4 cup kale pesto on lightly-cooked dough. Top with mozzarella medallions and rosemary-roasted tomatoes. Return to oven and bake 12 minutes until the dough is fully cooked and cheese is melted and starting to brown and bubble. Slice into six or eight slices and serve hot.
Notes
Pesto makes about 2 cups. Reserve remaining pesto in refrigerator or freezer for another pizza or to top pasta.
You can use a prepared pesto or make any other pesto variety you prefer for this dish as well.
Recommended Products
As an Amazon Associate and member of other affiliate programs, I earn from qualifying purchases.
Nutrition Information:
Yield:

6
Serving Size:

6 -8
Amount Per Serving:
Calories:

449
Total Fat:

21g
Saturated Fat:

8g
Trans Fat:

0g
Unsaturated Fat:

12g
Cholesterol:

38mg
Sodium:

430mg
Carbohydrates:

48g
Fiber:

8g
Sugar:

2g
Protein:

21g
Nutrition information was calculated by Nutritionix. It may not be 100% accurate.
What are your favorite pizza toppings?
Share with me in the comments section below!