Roasted Cherry Farro Salad
June 7, 2017
Roasted Cherry Farro Salad is a sweet and savory dish hearty enough for a light lunch and perfect as a side dish next to your favorite entrée.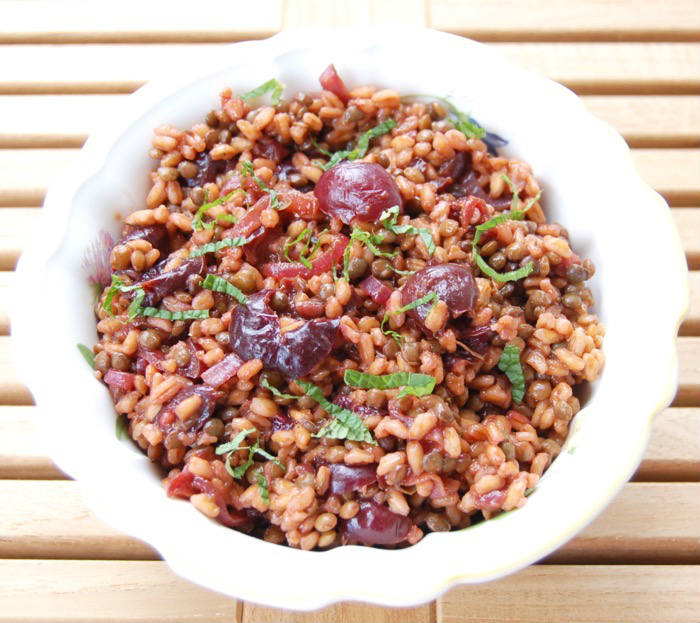 For months, my girls have been asking me for fresh cherries, and I'm so excited that I can finally fulfill their requests, and make this cherry farro salad now that cherry season is here!
There's nothing like sitting on the patio munching on a bowl of ruby red cherries in the summer. Despite the cold, rainy, and gloomy weather we've been having so far this June, we're still enjoying our cherries in a variety of ways (just not on the patio!).
We do of course love having them on their own as a sweet way to end a meal, but we also like adding them to smoothies and oatmeal, turning them into chutney to top burgers, chicken, and fish, and roasting them like I do for this cherry farro salad.
Ingredients & Preparation
I forget when I initially made this cherry farro salad, but it was a couple of years ago after I had roasted grapes and shallots and added them to farro and my kabocha flatbread.
Although fruit is naturally sweet, roasting brings out even more flavor and sweetness as the fruit caramelizes in the high heat. We all know most people gravitate towards sweet foods (it's innate), so adding some sweetness to a savory dish increases the likelihood that lesser known ingredients (say whole grains like farro) will be tasted and eaten. Plus, when you roast fruit you end up with a syrupy glaze that mixes into grain dishes just beautifully! Mmmmm….is your mouth watering yet?!
Farro isn't a new ingredient for my family – it's one of my favorite whole grains that I use as a base for Buddha bowls, salads for all seasons, and even in place of rice for a twist on risotto. While other grains like quinoa and brown rice can be used in place of farro for this side dish, I like using farro because of it's natural nutty flavor and more al dente texture. Wheat berries and barley would also work well, and if you're looking for a gluten-free alternative, sorghum would be a good choice.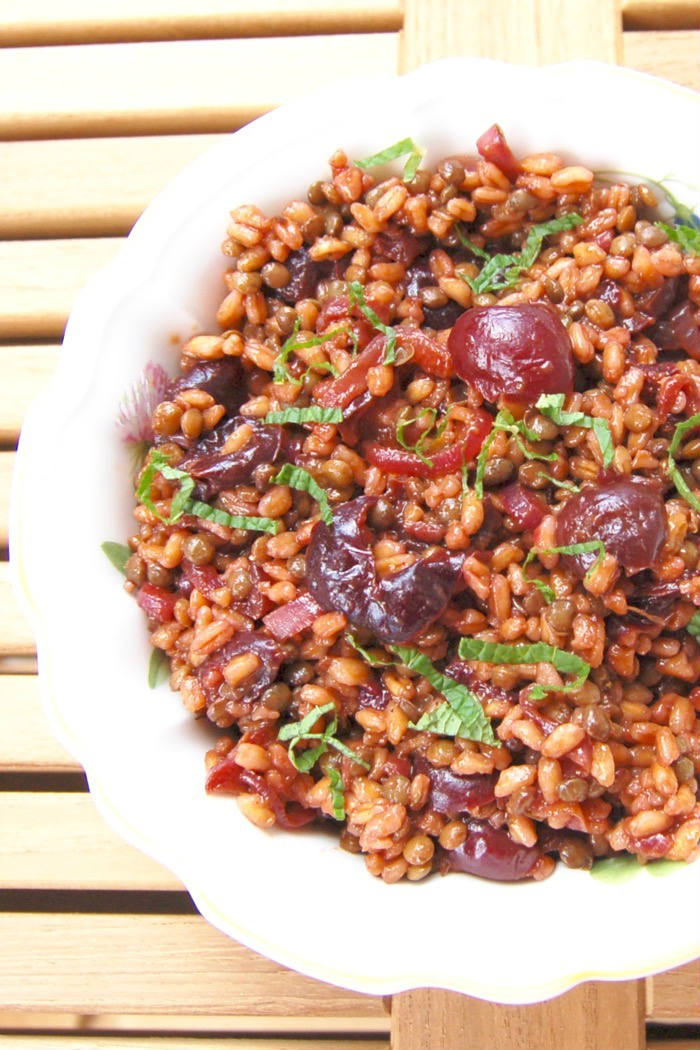 Mint is my herb of choice in this cherry farro salad. Other herbs like thyme and rosemary would pair very nicely as well, but I find the bright and fresh flavor of mint is a perfect complement to cherries and really makes this dish sing summer. I like to cut the mint into thinly sliced strips, a technique known as chiffonade, but you can also tear the leaves or chop it.
Roasted cherries, shallots, and mint are all the add-ins you need with the farro, but as you may be able to see in the pictures, there are some lentils in this salad too. I don't always include those fiber- and protein-rich legumes, but if you want this dish to be more of a lunch or just like that flavor boost, go ahead and add them. Or if you have the rest of package of cooked, ready-to-eat lentils in your fridge (like I often do after making my Lentil Chickpea Vegetable Salad or Lentil Bolognese), this is a great dish to throw them into.
Roasted Cherry Farro Salad is a quick and easy side dish to prepare and one that can be made ahead of time as well. The farro and roasted cherries and shallots can all be cooked and kept in separate containers in the refrigerator for a couple of days and then tossed together with freshly chopped mint when you're ready to serve. Making it fresh will only take you about 30 minutes total though, so go ahead and make a double batch and freeze leftovers for a busy week.
This side dish is vegan and nut-free, which makes it very friendly for feeding a crowd. It goes great with pretty much anything too – chicken, fish, beef, and tofu.
I hope you give it a try with your family and let me know how they like it!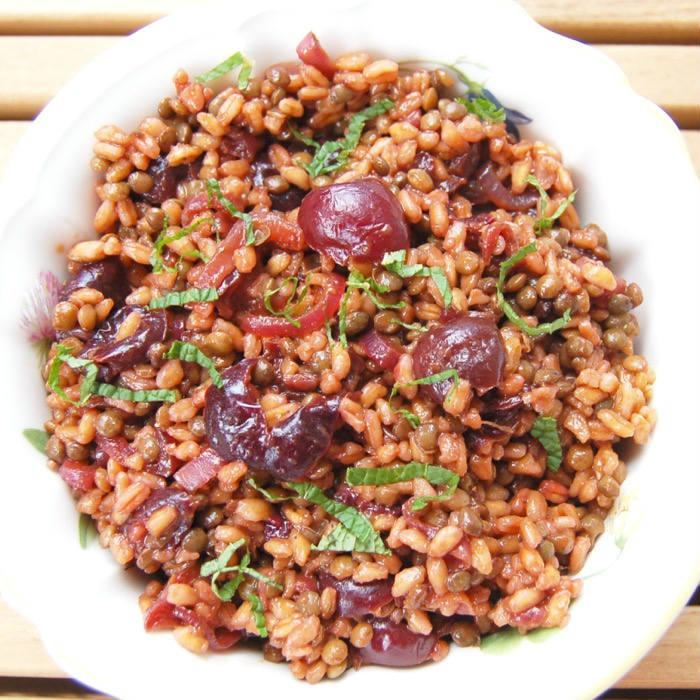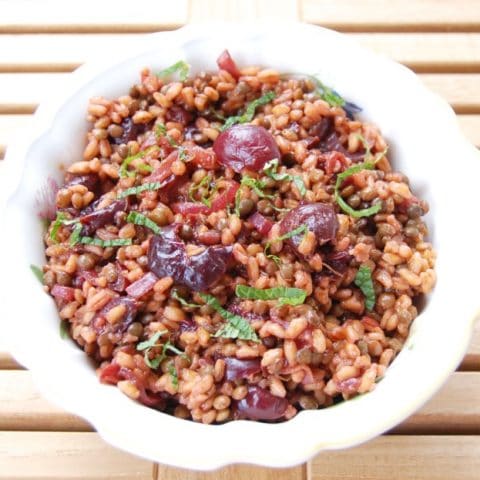 Roasted Cherry Farro Salad
Balsamic roasted cherries and shallots are tossed with farro and garnished with mint in this sweet and savory salad. Can be served as a light lunch salad or a side dish next to your favorite entrée. Vegan and nut-free.
Ingredients
1 cup pearled farro,, rinsed
2 cups low-sodium vegetable stock
2 cups pitted cherries, halved, (fresh or frozen)
1/2 cup sliced shallots, (slice in half moons)
1 teaspoon olive oil
2 teaspoons balsamic vinegar
1 cup cooked lentils, (optional)
1/2 teaspoon Kosher salt
Freshly ground black pepper,, to taste
1 tablespoon thinly sliced fresh mint, (cut ciffonade style - see note)
Instructions
Preheat oven to roast at 400 degrees F. Line a small baking sheet with foil, coat with cooking spray, and set aside.
Combine farro and vegetable stock in a medium saucepan. Bring to a boil and reduce to simmer, uncovered, about 20 minutes. Cover pot, turn off heat, and let rest about 5 minutes. Transfer to a large bowl.
While the farro is cooking, toss cherries and shallots with olive oil and balsamic vinegar and spread in one layer on prepared baking sheet. Roast 15 minutes, stirring halfway through, until the cherries are tender and juicy, and the shallots are caramelized.
Add roasted cherries and shallots, along with any released juices, to the bowl of farro. Add lentils, if using, salt, and pepper, to taste; toss everything to combine. Top with sliced mint and serve.
Notes
You can use fresh or frozen pitted cherries for this recipe.
To make a chiffonade of mint, stack mint leaves, roll them up, and slice into thin strips.

Have you ever roasted cherries?
Share with me in the comments below.