Peaches and Cream Overnight Oats
September 1, 2016
Maple-roasted peaches top creamy kefir-soaked overnight oats in this easy make-ahead breakfast perfect for rushed mornings and back-to-school.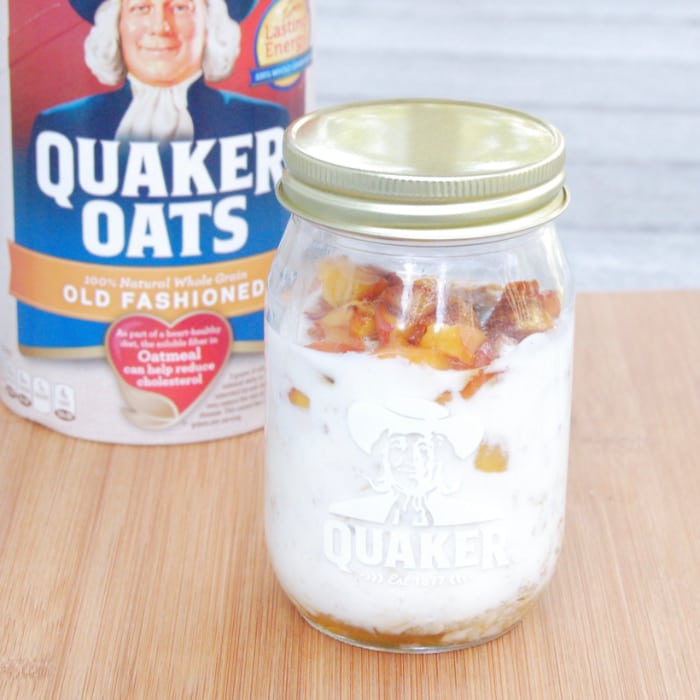 This post is sponsored by The Quaker Oats Company. I was compensated for my time and received some of the ingredients included in this recipe. As always, all thoughts and opinions are my own.
I have something to confess that you probably will not believe. I mean, I'm a foodie and I try to stay pretty current on food trends, so this is really a shocker. Ready for it? Hold on to your seat.
I have never made overnight oats. Until now.
Whew. I feel so much better letting you in on my little secret. I don't know what I was thinking. Well, actually I do.
I love oatmeal, but when I'm having it for breakfast I like it piping hot in a bowl. I also enjoy my oats baked like they are in these Ricotta Berry Oatmeal Cups and my savory Baked Oatmeal Frittata. And of course I like them tossed with butter and brown sugar to top a crisp or crumble. I never thought I would like cold oats, so until now I didn't join the overnight oats bandwagon.
Boy was I wrong about that and now I know what I'll be making on a regular basis for breakfast, especially as back-to-school season is upon us and the morning rush is about to begin yet again.
Thanks to the folks at Quaker for making me see the light. A few weeks ago they contacted me with a challenge to create my own overnight oats recipe. They sent me my very own Quaker mason jar and some of the ingredients I needed to make my unique creation.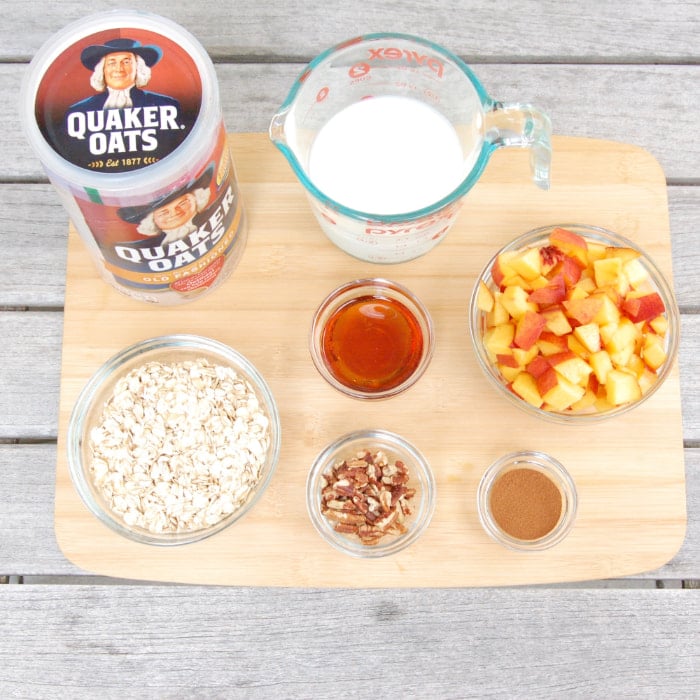 Ingredients & Preparation
Since peaches are at the height of the season (did you see my recent visit to a California peach orchard?), I decided to take the classic peaches and cream dessert combination and turn it into breakfast using kefir. My girls love kefir and eat it almost every morning for breakfast, so I knew this would be another good use for it, especially since it's creamy without being as thick as yogurt. Plus it contains probiotics – another food trend of the year. See I told you I'm up on my trends!
Although peaches are sweet on their own, I decided to roast them with some maple syrup to bring out additional sweetness and get some extra flavor from the caramelization of the fruit. Don't stress if you don't feel like taking the extra step to roast the peaches – you can easily use fresh or frozen peaches and just add the maple syrup directly to the oats.
The overnight oats were so easy to put together – just three steps: layer your ingredients, chill in the fridge overnight, and enjoy the next morning! I simply layered the ingredients in the following order: oats, kefir, a drizzle of maple syrup, maple-roasted peaches, and a sprinkle of cinnamon on top.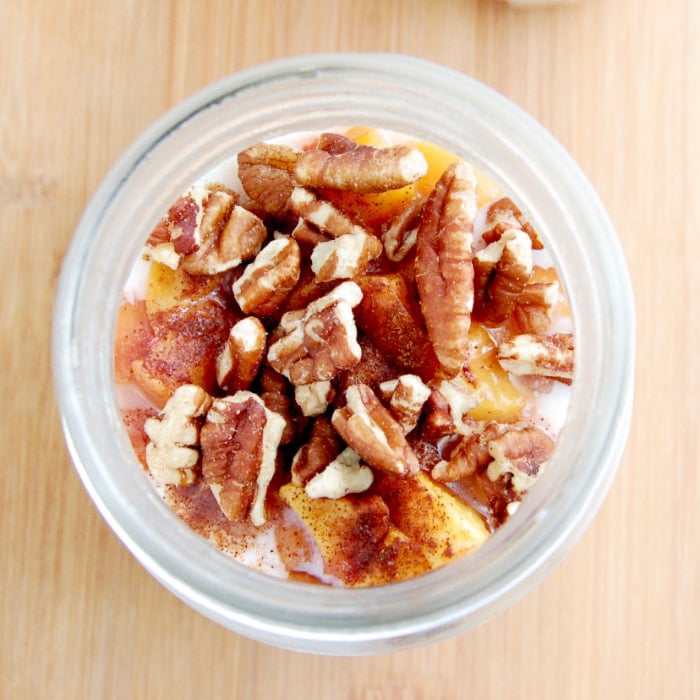 The next morning, I topped the overnight oats with some chopped pecans to add some crunch, mixed it together, and dove into my sweet and creamy breakfast. My girls were so excited to try it too and they couldn't get enough. Luckily I had made two mason jars so there was plenty to go around!
Reasons to Love Overnight Oats
Overnight oats are the satisfyingly chilled, on-the-go breakfast perfect for those busy mornings the kids are rushing out the door to get to school. Plus, you can enjoy them in endless flavor varieties so no one gets bored. I see lots of variations in the future including PB & J, apple cinnamon, pumpkin spice, and more. Check out Quaker's Overnight Oats page for some great tips for making overnight oats and more flavor combinations!
Oh, and in case you didn't know, the nutritional benefits of overnight oats rock too! One 1/2 cup serving of Quaker Old Fashioned Oats (which is what I use per mason jar) is 100% whole grain and has 4 grams of fiber. When you add in the peaches and kefir, you have a protein-, fiber-, and calcium-rich breakfast. Great flavor and nutrition – what more can you ask for?!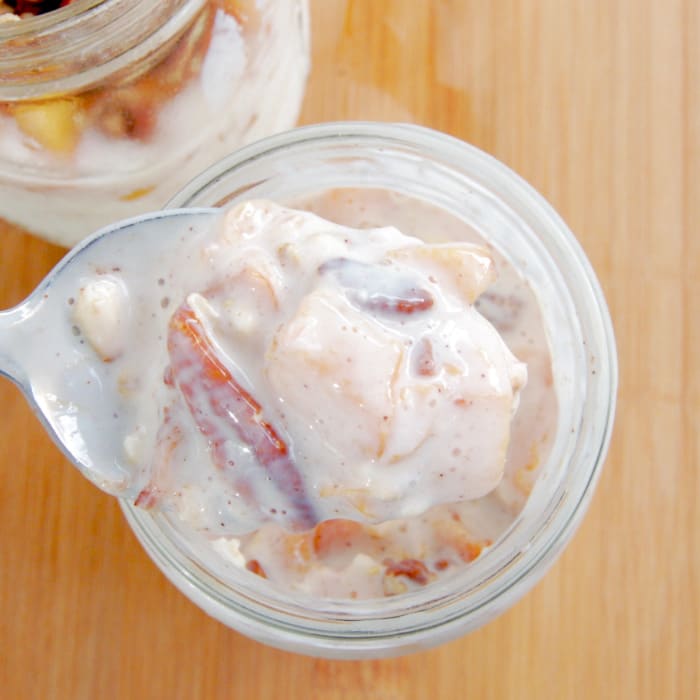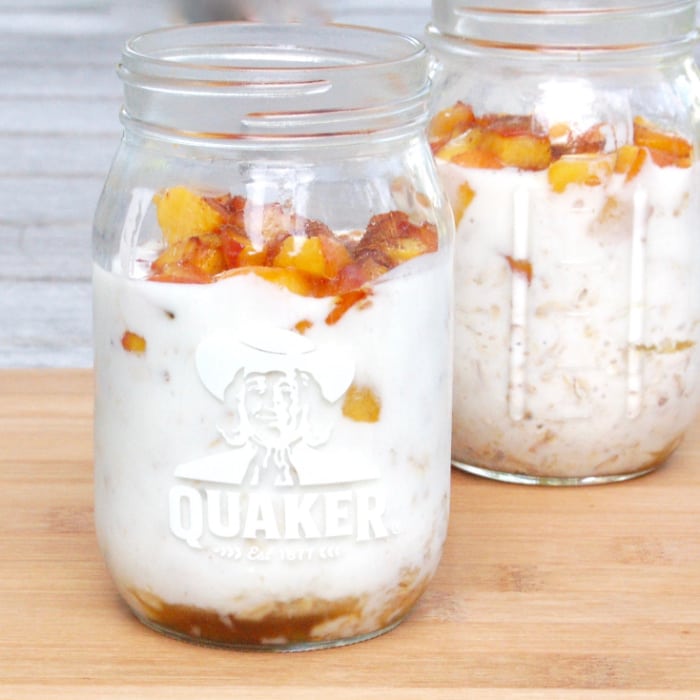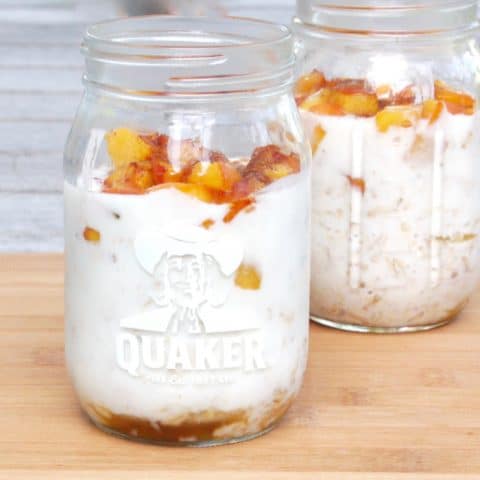 Peaches and Cream Overnight Oats
Maple-roasted peaches top creamy kefir-soaked overnight oats in this easy make-ahead breakfast perfect for the rushed mornings of back-to-school season!
Ingredients
1 1/2 cups diced peaches
2 tablespoons maple syrup,, divided
1 cup old-fashioned oats,, divided
1 1/2 cups low-fat plain kefir,, divided
Ground cinnamon,, to taste
2 tablespoons chopped pecans,, divided (optional)
Instructions
Preheat oven to roast at 400 degrees F. Line a baking sheet with parchment paper. Toss peaches with 1 tablespoon maple syrup and spread in one layer on baking sheet. Roast for 8 to 10 minutes until peaches are caramelized and soft, but not mushy.
In each of two mason jars, layer 1/2 cup oats, 3/4 cup kefir, 1/2 tablespoon maple syrup, half of the roasted peaches, and a sprinkling of cinnamon. Cover and refrigerate overnight.
In the morning, top overnight oats with chopped pecans if desired. Enjoy!
Notes
1 mason jar without pecans contains:
330 calories, 5 g total fat, 1.5 g saturated fat, 61 g carbohydrate, 6 g fiber, 33 g sugar, 13 g protein, 90 mg sodium, 10 mg cholesterol, 25% DV calcium, 10% DV iron, 20% DV Vitamin A, and 15% DV Vitamin C.
1 mason jar with pecans contains:
380 calories, 10 g total fat, 2 g saturated fat, 62 g carbohydrate, 7g fiber, 34 g sugar, 14 g protein, 90 mg sodium, 10 mg cholesterol, 25% DV calcium, 15% DV iron, 20% DV Vitamin A, and 15% DV Vitamin C.
Nutrition Information:
Yield:

2
Serving Size:

2 Servings
Amount Per Serving:
Calories:

380
Have you made overnight oats?
What's your favorite flavor combination?
Share with me in the comments below!