Spring Pea and Radish Farro Salad with Lemon Mint Vinaigrette
May 18, 2016
Nutty farro, crunchy radishes, and sweet peas are tossed together in a tart lemon mint dressing in this bright Spring Pea and Radish Farro Salad!
This page contains affiliate links. See below for full disclosure statement.
Pass the Peas
Do you like peas? When I was a kid, peas and carrots was one of my favorite side dishes. Actually it was one of the only vegetable side dishes I ate. But for some reason, as I got older peas lost their appeal.
Many people think of peas as the mushy, overcooked side dish served alongside mashed potatoes and gravy in the school cafeteria. We've all heard the common refrain from parents, "Eat your peas, please," as if it's some awful chore to do. But the truth is, peas are delicious, especially when they're put to use in flavorful and interesting ways.
Spring is prime time for green peas and although frozen peas are a good substitute year round, there's nothing like the bright green fresh peas you see at farmers markets and in supermarkets this time of year.
Personally I don't like shelling my own peas – it's an extra step I don't have time for when I'm trying to get meals on the table with my kids clamoring at my side. But luckily many supermarkets sell fresh peas (also known as English peas, spring peas, and garden peas) already shelled. I buy mine at Trader Joe's in the fresh produce section.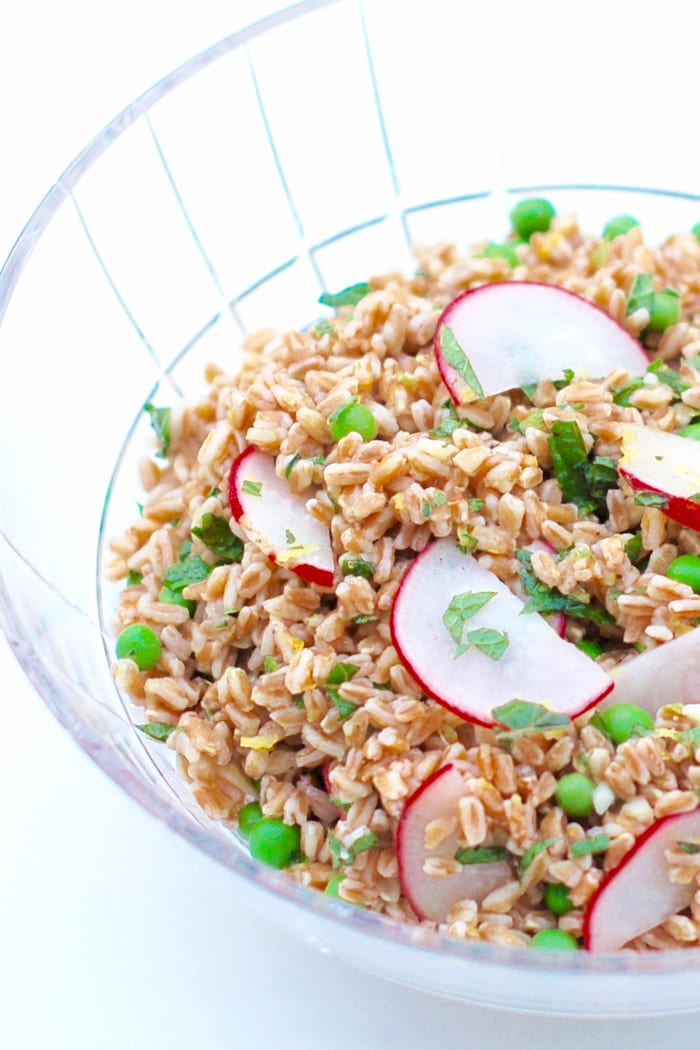 Ways to Enjoy Fresh Spring Peas
There are so many delicious ways to enjoy fresh spring peas. Just this week I sautéed them with bell pepper, radishes, and bok choy to add to a peanut tofu quinoa bowl (a twist on my Peanut Soba Noodles with Crispy Baked Tofu and Vegetables recipe). I've also used them to make pesto or this 3-Ingredient Minty Pea Dip for pasta dishes or to spread on crostini as an appetizer. And of course they're delicious for a spring pea soup.
Sometimes I just blanch them and add them to salads, especially with hearty grains like I did in this farro salad recipe featured in my May Culinary Corner column of Today's Dietitian Magazine. I made this pea and radish farro salad again for a Mother's Day celebration at my mom's house and it was a great side dish next to grilled chicken and burgers. It's also delicious on its own for lunch mixed with arugula with some feta cheese sprinkled on top, which is how I enjoyed the leftovers (along with some beets, as seen on Instagram). And don't forget to add it to the list of recipes you can take on a picnic!
Head on over to my article to learn more about the nutritional benefits of peas and then get into the kitchen to make this easy, flavor-packed spring pea and radish farro salad!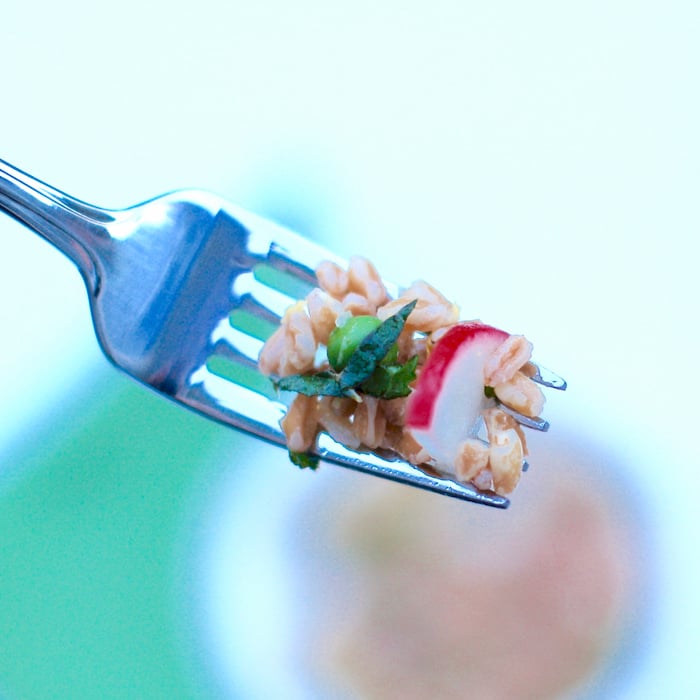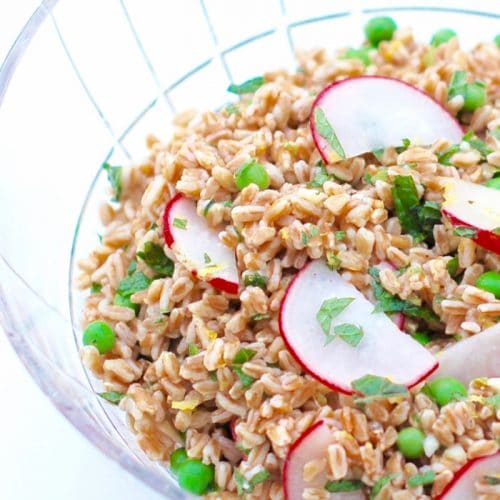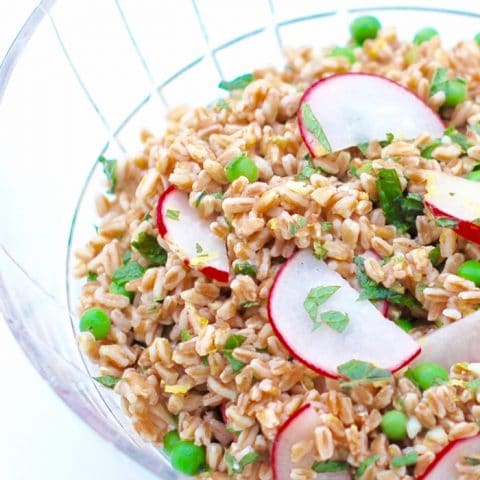 Spring Pea and Radish Farro Salad with Lemon Mint Vinaigrette
Nutty farro, crunchy radishes, and sweet peas are tossed together in a tart, refreshing lemon mint dressing in this bright spring salad. Serve as a side dish or top with feta cheese for a vegetarian lunch.
Vegan, Nut-Free, Kosher
Ingredients
For the Salad:
1 cup shelled English peas (or frozen peas)
1 1/2 cups pearled farro
1 cup thinly sliced radishes
1/4 cup chopped mint
Zest of 1 lemon
1/2 teaspoon kosher salt, divided
For the Dressing:
1/4 cup lemon juice
1 clove garlic, minced
2 tablespoons olive oil
Freshly ground pepper, to taste
Instructions
Fill a small pot about three-quarters full with water and bring to a boil. Add the peas and blanch for 1 minute. Using a slotted spoon, transfer peas to a strainer and run under cold water to stop the cooking process.
Add the farro to the pot of water and bring to a boil. Reduce to simmer, cover, and cook 15 to 20 minutes until the water is almost all absorbed and the farro is tender but not mushy. Cover and remove from heat for five minutes. Transfer to a large bowl to cool slightly, about 10 minutes.
Add peas, radishes, mint, lemon zest, and 1/4 teaspoon of salt to the bowl and toss with the farro.
To make dressing, whisk together lemon juice, garlic, olive oil, remaining 1/4 teaspoon of salt, and freshly ground pepper, to taste, in a small bowl or glass measuring cup. Pour dressing over farro salad and toss to combine.
Notes
Make it gluten free and wheat free by using sorghum or quinoa in place of farro!
Recommended Products
As an Amazon Associate and member of other affiliate programs, I earn from qualifying purchases.
Nutrition Information:
Yield:

9
Amount Per Serving:
Calories:

130
Total Fat:

3g
Saturated Fat:

0g
Trans Fat:

0g
Unsaturated Fat:

3g
Cholesterol:

0mg
Sodium:

128mg
Carbohydrates:

23g
Fiber:

3g
Sugar:

7g
Protein:

4g
Nutrition information was calculated by Nutritionix. It may not be 100% accurate.
Do you like green peas?
What's your favorite way to incorporate them into your diet?
Share with me in the comments below!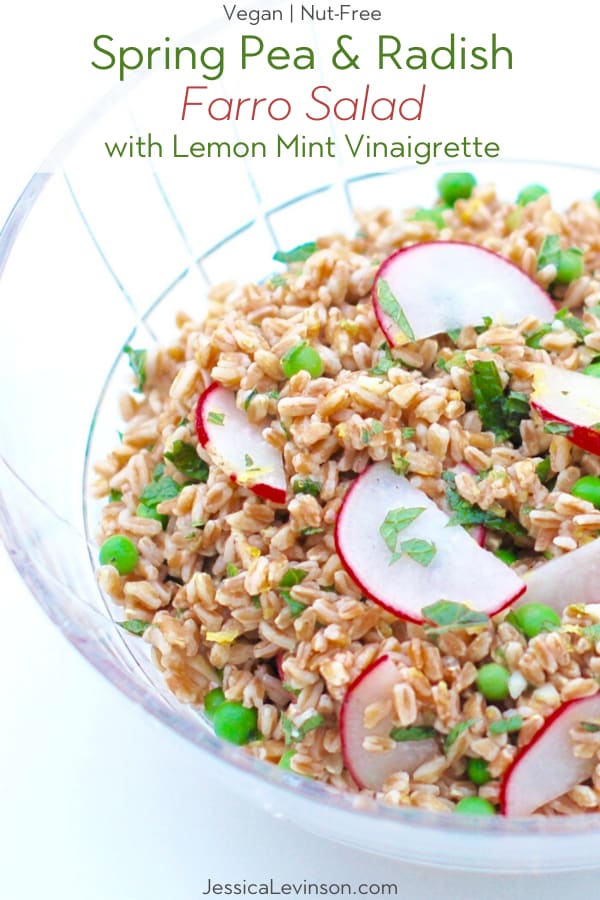 I was compensated for writing the original article, "Spring Peas," and developing the Spring Pea and Radish Farro Salad recipe found in the May 2016 issue of Today's Dietitian. I was not compensated for sharing the column or magazine with readers on my blog. All opinions are my own.
This page contains Amazon Affiliate links. If you purchase products through these link, your cost will be the same but I will receive a small commission to help with operating costs of this blog. As always, all thoughts and opinions are my own and I only recommend products I truly believe in. Thanks for your support!