Mushroom Onion Barley
January 21, 2011
Mushroom Onion Barley is a hearty, flavor-packed and nutrient-rich side dish that's perfect paired with chicken, beef, or fish.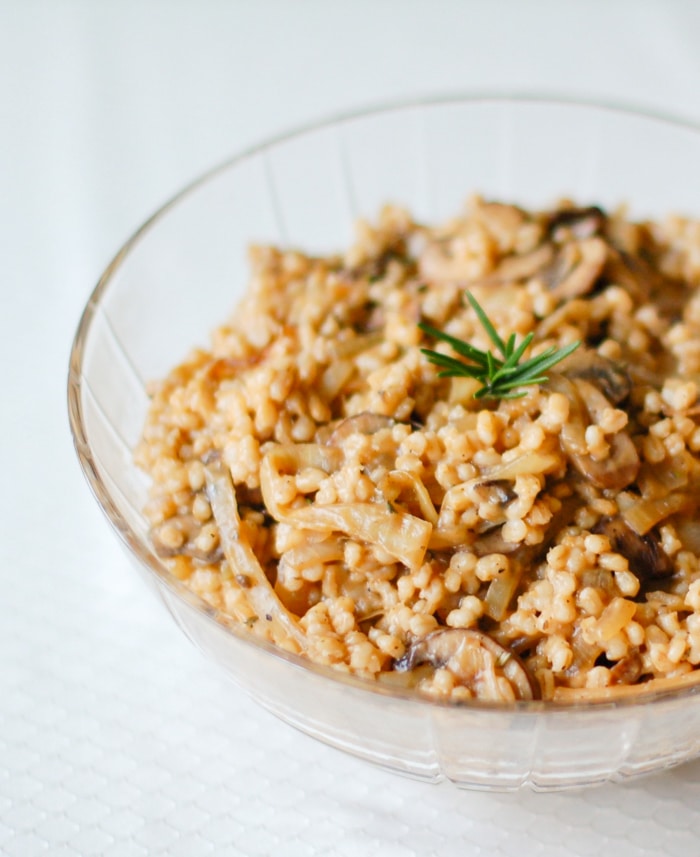 Yesterday I told you about the benefits of barley and the basics of cooking this excellent whole grain. There are so many great recipes for barley and you can serve it warm or cold, depending on how you like it best.
My mother always made a mushroom onion barley that I loved, although little did I know she used "toasted barley," which I found out is an egg noodle, not a whole grain. I still like her version, but once I found out what we were really eating, I needed to make the mushroom onion barley with real whole-grain barley. The new version isn't exactly the same as what I grew up eating, but it tastes just as good and is packed with more nutrition than the original!
Ingredients & Preparation
This Mushroom Onion Barley is pretty easy to make, but barley takes some time to cook and if you want those onions well caramelized you need some patience too!
You'll see that this recipe serves 15 and the serving size is 2/3 cup, which isn't so small, so you may want to scale down the recipe by half. Personally I like to make a big batch of this barley since I love it and it freezes well. I usually put at least half of it in a freezer-safe container and store it away for a week when I know I won't have as much time to cook.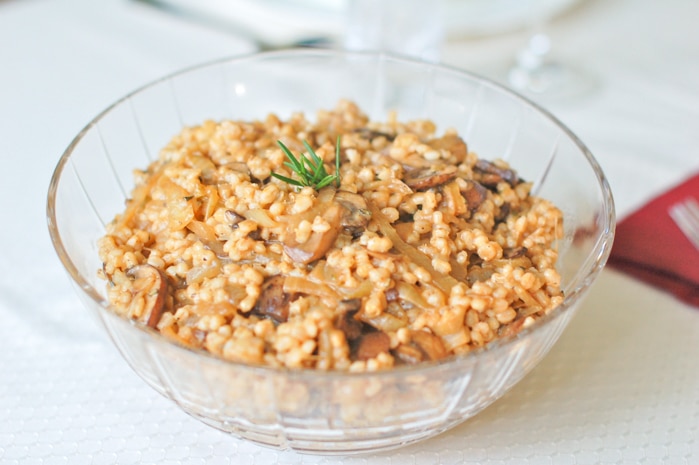 I like to toast the barley in a dry skillet before adding the broth and water, as toasting brings out the nutty flavor of this fiber-rich whole grain. Because I use two cups of barley, to keep the sodium down I use a combination of low-sodium broth and water when cooking, but you can feel free to use all broth or all water if you prefer. If you only use water I would increase the amount of salt you add to the final dish.
While the barley is cooking, you can sauté your mushrooms and onions. Again, the amount of ingredients here is large, so unless you have a huge sauté pan, you'll probably need to do this in multiple batches. I usually start with the onions and once they are fully cooked I'll transfer them to a bowl and then sauté the mushrooms. If you do it this way, I strongly recommend you add the onions back to the pan and toss with the mushrooms so all that umami flavor from the mushrooms gets into the onions too!
Once the barley, onions, and mushrooms are all fully cooked it's time to mix it all together. I like to add some freshly chopped rosemary for additional flavor, but you can leave this out or use a different herb if you prefer. Personally I find rosemary and thyme are both amazing with mushrooms!
Ready to give this Mushroom Onion Barley a try? Here's the full recipe!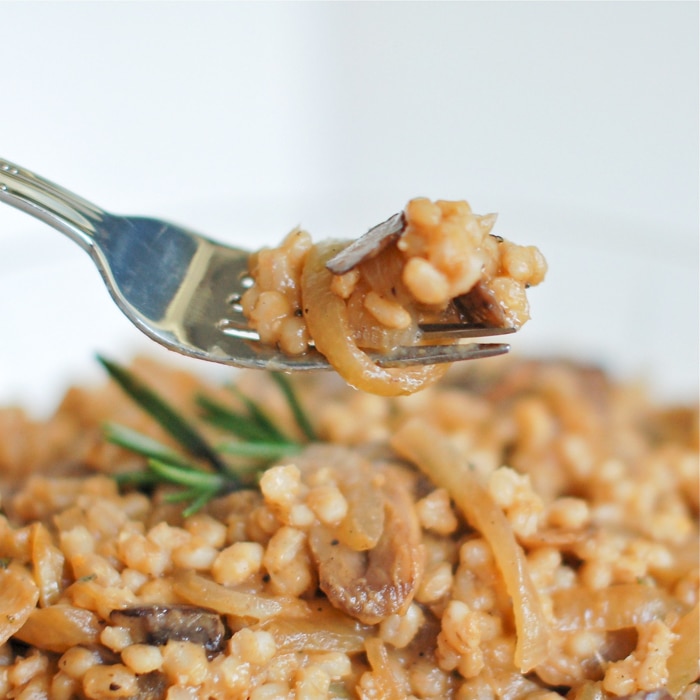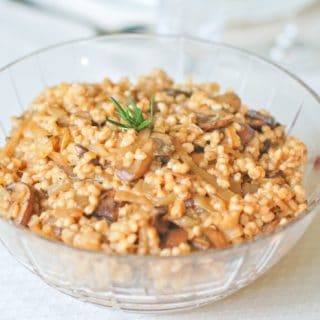 Mushroom Onion Barley
Total Time:
1 hour
10 minutes
Umami-rich mushrooms and lightly caramelized onions join toasted nutty barley in a warming side dish that's packed with flavor and nutrition.
Vegan, Nut-Free, Kosher
Ingredients
2 cups dry barley, rinsed
3 cups low-sodium vegetable broth
3 cups water
2 tablespoons olive oil, divided
3 large onions, sliced into half moons
16 ounce package baby bella sliced mushrooms
1 tablespoon chopped rosemary
1 1/2 teaspoons Kosher salt
Freshly ground pepper
Instructions
Toast rinsed barley in a dry skillet for 1 to 2 minutes, making sure the barley doesn't stick to the pan. Transfer to a medium pot and add broth and water. Bring to a boil; cover and lower to simmer for about 40 minutes, until barley is tender but not mushy. Turn off heat and keep covered for another 5 to 10 minutes until all the moisture is absorbed. (If there is any liquid left, strain barley and return to pot.)
While barley is cooking, heat 1 tablespoon olive oil over medium heat in a large sauté pan. Working in two batches, sauté onions until lightly browned. Set aside.
Add remaining tablespoon olive oil to pan; add mushrooms and sauté until fully cooked and all the water is released. Use the released liquid to deglaze the pan and scrape up brown bits.
Add cooked onions back to the pan with the mushrooms and toss to combine. Transfer mushrooms and onions to the pot with the barley. Add rosemary, salt, and pepper, to taste; toss to combine. Serve warm.
Notes
- I sautéed the onions in two batches so they would cook faster.
- This recipe makes a lot as I like to freeze the leftovers. You can easily cut the recipe in half for fewer people.
Recommended Products
As an Amazon Associate and member of other affiliate programs, I earn from qualifying purchases.
Nutrition Information:
Yield:

15
Amount Per Serving:
Calories:

140
Total Fat:

2.5g
Saturated Fat:

0g
Trans Fat:

0g
Unsaturated Fat:

2g
Cholesterol:

0mg
Sodium:

258mg
Carbohydrates:

24g
Fiber:

6g
Sugar:

2.5g
Protein:

7g
Nutrition information was calculated by Nutritionix. It may not be 100% accurate.

Have you cooked with barley?
If so, share your favorite way to use barley in the comments below!
Updated January 2017