Mint & Radish Greens Pesto Pasta Salad with Roasted Radishes and Peas
May 31, 2017
Mint and radish greens pesto pasta salad is pretty to look at, quick and easy to make, and packed with flavor from fresh spring ingredients. A recipe the whole family will enjoy.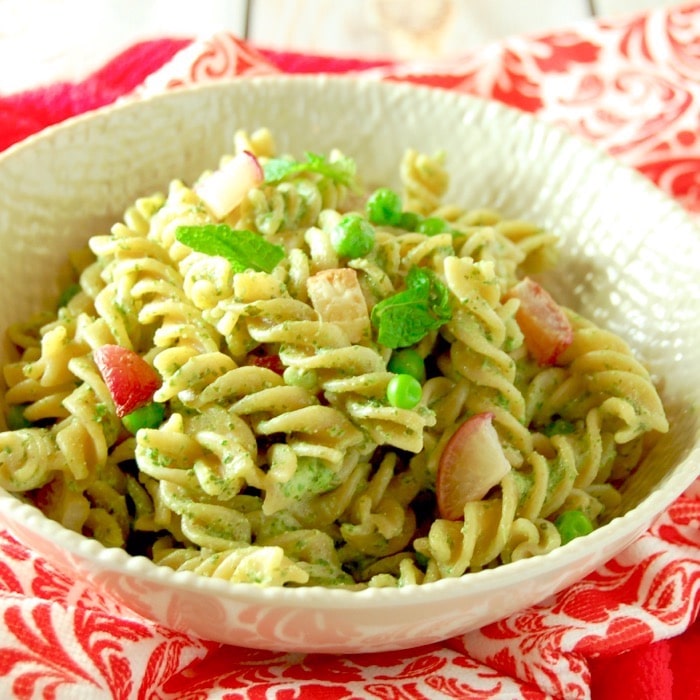 Classic pesto is made with garlic, fresh basil, pine nuts, Parmesan and Pecorino cheeses, and olive oil. However, according to an article I read, any combination of flavorful leaves, oily nuts, hard cheese, olive oil, garlic, salt, and lemon juice can be considered a pesto-like condiment. If you search for pesto here on the blog you'll find an assortment of recipes – some made with kale, some made with walnuts, and some that are more traditionally made with basil and Parmesan. I also occasionally make pesto with arugula, especially if I have some that's on it's way into the garbage, or other greens like this recipe for radish greens pesto.
While it may seem pretty crazy that the majority of my pesto recipes are not the classic combination and I don't have a consistent pesto recipe, in my opinion that's part of the beauty of this traditional Genovese sauce – you can make it with what you want and what you have on hand, which is a great way to avoid food waste.
Reducing food waste is basically how this mint and radish greens pesto recipe came about. I love buying bunches of radishes with the stems and leaves intact – they're just so much prettier and fresher than the bags of pre-washed and trimmed radishes. But I really don't like the idea of wasting the greens – after all, they're edible, so why not put them to use.
In the past, I've added radish greens to mixed greens for a salad, but a few weeks ago when I bought a bunch of radishes to make my Roasted Broccoli Radish Salad, I decided to save the greens and use them to make pesto. And that's how this radish greens pesto came about.
Ingredients &
Preparation
My bunch of radishes didn't have enough leaves to make a full pesto, so I added mint that was left in my fridge. As with many of my other pesto recipes, I left out nuts (which technically makes this more of a pistou) and I used a combination of part-skim ricotta cheese and Parmesan to keep this sauce on the healthier side. (Ounce for ounce, part-skim ricotta cheese is almost 70% lower in calories and fat than Parmesan cheese.)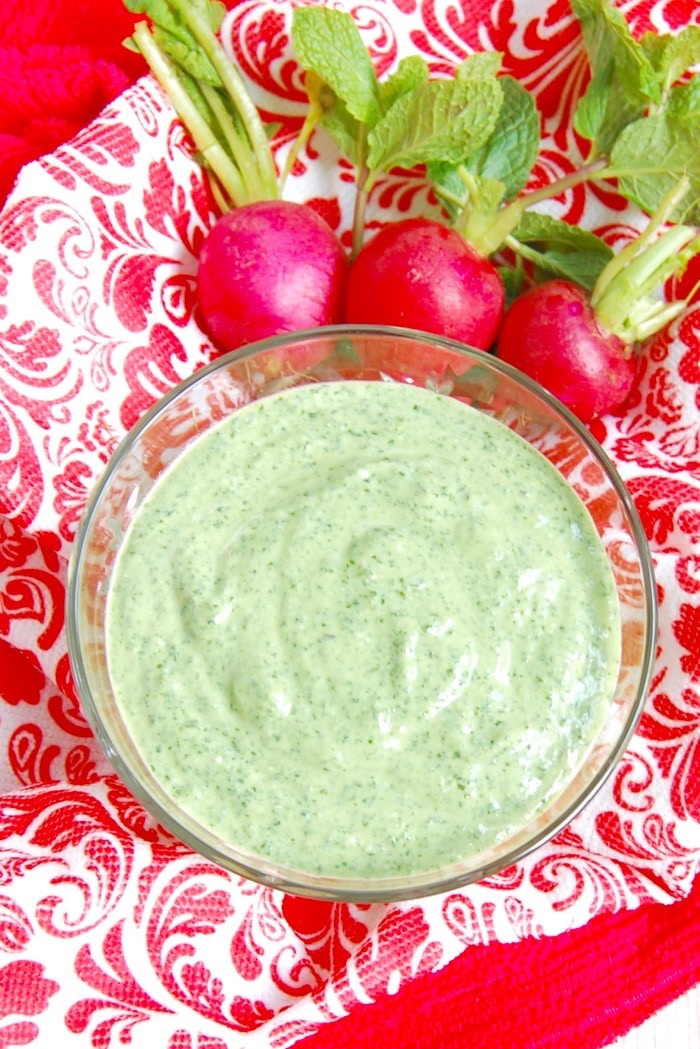 The pesto comes together very quickly and there really isn't very much prep involved since the food processor does most of the work. You simply combine the radish greens, mint leaves (and stems if you'd like, since they get pureed anyway), minced or grated garlic (you can also use packaged garlic paste), olive oil, lemon juice, ricotta and Parmesan cheeses, and salt in a food processor or blender and puree until smooth.
This mint and radish greens pesto can be used as a sauce or dip for veggies, chicken, steak, or fish, a sandwich spread, in place of tomato sauce on pizza, or classically with pasta, which is what I did with it for this recipe.
To go with the radish greens pesto, radishes were a natural fit to add to the pasta, and peas and radishes go really well together, so that was the final ingredient to round out the meal. To keep this recipe quick and easy, I suggest roasting the radishes while you make the pesto and pasta. Here are the four simple steps to composing this pasta dish:
Cube and roast radishes.
Bring pot of water to boil. Cook pasta and add peas to the pot for the last minute. Strain peas and pasta together.
Make radish greens pesto while pasta and peas are cooking.
Toss pasta, peas, and roasted radishes with pesto.
Told you it was easy! Now here's the exact recipe!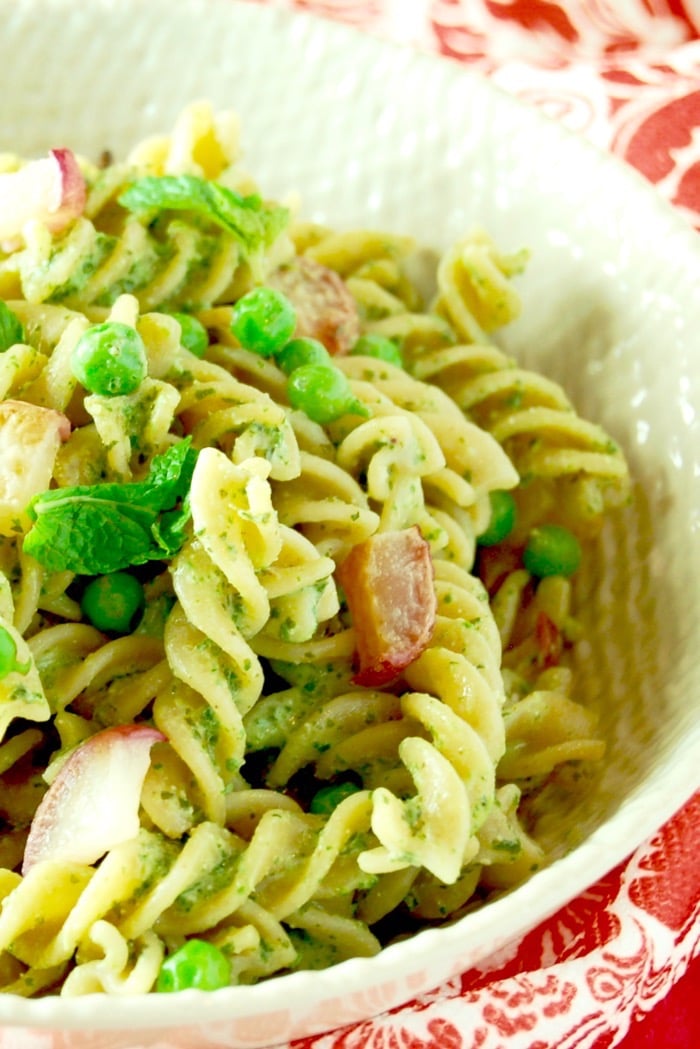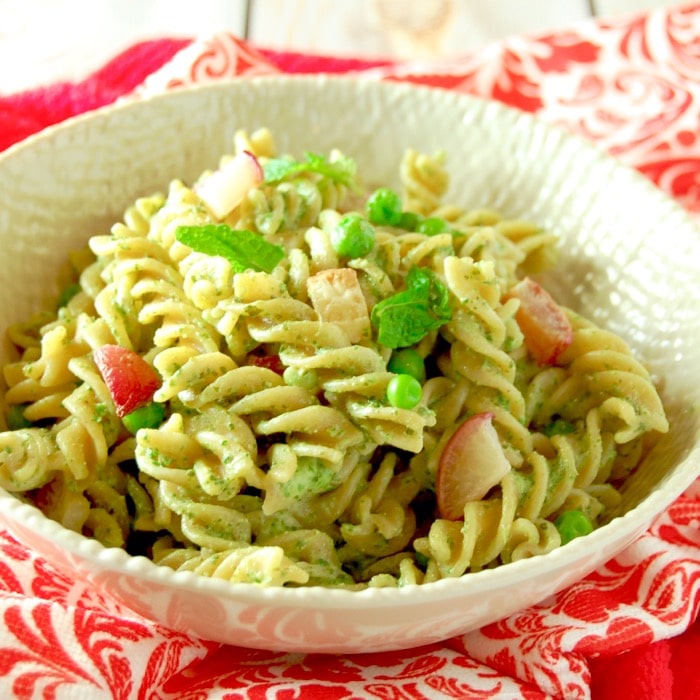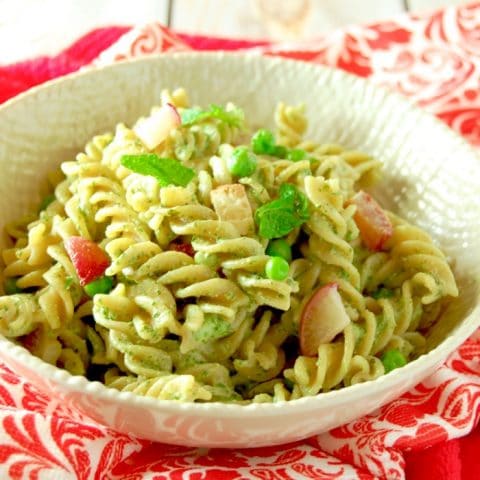 Mint & Radish Greens Pesto Pasta with Roasted Radishes and Peas
Yield:
6 servings (1 1/2 cups each)
Whole grain pasta is tossed with peas, roasted radishes, and a nut-free pesto made with mint, radish greens, and ricotta cheese, in this light and delicious spring pasta dish. Easily made gluten-free with gluten-free pasta.
Ingredients
For the Pasta:
1 1/2 cups chopped radishes, (~8 ounces)
1 teaspoon olive oil
1 pound whole wheat pasta
1 1/2 cups spring peas
For the Pesto:
1 1/2 ounces radish greens, (from 1 bunch of radishes)
1 ounce fresh mint
1/2 cup part-skim ricotta cheese
2 tablespoons grated Parmesan cheese
2 tablespoons olive oil
2 tablespoons lemon juice
2 teaspoons minced or grated garlic
1/4 teaspoon Kosher salt, or more to taste
Freshly ground pepper, to taste
Instructions
Preheat oven to 400 degrees F. Toss chopped radishes with olive oil on a foil-lined baking sheet and roast for 10 to 15 minutes until tender and lightly browned.
While the radishes are roasting, bring a large pot of water to boil. Add pasta and cook according to package directions, about 10 to 11 minutes until al dente. When there is one minute left for the pasta to cook, add in the peas. Reserve about 1/2 cup of pasta water before straining the pasta and peas.
While the radishes and pasta are cooking, make the pesto. Combine all pesto ingredients in a small food processor or blender and puree until smooth.
To assemble, toss the pasta, peas, and roasted radishes with all of the pesto. Add reserved cooking water as needed to thin out the sauce. Season with more salt and pepper, as desired. Serve hot or room temperature.
Notes
If making less pasta or using the pesto for other recipes, note that the pesto recipe makes 1 cup.
Once assembled, the pasta will last a couple of days in the refrigerator, but note it is best (and prettiest!) when eaten immediately. 
Make it gluten-free: use gluten-free pasta.
Make it vegan: use dairy-free cheese 
Nutrition Information:
Yield:

6
Serving Size:

6 servings (1 1/2 cups each)
Amount Per Serving:
Calories:

389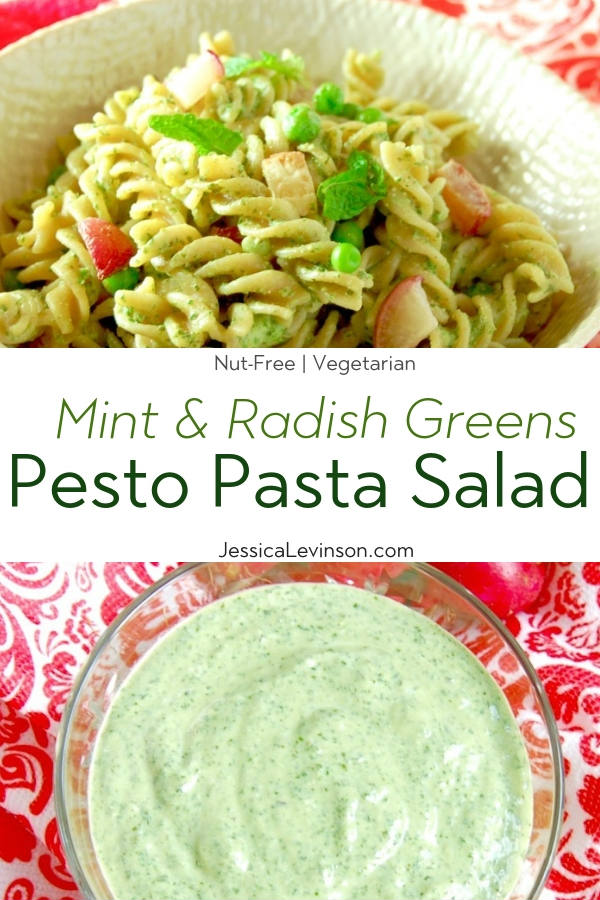 Do you have a favorite pesto recipe?
Share with me in the comments below.