Creamy Parsnip Pear Soup with Cranberry Coulis
December 17, 2014
Parsnip pear soup is sweet and savory, creamy without the cream, and a nutritious and delicious addition to a fall or winter meal. Garnish with tart cranberry coulis for a pop of color and festivity.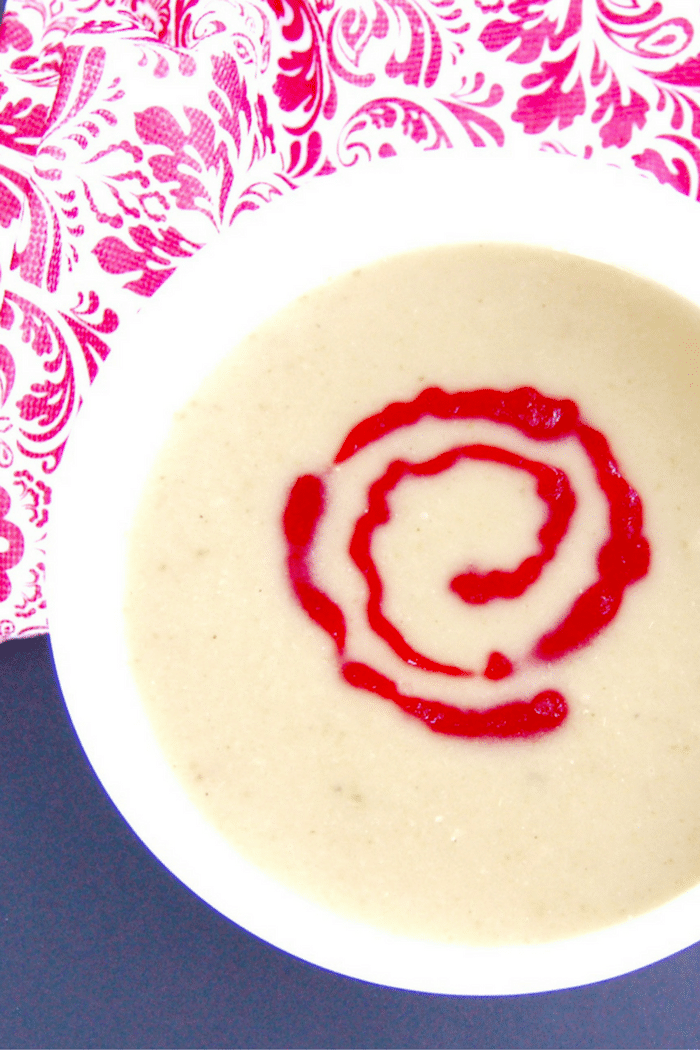 I love soup. I eat soup all year round, even on 90 degree days during the summer. And I'm not just talking about cold soups like gazpacho, though I'm a fan of that too. What I really love is a hot bowl of soup, much like this parsnip pear soup that warms me up from the inside out.
It doesn't matter whether it's a hearty vegetable soup, brothy chicken soup, chunky chili, or a smooth pureed soup – I'll eat them all. I seriously could eat soup every single day, that's how much I love it. Do you agree? If so, you definitely want to check out this creamy parsnip pear soup!
This recipe has been waiting in the wings to be made and posted for quite a while. Back in September when I was at the Stone Barns Harvest Festival there was a sample of a parsnip pear smoothie and I remember telling my husband and the friends we were with that I had thought about this flavor combination and had the idea to make a soup with it. It was one of many recipes on my to-make list, and I finally got my act together just in time for National Pear Month! (In case you missed the memo, that's another food holiday we celebrate in December.)
Creamy without Cream
Like many of my favorite soups, this Creamy Parsnip Pear Soup is a velvety, creamy puree without any cream, making it the perfect dairy-free appetizer or main dish for those who follow a vegan diet, have a dairy allergy or intolerance, or keep Kosher (like we do) and want to serve it at a meat meal.
And while some creamy soups add bread for heft if they omit the cream, this parsnip pear soup is completely gluten-free. Similar to the way the roasted butternut squash and sweet potatoes are creamy on their own in my Roasted Butternut Squash and Sweet Potato Soup, the creaminess here comes solely from the starchiness of the parsnips.
Since parsnips and pears are naturally sweet, this creamy parsnip pear soup provides you with the sweet and savory flavor combo, which I love. There are an additional two tablespoons of maple syrup in the soup to add a depth of flavor and bring out the natural sweetness that's already there, while fresh thyme adds a subtle earthy flavor, which works well with the parsnip.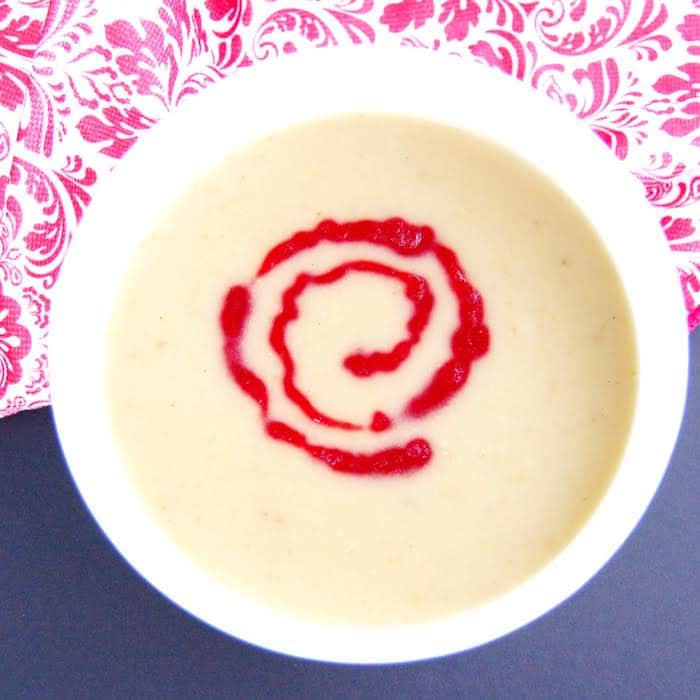 The Preparation
This soup recipe is relatively easy to whip up and the result is a nutritious and delicious bowl of soup that will satisfy your family and impress your guests. My girls were amazed when I told them about this soup. Pears in soup?! That was a new one for them and probably will be for some guests to your home too!
The cranberry coulis drizzled on top of this soup is optional, but I highly recommend it. It's made the same way you make cranberry sauce, except that it needs to be strained, which is a bit tedious but well worth it in my opinion. The coulis is very low in sugar (only 1/4 cup per 1 cup of cranberries) so it's still quite tart, which provides a nice balance to the sweetness of the soup.
(If you don't have the time or inclination to make the coulis, pomegranate seeds are an easy and pretty garnish as well.)
Of course since cranberries are a popular ingredient on all holiday menus this time of year, the coulis is a perfect addition for an upcoming holiday or New Year's party. In fact, when I make this parsnip pear soup for a party, I like to serve it in small tasting cups with demitasse spoons – perfect for everyone to have just a taste and save room for the rest of the hors d'oeuvres on your menu!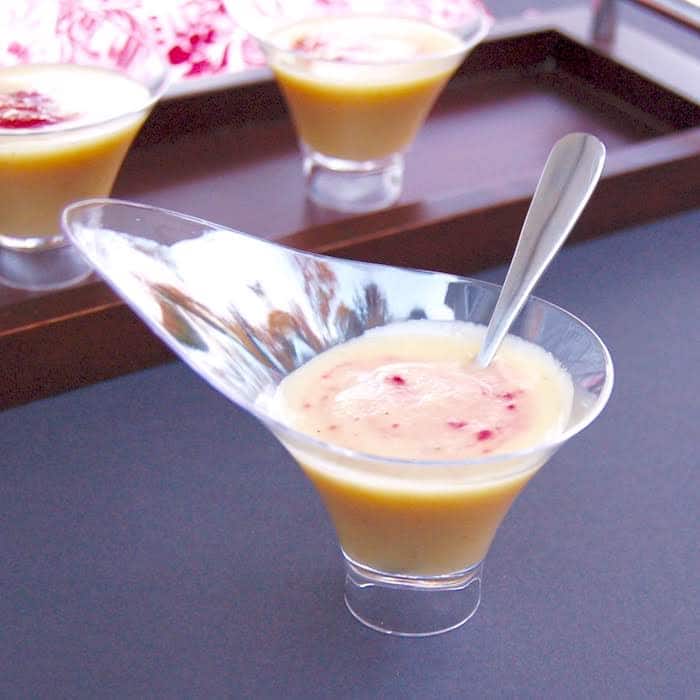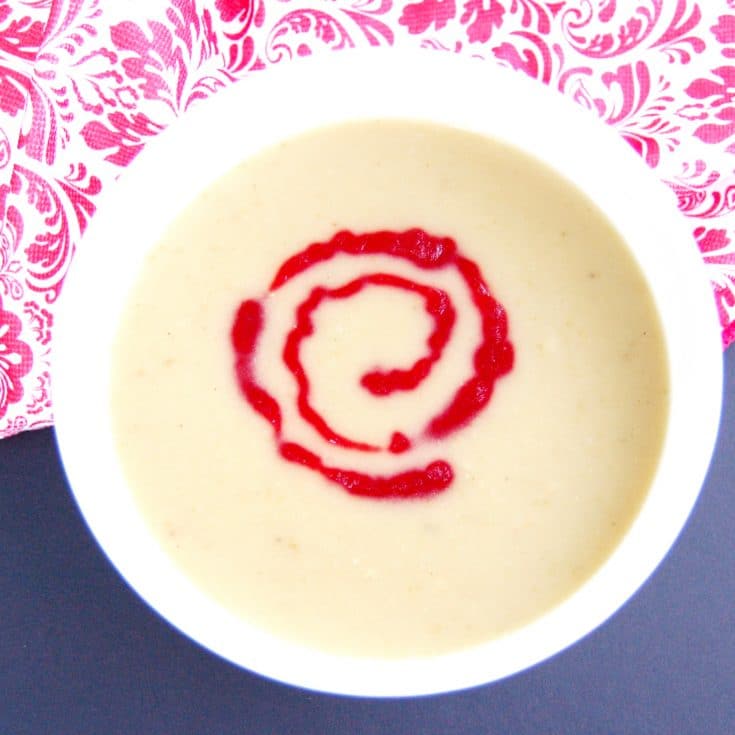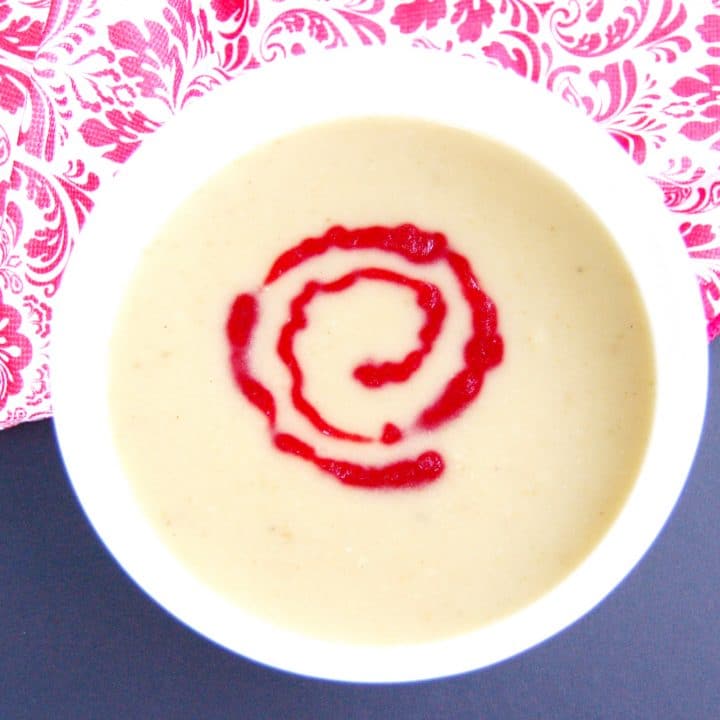 Creamy Parsnip Pear Soup with Cranberry Coulis
Yield:
8 one-cup servings
Total Time:
1 hour
5 minutes
Parsnips and pears join together in this sweet and savory soup that's creamy without the cream, naturally sweet, and a nutritious and delicious addition to a fall or winter meal. Tart cranberry coulis provides an elegant topping and flavorful contrast to the sweetness of the soup. Serve as an appetizer or in smaller servings as a festive holiday party hors d'oeuvre.
Ingredients
For the Soup:
1 tablespoon olive oil
1 medium shallot,, diced (1/2 cup)
2 cloves garlic,, minced (1 tablespoon)
1 1/2 pounds parsnip,, peeled and chopped (4 to 5 cups)
1 pound pears,, chopped* (3 cups)
6 cups low sodium no-chicken broth
1 teaspoon fresh thyme
2 cups water
2 tablespoons maple syrup
1 tablespoon white wine vinegar
1/2 teaspoon Kosher salt
Freshly ground pepper to taste
For the Cranberry Coulis (optional)
1 cup frozen cranberries
1/4 cup + 1 tablespoon water,, divided
1/4 cup sugar
1 tablespoon lemon juice
Instructions
For the Soup:
In a medium to large soup pot, heat oil over medium-high heat. Add shallots and garlic and saute for 2 minutes, stirring frequently, until shallots have softened and become translucent.
Add parsnips to the pot and cook 2 minutes, stirring occasionally to make sure the shallots and garlic don't stick to the bottom of the pot. Lower heat to medium, cover the pot, and cook 5 minutes until parsnip is tender and starting to brown.
Add pears to the pot and stir. Cover the pot and cook another 5 minutes, stirring occasionally.
Uncover the pot and add broth and thyme. Raise heat to high and bring soup to a boil. Reduce heat, cover pot, and simmer for 20 minutes.
Remove soup from heat, uncover, and let cool 5 minutes. Using an immersion blender, puree soup until smooth.
Return soup to medium heat, add 2 cups water, and simmer 10 minutes. Stir in maple syrup, white wine vinegar, salt, and pepper to taste.
For the Cranberry Coulis:
While the soup is cooking, combine cranberries, 1/4 cup water, and sugar in a small sauce pan and bring to a boil. Reduce heat to low and simmer for 8 to 10 minutes until the cranberries have popped and you have a thickened sauce. Remove from heat and cool about 5 minutes. Place a fine strainer over a bowl and use a spatula or the back of a spoon to help pass the liquid through the strainer, leaving the solids behind.**
Add lemon juice and remaining tablespoon of water to cranberry coulis and whisk to combine.
Serve soup with cranberry coulis drizzled on top.
Notes
*Any type of pear can be used. I have made this with both bartlett and d'anjou pears. I leave the skin of the pear on for more fiber, but pears can be peeled if preferred.
**I like to save the solids of the cranberry coulis and use as a spread on toast or my Spiced Pumpkin Bread.
Nutrition Information:
Yield:

8
Serving Size:

8 one-cup servings
Amount Per Serving:
Calories:

143
Do you enjoy soup all year long?
Have you ever added pears to soup?
Share your responses with me in the comments below!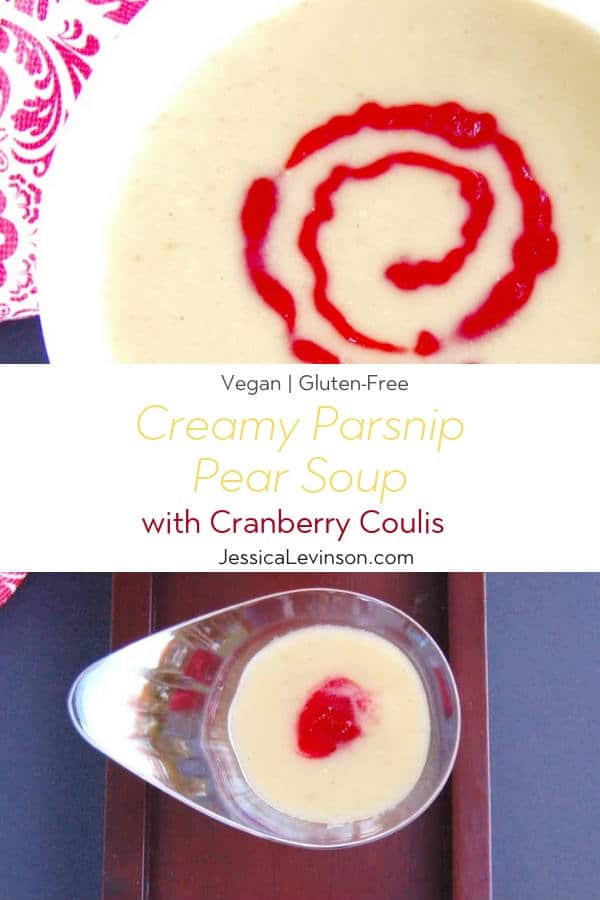 Disclosure: This page contains Amazon Affiliate links. If you purchase products through these link, your cost will be the same but I will receive a small commission to help with operating costs of this blog. As always, all thoughts and opinions are my own and I only recommend products I truly believe in. Thanks for your support!