Classic Chicken Soup
September 22, 2015
A family favorite, classic chicken soup is soothing and delicious. Perfect to start any Jewish holiday meal or to cure a cold.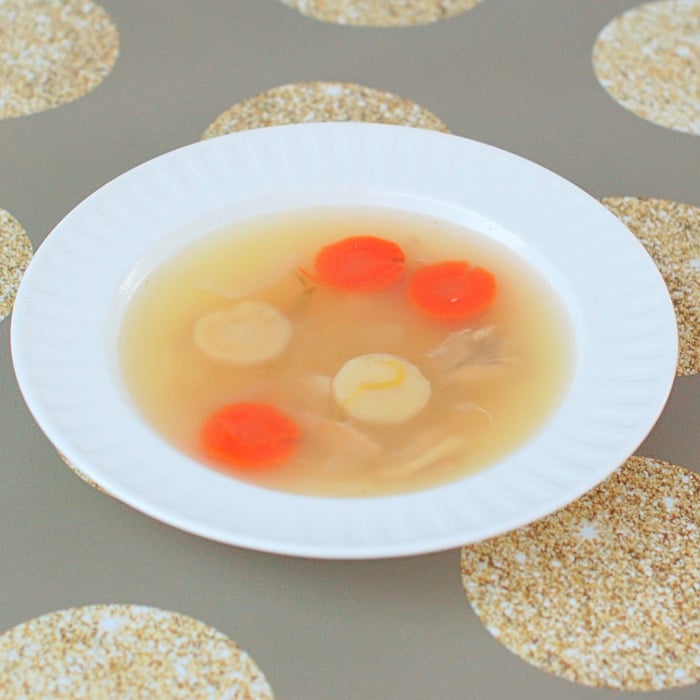 A Jewish Tradition
With the start of fall comes the Jewish holidays Rosh Hashana (the Jewish New Year), Yom Kippur (the Day of Atonement), and Sukkot (one of the three pilgrimage festivals). In my family, as in many Jewish families I know, it is tradition to serve this classic chicken soup at the start of all of these holiday meals.
Luckily, chicken soup is one of those recipes that keeps getting better every time it's reheated. So instead of making pot after pot of soup, I make one huge pot and divide it into containers, some for the fridge and the rest for the freezer.
Family Chicken Soup Recipe
Until I had my own kids, my mother would give me containers of her classic chicken soup, saving me the trouble of cooking my own. But those days are gone – especially since one of my daughters loves soup and I don't think my mother's supply would be able to keep up with the demand! So now I make the traditional Jewish chicken soup on my own. It's an easy recipe, but definitely requires some time and patience to make sure your resulting soup is as clear as possible and free of any bones.
Unfortunately my photos don't really do the soup justice – it tastes so much better than it looks. Side note: It's always interesting to learn what foods are difficult to photograph and chicken soup is definitely one of them. If anyone has tips, I'm all ears!
In the meantime, I hope you find the time to make a batch of my classic chicken soup, aka Jewish Penicillin. It's perfect for any day, but especially when cold season hits!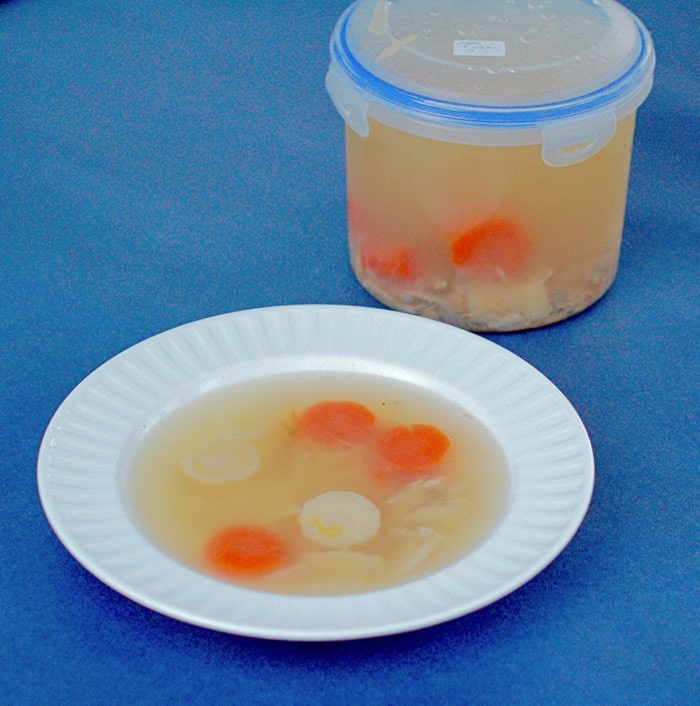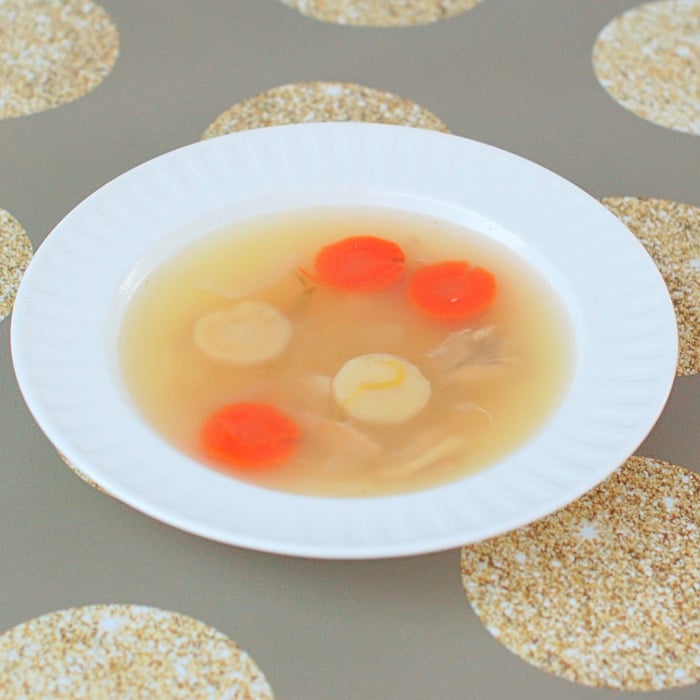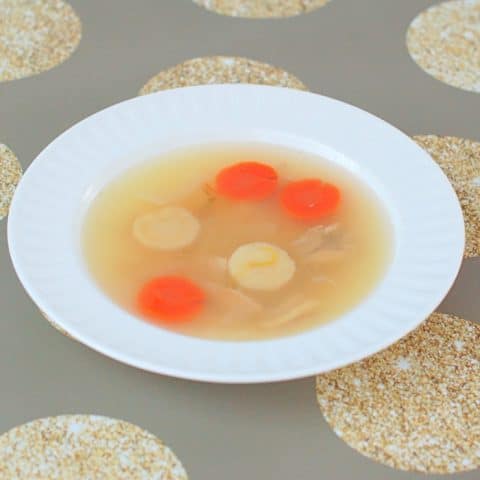 Classic Chicken Soup
Cook Time:
1 hour
45 minutes
Total Time:
2 hours
5 minutes
A family favorite, my traditional chicken soup is soothing and delicious. Perfect to start any Jewish holiday meal or to cure a cold.
Gluten-Free, Dairy-Free, Egg-Free, Nut-Free, Kosher
Ingredients
2 large handfuls parsley, washed and trimmed + more for serving
2 large handfuls dill, washed and trimmed + more for serving
2 cloves garlic, smashed
2 large onions, cut in half
6 stalks celery, halved widthwise
2 leeks, dark green parts removed, and halved widthwise
1 package chicken bones
2 split chicken breasts with wings attached (skin on)
4 large carrots, peeled and halved widthwise
3 large parsnips, peeled and halved widthwise
2 teaspoons Kosher salt (or more to taste)
Freshly ground pepper (to taste)
Instructions
Wrap parsley, dill, and smashed garlic in cheesecloth to make a bouquet garni. In a large pot, combine bouquet garni, onions, most of the celery, leeks, chicken bones and chicken breasts. Add as much water as you want (I fill my pot about 3/4 full). Bring to a boil over high heat; cover, reduce to a simmer, and cook until chicken is cooked through, about 45 minutes. Skim any foam that rises to the top and discard.
Remove chicken from pot, and set aside until cool enough to handle. Remove and discard bouquet garni. Using a large standing strainer set over another pot or very large bowl, strain the soup so you have the clear stock alone. Salvage some of the onions and leeks from the strainer and add back to the stock along with the uncooked celery, carrots, and parsnip.
Remove chicken meat from bones; discard skin and bones. Shred meat and return to the pot. Add salt and as much pepper as you like. Bring to a boil, reduce to a simmer, cover and cook about an hour, until the vegetables are tender. Serve garnished with parsley and dill if desired.
Notes
I usually make the soup at least one day in advance. After soup has cooled down, refrigerate and/or freeze. When ready to eat (or upon defrosting), skim solid fat from soup and discard.
Chicken soup can be made in the Instant Pot (IP) as well. Use soup setting for step 1, allow to naturally release for 10-15 minutes before doing quick release. For step 3, set IP to manual for 30 minutes. 
Recommended Products
As an Amazon Associate and member of other affiliate programs, I earn from qualifying purchases.
Nutrition Information:
Yield:

15
Serving Size:

1/15th
Amount Per Serving:
Calories:

113
Total Fat:

3g
Saturated Fat:

1g
Trans Fat:

0g
Unsaturated Fat:

2g
Cholesterol:

29mg
Sodium:

337mg
Carbohydrates:

10g
Fiber:

2g
Sugar:

3g
Protein:

11g
Nutrition information was calculated by Nutritionix. It may not be 100% accurate.
What's your favorite freezer meal?
Share with me in the comments below!