Watermelon Tomato Gazpacho with Scallion-Cilantro Relish
August 9, 2017
Enjoy the best flavors of summer by the spoonful with this Watermelon Tomato Gazpacho, a sweet and savory twist on the classic summer soup.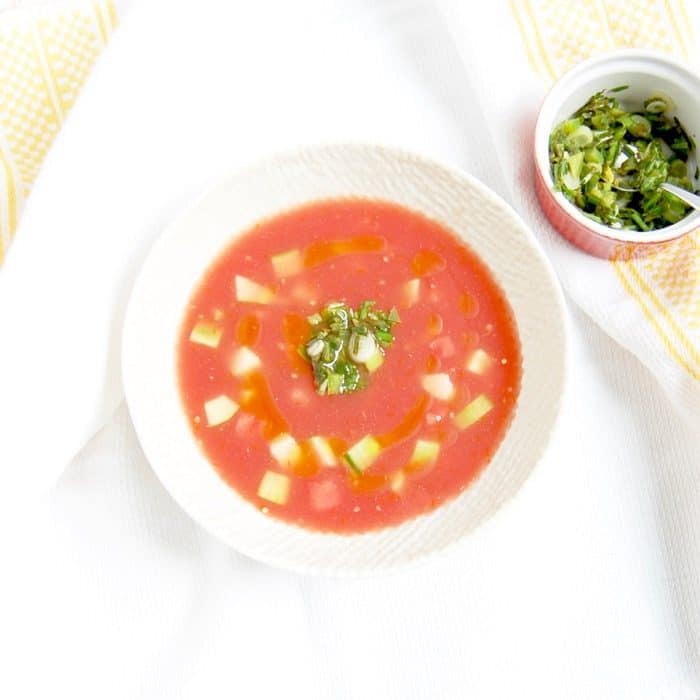 Soup All Year Round
One of my daughters is a self-declared "soup girl" and I'm with her 100 percent. I could eat soup all year round, even on the hottest days of summer, but most people I know don't agree. They want cold foods on 90+ degree days, which is why gazpacho, a classic cold summer soup, is so popular on restaurant menus this time of year.
Despite my love of soup, I wasn't always a gazpacho fan. It probably stems from the fact that my mother never made cold soup – to this day she and my father still aren't into the cold soup trend. Here's a perfect example of how role modeling really does influence children's food choices. But that's not what this post is about. This post is about the most delicious summer soup – my Watermelon Tomato Gazpacho.
Luckily, I figured out the pleasures of cold soups on my own, and once I did I had to make it at home. Most people are familiar with traditional tomato-based gazpacho made of fresh tomatoes, onions, and garlic. Sometimes bell peppers and cucumbers are added as well.
As you probably realize, I'm not one to stick with the classic pairings. Just take a look at my Peach Panzanella Salad for one example. My homemade gazpacho recipe is another.
A Classic With A Twist
Sweet and savory flavor pairings are my favorite and it makes perfect sense to add watermelon to a summer soup since its prime season for this fruit. Plus, like tomatoes, watermelon has a really high water content. My Watermelon Tomato Gazpacho also has cucumbers, another water-rich veggie that's at its prime in the summer.
I originally posted this Watermelon Tomato on the blog in 2013, but over the years I've updated the recipe and my preparation of it. The biggest change I made to the recipe is that I use all the ingredients completely raw, which is really how gazpacho should be made.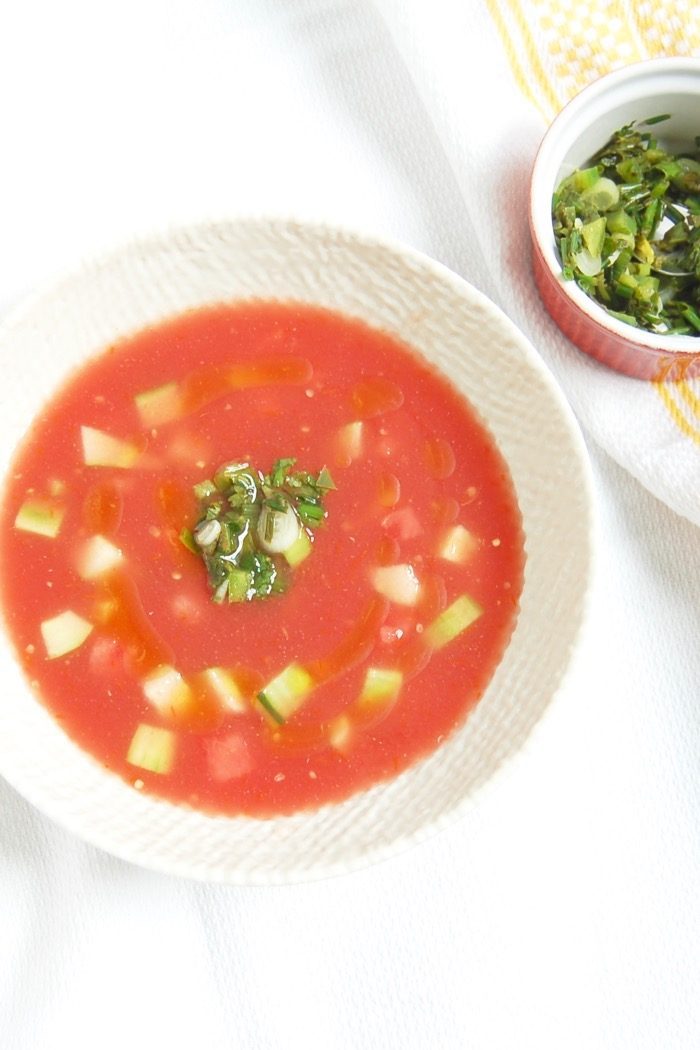 A Quick, No-Cook Summer Recipe
When I first made this Watermelon Tomato Gazpacho I roasted the tomatoes, peeled them, and strained the juice, leaving behind the seeds so the soup would be as smooth as possible. The extra steps of roasting, waiting for the tomatoes to cool, and straining them added a lot of time to what's supposed to be a quick recipe. Not to mention that I had to turn the oven on – who wants to do that in the summer?!
With the modifications I've made, this Watermelon Tomato Gazpacho is one of the easiest summer recipes you'll find, plus it can be made ahead. The most time-consuming part is dicing up the veggies and fruit, but if you're like me and enjoy the garden-fresh smells of summer produce, you won't mind it at all (especially if you sneak some tastes while you're at it!).
Some gazpachos are on the chunky side, but I prefer making a smooth puree and then adding in some pieces of tomato, watermelon, and cucumber for a balance of textures in every bite. Acid from lime juice and vinegar add some depth of flavor and a heavier than usual hand with coarse salt balances it all out.
Let It Rest
Like most soup, gazpacho is best after it rests for a while after making it, allowing the flavors to meld. For this reason, you'll notice I specify "to taste" or give a range of amounts for the lime juice, vinegar, and salt. You want to start with less, let it rest, and taste before adding more.
I like to garnish my Watermelon Tomato Gazpacho with a drizzle of high quality olive oil and a small spoonful of a relish made of scallions, cilantro, and chives, with a hint of spice from jalapeño peppers. You can easily leave the relish off, as I do for my kids, but I happen to like the additional flavors, bit of a kick, and mouthfeel of the relish.
I have served this gazpacho for company on various occasions, and despite my thinking that kids would like it because all kids like watermelon (although lately not one of mine), it wasn't a hit with anyone's children except for my own (even the one who isn't so into watermelon this summer!). But remember – I didn't like gazpacho as a kid either. If you enjoy gazpacho and eat it with your kids, they may come up with their own recipe when they get older too!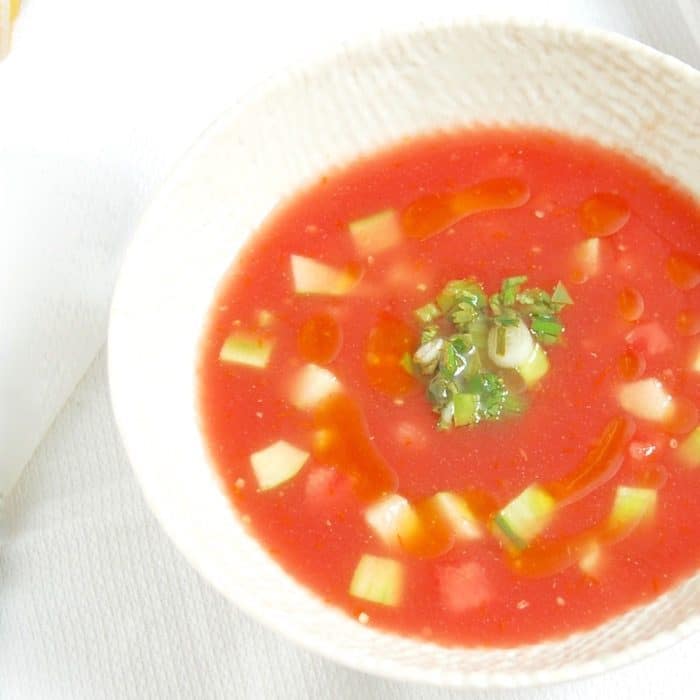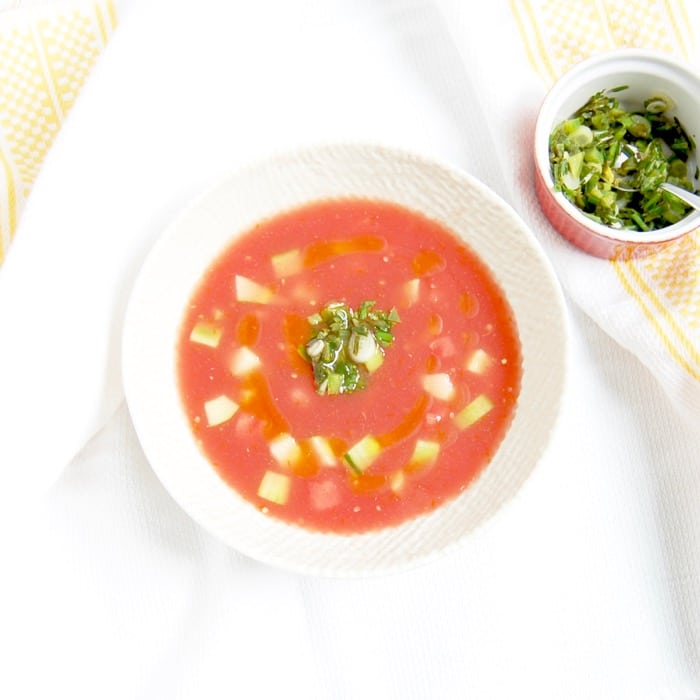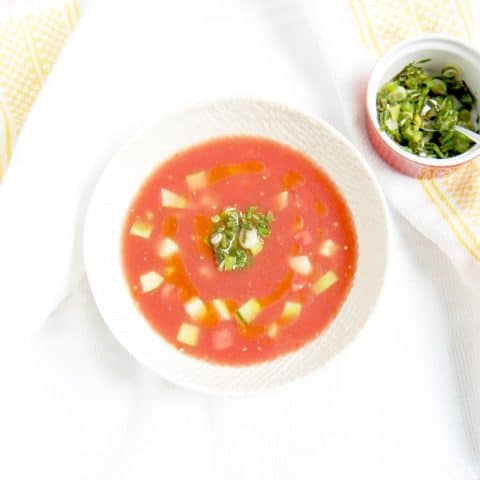 Watermelon Tomato Gazpacho with Scallion-Cilantro Relish
Yield:
18 (1 cup per serving)
Watermelon, tomatoes, and cucumbers are pureed into this sweet and savory cold soup that highlights the best flavors of summer. Top with a relish of scallions, cilantro, chives, and jalapeño and a drizzle of olive oil.
Vegan, Gluten-Free, Nut-Free, Kosher
Ingredients
For the gazpacho:
8-9 cups cored and roughly chopped plum or beefsteak tomatoes (~3 to 4 pounds)
8 cups cubed seedless watermelon (for pureeing)*
2 cups peeled, seeded, and roughly chopped English cucumber (for pureeing) (1 large English cucumber)
2 cups diced seedless watermelon (for mixing in)*
2 cups peeled, seeded, and diced English cucumber (for mixing in) (~ 1/2 an English cucumber)
2 tablespoons lime juice
2 tablespoons white wine vinegar (add up to 4 tablespoons depending on flavor preference)
1 tablespoon Kosher salt (or more to taste)
For the scallion-cilantro relish:
1/2 cup thinly sliced scallions (~3 scallions)
2 tablespoons seeded and minced jalapeño pepper
1/4 cup chopped cilantro
1/4 cup minced chives
2 teaspoons lime juice
Pinch Kosher salt
Olive oil (for serving)
Instructions
In a large blender or food processor, puree roughly chopped tomatoes, cubed watermelon, and roughly chopped cucumber until smooth. Puree in batches if blender or food processor is not big enough.
Transfer gazpacho to a large bowl or soup pot. Stir in the diced watermelon and cucumber, lime juice, white wine vinegar, and salt. Refrigerate at least one hour or overnight. Before serving, taste and add more vinegar and/or salt as needed, to taste.
Before serving, mix scallions, jalapeño, cilantro, chives, and lime juice in a small bowl. Season with salt, to taste.
To serve, ladle the gazpacho into bowl, drizzle with olive oil, and top with a teaspoon of the scallion-cilantro relish.
Notes
*You will need about 10 pounds of watermelon for this recipe.
Gazpacho can be made the night before and will keep in the refrigerator for two to three days.
Recipe adapted from Food & WIne Magazine
Recommended Products
As an Amazon Associate and member of other affiliate programs, I earn from qualifying purchases.
Nutrition Information:
Yield:

18
Serving Size:

cup per serving)1
Amount Per Serving:
Calories:

343
Total Fat:

3g
Saturated Fat:

0g
Trans Fat:

0g
Unsaturated Fat:

2g
Cholesterol:

0mg
Sodium:

362mg
Carbohydrates:

83g
Fiber:

10g
Sugar:

72g
Protein:

5g
Nutrition information was calculated by Nutritionix. It may not be 100% accurate.
Do you like gazpacho in the summer?
Have your kids tried it?
Share with me in the comments below!