December is National Pear Month!
December 16, 2014
Hanukkah and Christmas are the December holidays everyone knows about, but it's also National Pear Month – a Nutritioulicious food holiday worth celebrating!
This post was written by Nutritioulicious contributor Tiana Yom, MPH, CHES
Is it a coincidence that December is National Pear Month and the most well known lyric of "The Twelve Days of Christmas" is "a partridge in a pear tree?"
I actually don't know the answer to that – I tried to find it online, but came up short. There must be some connection, especially since the holiday season is also prime pear season. (If you know a better connection, please share the common thread in the comments below!)
To celebrate National Pear Month we wanted to share some facts about pears that are both fun and nutritional.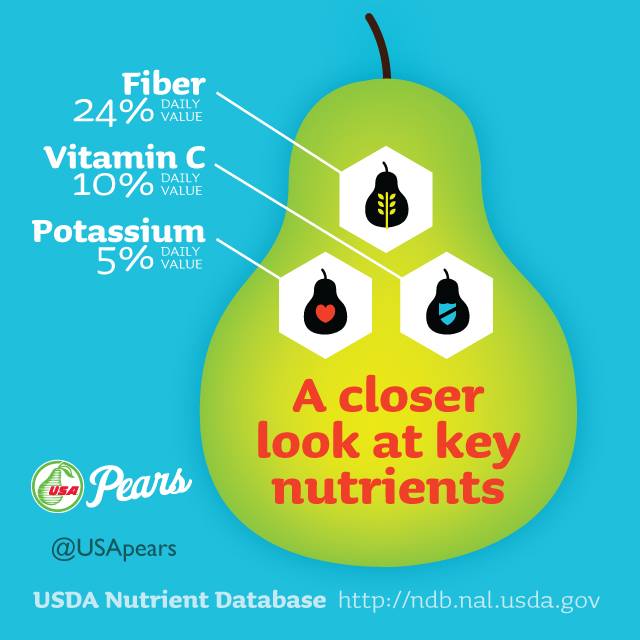 According to USA pears, there are over 3,000 known pear varieties grown around the world, including Bartlett, Anjou, Bosc, and Seckel pears! How many are you familiar with?
Pears are nutrient dense and an excellent source of fiber. One medium pear (about 6 oz) has 100 calories, 6 grams fiber, and is a good source of vitamin C.
Unlike most other fruit, pears ripen off the tree, which is why you find a lot of hard, green pears at the supermarket. Don't be deterred from taking home an unripe pear – just leave it at room temperature for a couple of days and it will ripen up naturally.
Pears are versatile! They can be enjoyed raw, baked, broiled, grilled, poached, and sautéed. They can also be used to make pear sauce, preserves, chutneys, and jams. And believe it or not, pears make for great decorations!
Pears pair well (pun intended!) with many different flavors. Some common pairings include blue cheese, goat cheese, cranberries, baby greens, toasted and candied pecans and walnuts, red wine, and poultry. Share your Perfect Pear with Superfresh Growers and you could win some great prizes!
USA Pears provides a plethora of information including the history of pears, recipes, nutritional information, and resources for kids, parents and teachers! And if you're ready to experiment with pears in the kitchen, try my Creamy Parsnip Pear Soup, Spinach Pear Salad with Goat Cheese, and Chocolate Pear Bread.
What is your favorite way to eat pears?