Late Summer Vegetable Soup
September 16, 2016
Use the last of summer's bounty of zucchini, tomatoes, and corn to make this hearty vegetable soup brimming with flavor and nutrition.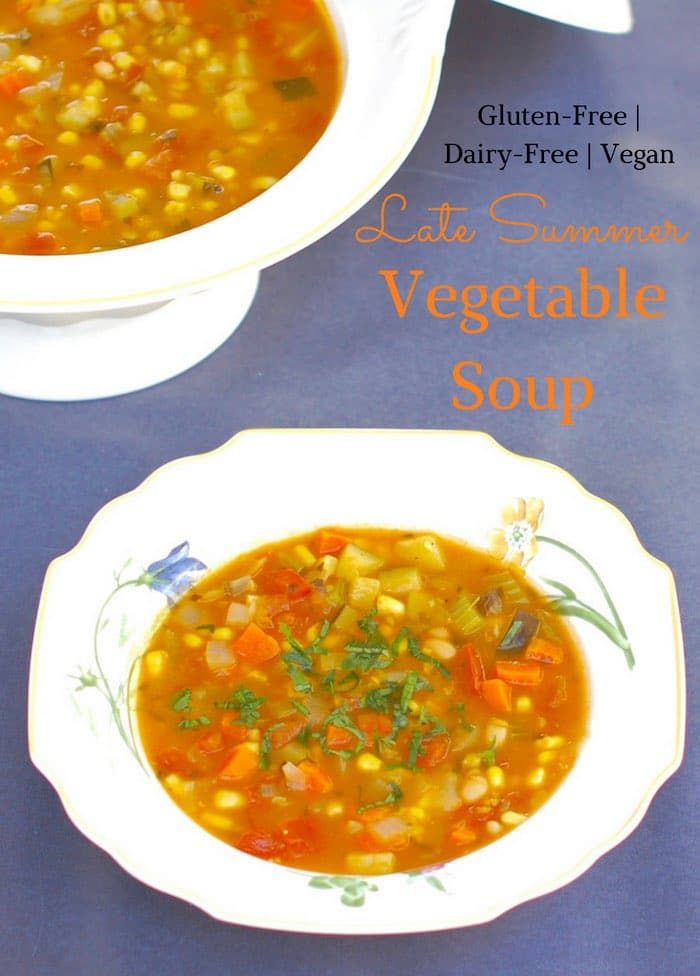 I was compensated for writing the original article, "Summer Squash," and developing the recipe found in the September 2016 issue of Today's Dietitian. I was not compensated for sharing the column or magazine with readers on my blog. All opinions are my own.
"It ain't over, till it's over." – Yogi Berra
Although Labor Day has come and gone, summer is not officially over until fall begins next Thursday. Which means you still have a few more days to make this nutritious and delicious Late Summer Vegetable Soup, filled with all those veggies you've been savoring – corn, tomatoes, zucchini – before the colder weather sets in.
I have been seeing pumpkin recipes left and right on Pinterest, Instagram, and Facebook, but I haven't embraced the fall produce yet nor have I put away my sandals. And before I do, I'm going to enjoy a few more bowls of watermelon, a couple more kernels of corn, and definitely some more tomatoes!
This soup is helping me transition from the hot days of summer to the cool fall nights, and I hope it does the same for you. Plus, like most other soups, you can freeze it so you have a taste of summer when you're hibernating this winter! Not to mention it's Fruit and Veggies More Matters Month and isn't this just a fantastic way to get in more fruits and vegetables? (For more ideas, check out my post 7 Ways to Improve Your Fruit and Vegetable Intake.)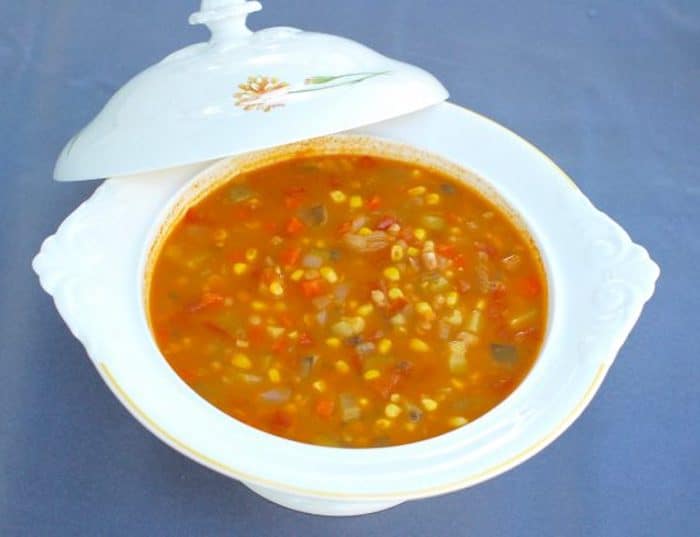 This soup is a perfect appetizer to start the meal or make it a soup and sandwich day for lunch. The recipe is vegan, gluten-free, dairy-free, and nut-free, and it has some beans, but I'd recommend including some more protein to round out the meal. For meat eaters, throw some shredded chicken or beef directly in the soup; if you eat cheese, this soup would be delicious with some grated parmesan on top. Or enjoy the soup as is and make a piece of fish to serve alongside it. You can't go wrong!
If you want to learn more about all the different varieties of summer squash and what makes this vegetable so good for you, head on over to my article Summer Squash in the September issue of Today's Dietitian Magazine. Then head to the kitchen and make a pot of this soup to enjoy now or freeze for later!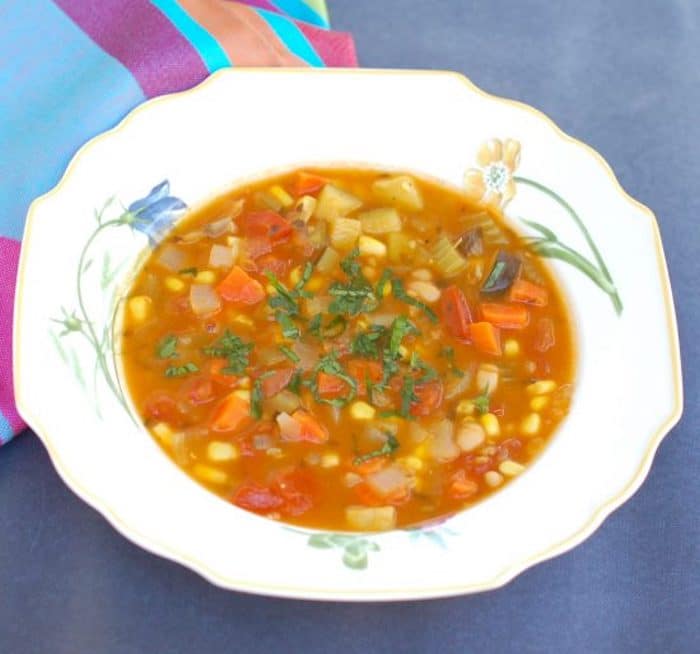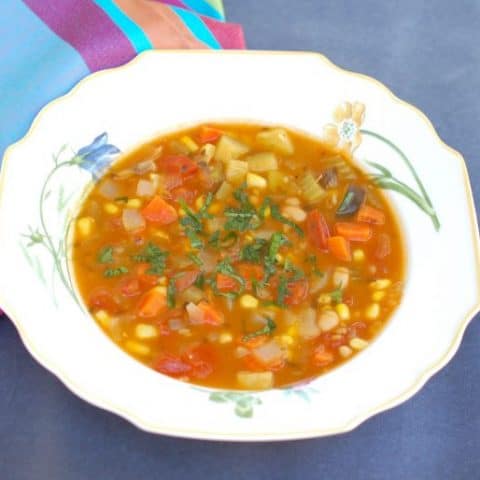 Late Summer Vegetable Soup
Use the last of summer's bounty of zucchini, tomatoes, and corn to make this hearty vegetable soup brimming with flavor and nutrition.
Ingredients
2 tablespoons olive oil
1 large onion, diced
1 cup peeled and diced carrots
1 cup diced celery
2 cups diced green zucchini
2 large garlic cloves, minced
2 tablespoons tomato paste
6 cups low-sodium vegetable broth
1 bay leaf
1 teaspoon Kosher salt, divided
Freshly ground pepper, to taste
2 ears corn, kernels removed
3 large beefsteak tomatoes, chopped, with juice
1 15- oz can no-salt added navy beans, drained and rinsed
1/4 cup chopped parsley leaves
Instructions
Heat olive oil in a large soup pot over medium-high heat. Add onions, carrots, celery, and zucchini and cook stirring occasionally until vegetables are tender, about 7 to 8 minutes.
Add garlic and sauté 30 seconds until fragrant. Add tomato paste and stir until combined.
Add broth, bay leaf, 1/2 teaspoon salt, and pepper to pot and bring to a boil. Add corn kernels, tomatoes with their juices, beans, parsley, and remaining 1/2 teaspoon salt and simmer, uncovered, for 15 minutes.
Nutrition Information:
Yield:

10
Serving Size:

10 Servings
Amount Per Serving:
Calories:

118
Saturated Fat:

0.5g
Sodium:

333mg
Carbohydrates:

19g
Fiber:

5g
Sugar:

6g
Protein:

4g
Are you in fall mode or are you still enjoying the end-of-summer fruits and veggies?
Let me know in the comments below!