Creamy Pureed Mushroom Soup + 6 Things to Know About Mushrooms
March 9, 2016
Learn all about mushrooms and then satisfy your cravings for an umami-rich meal with this thick and creamy pureed mushroom soup – no cream added!
My accommodations and lunch at the Mushroom Council farm tour June 2015 were paid for, but I was not compensated for this post. As always, all opinions are my own.
Mushrooms are one of my favorite vegetables (if you couldn't tell from all the mushroom recipes I have on the blog!), so I was super excited when last June the Mushroom Council invited me on a mushroom farm tour, where I learned all about the variety of mushrooms available, how they are grown, the latest mushroom research, and how "The Blend" is being used in restaurants, schools, and at the supermarket (more about that below). Plus, I got to enjoy a delicious mushroom-filled lunch with about ten of my registered dietitian nutritionist colleagues (including Kara, Deanna, and Toby)!
It was high time I shared some of my learnings with all of you, and since I recently updated my Creamy Pureed Mushroom Soup recipe that was first posted on the blog in 2011, I figured now was as good a time as any. Before we get to this nutritious and delicious mushroom soup recipe, let me share my top 6 facts about mushrooms.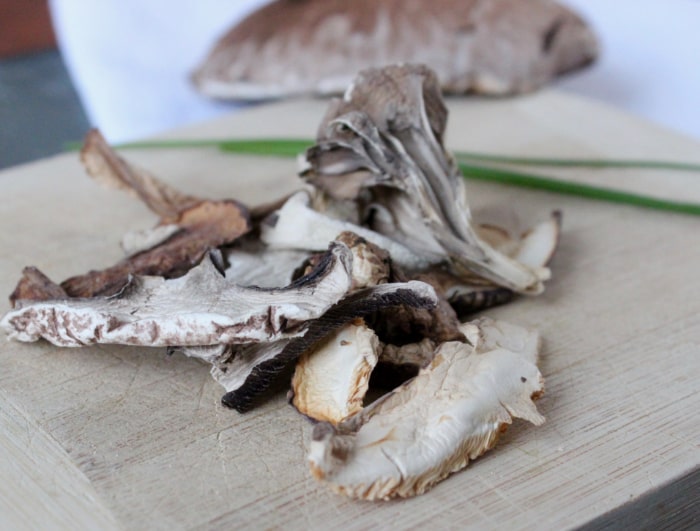 Mushroom Facts
Mushrooms are grown indoors all year round (and it's a stinky process). The growing process is quite complex and involves highly controlled environments and a lot of TLC. Each growing and harvesting period takes 3 months and then the process starts all over again. If you're interested in the step-by-step growing process, the Mushroom Council does a great job taking consumers through it.
Mushrooms are fungi, not vegetables. Because they don't have leaves, roots, or seeds and they don't need light to grow, they are not a true vegetable. However, because they provide many of the same nutritional attributes of vegetables they are classified as such by the USDA.
Mushrooms are full of nutrients. People often put down brown and white vegetables thinking they can't possibly be as nutritious as the more colorful produce available. However, mushrooms are good to excellent sources of selenium, potassium, and the B vitamins riboflavin, niacin, and pantothenic acid. Mushrooms are also one of the only food sources of vitamin D, and UV-exposed mushrooms are an excellent source of this nutrient of concern.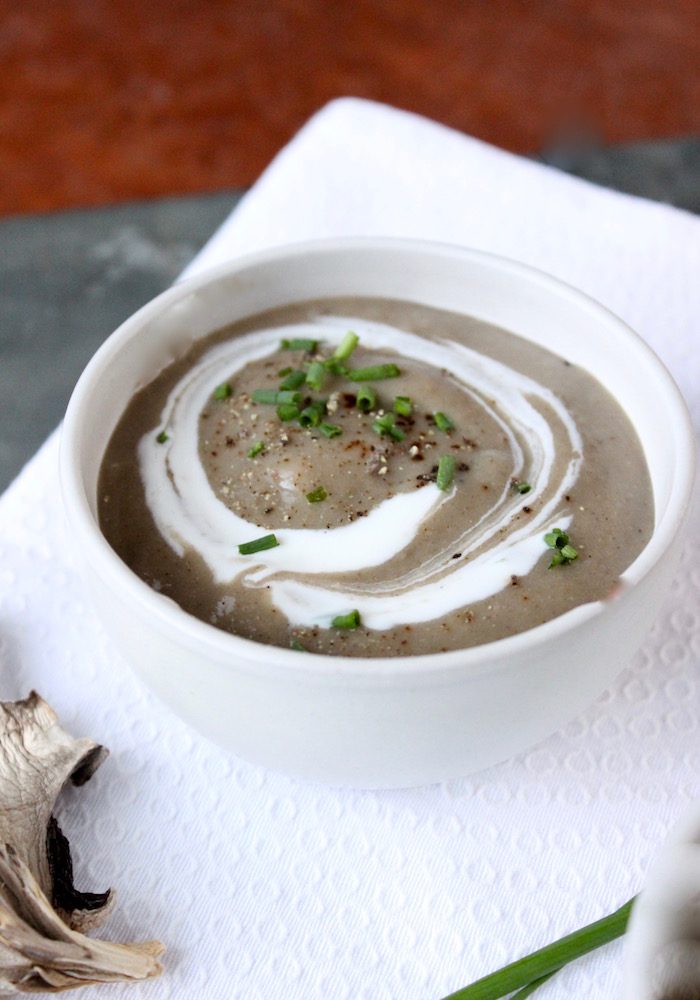 Mushrooms come in many varieties. The most common mushrooms you'll find in the supermarket are white button mushrooms and brown button mushrooms, also known as baby bella or crimini. Portobellos are also pretty popular and are a more mature version of the brown crimini mushrooms. Specialty mushrooms include maitake (aka hen of the woods), shiitake, enoki, oyster, beech, royal trumpet, pom poms, and wild mushrooms. Some of the coolest mushrooms I saw on the tour were the specialty mushrooms!
Mushrooms are showing some amazing health benefits. The research on mushrooms is expanding and so far results are showing the benefits of mushrooms on immunity, cancer, and gut health, as well as a focus on the flavor-enhancing properties of mushrooms. You can learn more about mushroom research and access studies here.
Mushrooms make it easier to eat a plant-based diet. "The Blend" is the technique by which mushrooms are finely chopped and mixed in with ground meat to make your meat go further (which means cost-savings since meat is more expensive than mushrooms) and increase the nutritional value of meals. Research shows that using "The Blend" increased vitamin D, potassium, B vitamin, and antioxidant intake, and reduced calorie, fat, and sodium intake while maintaining flavor thanks to the umami properties of mushrooms. I always add mushrooms to my tomato sauce, which I use for meatballs and meat bolognese sauce, and I add them to my vegetarian lentil bolognese too (making for a double dose of umami from the mushrooms and lentils!).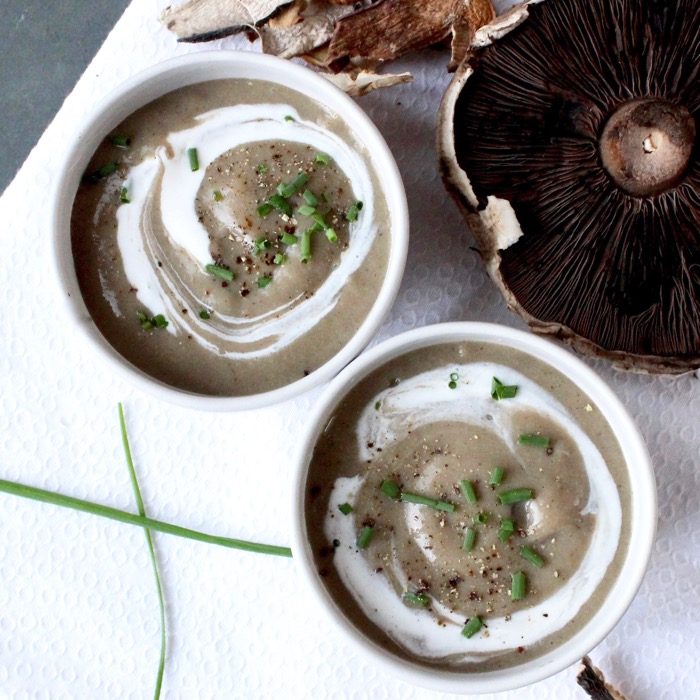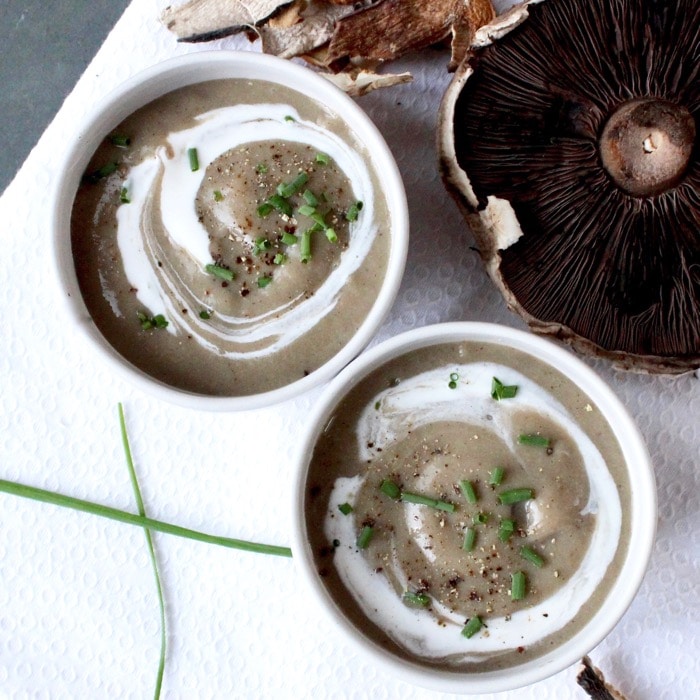 About the Creamy Pureed Mushroom Soup Recipe
Now for the recipe you've been waiting for! This mushroom soup is thick and creamy without any cream, and it's full of that savory, umami flavor you know and expect from mushrooms. Plus it's gluten free and 100% vegetarian. Swap the evaporated milk for a non-dairy milk to make it vegan – I bet light coconut milk would be delicious here!
I love serving this Creamy Pureed Mushroom Soup in shot glasses or tea cups at cocktail parties, but it's also a filling meal on it's own. Top it with some crème fraiche and chives or drizzle with truffle oil for an even deeper umami experience.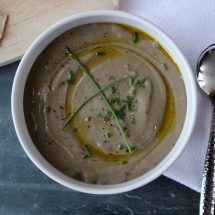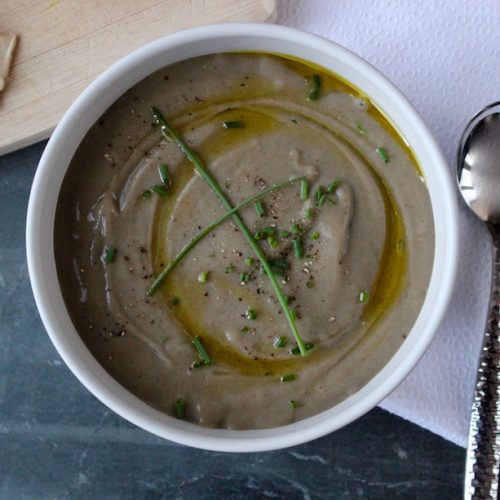 Creamy Pureed Mushroom Soup
Satisfy your cravings for an umami-rich meal with this gluten-free and vegetarian thick and creamy pureed mushroom soup - no cream added! Substitute non-dairy milk to make it vegan.
Total Time
1
hour
15
minutes
Ingredients
1/2

cup

dried mushrooms

1 to 2

tablespoons

olive oil

1/2

cup

finely chopped shallots

3

cloves

garlic,

minced

1 1/2

pounds

sliced baby bella (crimini) mushrooms

2

Portobello mushroom caps,

chopped

3

cups

low-sodium vegetable broth

3

cups

water

1/2

cup

evaporated skim milk

6

ounces

Yukon Gold or russet potatoes,

peeled and diced

1 1/2

teaspoons

Kosher salt

Freshly ground pepper,

to taste

Truffle oil or crème fraiche

optional for garnish

Minced chives

optional for garnish
Instructions
Soak dried mushrooms in water for 20 minutes. Drain and set aside.

In a large soup pot, heat olive oil over medium heat. Add the shallots and cook until tender, about 3 to 5 minutes. Add the minced garlic and stir for 30 seconds.

Add the baby bella and Portobello mushrooms to the pot and sauté until the mushrooms are mostly cooked down, about 8 minutes.

Add the drained dried mushrooms, vegetable broth, water, evaporated skim milk, and potatoes to the pot. Bring to a boil; cover and simmer for 45 minutes.

Working in batches, transfer soup to a blender and puree until smooth. Return the pureed soup to the pot and season with salt and pepper.

Serve hot garnished with a drizzle of truffle oil or a dollop of crème fraiche and a sprinkling of minced chives.
Recipe Notes
Hold the blender cover with a towel to prevent soup from splattering.
Number of servings is based on 1-cup bowls of soup. If serving in shot glasses or tea cups, you will have more than 8 to 10 servings.
Do you cook with mushrooms?
What's your favorite mushroom recipe?
Share with me in the comments below!