5 Health Benefits of Pomegranates & 20+ Pomegranate Recipes
February 5, 2016
Reap the amazing health benefits of pomegranates with these 20+ nutritious and delicious pomegranate recipes to enjoy all winter long!
With the release of the 2015-2020 Dietary Guidelines for Americans comes another reminder of the importance of eating fruit and vegetables. Back in September in honor of Fruits & Veggies More Matters Month, we shared important reasons why fruit and vegetables matter and to help you put it into action we shared 7 ways to improve your fruit and vegetable intake.
Every season comes with fruits and vegetables that are the star of the show.
Citrus fruits like oranges and grapefruit are widely available and therefore well known, especially for their vitamin C content, and cranberries get a lot of buzz around the holidays as they add color, flavor, and nutrition to so many festive recipes.
Pomegranates, on the other hand, didn't get the appreciation they deserved until the past few years when pomegranate juice became a trendy item on supermarket shelves (and in cocktails!) as more research came out about the health benefits of pomegranates, primarily their high levels of antioxidants.
Of course the health benefits are not limited to the juice alone, but many people don't know what to do with a whole pomegranate so they avoid it altogether.
Before you pass over this nutrient-rich and super delish fruit the next time you're at the supermarket, find out what you'll be missing for your health. Then read on to learn how to get to those valuable seeds – called arils – out of the fruit and get some inspiration for what to do with them in the kitchen.
Health Benefits of Pomegranates
Heart Health: The antioxidant concentration in pomegranates is higher than that of other antioxidant-rich foods like green tea, cranberries, and red wine. These antioxidants help improve blood circulation and lower blood pressure, thereby protecting against heart attack and stroke. (FYI, in case you didn't know, February is Heart Health Month!)

Cancer Protection: Ellagic acid, an antioxidant in pomegranates may fight cancer in the digestive tract and stop prostate cancer cells from spreading, according to some studies.

Kidney Health: The antioxidants and potassium in pomegranates help protect against dialysis-related infections and kidney disease in general.

Diabetes: Fiber from pomegranate seeds provides a satiating effect and slows the rise in blood sugar.

Alzheimer's Disease: Pomegranates are showing anti-inflammatory properties, which are being attributed to the polyphenol in pomegranates called punicalagin. This anti-inflammatory property may help lower levels of the plaque that accumulates in brain nerve cells and contributes to Alzheimer's.
In addition to all these health benefits of pomegranates, there's some research showing the benefit of this delicious fruit on dental carries, arthritis and joint inflammation, anemia, a healthy immune system, wound healing, and blood clotting.
Needless to say, there are a lot of reasons to love pomegranates.
How to Eat a Pomegranate
Now that you know all about the health benefits of pomegranates, how do you eat them?!
While many supermarkets sell pomegranate arils already released from the flesh, the price tag on those can be quite high. So it's best to learn how to de-seed this gorgeous fruit on your own. And it's really not difficult. You'll find a variety of methods on YouTube and other cooking websites, but the method I use is the one described at Simply Recipes using water.
Pomegranate Recipes
Once you've freed the arils, pop them in your mouth for a burst of flavor (that's my girls' favorite way to eat them!), add them to yogurt or oatmeal, or try them in some of these nutritious and delicious recipes!
Salads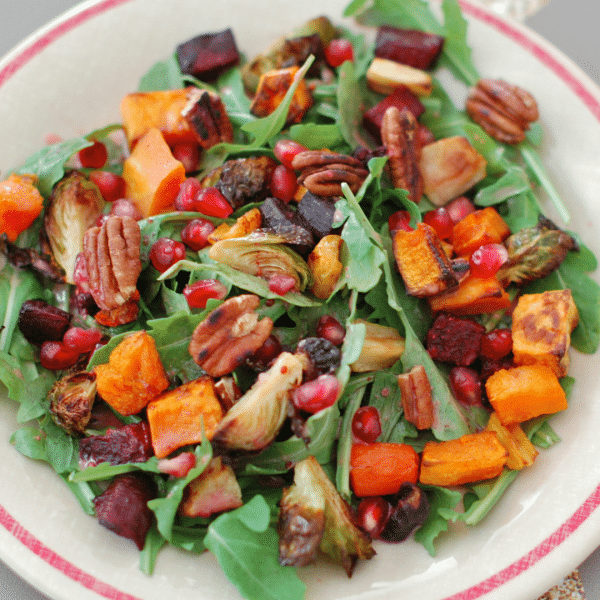 Winter Root Vegetable Salad with Pomegranate Ginger Dressing @ Nutritioulicious
Sweet Potato, Pomegranate, & Crispy Quinoa Salad @ Wendy Polisi
Arugula Salad with Roasted Delicata Squash, Pomegranate, and Goat Cheese @ Dishing Out Health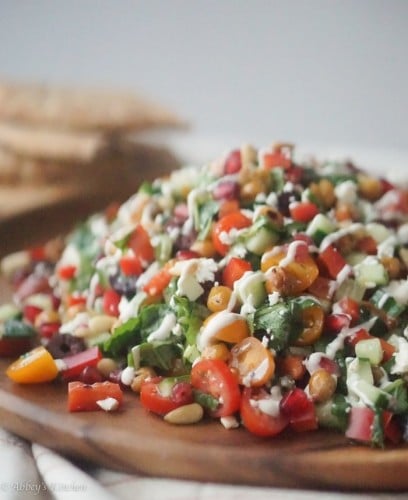 Healthy Crispy Chickpea Greek Salad with Pomegranates & Tzatziki Drizzle @ Abbey's Kitchen
Pomegranate Citrus Salad @ Your Choice Nutrition
Jicama, Apple, and Pomegranate Salad with Raspberry Dijon Vinaigrette @ An Edible Mosaic
Broccoli Salad with Pomegranate Arils & Maple Walnuts @ Shaw's Simple Swaps
Appetizers & Hors D'ouerves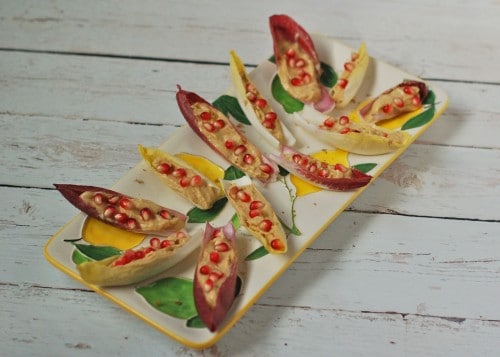 Lemon Hummus Endive Boats with Pomegranate Seeds @ Nutritioulicious
Smoked Cheddar and Pomegranate Beer Dip @ Zen & Spice
5-Ingredient Pomegranate Salsa @ C It Nutritionally
Pear and Pomegranate Crostini @ Homemade Nutrition
Wild Blueberry and Pomegranate Bruschetta @ Kara Lydon
Main Dishes & Side Dishes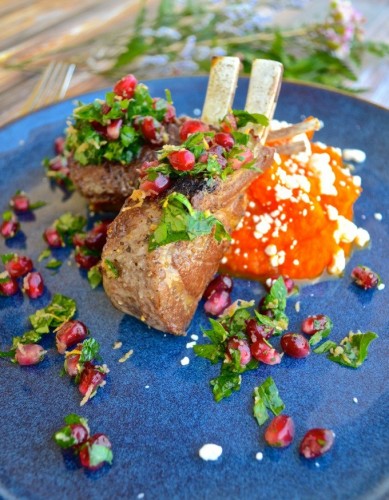 Lamb Chops with Pomegranate Gremolata @ The Every Kitchen
Grilled Lamb Shawarma with Pomegranate and Pistachios @ Kumquat
Pork Medallions with Pomegranate-Berry Sauce @ Healthy Aperture
Sprouted Red Jasmine Rice Salad with Pomegranate, Feta, Pine Nuts, and Fresh Herbs @ The Spicy RD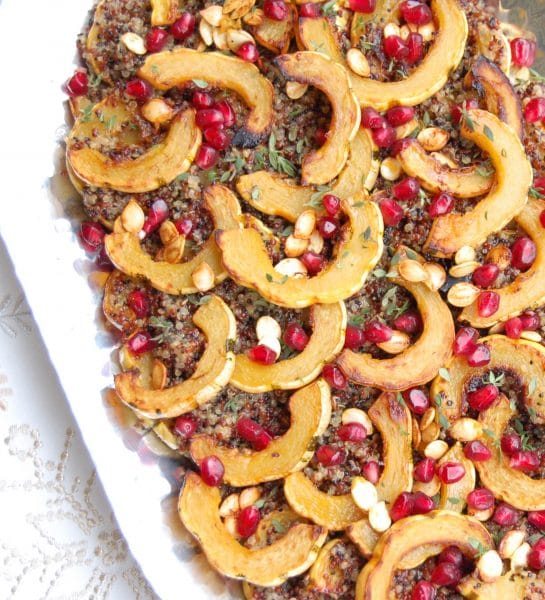 Maple-Roasted Delicata Squash Quinoa Salad @ Nutritioulicious
Holiday Glazed Acorn Squash with Pomegranates and Toasted Pine Nuts @ Eat Yourself Skinny
Roasted Butternut Squash Carrot Barley Farro Sorghum Quinoa Salad @ Jeanette's Healthy Living
Roasted Brussels Sprouts with Pomegranate Glaze @ Nutritioulicious
Roasted Squash with Pomegranate and Goat Cheese @ The Floating Kitchen
Quinoa Salad with Oranges, Beets, & Pomegranates @ Eating Well
Beverages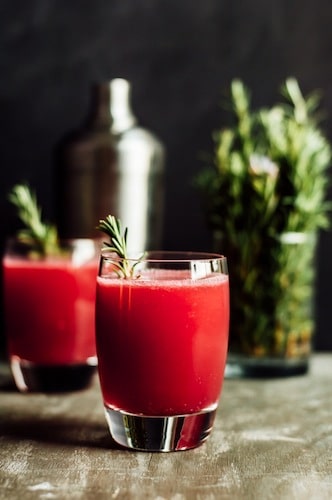 Pomegranate Apple Cider Spritzer @ Healthy Nibbles and Bits
Spiced Pomegranate Lemon Lassi @ The Spicy RD
Antioxidant Sangria @ Lively Table
Desserts
Flourless Chocolate-Pomegranate Cake @ Kumquat
Gluten Free Chocolate Almond Bars with Pomegranate @ Cotter Crunch
Wild Blueberry, Pomegranate, and Lemon Popsicles @ Abbey's Kitchen
For more ways to use pomegranate seeds, check out my friend and fellow RD Katie's 10 Tasty Ways to Enjoy Pomegranate Seeds @ Mom's Kitchen Handbook!
What's your favorite way to enjoy pomegranates?
Thanks to Tracy Williams for her help compiling the nutrition research for this post.