Sweet and Spicy Orange-Scented Nuts
November 21, 2013
Sweet and Spicy Orange-Scented Nuts are a delicious homemade holiday gift, addition to a cocktail party spread, or anytime snack.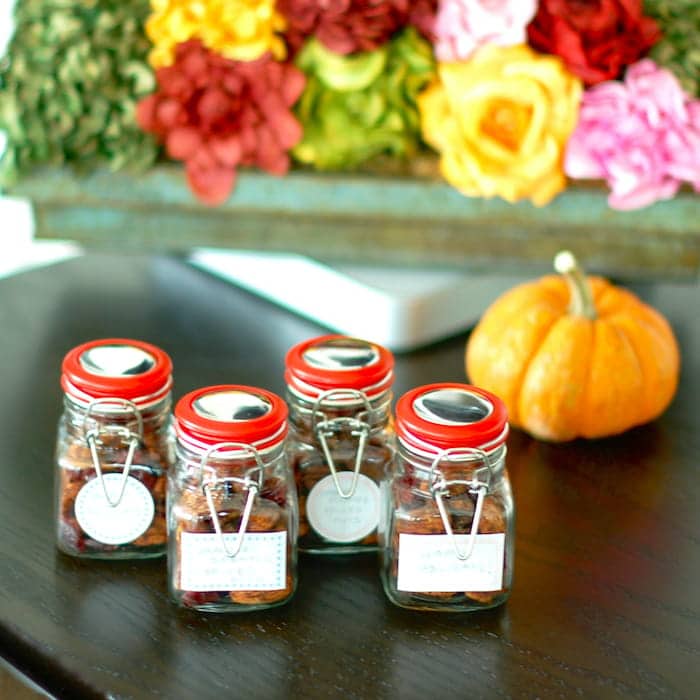 With the holiday season upon us, this month's theme for The Recipe ReDux is Adding Merriment to Mixes, which challenged us to come up with DIY offerings from our kitchen. Whether for hostess gifts or holiday gifts, there are lots of homemade mixes – and adorable packaging – you can make.
Some popular mixes I've seen over the years are cookie or pancake mixes in a jar, spice blends, and soup mixes. These are all such fun gifts to give, especially as we head into a new year and people are trying to eat healthier. What better way to help your friends out than give them some healthy food?!
I had so much fun making these Sweet and Spicy Orange-Scented Nuts and packaging them in these adorable little jars with fun labels. Personally I'm a fan of sweet and spicy flavor combos – have you tried my Spicy Fresh Cherry Chutney or Homemade Apple Chutney? (Both of these would be great homemade gifts too.)
I also love cooking and baking with spices – cinnamon, ginger, chili powder, cumin, and coriander are just a few of my favorites and can be found in some of my other recipes like Moroccan-Spiced Lamb Burgers and Healthier Pumpkin Pancakes.
Ingredients & Preparation
These orange-scented nuts are made with a handful of spices, some of which add some heat and some are flavorful and warming, which is a perfect combination for the cold winter months and holiday season.
One thing to note about using spices is that the end result isn't necessarily spicy. Some spices like chili powder, paprika, and cayenne pepper will add a kick to your dish, but many of the spices I use when cooking are warming spices, which add a nice depth of flavor without any heat.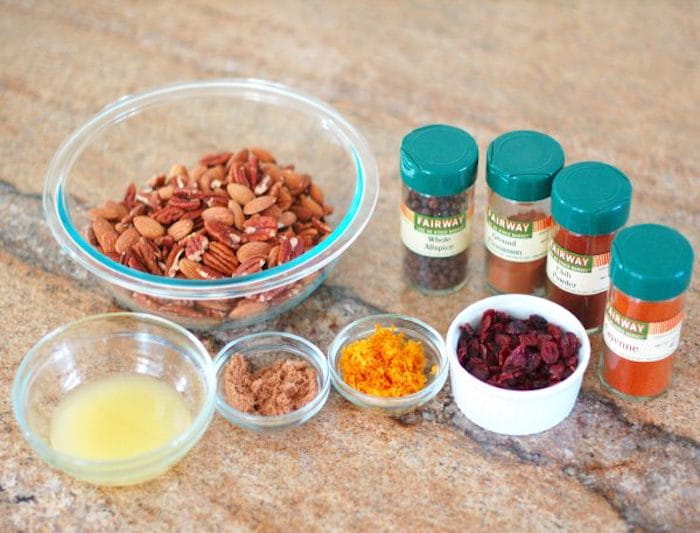 Orange is one of my favorite fruits to cook with in the winter months – I add fresh orange juice and zest to my Orange-Ginger Cranberry Sauce, a favorite at Thanksgiving, my Cranberry Orange Bread, and my Iced Orange-Cranberry Biscotti. Fresh oranges are the star of the show in my Citrus Fennel Salad, my Orange Maple Salmon is an easy, nutritious and delicious main course, and an Orange French 75 is a great addition to the cocktail list for a holiday party.
The first step in making these sweet and spicy nuts is to coat them in a wash of egg whites, freshly squeezed juice, and freshly grated zest – those orange accents go a long way in the flavor department. You could just as easily skip that step and coat the nuts in the spices, but I assure you the orange essence will be missed. If you want to keep these vegan you can eliminate the egg white, but I find the addition of the egg leads to a crisper nut.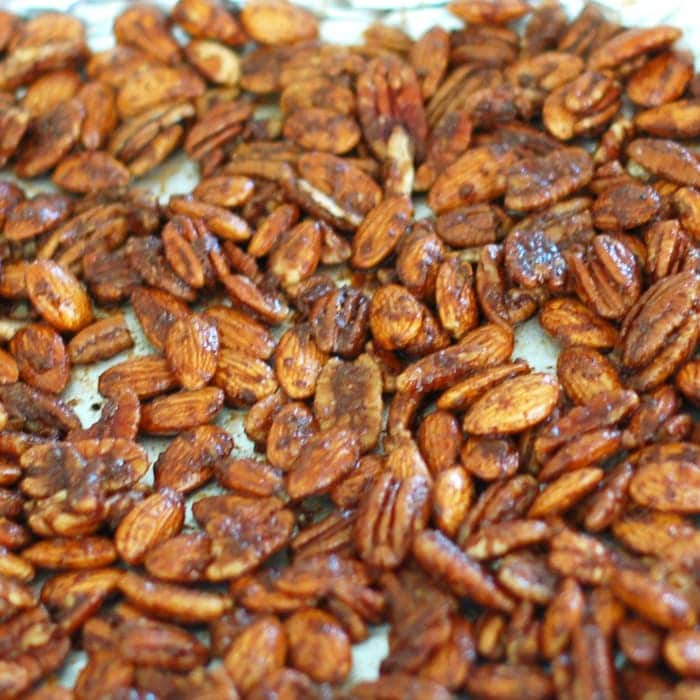 Once the nuts are coated in the orange egg wash, toss them with the sugar, salt, and the rest of the spices. Spread them in one layer on a baking sheet and bake until they're lightly toasted, then toss with some dried cranberries for a touch of added sweetness. These are not a sticky caramelized nut like candied nuts you may be familiar with, so don't expect to get that end result (there's only 2 tablespoons brown sugar in the whole recipe).
These Sweet and Spicy Orange-Scented Nuts are a great addition to salads (like this Winter Root Vegetable Salad), grain dishes (like this Spiced Quinoa), a cheese plate, and of course they're delicious on their own. Set out a bowl at your next cocktail party and I assure you they will disappear!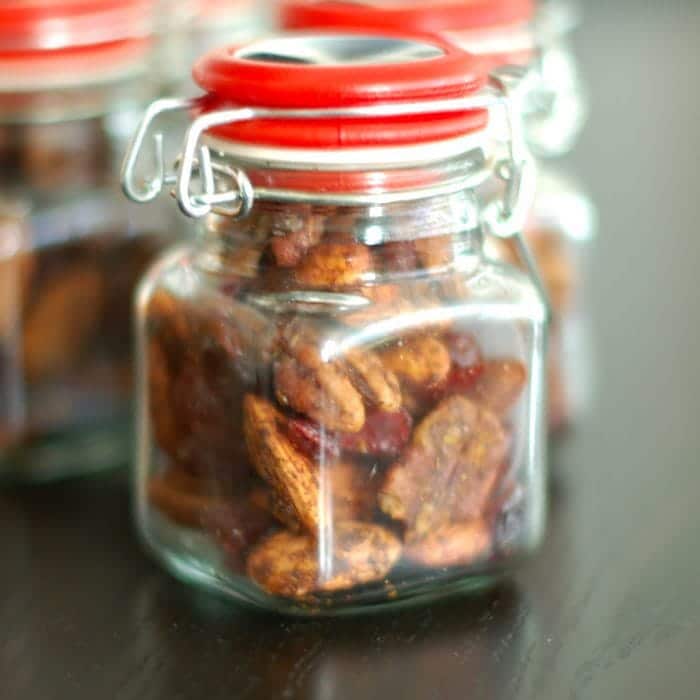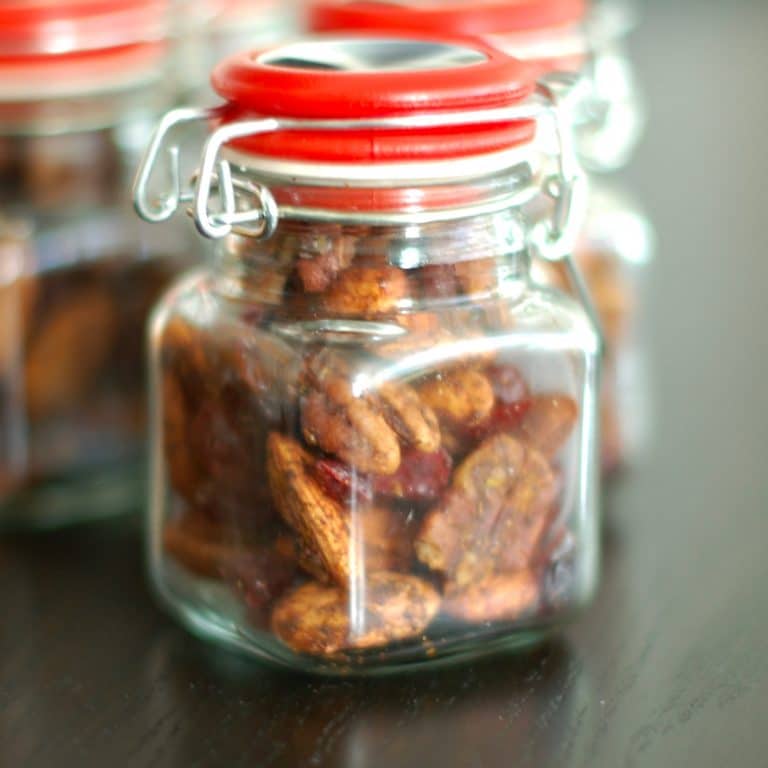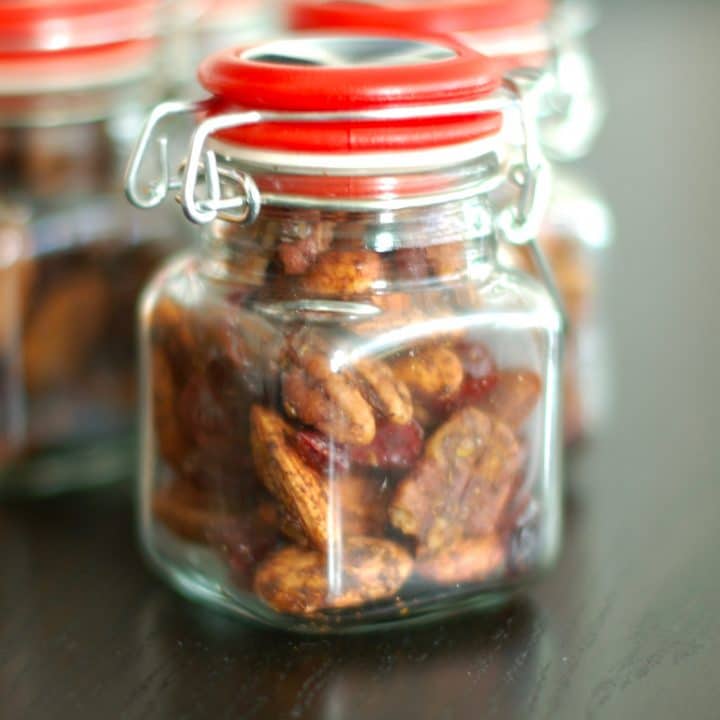 Sweet and Spicy Orange-Scented Nuts
Sweet and Spicy Orange-Scented Nuts are a delicious homemade holiday gift, addition to a cocktail party spread, or anytime snack.
Dairy-Free, Gluten-Free, Kosher
Ingredients
Nonstick cooking spray
1 1/2 tablespoons orange zest
2 tablespoons freshly squeezed orange juice
1 large egg white
1 1/2 cups raw, unsalted pecans
1 1/2 cups raw, unsalted almonds
2 tablespoons dark brown sugar
1/2 teaspoon Kosher salt
1 tablespoon chili powder
2 teaspoons ground cinnamon
1/4 teaspoon cayenne pepper
1/4 teaspoon ground allspice
1/2 cup dried cranberries
Instructions
Preheat oven to 250 degrees F. Line a baking sheet with foil and spray with nonstick cooking spray. Set aside.
In a medium bowl, whisk together the orange zest, orange juice, and egg white. Stir in the pecans and almonds and toss to coat.
In a small mixing bowl, whisk together the sugar, salt, and remaining spices. Add to the nut mixture and toss to coat all nuts.
Spread nut mixture in a single layer on the prepared baking sheet. Bake on the top rack of the oven for 40 minutes, stirring occasionally. Remove from the oven, stir in cranberries, and let cool. Transfer to storage or gift containers.
Recommended Products
As an Amazon Associate and member of other affiliate programs, I earn from qualifying purchases.
Nutrition Information:
Yield:

16
Serving Size:

3 tablespoons
Amount Per Serving:
Calories:

160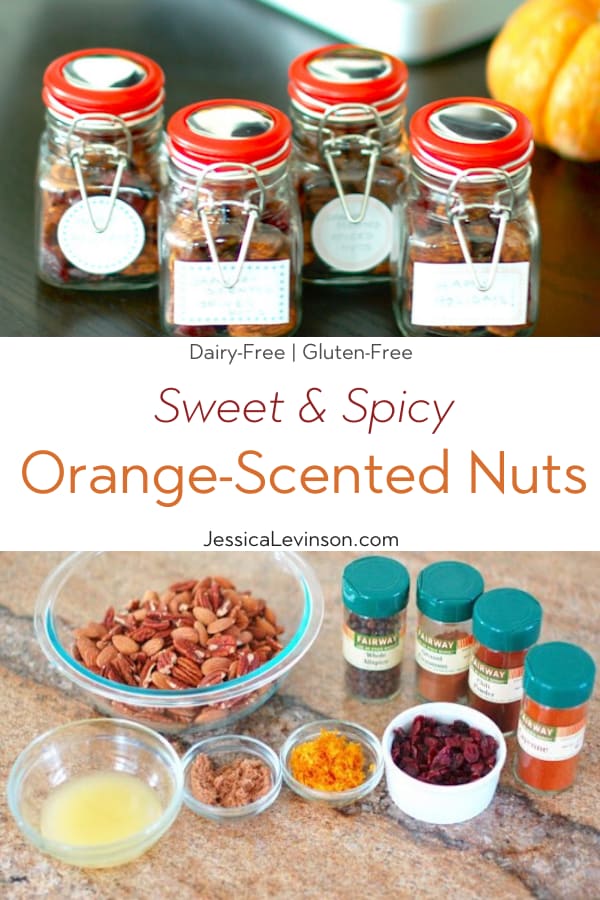 Have you ever made your own nut mix?
Do you make your own foodie gifts for friends and family?
Share with me in the comments section below!