Roasted Root Vegetable Salad with Pomegranate Ginger Dressing
January 28, 2016
Enjoy the versatility of winter root vegetables by taking them from side dish to main dish in this seasonal salad bursting with color, flavor, and nutrition!
I was compensated for writing the original article and developing the recipe found in the January 2016 issue of Today's Dietitian. I was not compensated for sharing the column or magazine with readers on my blog. All opinions are my own.
Root vegetables are some of my favorites in the vegetable food group and are often served aside my protein of choice for quick and easy weeknight meals. But they can be used for far more than a side dish.
I use many of the higher carbohydrate root vegetables to make creamy soups without the addition of cream like my Roasted Butternut Squash Sweet Potato Soup and my Creamy Parsnip Pear Soup – a great way to start a meal or filling enough to be the main course.
Velvety smooth mashed sweet potatoes and winter squash make for a nutritious and delicious twist – and the star of the show – in these Sweetpotato Black Bean Quesadillas or when used as a spread in my Kabocha Flatbread with Rosemary Roasted Grapes and Shallots.
Roasted root veggies also add fabulous texture and amazing flavor to grain and pasta dishes as proven with my Spiced Quinoa with Roasted Apples & Root Vegetables, Fall Roasted Root Vegetable Pasta with Kale Pesto, and Roasted Butternut Squash & Brussels Sprout Pasta with Lemon-Sage Ricotta.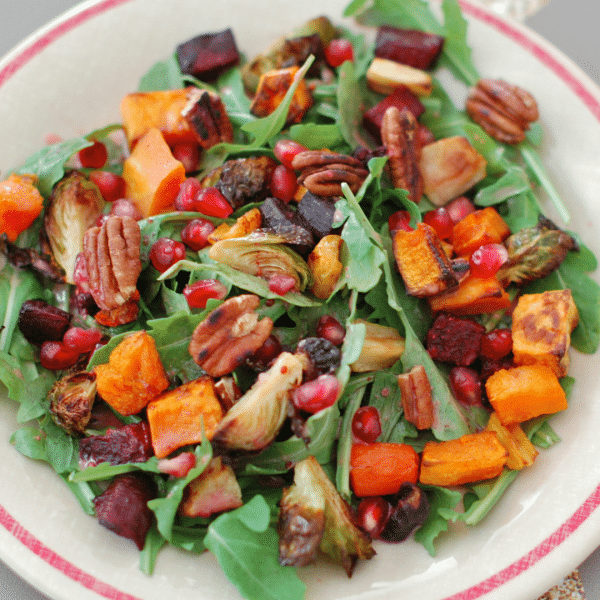 As you can see, there's a lot you can do with root vegetables, which is exactly why I highlighted them in my January Culinary Corner column of Today's Dietitian Magazine.
The column itself is about the effects of quick fix diets, which are all the rage in January at the start of the New Year. Instead of these fad diets, I advocate for people to focus on what they can eat instead of what they can't, to "learn how to enjoy [all foods] in a moderate, varied, and balanced way," and I "promote fruits and vegetables, whole grains, lean proteins, low-fat dairy, and healthful fats with room for small treats when desired."
As fate would have it, the 2015-2020 Dietary Guidelines came out not long after the January Today's Dietitian issue was released, and my message is certainly in accordance with the recommendations for the public. The message is not new – it's one that dietitians like myself have been touting for years, but thankfully the Guidelines have finally caught up.
To read my article in full, head on over to Today's Dietitian and flip to the last page for the Culinary Corner column.
Ingredients & Preparation
Back to this roasted root vegetable salad, arugula is topped with roasted butternut squash, carrots, sweet potatoes, parsnips, beets, Brussels sprouts (not a root veggie, but deserves to be added!), pomegranate seeds, and toasted pecans and then tossed in a pomegranate ginger dressing for a salad that's bursting with color, texture, flavor, and nutrition.
Enjoy it as a starter to your meal, in a smaller portion as a side dish, or top it with your favorite cheese, beans, chicken, salmon, or tofu for a protein punch. (We had it for dinner just a few weeks ago with poached salmon!) While you're at it roasting the veggies, go ahead and roast some more to make one of the other recipes mentioned above. Meal planning at it's finest!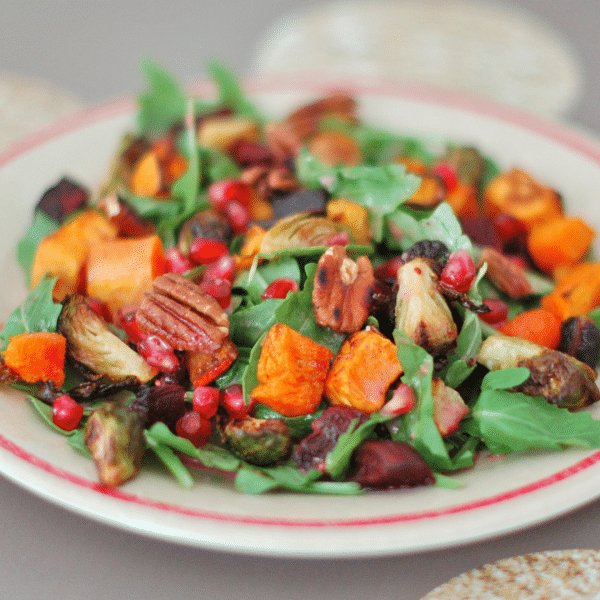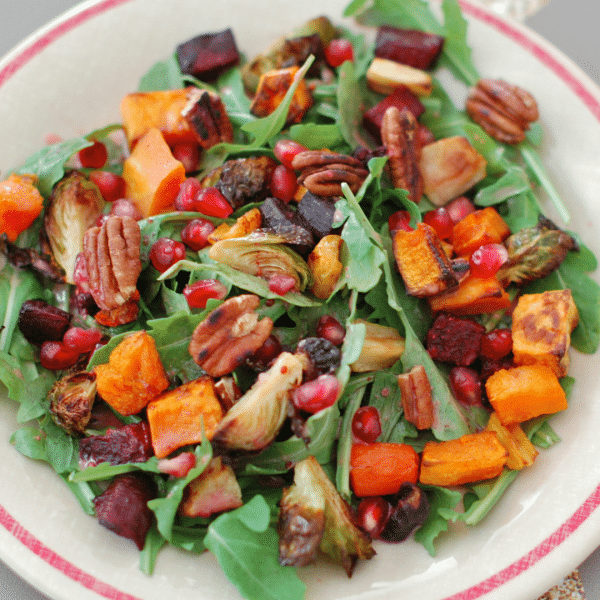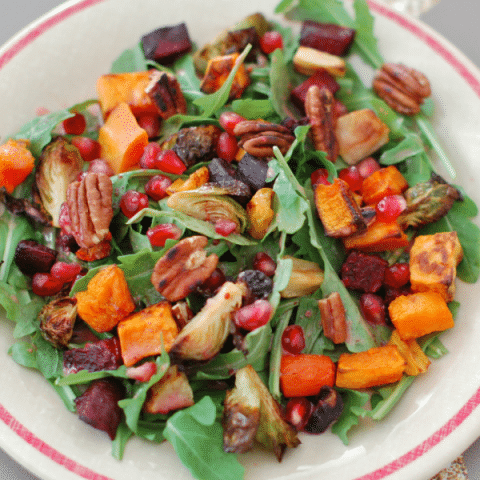 Roasted Root Vegetable Salad with Pomegranate Ginger Dressing
Yield:
4 entree salads (8 appetizer salads)
Hearty winter root vegetables go from side dish to main dish in this seasonal salad. Pomegranate seeds add a burst of color and flavor, plus nutrition. Top with sliced chicken breast or a sprinkling of goat cheese for some added protein.
Vegan, Gluten-Free, Kosher
Ingredients
For the Pomegranate Ginger Dressing:
1/2 cup 100% Pomegranate juice
1 tablespoon lemon juice
1 teaspoon freshly grated ginger
2 tablespoons extra-virgin olive oil
1 teaspoon whole grain Dijon mustard
1/4 teaspoon ground cinnamon
1/4 teaspoon kosher salt
Freshly ground pepper, to taste
For the Salad:
1 cup cubed carrots
1 cup cubed parsnips
1 cup quartered Brussels sprouts
2 tablespoons olive oil, divided
1 cup cubed butternut squash
1 cup cubed sweet potatoes
1 cup cubed beets
6 cups arugula
4 tablespoons pomegranate seeds
4 tablespoons toasted pecan halves
Instructions
To make dressing:
In a small bowl or covered jar, combine all dressing ingredients (pomegranate juice through ground pepper). Whisk together or shake in closed jar until emulsified. Shake again before using.
To make salad:
Preheat oven to roast at 400 degrees F. Line two large baking sheets with aluminum foil or parchment paper.
On one prepared baking sheet, toss carrots, parsnips, and Brussels sprouts with 1 tablespoon olive oil. Spread in a single layer.
On second prepared baking sheet, butternut squash, sweet potatoes, and beets with remaining tablespoon olive oil. Spread in a single layer.
Place both trays in the preheated oven and roast until all vegetables are tender and brown in spots, approximately 15 minutes for the tray with carrots and 20 minutes for the tray with butternut squash. Stir halfway through cooking time for even browning. Remove from oven and set aside until cool enough to handle.
In a large bowl, combine arugula with roasted root vegetables, pomegranate seeds, and toasted pecans. Drizzle about two-thirds of the Pomegranate Ginger Dressing over salad and toss to combine. Store remaining dressing in the refrigerator for another use.
Notes
Measurements and vegetables used can be modified based on preferences.
Dressing recipe makes more than what's used in the actual recipe - use as much or as little as desired.
Nutrition Information:
Yield:

8
Serving Size:

1/8th salad
Amount Per Serving:
Calories:

173
Total Fat:

10g
Saturated Fat:

1g
Trans Fat:

0g
Unsaturated Fat:

8g
Cholesterol:

0mg
Sodium:

133mg
Carbohydrates:

21g
Fiber:

5g
Sugar:

9g
Protein:

3g
Nutrition information was calculated by Nutritionix. It may not be 100% accurate.

Do you like root vegetables?
What's your favorite way to enjoy them?
Share in the comments below!