Grilled Avocados Stuffed with Corn & Black Bean Salsa
April 22, 2016
Grilled avocados are stuffed with a light and fresh mixture of corn, black beans, and tomatoes in this elegant yet simple appetizer, side dish, or vegan entrée.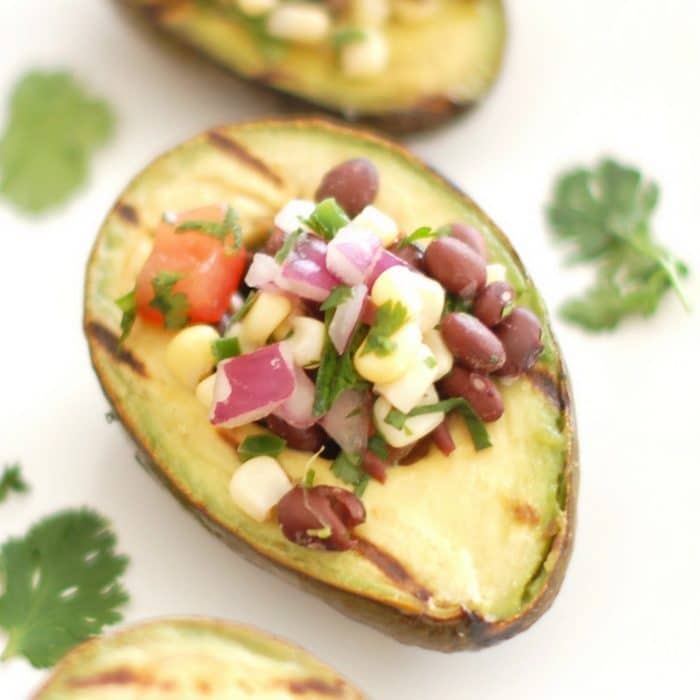 I am so happy that grilling season is here! It took quite some time for spring to join us here in New York, but the season has arrived and with it all the delicious spring produce, beautiful spring flowers, and the lovely sunny days that aren't too hot and are just right to be outside if you want to grill yourself some Grilled Stuffed Avocados with your lunch,
Ok, it's not everyday that I grill myself lunch, but it is a nice perk of working from home if I choose to, like I did for this recipe. Normally my lunch consists of leftovers from the previous night's dinner (if there are any) or a salad with various fixings that could include any or all of the following: arugula or baby mixed greens, bell peppers, cucumbers, scallions, grape tomatoes, canned tuna or salmon, roasted chickpeas, crumbled feta or goat cheese, olives, roasted veggies that someone forgot to eat, and salad dressing.
This month's theme for The Recipe ReDux is Limpin' Along for Lunch
Ever get in a lunch rut? Need new ideas for packing your kids' or your own lunch? Are packable noontime options dwindling? Surely you've met the 'What shall I pack for lunch?" question head-on with creative ideas. Please share your healthy lunch recipe – so we can swap it into our own rotation.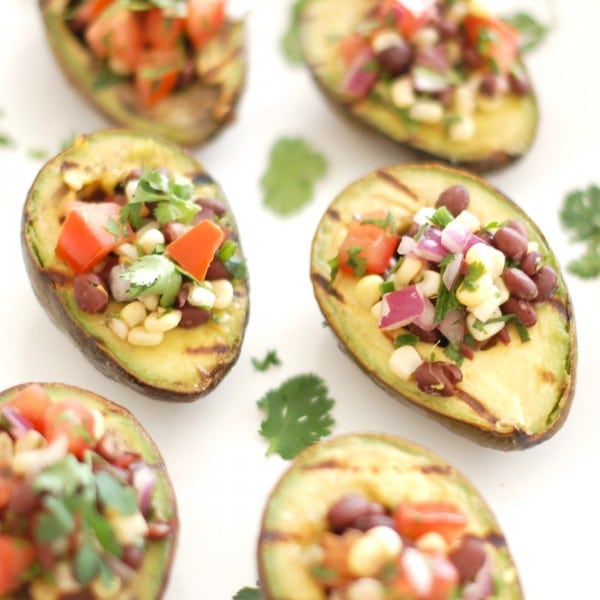 I consider myself pretty lucky that I don't have to pack lunch for anyone in my family yet, but that's all going to change next fall when my daughters will be in their last year of nursery school, which includes staying for lunch.
I'm somewhat excited about it actually – I love seeing all the adorable and fun lunch boxes that people post on Instagram, especially my friend and fellow RDN Holley Grainger who shares her #HealthyLittleLunchbox pictures daily. (If you're looking for lunchbox ideas for kids, you must check out her amazing roundup 125 Healthy Lunchboxes For Kids!)
But for now, I'll rejoice in the fact that I don't need to think ahead to plan lunch on a nightly basis and still have the luxury of warming up food for the kids (and myself) in the microwave or toaster oven.
Grilled Stuffed Avocados For Lunch
All that said, it's still nice to change up lunch for myself once in a while, so instead of my usual mish-mosh of a salad, I made this grilled avocado recipe for you. I've been wanting to grill avocados for some time – I think ever since I saw (ReDux co-founder) Deanna's Roasted Avocado and Salmon Taco Salad back in February. I have never eaten avocados cooked before, but I just knew they'd be delicious on the grill. And they were.
Once grilled they make the perfect vessel for a variety of stuffings – quinoa salad, salmon salad, Israeli salad, a whole host of salsas…even an egg (you'd have to put it back on the grill for that variation).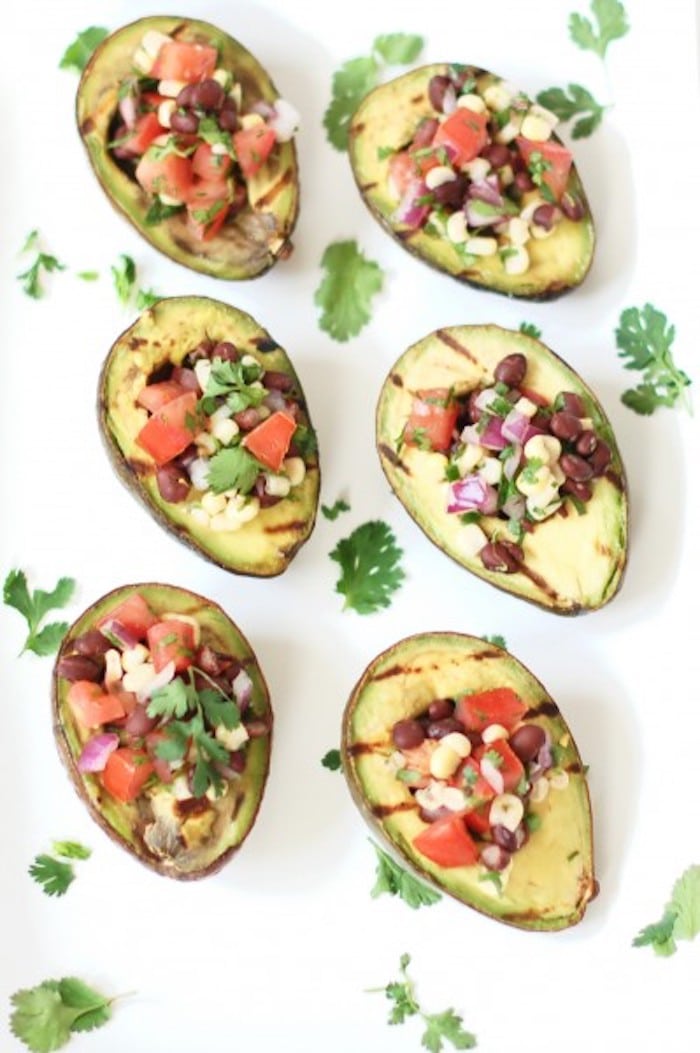 Corn and Black Bean Salsa
To go along with my enthusiasm for the nicer weather, I wanted to do something somewhat summery and I knew it needed to have some protein – gotta have my protein at lunch otherwise I'll be raiding the pantry an hour later (a danger of working from home – I always have access to food!). That's where the corn and black bean salsa was born. I've made this salsa before, but not in some time (five years ago to be exact).
Since corn season isn't here yet, I used frozen corn, but in just a few months I'll be making it with fresh ears of corn, which I may even grill before I add them to the salsa. One of the best parts about this recipe is how quickly it comes together, so stick with frozen corn if you want to get it done fast.
One serving of these grilled avocados (half an avocado stuffed with salsa) is probably not going to be enough for lunch, so be sure to have something else to eat along with it – half a sandwich, a bowl of soup, a grilled piece of chicken or maybe some salmon. Or you could just pile on the corn and black bean salsa, which I happened to do the day I made this!
Nutrition Note
I should take a moment to mention how nutritious avocados are in addition to being delicious, although you probably know that by now! But in case you don't, avocados are high in monounsaturated (aka healthy) fats and boast nearly 20 vitamins, minerals, and phytonutrients per 1-ounce serving (about 1/5th of a medium avocado).
Research shows consumption of avocados is associated with numerous health benefits including reduced risk of cataracts and macular degeneration, reduced risk of inflammation and heart disease, increased satiety and improved blood sugar stabilization. You can learn more about avocados over at the Hass Avocado Board's site Love One Today.
As you can see, there are many good reasons to slice an avocado on your next burger or salad, mash it for your favorite variation of avocado toast or guacamole, or grill it up as a change of pace for lunch!
Now, are you ready for the recipe? I thought so!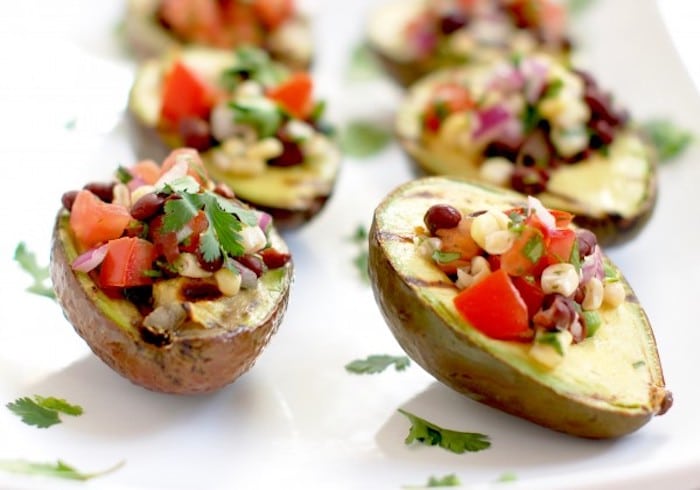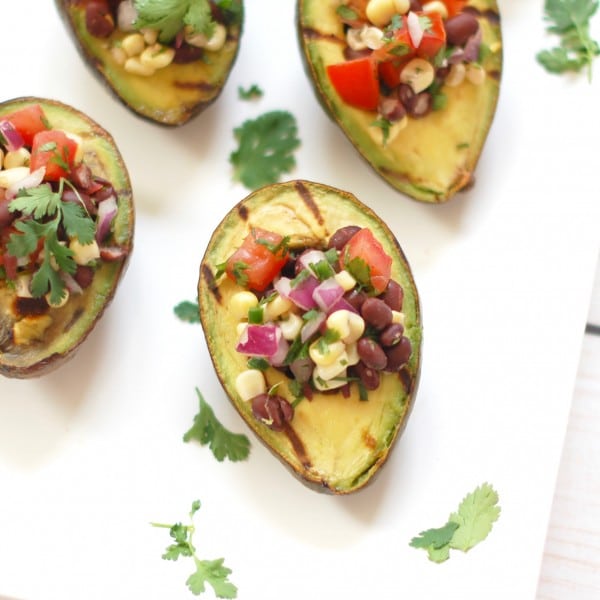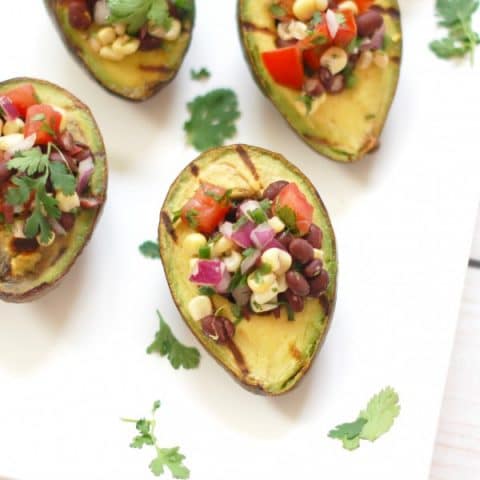 Grilled Avocados Stuffed with Corn & Black Bean Salsa
Grilled avocados are stuffed with a light and fresh mixture of corn, black beans, and tomatoes in this elegant yet simple appetizer, side dish, or vegetarian entrée.
Ingredients
Corn and Black Bean Salsa (makes 1 1/2 cups):
1/2 cup fresh or thawed frozen corn
1/2 cup no-salt added black beans,, drained and rinsed
1/2 cup diced tomatoes
3 tablespoons diced red onion
2 teaspoons minced jalapeno pepper
1 tablespoon lime juice
2 tablespoons chopped cilantro
1/4 teaspoon Kosher salt
Grilled Avocados:
2 medium to large avocados,, halved and seeds removed
1 teaspoon olive oil
Kosher salt
Instructions
Combine all salsa ingredients in a medium bowl. Let sit at room temperature for about 30 minutes for flavors to meld together.
Heat grill to 400 degrees F. Brush avocado halves with olive oil and sprinkle with salt.
When grill is hot, place avocado halves cut side down on the grill, cover, and cook two to three minutes until nice grill marks form.
Fill avocados with corn and black bean salsa.
Notes
The nutrition facts are based on 1/2 avocado with 3 tablespoons salsa. The amount of salsa that fits in the avocado will vary based on the size of the avocado. There will most likely be salsa remaining after you fill the avocados.
Have you ever had grilled avocados?
What's your go-to lunch?
Share with me in the comments below!