Fish Tacos with Citrus Salsa
February 21, 2017
Fish Tacos with Citrus Salsa are a quick and easy, flavor-packed dinner the whole family will enjoy.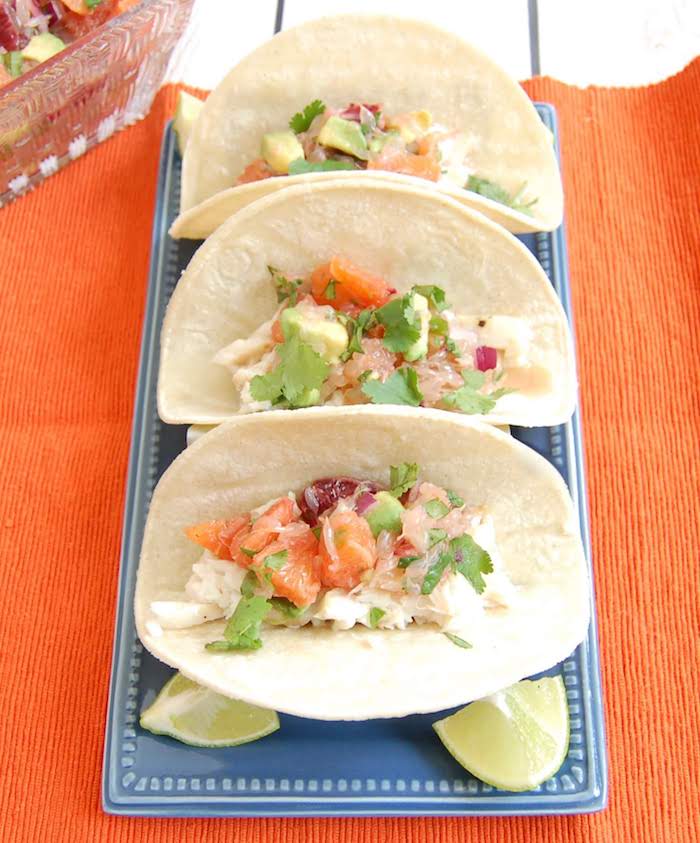 Happy Tuesday! Do you know what today is? Well, it's the 21st of the month, which means it's Recipe ReDux reveal day and since this month the 21st is a Tuesday, this month's theme is Taco Tuesday!
I couldn't be more excited! We love tacos in my house. It is by far one of my girls' favorite meals and one I never have to worry they will eat. While I have previously shared my steak tacos and chipotle beef tacos, fish tacos are actually my go-to for taco night.
Early on in this blog's existence, I shared my recipe for fish tacos, but over the years I've made so many variations of that original recipe and the pictures from the original are so bad that it was time to share a new and improved fish taco recipe (if you're really curious about the original, you can search for it – I'm too embarrassed to post a link!).
These Fish Tacos with Citrus Salsa are the perfect tacos for the winter months when it's pretty much all citrus all the time in our house. The basics of the recipe are so simple that you can change it up by season: in the spring serve these fish tacos with my spicy cherry chutney and in the summer serve them with watermelon salsa, corn & black bean salsa, or the nectarine salsa featured in the steak tacos mentioned above. So many delicious combinations, right?! But let's get back to this one.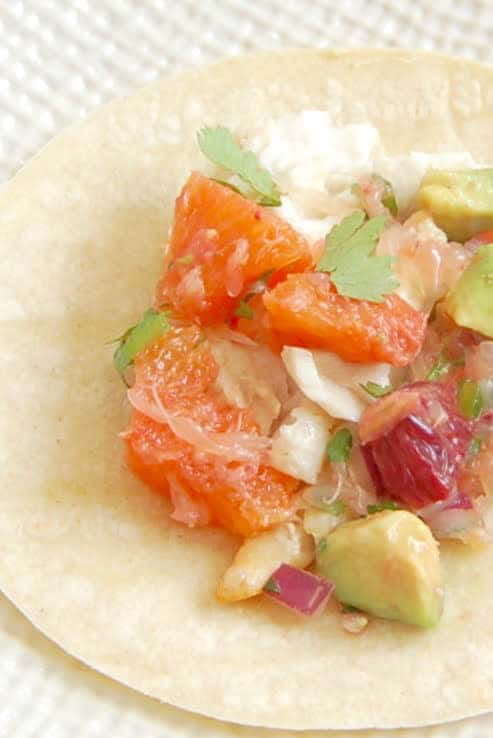 Baked Fish Tacos
While most fish tacos you find in restaurants are breaded and fried, I always bake or grill the fish for tacos at home (and when out I ask for the same). The fish for these tacos is very simply prepared. I use tilapia fillets because they're economical, easy to find at pretty much any fish counter, and very mild tasting, which is perfect for letting the flavors of the citrus salsa shine through.
To make the fish, I brush both sides with olive oil, drizzle with lime juice, and season with a little Kosher salt and freshly ground pepper. That's it! Bake it in the oven for 15 to 20 minutes while you're making the salsa and your protein is done. Really can't get easier.
Refreshing Citrus Salsa
To make the citrus salsa, you can use any combination of citrus fruits you prefer. For this recipe I used pink grapefruit, Cara Cara oranges, and blood oranges. However, if all you have on hand are traditional naval oranges, then just make it with that and if you have ruby red grapefruit add some too.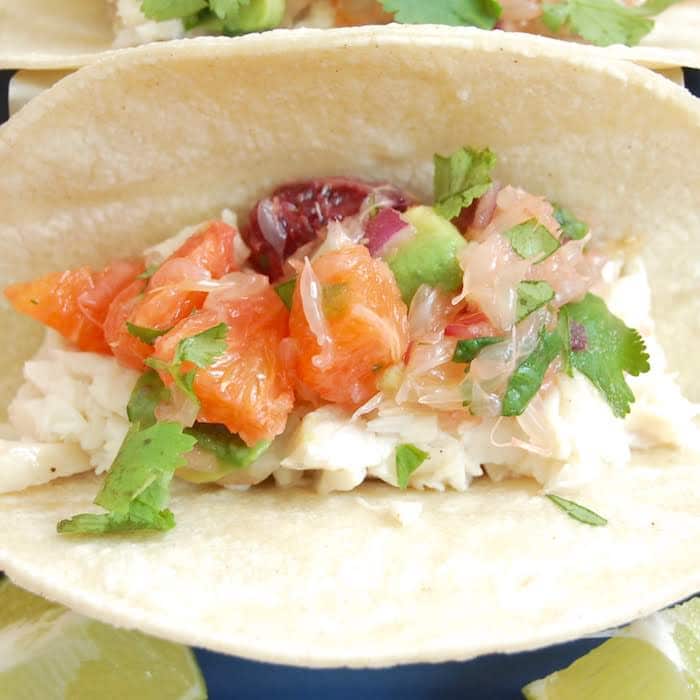 The trick when preparing citrus fruits is to cut away the peel and white pith of the fruit, and for grapefruit you only want to use the fruit segments and discard the membranes, which can be bitter. (I don't mind having the membranes on the oranges, but you can remove them as well if you prefer.)
I highly recommend separating the grapefruit segments over a bowl to catch the extra juice, some of which will be used in the salsa and the remainder of which can be used for salad dressing (like this Citrus Yogurt Vinaigrette), marinades, and sauces.
Once you have your grapefruit and orange segments, cut them or break them into smaller bite-sized pieces and combine them in a bowl with jicama, avocado, jalapeño, cilantro, some of the reserved citrus juices, lime juice, and salt.
You don't need to worry about the avocados browning in this salsa thanks to all the acidity from the citrus, but I do recommend not letting the salsa sit for longer than 30 minutes before eating, otherwise it may be mushy since there's so much juice in these fruits.
To serve the tacos, warm up whole-grain corn tortillas and top them with the flaked tilapia and a couple of tablespoons of citrus salsa. Garnish with extra cilantro and enjoy!
Happy Taco Tuesday everyone!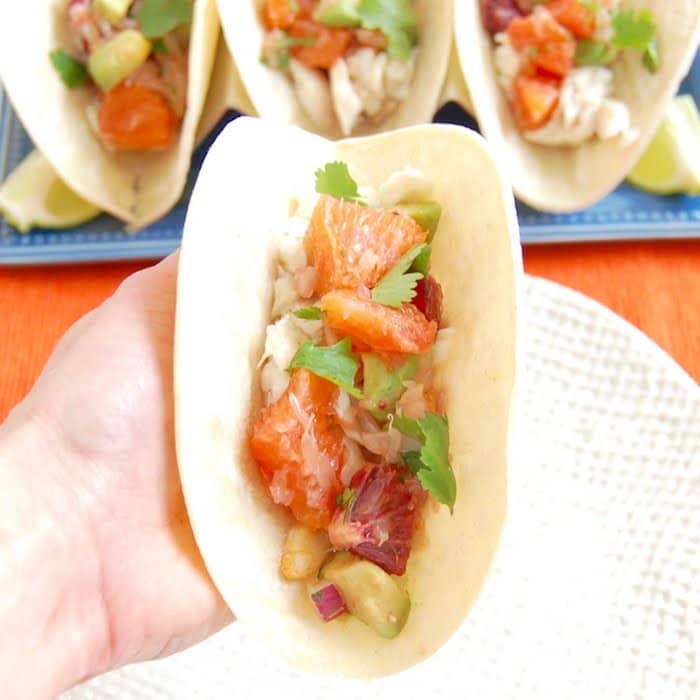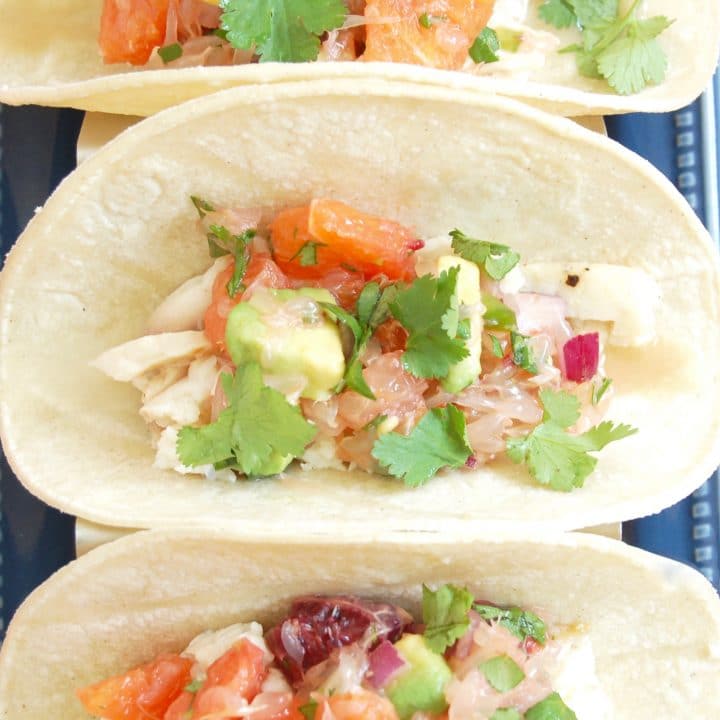 Fish Tacos with Citrus Salsa
Fish tacos are quick and easy to make and nutritious and delicious to eat, making for a winning dinner in my house. Top with this bright and refreshing citrus salsa during the winter months, and when the seasons change use different seasonal fruit like watermelon, nectarines, and cherries. Serve on whole-grain corn tortillas for a gluten-free, dairy-free meal the whole family will enjoy!
Gluten-Free, Dairy-Free, Egg-Free, Nut-Free, Kosher
Ingredients
For the Fish:
1 pound tilapia fillets (~2 fillets)
2 teaspoons olive oil
1 tablespoon lime juice
1/2 teaspoon Kosher salt
Freshly ground pepper, to taste
For the Citrus Salsa:
1 grapefruit
2 Cara Cara or naval oranges
2 blood oranges
3/4 cup diced jicama
1/2-3/4 cup cubed avocado (1 small avocado)
1/4 cup diced red onion (~1/4 large onion)
2 teaspoons seeded & minced jalapeño (add seeds if you want some heat)
1/4 cup chopped cilantro
2 teaspoons lime juice
1/2 teaspoon Kosher salt
To Assemble:
Eight 6-inch corn tortillas
Chopped cilantro, for garnish (optional)
Instructions
To make fish:
Preheat oven to 350 degrees. Place tilapia in a baking dish, brush both sides of fillets with oil, drizzle with lime juice, and season with salt and pepper.
Cook fish for 15 to 20 minutes until cooked through (cooking time will vary based on thickness of fish).
Remove fish from the oven and use a fork to break fillets into smaller pieces.
While fish is cooking, prepare the citrus salsa.
To make citrus salsa:
Remove the peel and white pith of the grapefruit. Cut the grapefruit segments over a bowl to catch any of the juice. Discard the membranes and cut or break grapefruit segments into smaller pieces.
Remove the peel and white pith of all the oranges. Cut orange segments into smaller pieces (remove membranes if preferred).
In a medium bowl, combine grapefruit and orange pieces, jicama, avocado, red onion, jalapeño, cilantro, 2 teaspoons of reserved citrus juices, and lime juice. Season with salt and toss to combine.
To serve:
Wrap corn tortillas in damp paper towel and microwave 30 seconds to warm, or wrap in foil and warm in oven for a few minutes.
Top tortillas with flaked fish, a couple tablespoons citrus salsa, and chopped cilantro, if using.
Recommended Products
As an Amazon Associate and member of other affiliate programs, I earn from qualifying purchases.
Nutrition Information:
Yield:

4
Serving Size:

1 taco
Amount Per Serving:
Calories:

453
Total Fat:

15g
Saturated Fat:

3g
Trans Fat:

0g
Unsaturated Fat:

11g
Cholesterol:

65mg
Sodium:

621mg
Carbohydrates:

50g
Fiber:

12g
Sugar:

15g
Protein:

35g
Nutrition information was calculated by Nutritionix. It may not be 100% accurate.
What's your favorite taco pairing?
Share with me in the comments below!