How to Segment and Enjoy Grapefruit
December 5, 2018
Brighten up your winter and learn how to pick, segment, and enjoy sweet, delicious red Texas grapefruit.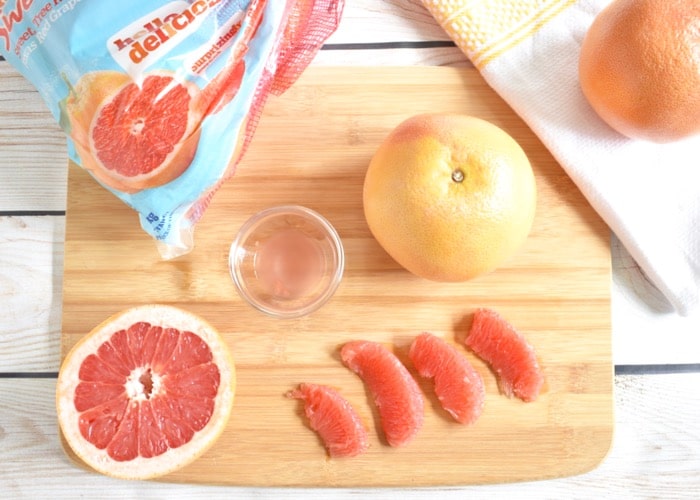 This post was sponsored by Winter Sweetz Texas Red Grapefruits as part of an ongoing partnership. I only work with brands and organizations that I believe in and as always all opinions are my own. This page also contains affiliate links. See below for full disclosure statement.
Winter is not my favorite time of year – the limited daylight, cold (sometimes freezing) temperatures, and dry skin don't really suit me. But one thing about winter I do love is citrus (and I happen to enjoy skiing too, save for the cold!). If there's one way to cheer me up on winter days it's with bright, juicy, refreshing citrus fruits that almost make me feel like it's summer again.
While I have always loved oranges, grapefruit was one citrus fruit that I wasn't always a fan of. Growing up I remember my parents and siblings eating grapefruit halves at the end of meals, but I for one always found them bitter, even with sugar sprinkled on top. That all changed when I got older and figured out that not all grapefruits are created equal.
Winter Sweetz Grapefruit
Let me introduce you to the sweetest grapefruits I have ever tasted. Even my almost 7-year old daughters love them –since the summer they've been asking me when we can have them again!
Most people think of citrus as coming from Florida or California, but Texas is where you'll find these Winter Sweetz Red Grapefruits. Winter Sweetz are so named because they're only available from November to March, which is when they are at their peak sweetness. The cool nights and warm balmy days combined with rich, fertile soil of the Rio Grande Valley are to thank for the surprisingly sweet flavor of these grapefruits.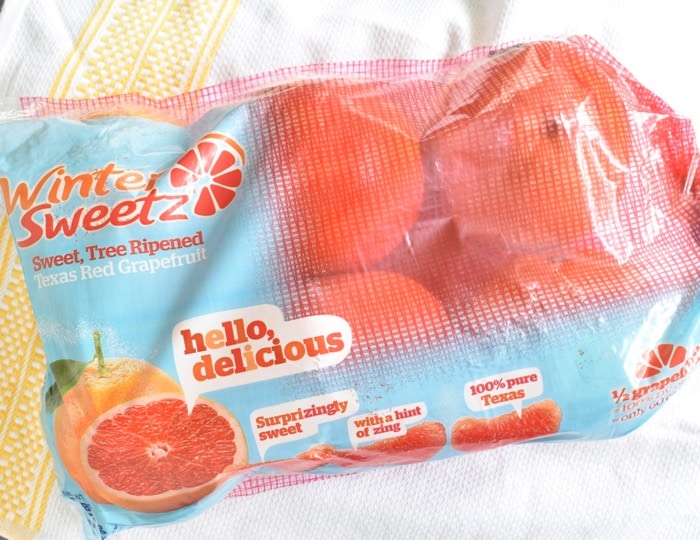 If you're fortunate enough to find these delicious gems (they're available at select ALDI, Walmart, and Kroger stores, and lucky for me my Trader Joe's sells them), make sure you pick good ones. Choose grapefruits with red blushed skin that feels heavy for the size. As with all citrus fruit, heavier fruit means more juice. Mmmm….
How to Segment Grapefruit
If you find it hard to enjoy grapefruit because of the bitter taste, you're not alone. That's the reason I never liked it when I was a kid. The peel and pith (the white layer between the peel and the flesh of the fruit) of grapefruit contain natural oils that cause the bitterness you associate with grapefruit. The membrane that encases each segment of grapefruit is also slightly bitter, which is why you rarely see people peel and eat a grapefruit in sections the way you do with oranges.
The trick to enjoying grapefruit is all in how you get past the bitter layers to the sweet, juicy segments inside. Depending on what I plan to do with my grapefruit, there are two methods I use to segment them.
One way to enjoy grapefruit is cut in half – you may have seen grapefruit served this way at a diner or maybe your grandparents enjoyed it this way for breakfast or after dinner. If serving grapefruit this way, be sure NOT to cut through the stem end; rather, lay the grapefruit on its side and cut directly through the middle. You'll then need a grapefruit knife to separate the segments from the membranes and use a spoon to scoop out the sections.
The other way to enjoy grapefruit is the best for using the fruit in recipes. Watch this video for a step-by-step guide to segmenting grapefruit. You'll see for yourself just how easy it is to get those plump segments perfect for eating. When I use this method to segment grapefruit, I do it over a bowl to catch any juice and I always squeeze the remaining membranes to save as much of the juice as possible. You can drink it or put it to use in recipes.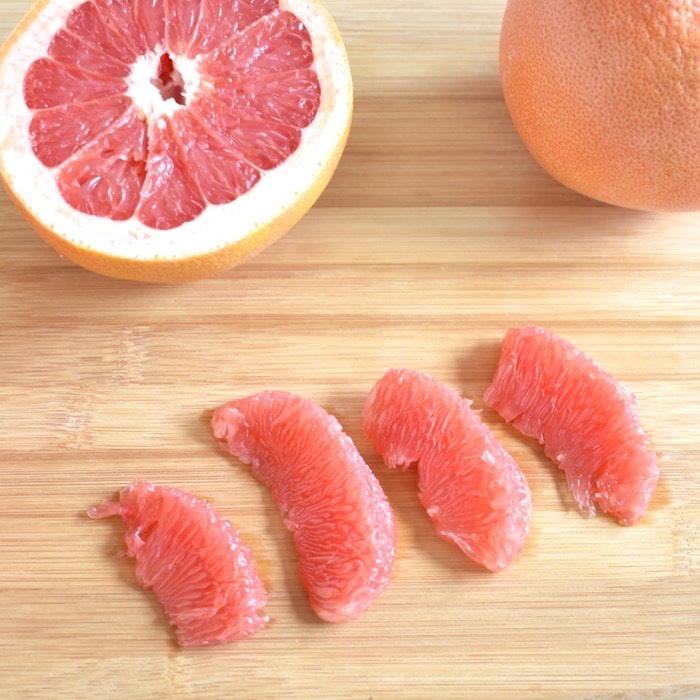 Ways to Enjoy Grapefruit Segments
Once you free your Winter Sweetz Texas Red Grapefruit segments, it's time to put them to use in the kitchen. Here are some of my favorite ways to enjoy grapefruit segments:
Add to salads – grapefruit goes well with fennel, beets, cucumbers, avocado, pistachios, walnuts, goat cheese, feta cheese, pomegranate seeds, various salad greens, and whole grains. Try grapefruit in place of oranges in my Citrus Fennel Salad.
Use grapefruit segments to top ricotta crostini or avocado toast.
Add to dressings, sauces, and marinades. Try my Salmon Waldorf Salad with Citrus Yogurt Vinaigrette.
Make a citrus salsa for taco Tuesday or to serve with chips the next time friends come over.
Enjoy grapefruit in smoothies or smoothie bowls.
Turn the segments into chutney or jam and serve with chicken, steak, or fish.
Add grapefruit segments to ceviche.
Enjoy grapefruit segments as a topping for yogurt or cottage cheese parfaits, pancakes, waffles, and French toast.
Include them in cocktails.
Pack sweet, juicy segments in the kids' lunchboxes.
As you can see, there are many ways to enjoy grapefruit, especially once you get your hands on the prized Winter Sweetz Texas Red Grapefruit segments.
Have you ever tried Winter Sweetz grapefruit?
How do you enjoy grapefruit?
Share with me in the comments below!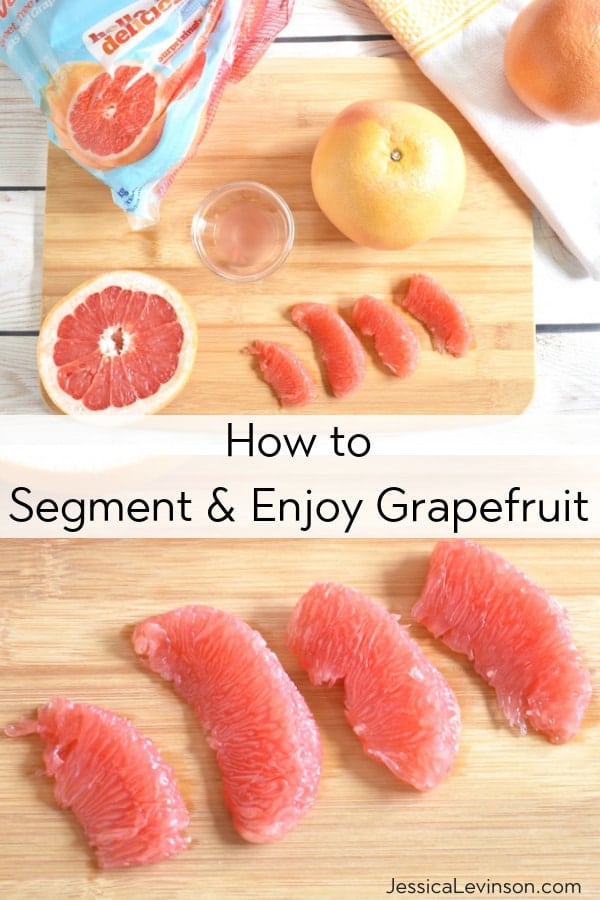 Disclosure: This page contains affiliate links. If you purchase products through these links, your cost will be the same but I will receive a small commission to help with operating costs of this blog.