10 Quick & Easy Healthy Weeknight Dinners
December 10, 2019
No more stressing about what to serve for dinner on busy days. Your nights just got easier with these 10 quick and easy healthy weeknight dinners the whole family will enjoy.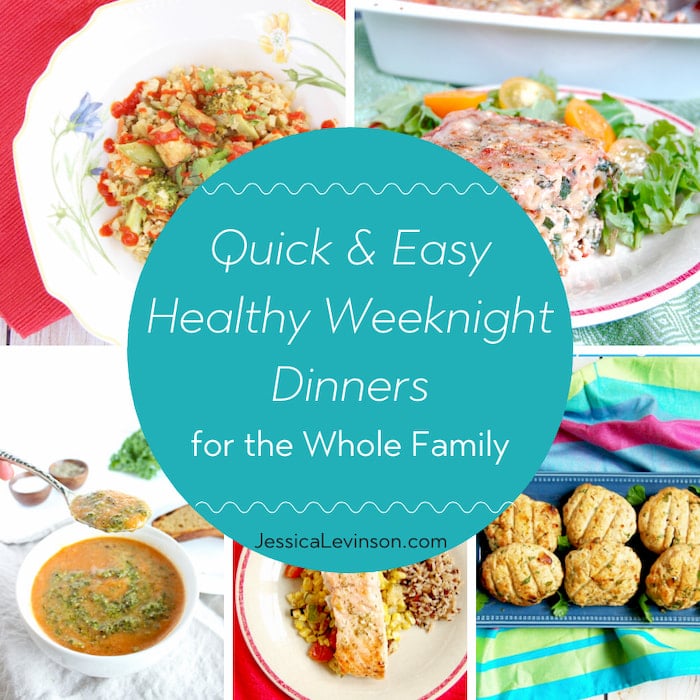 This page contains affiliate links. See below for full disclosure statement.
Whether it's back to school season, the December rush of holidays leading up to the New Year, or the end of school year mayhem, getting a healthy dinner on the table is pretty much always a struggle for most families I know. There's just never enough time to plan and prep well-balanced meals the whole family will enjoy. Or so it seems.
Just Get Take-Out
I've lost count of how many times my husband has told pleaded with me to order in or get take out during hectic weeks. He royally hates hearing me complain about how busy I am and that I have no time for anything, only to then come home to a freshly cooked meal. I can hear him the whole time I'm cooking: "Why did you spend time cooking if you had no time to do XYZ?" (Insert whatever I complained about not having time to do hours earlier.)
I know he's right that I should make my life easier and lighten the load, but I have a hard time justifying the added expense of prepared meals when I cook for a living. Not to mention the guilt I feel about feeding my girls take-out food that is lower in nutritional value than what I can make for them at home and (in my opinion) doesn't taste nearly as good.
Don't get me wrong – we order pizza plenty and I make good use of frozen and canned foods to make quick and easy meals, but I try to limit those kinds of dinners to once a week. So when it comes to the busy holiday season or a week when my refrigerator and dishwasher are broken and I have a flood in the basement (no joke, that all happened in the same week), I rely on a handful of quick and easy healthy weeknight dinners I know I can cook up even when I barely have any time to spend in the kitchen.
What If I Have Picky Eaters?
Many of these dinner recipes are one-pot meals or casserole-style dishes, meaning they're not as interactive and "make it your own" as other meals I highly recommend for families with young kids (like my Buddha bowls). That means there may be one or two people at the table who aren't so into dinner on a given night. If you have more selective (aka "picky") eaters, they may whine and complain about some of these meals, which may make you inclined to make a box of mac and cheese or a peanut butter sandwich. Don't do it!
Stay strong and don't yield to the groans and moans of your children (or spouse, as the case may be). Instead, ensure that every meal has at least one component you know everyone likes. If that means your dear son only eats the cheese off the top of a casserole or dear daughter pushes aside the salmon and only eats berries for dinner, so be it. Trust me, your kids aren't going to starve. If they are truly hungry they will eat what you put in front of them, and if they don't, there's always breakfast in the morning.
Sounds harsh? It may seem that way, but this method works. If you need help with this, email me to find out about my Kitchen Coaching Services.
Make it a Meal
Many of these easy healthy weeknight dinners are all in one meals (meaning they have protein, carbs, and veggies), but for those that aren't (like burgers), you can easily make it a meal without spending much more time in the kitchen.
Just cut up your kids' favorite veggies, assemble a salad kit, or roast a prep-free veggie like green beans or cherry tomatoes. If you need a last minute starch, try a microwaveable grain (I love having rice and grain pouches like these on hand – they cook up in 90 seconds. Look for ones without all the added seasonings to ensure they're not too high in sodium) or a can of beans (I particularly love Greek gigantes for a side dish – Trader Joe's sells them canned like this)
Quick & Easy Healthy Weeknight Dinners for Busy Nights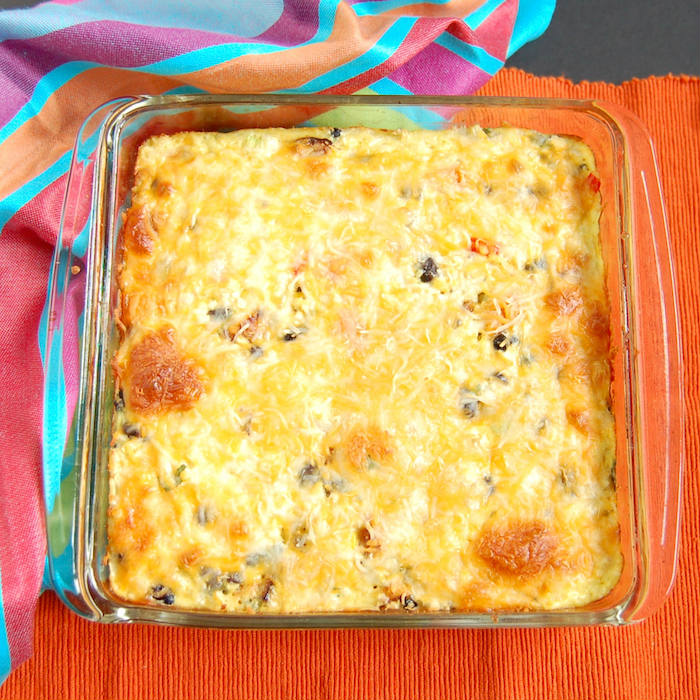 1. Southwestern Cauliflower Rice Casserole – This one-dish casserole is a full meal in one with veggies, protein, and carbs. Not a fan of cauliflower rice? Use cooked brown rice instead. Leave out the sweet potatoes to save on cooking time, and change up the add-ins based on your family's preferences.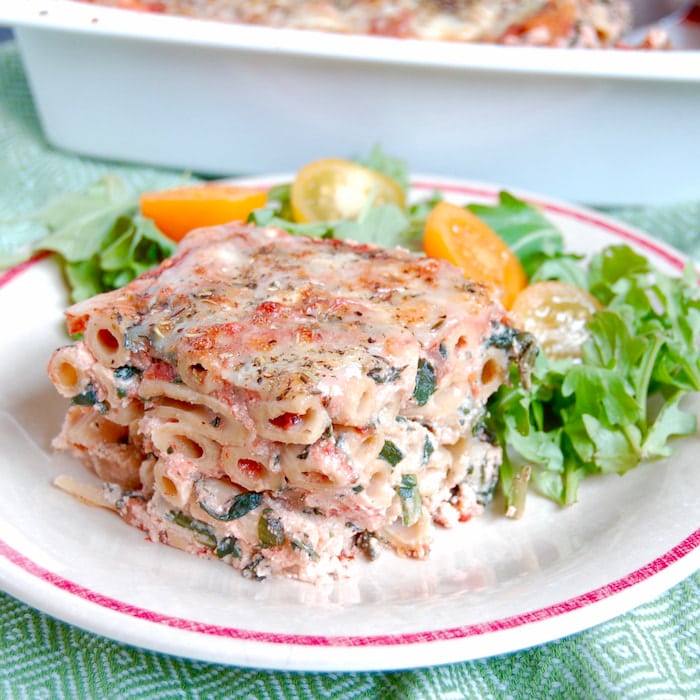 2. Lightened-Up Baked Ziti – This makeover of everyone's favorite pasta casserole boasts additional flavor and veggies. Pair with a side salad or your kids' favorite raw or roasted veggies for a well-rounded meal.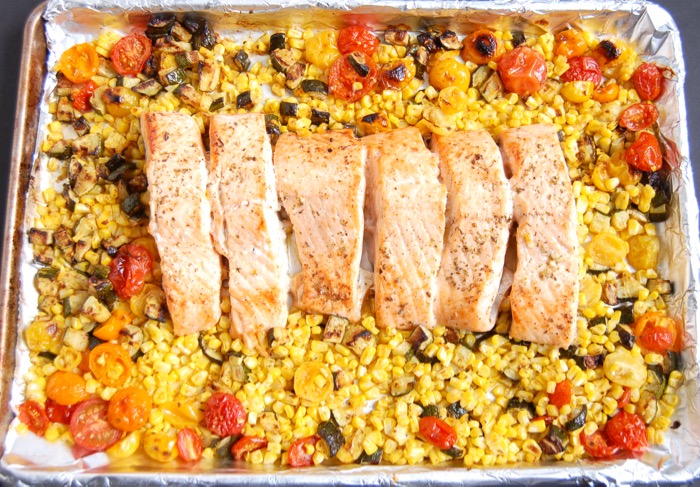 3. Mediterranean Sheet Pan Salmon – Sheet pan meals are on trend for good reason – they're relatively quick and easy to make and they require very little cleanup. Make this dish your own by changing up the veggies. I've made this with green beans, asparagus, and broccoli in place of zucchini and it's delish every time. Serve with a side of 90-second microwaveable brown rice to round out the meal.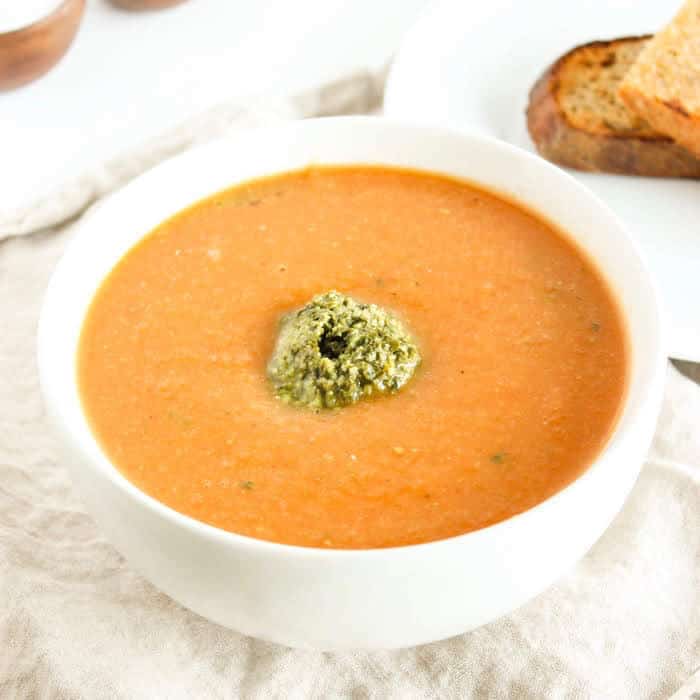 4. Tomato White Bean Soup – Do your kids love grilled cheese and tomato soup? Add pureed white beans to boost the protein and fiber and make it an all in one meal – even if you don't have time to make a grilled cheese! Add a dollop of store-bought pesto or skip it altogether to save time.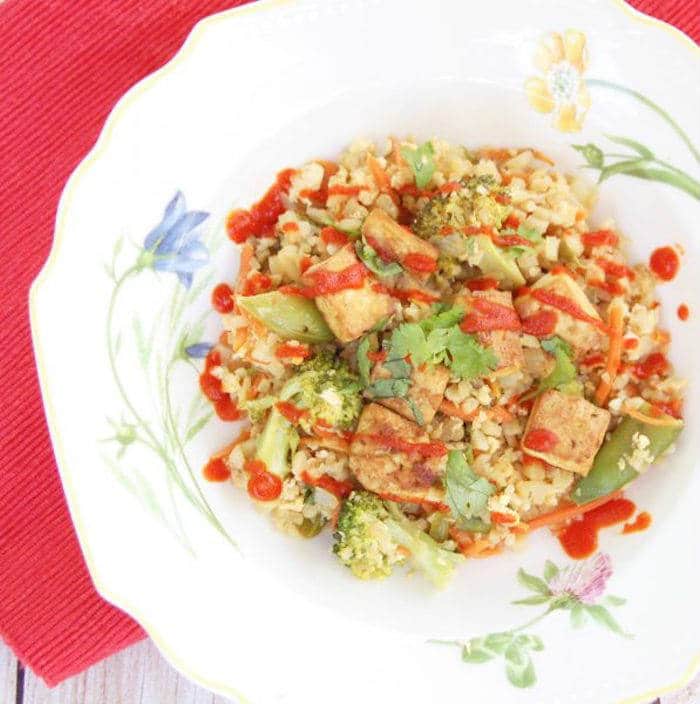 5. Veggie Fried Rice – You may only think to have fried rice when you get take-out, but you'd be surprised just how easy it is to make it yourself at home. The recipe linked to here is made using cauliflower rice, but you can easily sub cooked brown rice (those microwaveable packets come in handy again!) or do a combo of brown and cauli rice. Skip chopping up veggies by using pre-chopped or frozen veggies, and instead of making my crispy baked tofu from scratch, buy a package of baked tofu to throw in at the end. Not a tofu fan? Make use of leftover chicken or beef in its place.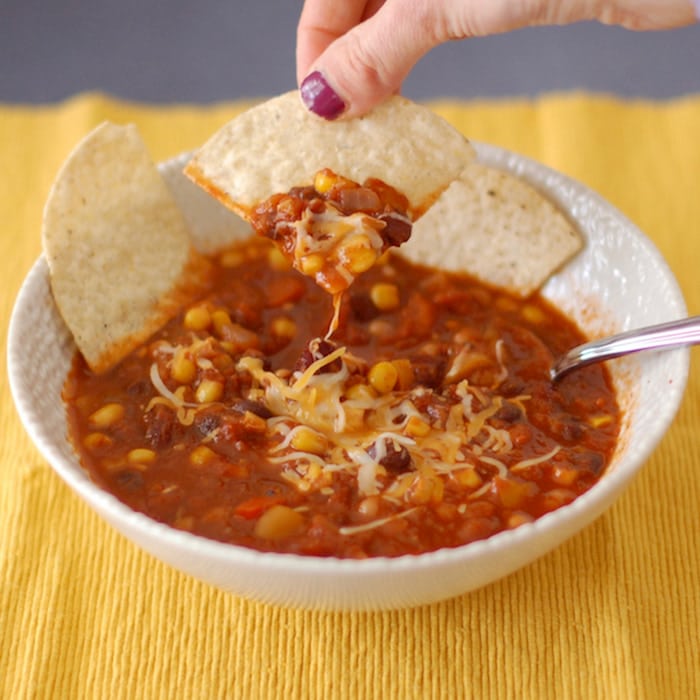 6. Three-Bean Vegetarian Chili – Another one-pot meal that can be made ahead, reused for various different meals (aka, nextovers), and is worth doubling since it's freezer friendly. Serve with corn chips, on top of brown rice, in a burrito, stuffed in whole roasted peppers, or as a topping for baked potatoes. Add ground beef or turkey if you want to boost the protein even more (and you don't keep kosher like I do). Hearty Vegetable Lentil Chili is another variation to try.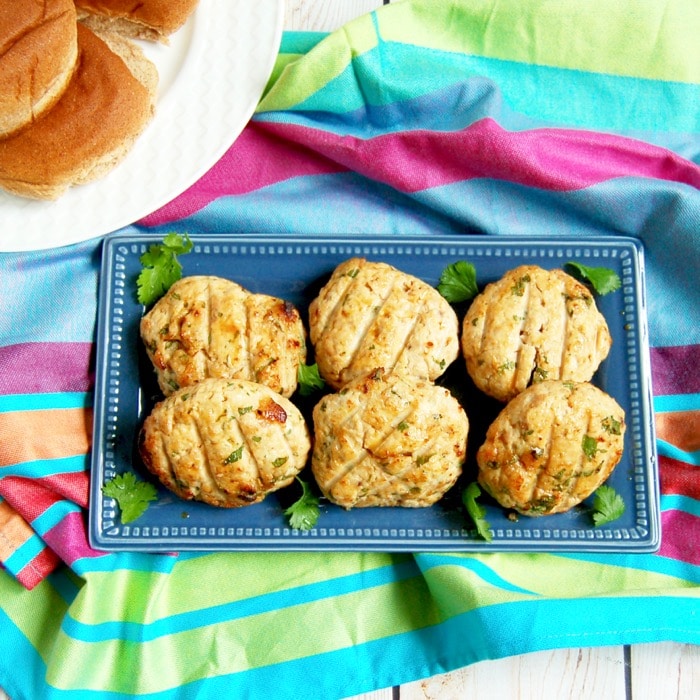 7. Ginger Miso Turkey Burgers – You may not think to make burgers beyond the summer months, but when it comes to easy healthy weeknight dinners you can't beat a burger, especially when it's made with lean poultry and packed with flavor. Serve on a whole grain bun, in a lettuce wrap, or simply on its own with a side of veggies and dinner is done.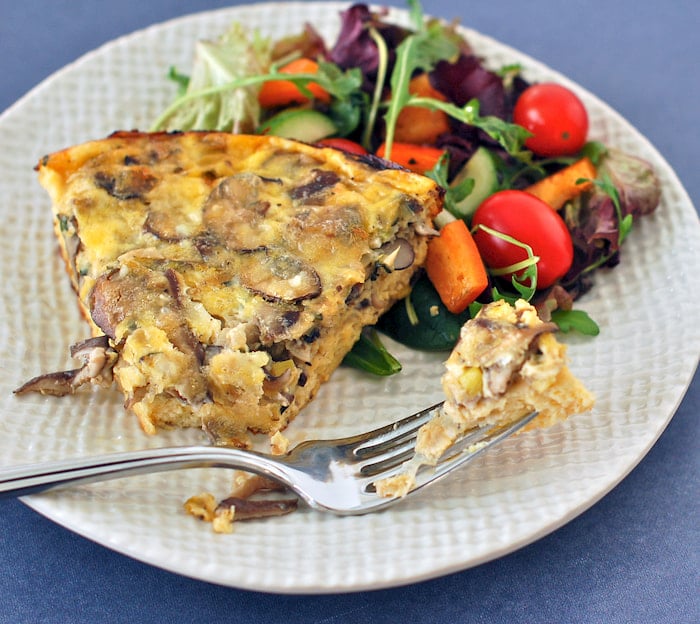 8. Baked Mushroom Leek Frittata – Eggs for dinner is a staple meal in my house and for good reason. It's quick and easy and healthy and delicious. While this recipe specifies mushrooms and leeks, don't be afraid to try your own veggie combos. This is the perfect dish to make using whatever veggies and cheese you have on hand.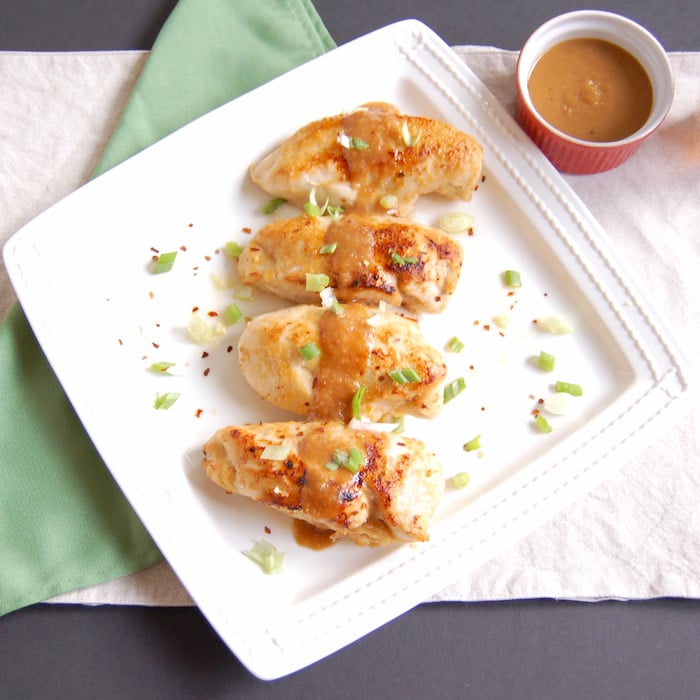 9. Miso-Glazed Chicken Breasts – There's a reason this is the #1 recipe on my site and you'll have to make it to find out why for yourself! The fact that it's ready in 30 minutes or less is probably one good explanation, but I imagine the flavor profile accounts for a lot of it too. Pair with a side of roasted or raw veggies and a whole grain.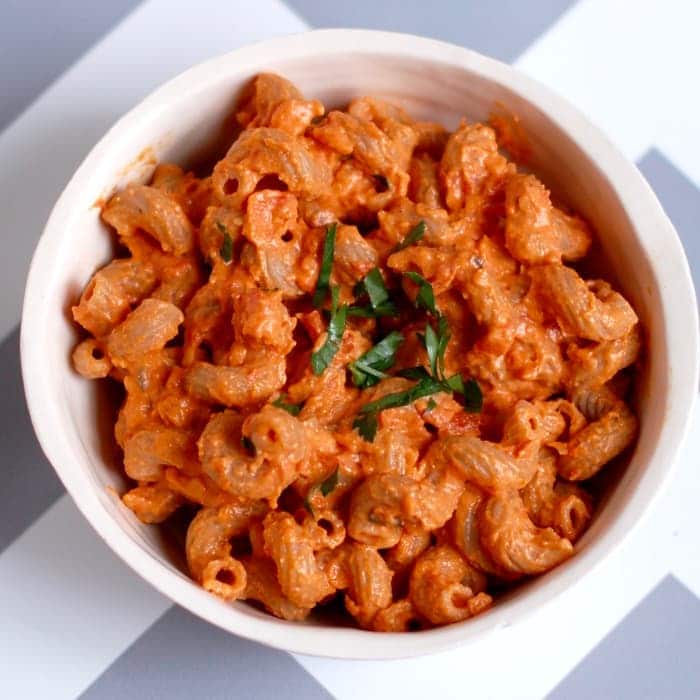 10. Roasted Red Pepper Tomato Pasta – Think penne alla vodka with a lot more protein and fiber and a lot fewer calories. That's what this pasta dish is like (or so says my husband). While the directions call for sautéing the veggies before pureeing the sauce, you can easily skip this step to save time (just leave out the onions if you do). Balance out the meal with a side salad.
These 10 recipes are just a small sampling of quick and easy healthy weeknight dinners you can make for your family. I have many more that I haven't published here, including some beyond simple Instant Pot recipes like IP Mac & Cheese and Veggie Beef Bolognese. Be sure to sign up for my newsletter so you don't miss anything new, or better yet, contact me for help with meal planning or cooking lessons to get customized recipes for your family!
What are your family's favorite easy weeknight dinners?
Share with me in the comments below!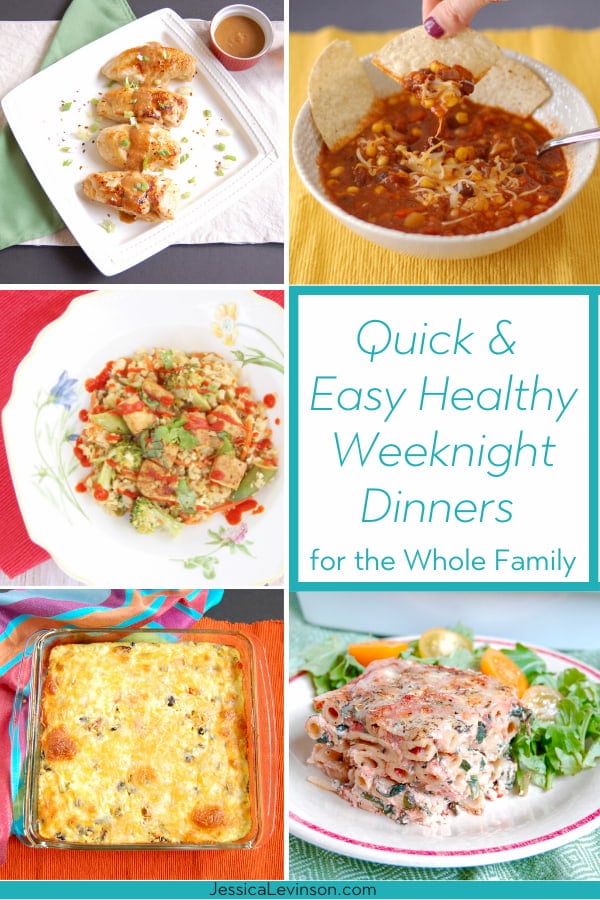 Disclosure: This page contains affiliate links. If you purchase products through these links, your cost will be the same but I will receive a small commission to help with operating costs of this blog. As always, all thoughts and opinions are my own and I only recommend products I truly believe in.