Tomato White Bean Soup with Kale Pesto
November 2, 2016
Warm up this fall and winter with a bowl of tomato white bean soup topped off with a dollop of kale pesto. Serve with a hunk of crusty bread for dipping.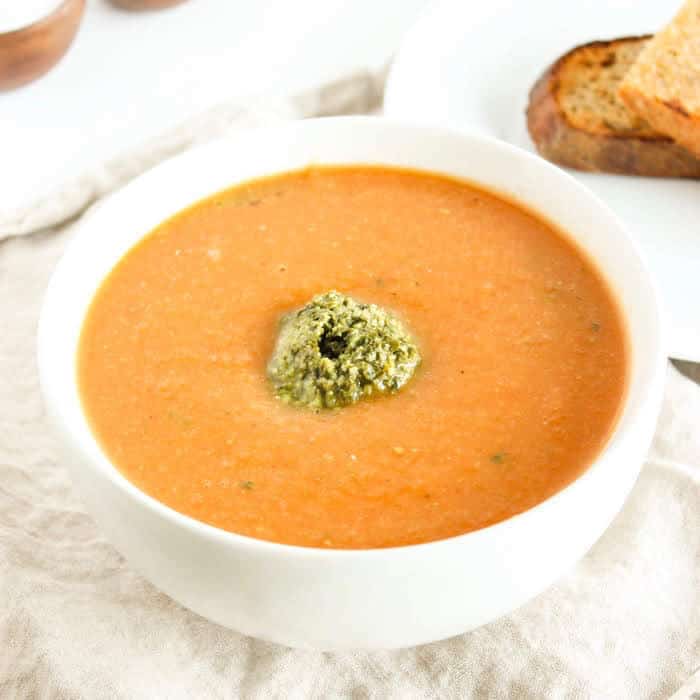 Even though I grew up and still live in the northeast, I'm not the biggest fan of cold weather. The only thing I like about the cold? It coincides with soup season! I could (and do) eat soup all year long – even on the hottest days of summer, but there's really nothing I love more on a cold day than to warm up with a bowl of hot soup, especially this Tomato White Bean Soup!
My Love of Soup
I love everything from Classic Jewish Chicken Soup to hearty Vegetable Soup to creamy (yet cream-less) soups like my Roasted Butternut Squash and Sweet Potato Soup. Some soups are perfect as an appetizer, while others are a meal in itself – take for example my Corn Tortilla Soup with Black Beans or this Chicken Vegetable Udon Soup. Needless to say, soup for me is a perfect balance of comfort and nutrition. And this Tomato White Bean Soup with Kale Pesto is another soup recipe that fits the bill for just that!
I originally made this tomato white bean soup in November 2012, shortly after Hurricane Sandy. It was during that storm that I finally had time to catch up on a backlog of magazines I had piling up, including SELF Magazine's April 2012 issue. In it was this recipe for Tomato-White Bean Soup with Pesto that sounded easy to make, light, and delicious, so I added it to my menu plan for the following week.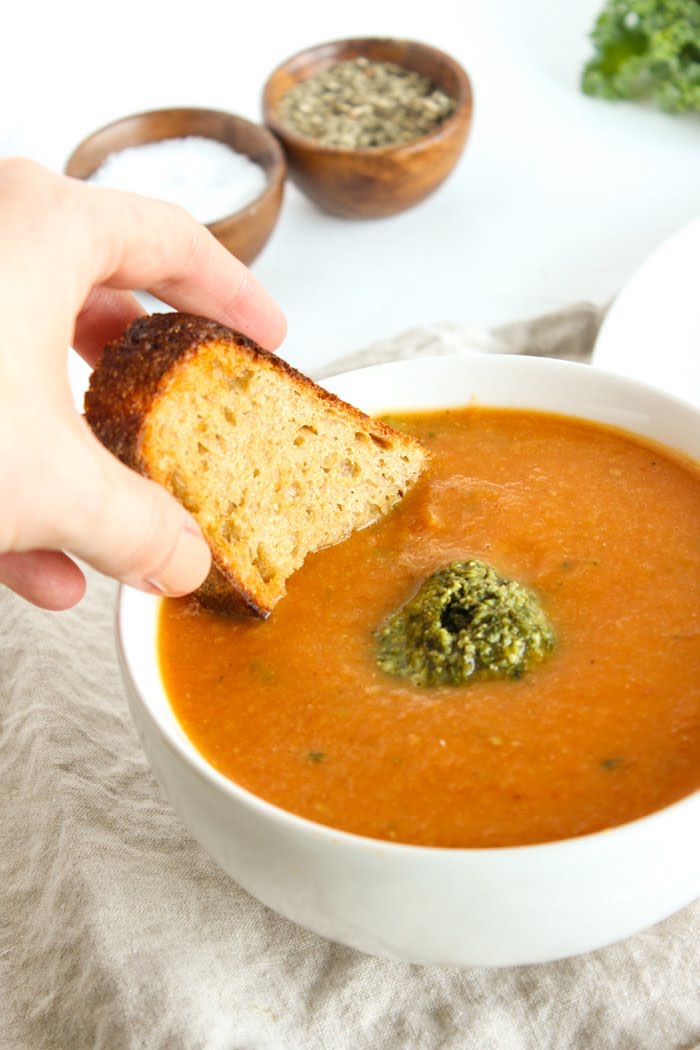 When I finally got to making the SELF recipe, it turned out a few adjustments were necessary to get the soup to serve-worthy status. The soup didn't have nearly enough flavor, but I already had the pot on the stove simmering, so I needed to act fast. I added a couple more herbs to the soup and made the pesto a second time. The end result – a delicious pot of soup that's full of flavor and still nutritious.
Appetizer or Entree? You Choose
This Tomato White Bean Soup can fall into the appetizer or entree course of a meal depending on portion size. Since it's pureed it may not feel as filling as a chunky soup, but it's full of vegetables and beans, aka satiating fiber and protein that should keep you full. I highly recommend serving with a big hunk of crusty on the outside, soft on the inside whole grain or sourdough bread (if you want to make your own, check out a fellow RD's recipe here!).
The recipe for kale pesto makes more than you need for a dollop on every bowl of soup, so menu plan accordingly to use the leftovers on the Fall Roasted Root Vegetable Pasta with Kale Pesto I shared last week (I promised you another use of that pesto!) or as a topping for pizza or a slice of that crusty bread you'll have leftover for lunch the next day.
Tuscan White Bean Soup with Kale Pesto is gluten free, vegetarian, and also a great option for vegans if you serve it without the pesto or make the pesto without cheese. If you choose to eliminate the pesto it is also a nut-free recipe.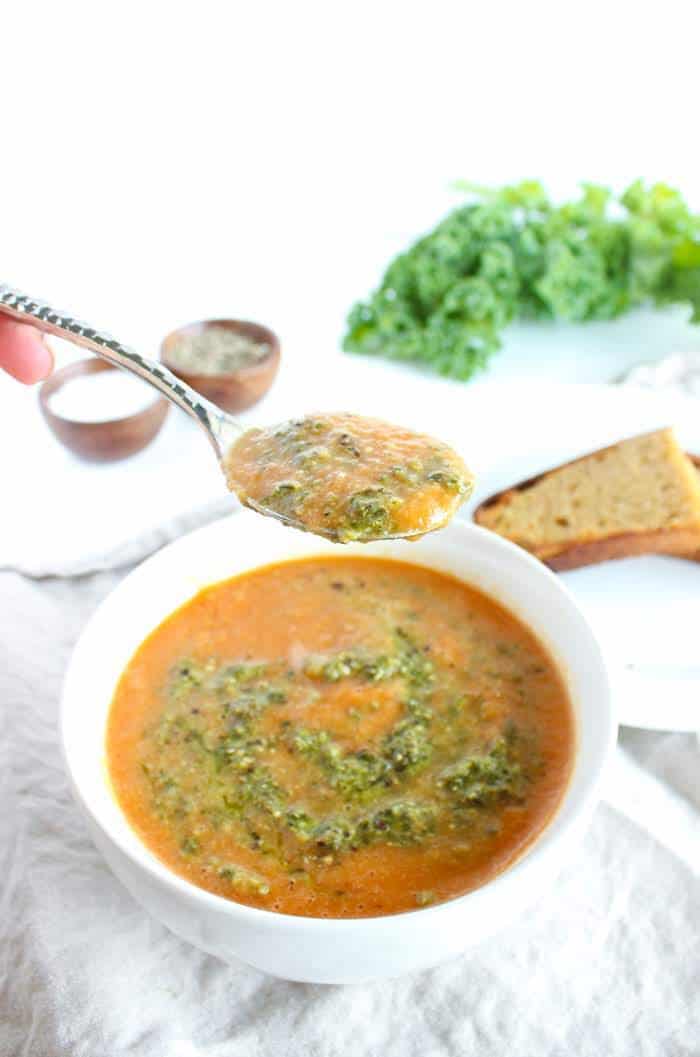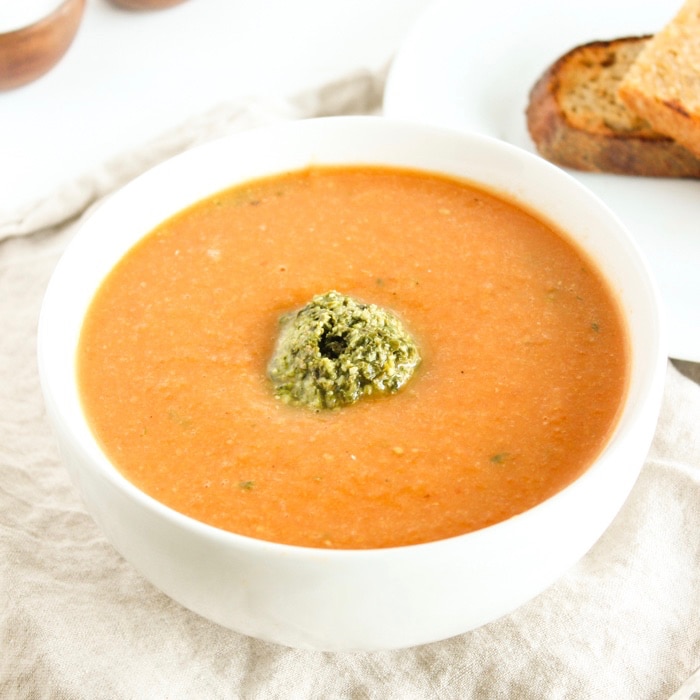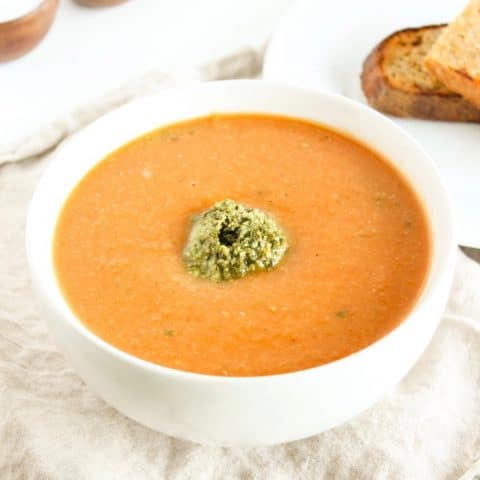 Tomato White Bean Soup with Kale Pesto
Warm up this fall and winter with a bowl of tomato white bean soup topped off with a dollop of kale pesto. Serve with a hunk of crusty bread for dipping.
Gluten-free, Vegetarian, Vegan-Friendly
(nut-free without the pesto)
Ingredients
For the Soup:
2 tablespoons olive oil
1 large yellow onion, chopped (~1 1/2 cups)
4 celery stalks, chopped (~1 to 1 1/2 cups)
2 medium carrots, chopped (~1 cup)
4 cloves garlic, quartered
One quart (32 ounces) low-sodium vegetable stock
One 15-oz can no-salt added cannellini beans, drained and rinsed
One 14-ounce can diced tomatoes
2 bay leaves
1/4 teaspoon dried rosemary
1/4 teaspoon dried thyme
1/2 teaspoon kosher salt, plus more to taste
Freshly ground pepper, to taste
1/2 tablespoon lemon juice
For the Kale Pesto (optional):
1 1/2 bunches kale, chopped
1/2 cup walnut halves
4 cloves garlic
1/2 cup grated Parmesan or pecorino cheese
1/2 cup olive oil
1/4 teaspoon Kosher salt
2 tablespoons lemon juice
Instructions
To Make the Soup:
In a medium to large soup pot, heat oil over medium heat. Add onions and stir occasionally until golden brown, 3 to 5 minutes. Add celery, carrots and garlic and cook, stirring occasionally, until vegetables soften, 3 to 5 minutes.
Add 1/2 cup of the broth and stir to scrape brown bits off the bottom of the pot. Add remaining stock, beans, tomatoes, bay leaves, rosemary, thyme, 1/2 teaspoon salt, and pepper, to taste. Bring soup to a boil; reduce heat, cover, and simmer, stirring occasionally, until carrots are very soft, 15 to 20 minutes.
Remove bay leaves from soup and discard. Using an immersion blender, puree soup, leaving some of it chunky if desired. Stir in lemon juice, and season with more salt and pepper as needed
To Make Kale Pesto:
Bring a medium pot of water to boil. Blanch the kale by adding it to the pot of boiling water and cooking for about 1 to 2 minutes. Remove from pot and run under cold water to stop cooking. Strain and squeeze out excess liquid.
In a large food processor, puree blanched kale, walnuts, garlic, cheese, olive oil, salt, and lemon juice until smooth.
Serve soup with a dollop of pesto on top and swirl in.
Notes
To make vegan, omit cheese from pesto or use dairy-free cheese.
To make nut-free, eliminate the pesto or make pesto without walnuts.
Nutrition facts below do not include pesto.
Recommended Products
As an Amazon Associate and member of other affiliate programs, I earn from qualifying purchases.
Nutrition Information:
Yield:

6
Amount Per Serving:
Calories:

162
Total Fat:

5g
Saturated Fat:

1g
Trans Fat:

0g
Cholesterol:

0mg
Sodium:

286mg
Carbohydrates:

24g
Fiber:

7g
Sugar:

7g
Protein:

6g
Nutrition information was calculated by Nutritionix. It may not be 100% accurate.
Are you a soup fanatic like I am?
If so, I'd love to know your favorite kind of soup!
Share with me in the comments below!