Roasted Butternut Squash and Cranberry Quinoa Salad with Cider Dijon Vinaigrette
December 21, 2016
Add a burst of color and flavor to the holiday table with this nutritious and delicious Roasted Butternut Squash and Cranberry Quinoa Salad.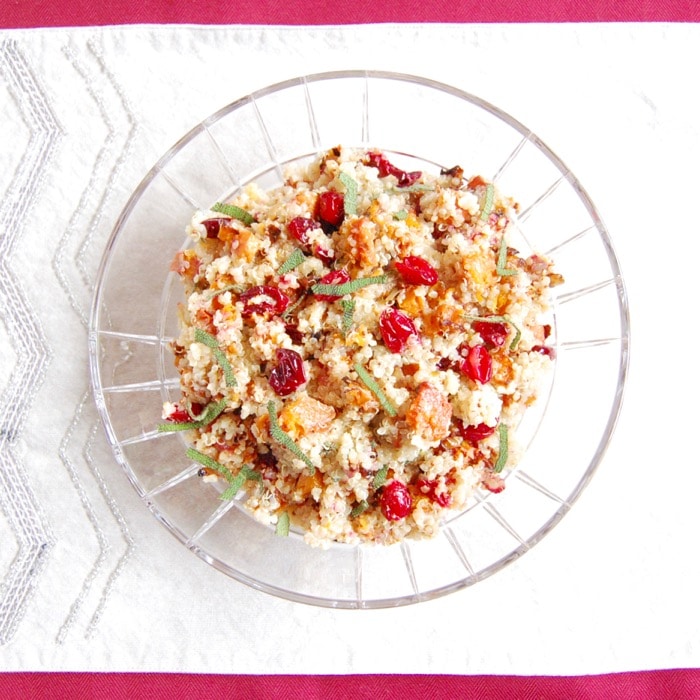 This page contains affiliate links. See below for full disclosure statement.
You may recall last week when I shared my Roasted Brussels Sprouts with Pomegranate Glaze that I mentioned I had another holiday recipe on the way. Well here it is! This Roasted Butternut Squash and Cranberry Quinoa Salad is the last holiday recipe I will be sharing this season and it's a good one! Just look at how pretty and festive it is with the bright orange, red, and green. Can't get more jolly than that!
I actually had this recipe in the works for a while before I found out this month's Recipe ReDux theme and saw that I could make this recipe fit. It's a little bit of a stretch, but I wanted to be sure you all had the chance to make this quinoa salad for your holiday table, so keep reading while I explain.
Cookbook Recipe Inspiration
This month's ReDux theme is one we've done before and it's a favorite of mine:
Grab a Book & Cook
We're playing a little party game at the end of 2016: Grab your nearest cookbook and ReDux the recipe on page 201, 16, 216 – or any combination of the number '2016.'
For last year's December ReDux with the same theme I made my Salmon Waldorf Salad with Citrus Yogurt Dressing and the year before I made my Moroccan-Spiced Lamb Burgers – both recipes I make time and again and I hope you do too.
When I went through my cookbooks this year I happened to come across a recipe for Roasted Butternut Squash, Cranberry, Shallot & Pecan Tart on pages 120 and 121 of The Fresh & Green Table by Susie Middleton. I stopped right then and there because it was almost the exact flavor combination I was using in this quinoa salad I had already been testing a few weeks earlier.
While this Roasted Butternut Squash and Cranberry Quinoa Salad is certainly no tart, it incorporates many of the same ingredients and is more of an everyday side dish as opposed to the tart, which takes more time and would likely be saved for weekend brunch or company. And I'm all about ease these days!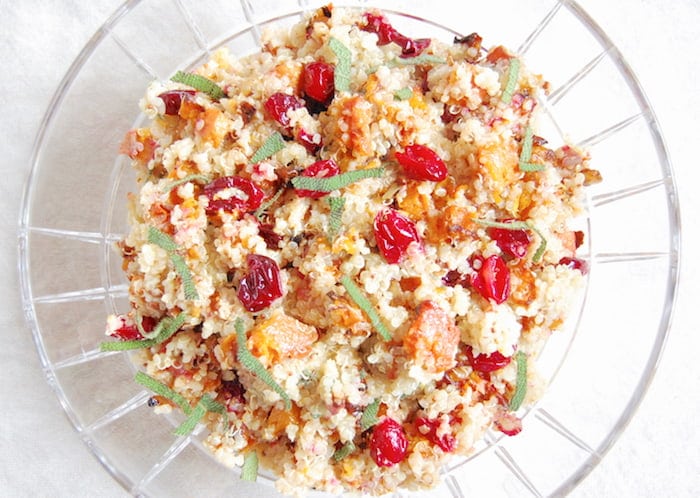 Squash Season
Clearly I have a love of roasted winter squash paired with quinoa and ruby red fall/winter fruits – after all, it was only two weeks ago that I shared with you my Maple-Roasted Delicata Squash Quinoa Salad. While the ingredients are similar, I assure you this recipe is unique in its own way and you can find room in your menu plans for both (although you probably wouldn't want to serve both at the same meal, but don't let me stop you!).
As I have mentioned before, I love the flavors of this season and this recipe includes many of them: creamy and earthy winter squash, tart cranberries, and sweet apple cider. The addition of lemon zest and sage was inspired by the tart recipe and they add really nice flavor and color to the dish.
(As an aside, sage and butternut squash are a great pairing – if you haven't tried them together, be sure to check out my Lightened-Up Macaroni and Cheese, Butternut Sage Risotto Balls, and this pasta.) Toasted pecans are an optional topping, but one I highly recommend for the added wintery flavor and crunch, and goat cheese is also optional, but turns this side dish into a lunch salad.
There are three components to this Roasted Butternut Squash and Cranberry Quinoa Salad: making the cider Dijon dressing, cooking the quinoa, and roasting the squash, cranberries, and shallots. Unlike the delicata squash quinoa salad, for this butternut squash and cranberry quinoa salad I use the apple cider in the dressing and cook the quinoa in plain water. I also chose to use white quinoa instead of tri-color or red quinoa because I wanted the colors of the rest of the ingredients to stand out.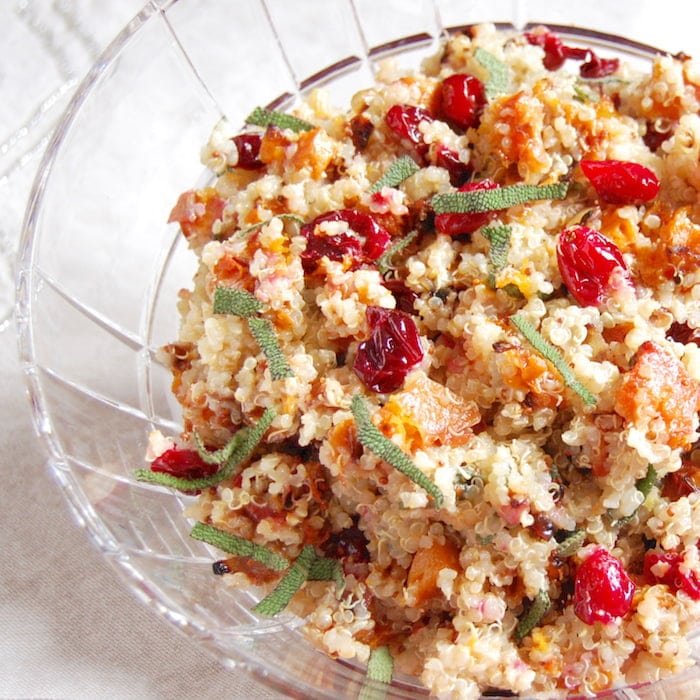 Preparing Butternut Squash Quinoa Salad
When roasting the butternut squash, shallots, and cranberries, be sure to keep an eye on everything to make sure the shallots and the cranberries don't burn. Once those cranberries burst in the oven they brown pretty quickly.
I roast the butternut squash on it's own at first and then toss the shallots and cranberries with oil and maple syrup and add them for the remainder of the cooking time. However, if you want the shallots more well done, add them to the butternut squash for the first round of roasting and just toss the oil and syrup with the cranberries before adding them to the baking sheet.
Once all three components of the recipe are ready, it's time to assemble. Toss the cooked quinoa with half the cider Dijon vinaigrette and then fold in the roasted butternut squash, cranberries, and shallots, lemon zest, and thinly sliced sage and toss with the rest of the dressing. Top with toasted pecans for extra crunch and goat cheese for some added creaminess and flavor or leave them off to keep the quinoa salad vegan and nut-free.
This gluten-free quinoa salad is a great side dish for the holiday table or to enjoy all winter long. I sometimes make it as a side for weeknight dinners, but if you're strapped for time it's not the quickest side dish you can make. (FYI, my Spiced Quinoa with Roasted Apples and Root Vegetables is a little less involved if you're looking for a weeknight option). With the addition of the pecans and goat cheese (pictured below) this side turns into lunch – don't you just love when that happens?!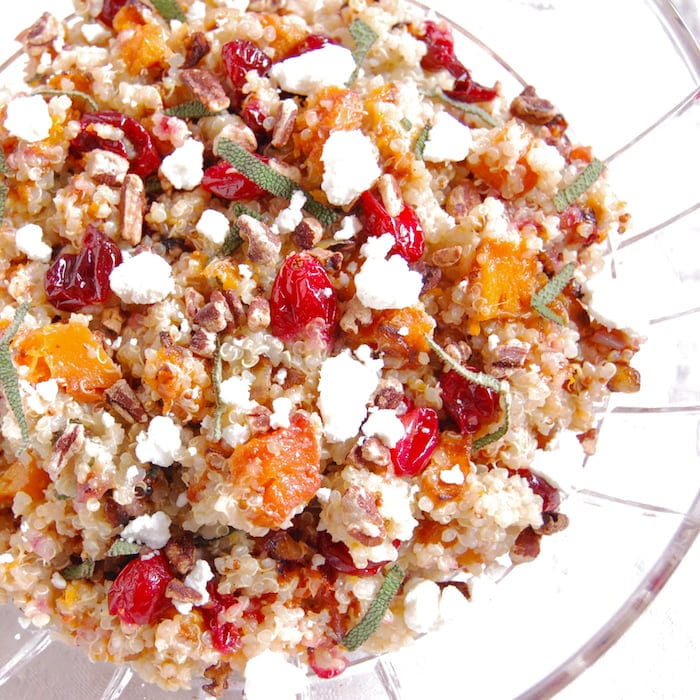 I hope you enjoy this recipe as much as I do. Wishing you all happy holidays this coming weekend!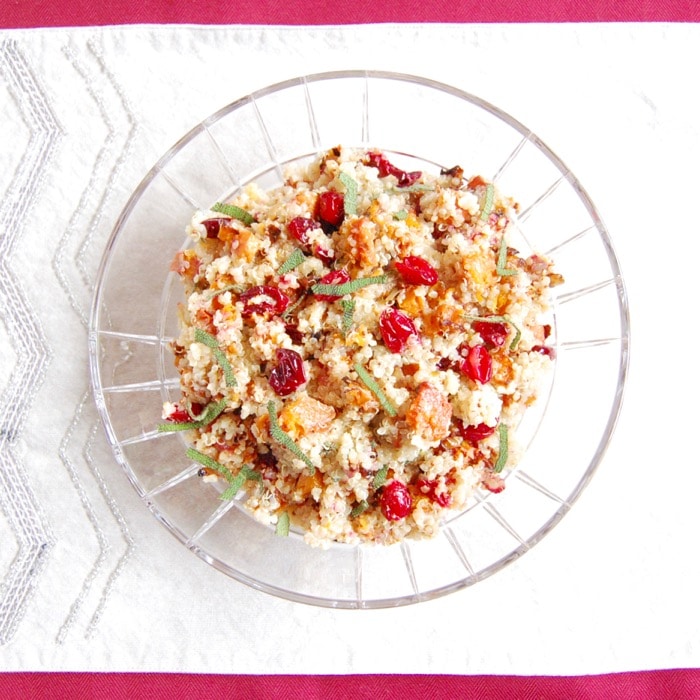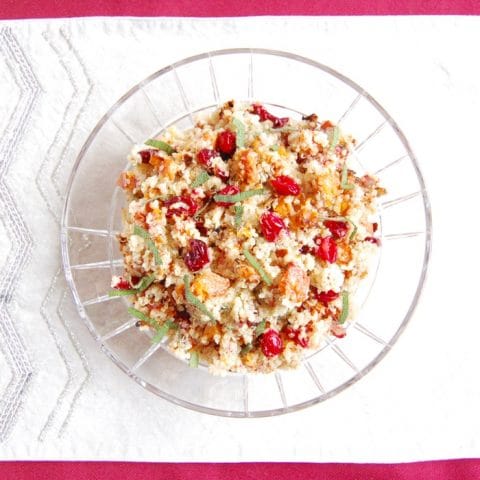 Roasted Butternut Squash and Cranberry Quinoa Salad with Cider Dijon Vinaigrette
Yield:
12 (1/2-cup servings)
Roasted butternut squash, cranberries, and shallots are folded into fluffy quinoa and tossed with a cider Dijon vinaigrette for a side dish that's perfect for the fall and holiday season. Top with toasted pecans and goat cheese for extra crunch, creaminess, and flavor.
Ingredients
For the dressing:
1/4 cup apple cider
1 tablespoon whole grain Dijon mustard
1 tablespoon apple cider vinegar
3 tablespoons olive oil
1/2 teaspoon Kosher salt
Freshly ground pepper,, to taste
For the quinoa:
Cooking spray
4 cups diced butternut squash, (~1 1/2 pounds)
2 tablespoon + 1 teaspoon olive oil,, divided
1 1/2 cups fresh or frozen whole cranberries, (~6 ounces)
1/2 cup chopped shallots
1 teaspoon maple syrup
1 cup uncooked white quinoa
2 cups water
1/2 teaspoon lemon zest
1 tablespoon thinly sliced sage, (cut chiffonade style)
1/4 teaspoon Kosher salt
Freshly ground pepper,, to taste
2 tablespoons toasted chopped pecans, (optional)
2 tablespoons crumbled goat cheese, (optional)
Instructions
To make the dressing, whisk together the apple cider, mustard, apple cider vinegar, olive oil, 1/2 teaspoon salt, and pepper, to taste. Set aside.
Preheat oven to 425 degrees F. Line a large baking sheet with foil and coat with cooking spray.
Toss diced squash with 2 tablespoons olive oil and spread in a single layer on the prepared baking sheet. Roast 15 minutes until the squash is tender and starting to brown.
Toss cranberries and shallots with maple syrup and the remaining teaspoon oil. Add to the baking sheet and toss with the squash. Roast 10 to 15 minutes until the squash is crisp and browned on the outside, the cranberries have started to soften and burst, and the shallots are caramelized.
While the squash and cranberries are roasting, prepare quinoa. Combine quinoa and water in a small saucepan and bring to a boil. Reduce to a simmer, cover, and cook until all water is absorbed, about 10 to 15 minutes. Transfer quinoa to a bowl and let cool about 5 to 10 minutes.
Toss quinoa with lemon zest, most of the sage, and half the dressing. Add the roasted squash, shallots, and cranberries, the rest of the dressing, 1/4 teaspoon salt, and freshly ground pepper, to taste. Toss, garnish with remaining sage, and serve warm. Top with pecans and goat cheese, if desired.
Do you have a favorite recipe makeover from a cookbook?
If so, what is it?
Share with me in the comments section below!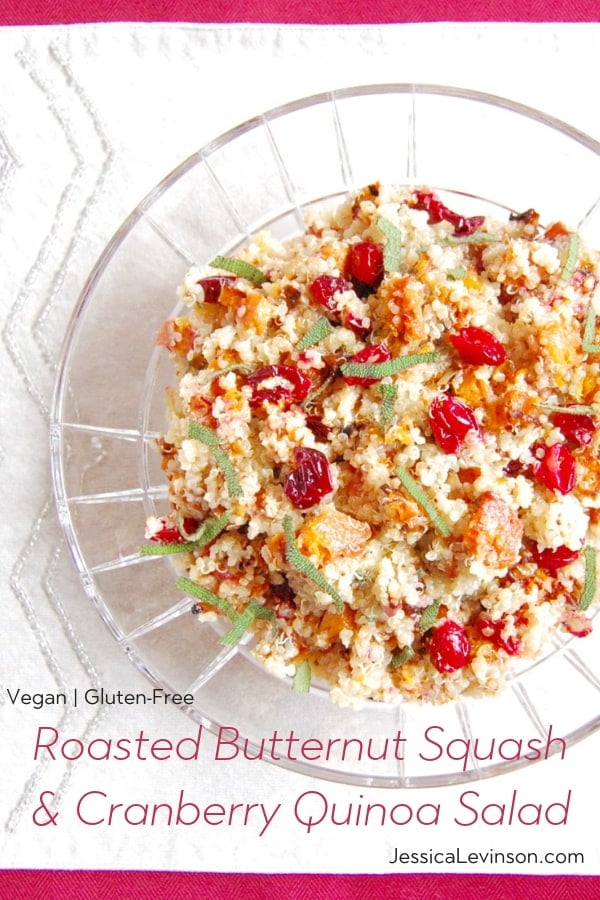 Disclosure: This page contains affiliate links. If you purchase products through these links, your cost will be the same but I will receive a small commission to help with operating costs of this blog.
]