Butternut Sage Risotto Balls with Lemon Honey Drizzle {Recipe ReDux}
March 7, 2015
These savory brown rice balls filled with butternut squash, fresh sage, lemon zest, and Parmesan cheese are an indulgent side dish or hors d'oeuvre not to be missed!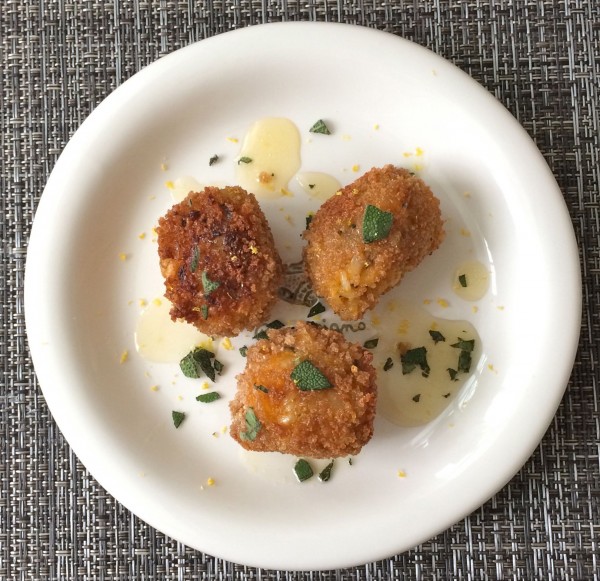 By posting this recipe I am entering a recipe contest sponsored by USA Rice Federation and am eligible to win prizes associated with the contest. I was not compensated for my time.
This week the USA Rice Federation is sponsoring a recipe contest with The Recipe ReDux to encourage people to "Think Rice" during National Nutrition Month, which goes on throughout the month of March. When I read that they are looking for our "nutritious and delicious recipes that feature U.S.-grown rice" I knew it was meant to be for me to enter the contest. After all, Nutritioulicious is what this blog is all about!
I have to admit that rice isn't my go to grain and I often have a hard time cooking it perfectly. I confessed that when I shared my Shorty's Brown Rice recipe last January, a rare occasion when my rice came out so good I needed to post it. That said, there are so many great reasons to cook with rice and regardless of which type of rice you prefer, they all have a place in a balanced diet.
In addition to rice being naturally gluten-free and the least allergenic of all grains, it's also a sodium- and cholesterol-free option that can help you meet the MyPlate recommendations. Of course you've heard that you should try to make half your grains whole grains, which is easy to accomplish with so many varieties of rice available, including brown, black, red, and wild rice. Now when you're thinking about how you can "Bite Into a Healthy Lifestyle" (the theme for this year's National Nutrition Month), you can "Think Rice!"
Now onto my recipe….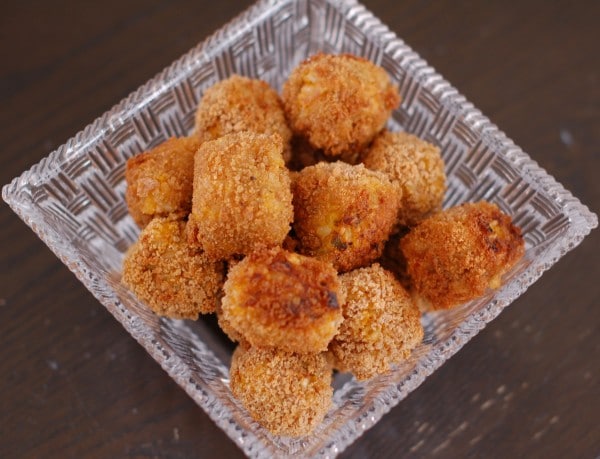 One of my favorite rice dishes is an Italian appetizer called arancini, also known as risotto balls or rice balls. Traditionally these stuffed rice balls are made with Arborio rice, coated with flour, egg, and breadcrumbs, and deep fried, making them an indulgence I have only enjoyed at restaurants. So what better time to experiment with making a healthier version of this Italian specialty than a USA Rice sponsored Recipe ReDux contest?!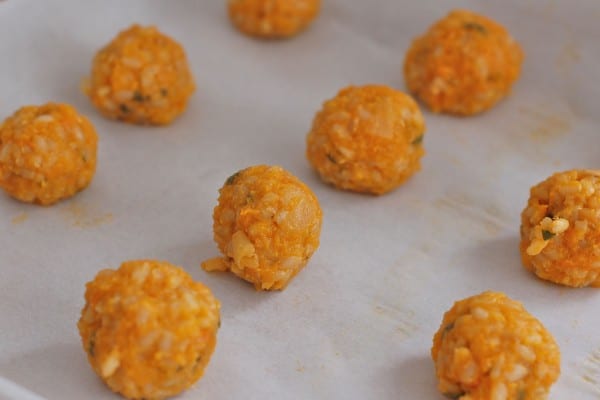 My version of arancini is made with U.S.-grown short-grain brown rice, coated in egg whites and whole wheat Panko breadcrumbs, and pan-fried in canola oil. Plus, the rice is mixed with butternut squash, which adds vitamin A and fiber to the rice balls, and chopped sage, which adds a fragrant aroma and flavor. I served them with a drizzle of lemon honey, which brought out a little more sweetness from the squash. These risotto balls can be served as a side dish or an hors d'oeuvre at a cocktail party. Regardless of when and how you serve them, they will surely be a hit!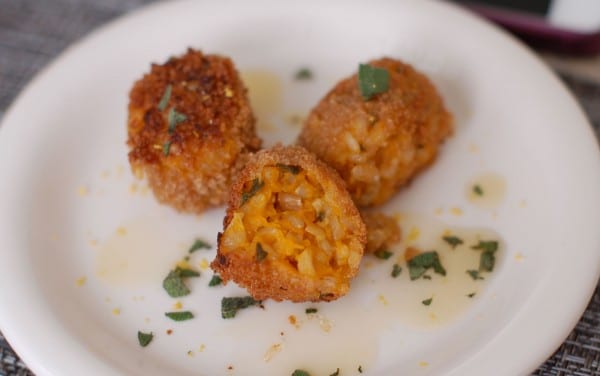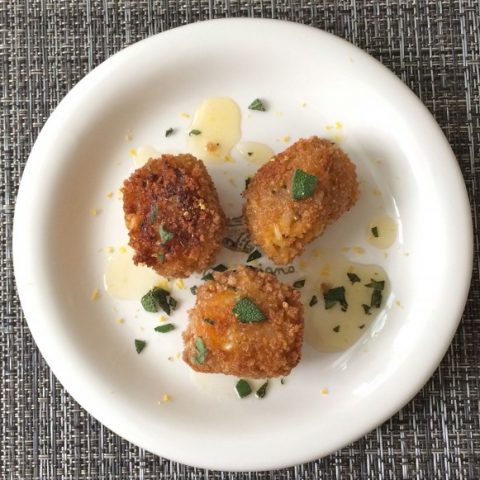 Butternut Sage Risotto Balls with Lemon Honey Drizzle
Cook Time:
1 hour
10 minutes
Total Time:
1 hour
35 minutes
These savory brown rice balls are crisp on the outside and soft and gooey on the inside. Filled with butternut squash, fresh sage, lemon zest, and Parmesan cheese, they are an indulgent side dish or hors d'oeuvre not to be missed!
Ingredients
For Risotto:
1 pound butternut squash
4 cups low-sodium vegetable broth
1 tablespoon olive oil
1/2 cup chopped shallots
1 tablespoon minced garlic
1 cup U.S. grown short-grain brown rice
1/2 cup dry white wine
1/2 teaspoon Kosher salt
Freshly ground pepper
1/2 cup grated Parmesan cheese
1 tablespoon chopped sage, plus more for garnish
1/2 teaspoon lemon zest, plus more for garnish
For Lemon Honey Drizzle:
2 tablespoons honey
1 tablespoon freshly squeezed lemon juice
For Risotto Balls:
2 large egg whites
1 1/2 cups whole wheat Panko breadcrumbs
6-8 tablespoons canola oil
Instructions
To Make Risotto:
Bake butternut squash at 400 degrees F for 40 minutes until soft enough to mash. Scoop flesh (discarding seeds if using a whole squash) and mash as smooth as possible. Set aside.
While squash is cooking, start making risotto. In a small saucepan, bring vegetable broth to a simmer. Keep stock warm over low heat.
Heat oil in a large saute pan over medium heat. Add shallots and garlic and cook about 2 minutes, stirring until softened. Add rice, stirring frequently for 2 minutes, until lightly toasted. Add wine and stirring occasionally cook until liquid almost evaporates, about 4 minutes.
Add 1 cup of simmering stock to rice and cook over medium heat until liquid is nearly absorbed, stirring occasionally, about 4 minutes. Add remaining stock 1/2 cup at a time, stirring occasionally until each portion of stock is absorbed before adding the next, about 30 minutes total.
Add mashed squash, salt, pepper, grated parmesan, sage, and lemon zest to the risotto and stir until well-incorporated. Remove from heat, spread risotto in a baking dish, and allow to cool. (You can prepare up to this point a day ahead and allow the risotto to cool overnight.)
To Make Lemon Honey:
In a small bowl, whisk together honey and lemon juice. Set aside at room temperature.
To Make Risotto Balls:
Place egg whites in one shallow bowl and Panko in a second shallow bowl. Prepare a parchment-lined baking sheet for the risotto balls.
Using a tablespoon, scoop cooled risotto and roll into a ball. Dip risotto ball in egg white and roll in Panko. Set aside on prepared baking sheet and repeat for remaining risotto.
Heat 2 tablespoons canola oil in a large skillet over medium-low heat. When oil is sizzling, place risotto balls one by one into the oil, turning about every minute to evenly brown (3-4 minutes total). Remove and drain on a paper towel lined plate. Repeat for remaining risotto balls adding oil as needed. (I pan-fried 8 risotto balls per batch and used a total of 6-8 tablespoons oil).
Serve hot, drizzled with lemon honey and sprinkled with lemon zest and sage.
Notes
Makes ~42 risotto balls
Alternative method: Bake risotto balls at 425 F for 25-30 minutes, turning every 10 minutes for even browning. The result is a drier, crunchier risotto ball, but still very good!
Nutrition Information:
Yield:

14
Serving Size:

14 Servings
Amount Per Serving:
Calories:

212
Saturated Fat:

1g
Cholesterol:

3mg
Sodium:

173mg
Carbohydrates:

25g
Fiber:

3g
Sugar:

5g
Protein:

4g
Do you have a favorite rice recipe? What's your favorite kind of rice to eat?
Get inspired with more US-grown rice recipes from my fellow Recipe ReDuxers below!
[inlinkz_linkup id=490418 mode=1]