Lightened Up Macaroni and Cheese
May 20, 2014
Lightened-Up Macaroni and Cheese is so creamy, cheesy, ooey, and gooey that you'd never know it's better for you!
You may not believe me, but lightened-up macaroni and cheese does exist, and I am going to tell you how. But before I do, let me fill you in on my love of mac n cheese.
As a child, a box of macaroni and cheese with the yellow cheese powder was one of my favorite dinners. I was a picky eater back then and it was one of the few meals that my mother knew I would eat. And I did so very happily. As my palate and I matured and as I became interested in the study of nutrition and ingredients in food, I came to realize that boxed mac 'n cheese had nothing on gourmet varieties that are made with freshly grated cheese, added herbs and spices, and lots of butter.
So, over the years I have experimented with different versions of macaroni and cheese that would taste just as gourmet but would be a little friendlier to the waist line. A couple of years ago I shared a Recipe ReDux for Baked Mac n Cheese loaded with veggies like cauliflower, mushrooms, and kale. Recently when I experimented with a new recipe, I received so many comments and "likes" on Facebook, Twitter, and Instagram, especially from my friends with young kids asking for the recipe ASAP. So I went back in the kitchen to perfect the recipe and here it is.
But before you scroll down to the ingredient list, I would like to share with you one thing. This recipe has a handful of better-for-you substitutions and additions, including pureed squash. As I said in a recent Parents.com article, "I'm not a fan of sneaking veggies into kids' food because it doesn't teach them how to eat and enjoy the actual food."
While it may seem like that's what's going on here, the pureed squash added to the cheese sauce is meant to add to the creaminess and gooeyness of the dish and is not meant to be a secret. For parents who have difficulty with picky eaters, give this dish a try, but if your child asks what's in it, have him taste it and no matter what the response, be honest about the ingredients.
I hope your family enjoys this mac and cheese upgrade as much as my family does. I'd love to know if you give it a try and what your kids think – leave me a comment below or tag me on social if you make it!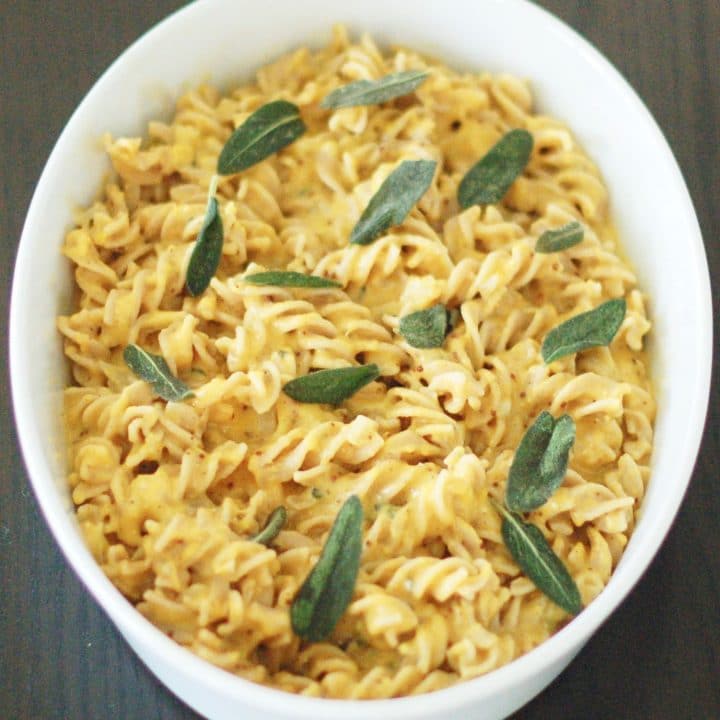 Lightened-Up Macaroni and Cheese
Indulge your family with a dinnertime favorite of mac 'n cheese that's extra gooey and better for your waistline!
Ingredients
2 cups cubed butternut squash
1 pound whole wheat fusilli pasta
1/4 cup light butter spread with canola oil
1 cup minced yellow onion
2 garlic cloves,, minced
1/4 cup whole wheat flour
3 tablespoons grainy Dijon mustard
1 teaspoon Kosher salt
1/4 teaspoon chili powder
3 cups nonfat milk
3 cups reduced-fat shredded sharp cheddar, (I use Cabot Sharp Light)
1/2 cup grated Parmesan cheese
2 tablespoons finely chopped sage, (optional)
Fried sage leaves for garnish, (optional)
Instructions
Bring a small pot of water to a boil; add butternut squash and cook 15-20 minutes until tender. Drain and puree with a hand immersion blender or food processor until smooth. Set aside.
Cook pasta according to package directions; drain and return to pot.
While pasta is cooking, melt butter spread in a large saucepan over low heat. Add onion and garlic to melted butter and stir for 1 to 2 minutes. Add flour, mustard, salt, and chili powder; whisk to stir until a thick paste forms.
Slowly pour in the milk and whisk vigorously to prevent curdling. Add the pureed squash, stir to combine, and whisk every couple of couple of minutes until mixture is thickened, about 10 minutes total.
Remove pot from the heat; add shredded cheddar, parmesan, and chopped sage if using. Stir until cheese is melted and smooth. Mix sauce and pasta. Serve with fried sage leaves if desired.
Nutrition Information:
Yield:

8
Serving Size:

8 Servings
Amount Per Serving:
Calories:

445
Nutrition information was calculated by Nutritionix. It may not be 100% accurate.
Do you have a dish that brings back childhood memories?
If you want it lightened up, let me know in the comments below!