Maple-Roasted Delicata Squash Quinoa Salad
November 21, 2019
Maple-roasted delicata squash tops cider-infused quinoa and is garnished with thyme and pomegranate seeds in this easy, yet elegant side dish that's perfect for the holidays or any day of the week.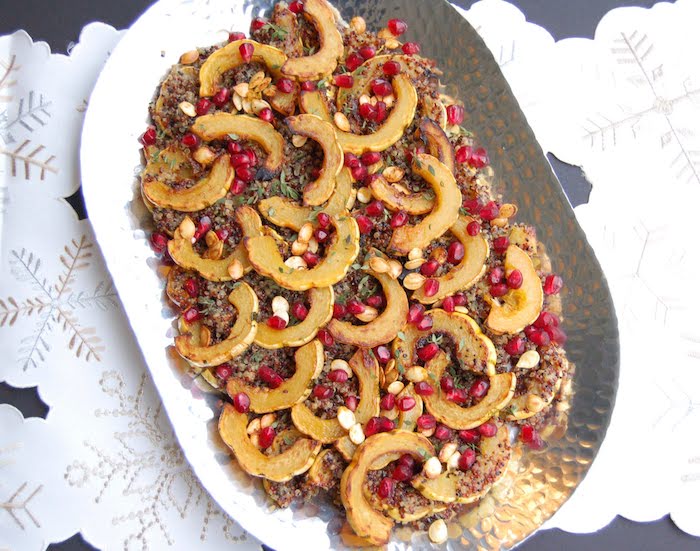 I don't know about you, but I love all the seasonal ingredients this time of year. Cranberries, pears, pomegranates, citrus fruits, sweet potatoes and winter squash…even apples, which are a staple all year round, are extra delicious in the fall and winter months. I just can't get enough of it all. And luckily with the lengthy holiday season there are so many opportunities to cook up my favorite recipes using all these seasonal ingredients. Take this Maple-Roasted Delicata Squash Quinoa Salad for example.
Thinking back, I don't even remember how this dish came to be, but I have been loving delicata squash and of course I love quinoa so my culinary mind went to work and alas I came up with this nutritious and delicious side dish. It's so festive and pretty, perfect for the holiday table, but also very easy to put together, which makes it great for a weeknight side dish.
Why You Need to Try Delicata Squash
Delicata squash has become one of my favorite types of winter squash. Don't get me wrong – I love butternut squash, acorn squash, kabocha squash, spaghetti squash, and all the rest – there are so many varieties, you get the idea.
But what's special about delicata squash is how easy it is to slice and the fact that it doesn't need to be peeled thanks to the thin edible skin. That means I don't have to risk cutting my hand off during prep (to prevent this from happening when you cut through a butternut or spaghetti squash check out this post from Serena at Teaspoon of Spice) and we all get more fiber in our meal from the skin of the squash.
How to Prep Delicata Squash
To prep the delicata squash you cut it in half lengthwise and scoop out the seeds (don't throw them away though; I like to roast them for snacking or as a garnish, like I did here). Once you have the two clean halves of the delicata squash you can use them as boats to fill with a stuffing like a grain salad or chili, or you can slice them into half moons for roasting. The latter method is the one I use here, which leaves you with a very pretty end result since the delicata squash has naturally scalloped edges.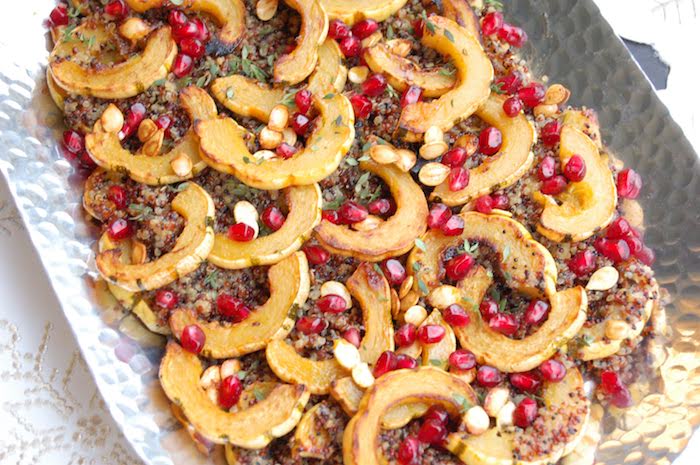 Maple + Squash = Yum
There's something about maple syrup and winter squash that go so well together. Maybe it's the earthy flavor of both that really shines through or perhaps it's the sweet and savory combo that I love so much. The delicata squash half moons are tossed with a mixture of olive oil and maple syrup, sprinkled with some fresh thyme, and roasted until crisp on the outside and tender on the inside.
What would this Maple-Roasted Delicata Squash Quinoa Salad be without a flavor-packed quinoa to go with it? Quinoa is by far my favorite grain. Again it comes down to ease – what other whole grain that's also a complete protein is ready in 15 minutes?! You can easily make the quinoa with water or a low-sodium broth, but I had some apple cider in my fridge and thought the flavors of cider, maple, squash, and thyme would all go so well together, so I used the cider to cook the quinoa.
After testing this recipe a few times, I found that the cider doesn't absorb as well as water or broth do, and the cider alone makes the quinoa pretty sweet. To account for both those issues, I use a combination of apple cider and water to cook the quinoa.
Once your quinoa and squash are cooked you're ready to put everything together! If you're serving this Maple-Roasted Delicata Squash Quinoa Salad for a holiday party I recommend setting it up on a platter as pictured here. Spread the cider-infused quinoa on a platter, top with the maple-roasted delicata squash, and sprinkle with pomegranate seeds, fresh thyme, and your roasted squash seeds. Voila! Now let's eat!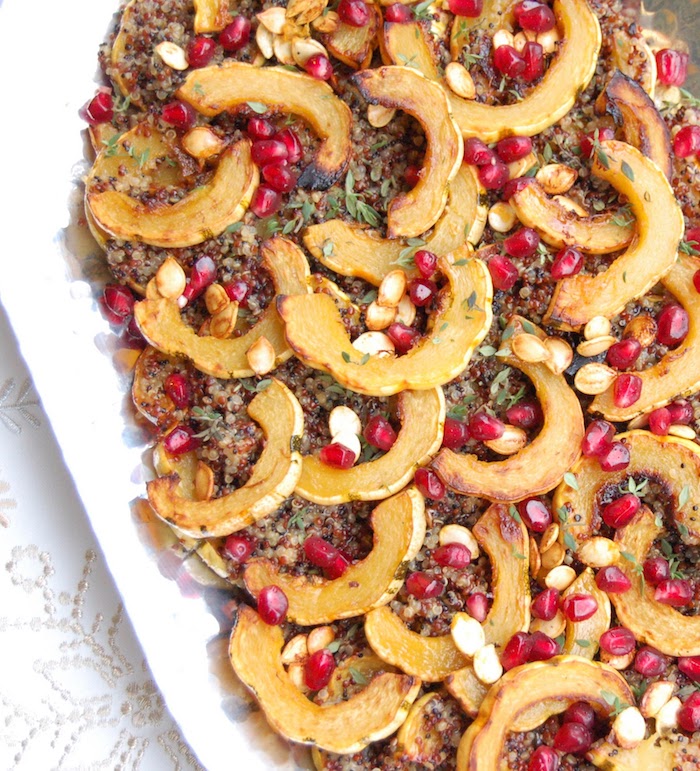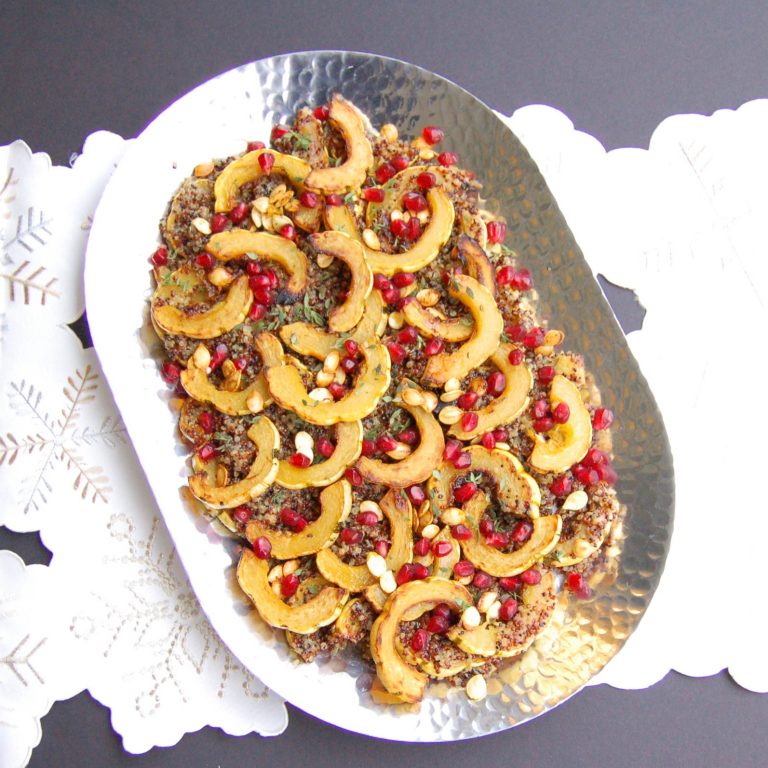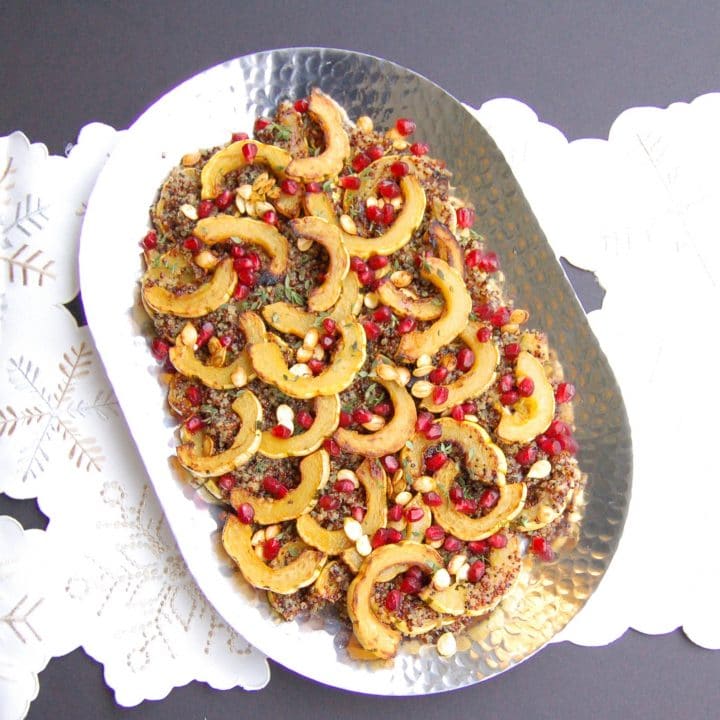 Maple-Roasted Delicata Squash Quinoa Salad
Maple-roasted delicata squash tops cider-infused quinoa and is garnished with thyme and pomegranate seeds in this easy, yet elegant side dish that's perfect for the holidays or any day of the week.
Vegan, Gluten-Free, Nut-Free
Ingredients
For the Maple-Roasted Delicata Squash:
Cooking spray
2-2 1/2 pounds delicata squash (about 2 medium squash)
3 tablespoons olive oil
2 tablespoons + 1 teaspoon maple syrup, divided
1/4 teaspoon Kosher salt
Freshly ground pepper, to taste
1 tablespoon fresh thyme, divided
For the Quinoa:
1/2 cup uncooked quinoa (I used tri-color, but you can use any variety)
2/3 cup apple cider
1/3 cup water
For Serving:
1/4 cup pomegranate seeds
Instructions
To make the delicata squash:
Preheat oven to 425 degrees F. Line two large baking sheets and one small baking sheet with foil and coat with cooking spray.
Cut delicata squash in half lengthwise, scoop out seeds, reserving them for later, and cut crosswise into 1/4-inch thick half moons.
In a large bowl, whisk together olive oil and 2 tablespoons maple syrup. Add sliced delicata squash and toss to coat.
Spread squash on the two large baking sheets, making sure not to overcrowd them so they can get crispy. Sprinkle with salt, pepper, and half the thyme.
Roast squash for 20 to 25 minutes, flipping the squash and rotating the baking sheets halfway through, until squash is crisp and browned on the outside and tender on the inside.
While the squash is cooking, toss reserved squash seeds with remaining teaspoon maple syrup and spread on the small baking sheet. Roast until crispy, about 8 to 10 minutes, stirring once or twice while cooking.
To make the quinoa:
While the squash is cooking, in a small pot, combine quinoa, apple cider, and water. Bring to a boil, then cover and reduce heat to simmer for 15 minutes until liquid is absorbed and quinoa is cooked.
Transfer cooked quinoa to a large bowl and set aside.
To assemble:
Spread cooked quinoa on a serving platter and top with maple-roasted squash. Sprinkle with remaining thyme, pomegranate seeds, and roasted squash seeds. Season with additional salt and pepper if desired.
Recommended Products
As an Amazon Associate and member of other affiliate programs, I earn from qualifying purchases.
Nutrition Information:
Yield:

8
Serving Size:

8 Servings
Amount Per Serving:
Calories:

154
Total Fat:

6g
Saturated Fat:

1g
Trans Fat:

0g
Unsaturated Fat:

5g
Cholesterol:

0mg
Sodium:

70mg
Carbohydrates:

24g
Fiber:

5g
Sugar:

8g
Protein:

3g
Nutrition information was calculated by Nutritionix. It may not be 100% accurate.
Are you a fan of all the flavors of the season?
Have you ever made delicata squash before?
Share with me in the comments section below!