Cranberry Orange Dutch Baby
November 5, 2018
Take advantage of fresh cranberries and wake up to this Cranberry Orange Dutch Baby – a simple, delicious, and festive brunch for the fall and holiday season!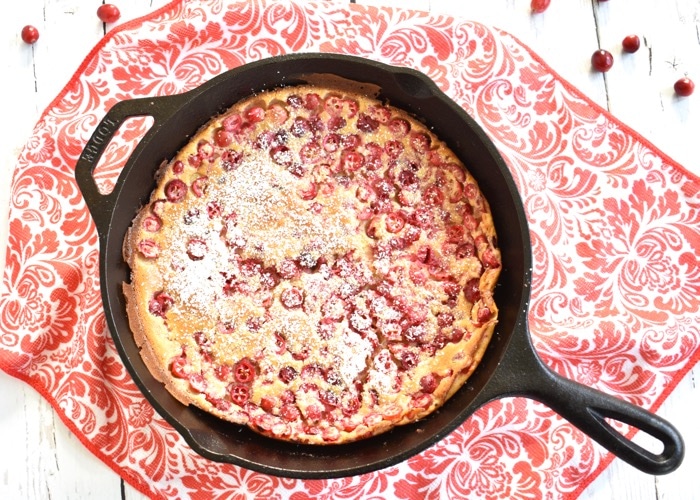 This post was sponsored by The Cranberry Institute as part of an ongoing partnership. I only work with brands and organizations that I believe in and as always all opinions are my own. This page contains affiliate links. See below for full disclosure statement.
Fresh cranberry season is here and I could not be more excited! Although I enjoy cranberries all year long, there's nothing like seeing bright, crimson cranberries in the produce aisle that gets me in the mood for the fall and holiday season. Do you feel the same?
I recently asked my Instagram followers if they cook with cranberries, and I was so happy to see that 71% of the respondents said they do. But what about the other 29 percent?
Turns out, some of them just don't know what to make with fresh cranberries beyond cranberry sauce for Thanksgiving. Lucky for them (and for you if you fall on that side of the poll), I have a handful of fresh cranberry recipes in my recipe library, plus this brand-spanking new one I'm sharing today!
Versatility of Fresh Cranberries
Fresh cranberries don't just look pretty on the holiday table, they're also a versatile fruit that adds unique flavor, color, and variety to dishes – both sweet and savory. I've used fresh cranberries in everything from soups and salads to quick breads and cocktails. And now I've put them to delicious use in this Cranberry Orange Dutch Baby, a festive way to start a fall morning.
Cranberries are harvested in the fall and are only available in the fresh produce aisle of supermarkets until early January, but I always stock up and freeze them so I can cook with them all year long. While fresh cranberries can be stored in the fridge for two to four weeks, they can be frozen for up to one year – just enough time to use them before the next harvest!
One thing to keep in mind when using frozen cranberries, is that they don't need to be defrosted before cooking. Just rinse them in cold water and follow the recipe you're using.
Cranberry Nutrition
Now, I can't move on to this delicious brunch recipe without giving some praise to cranberries for their nutritional benefits. Cranberries have long been credited for their help in preventing urinary tract infections, but that's not all they do.
Scientists are exploring how the bioactive compounds found in cranberries may improve blood glucose response in type 2 diabetes, support gut health, improve heart health, and reduce inflammation. And for those of you who are simply concerned with staying healthy and virus-free during the cold winter months, cranberries can help with that too.
A 1/4-cup serving of cranberries is a good source of immune-boosting vitamin C! Check out The Cranberry Institute's new Cranberry Chronicles for the most up-to-date research and info about cranberries!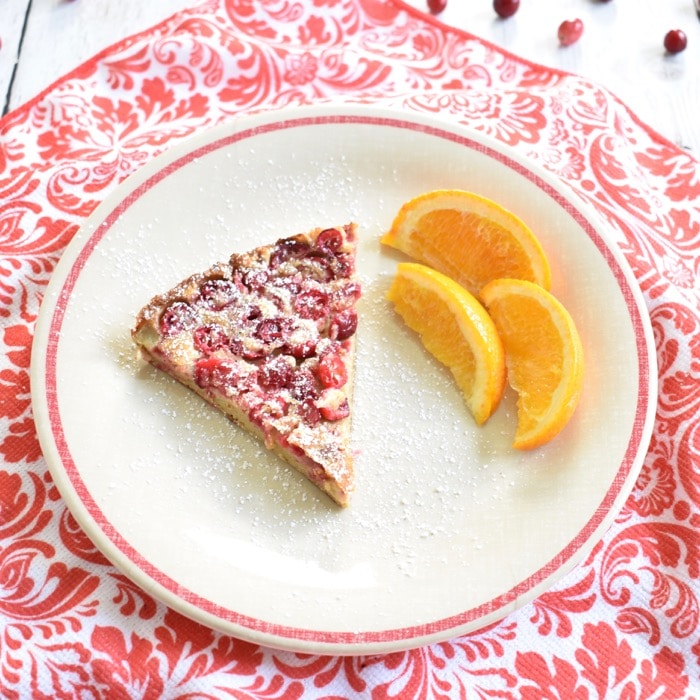 Cranberry Orange Dutch Baby
So let's finally talk about this pretty breakfast dish sitting in front of you, shall we?! The first thing you may be wondering is "what is a Dutch baby?" (That's definitely what my girls wanted to know!)
According to Wikipedia, "a Dutch baby pancake, sometimes called a German pancake, a Bismark, or a Dutch Puff, is a large American popover."
Here are two key differences between traditional pancakes and a Dutch baby:
Traditional pancakes contain baking powder (to help them rise) and are cooked on both sides on a griddle or frying pan.
A Dutch baby has no leavening agent and is traditionally cooked in a skillet in the oven.
Personally I find Dutch babies so much easier to make than pancakes – you throw all the ingredients in a blender or food processor, pour the batter into a skillet (or pie pan), and let it bake in the oven. No standing over the stove, keeping a close eye on individual pancakes, or worrying about making the perfect circle and successfully flipping those flap jacks. (Please tell me I'm not alone in those worries when it comes to weekend breakfasts!)
Recipe Notes
While this Cranberry Orange Dutch Baby is truly a simple recipe to make, there are a few things to keep in mind before you get cooking.
It's best to let the batter sit for 20 to 30 minutes after blending to allow the flour to absorb the liquid.
You want your skillet to be hot before you pour in the batter, so don't try skipping step 2 in the recipe below.
Add the chopped cranberries to the hot skillet before you add the batter. You don't want anything getting in the way of your baby rising!
Don't fret if the Dutch baby collapses shortly after it comes out of the oven. Unfortunately that's what happens when it goes from the hot oven into the cooler kitchen air. It will still taste delicious, I promise!
I highly suggest topping your Dutch baby with powdered sugar. Maple syrup is a nice addition too!
I generally reserve making Dutch babies for the weekends, but it's so easy that you can include it in your Sunday meal prep and add it to your make-ahead breakfast recipes for hectic school days. My girls enjoyed this for a few days with a side of cinnamon-sprinkled yogurt or cottage cheese. It's also perfect for those holiday weekend brunches I'm sure you've already scheduled!
Simple, delicious, family-friendly, and healthy too. What more could you ask for?!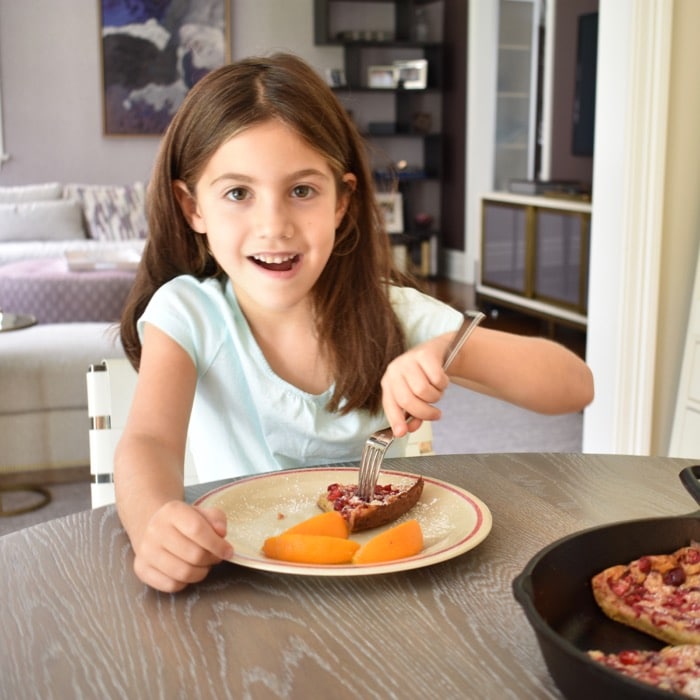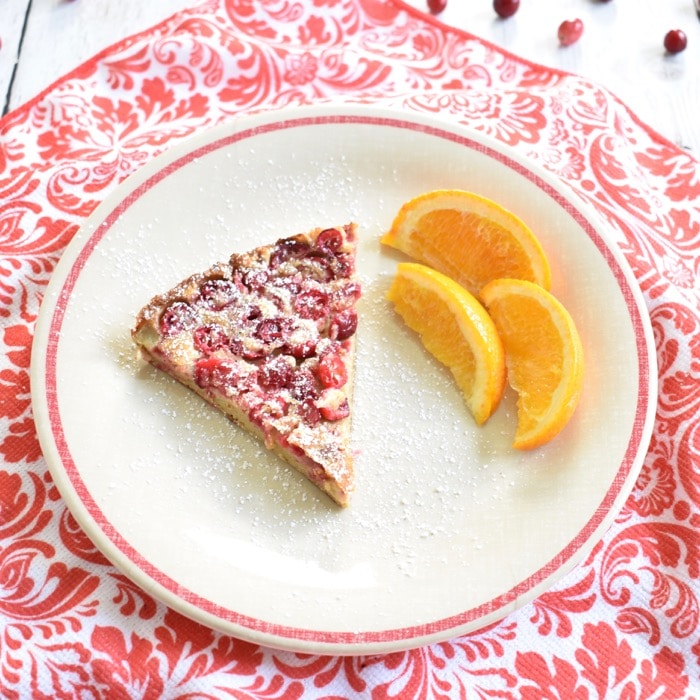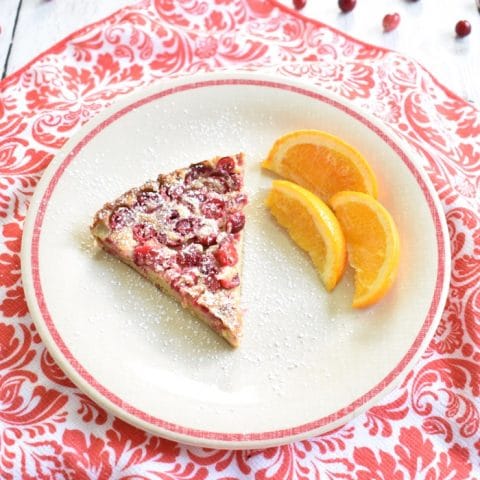 Cranberry Orange Dutch Baby
Have a leisurely weekend morning instead of standing over the stove and make this oven-baked pancake studded with tart cranberries and zesty orange. This Cranberry Orange Dutch Baby is a simple, delicious, and festive brunch for the fall and holiday season.
Vegetarian, Nut-Free, Kosher
Ingredients
3 large eggs, room temperature
3/4 cup low-fat or skim milk, heated in microwave for 20 to 30 seconds
1 teaspoon orange zest
1 tablespoon orange juice
2 tablespoons pure maple syrup
3/4 cup white whole wheat flour
1/2 teaspoon ground cinnamon
1/8 teaspoon table salt
2 tablespoons unsalted butter
1 cup chopped fresh or frozen cranberries
Powdered sugar (optional, but highly recommended)
Pure Maple syrup (optional)
Instructions
In a blender or food processor, combine eggs, milk, orange zest and juice, syrup, flour, cinnamon, and salt. Blend for about 30 seconds, scraping down the sides of the blender/processer if necessary. The mixture should be smooth and liquidy. Let batter rest for at least 20 minutes.
Preheat oven to 425 degrees F. When ready to make the pancake, place butter in 10-inch cast-iron skillet and place in the oven to melt. As soon as the butter has melted, remove skillet from oven and tilt pan so butter coats the bottom and sides.
Add the chopped cranberries to the pan followed by the pancake batter. If necessary, tilt the pan so the batter runs evenly to all sides.
Place skillet in the oven and bake for 15 to 20 minutes, until the Dutch baby is puffed and golden browned. Remove from oven.
Cut Dutch baby into wedges, and sprinkle with powdered sugar and more cinnamon, if desired. Serve warm with a drizzle of maple syrup on top!
Notes
Nutrition Facts without powdered sugar or syrup on top
Recommended Products
As an Amazon Associate and member of other affiliate programs, I earn from qualifying purchases.
Nutrition Information:
Yield:

6
Serving Size:

1/6th
Amount Per Serving:
Calories:

170
Total Fat:

7g
Saturated Fat:

3.5g
Trans Fat:

0g
Cholesterol:

105mg
Sodium:

100mg
Carbohydrates:

21g
Fiber:

3g
Sugar:

7g
Protein:

6g
Have you ever made a Dutch baby?
Are you excited for fresh cranberry season?
Share with me in the comments below!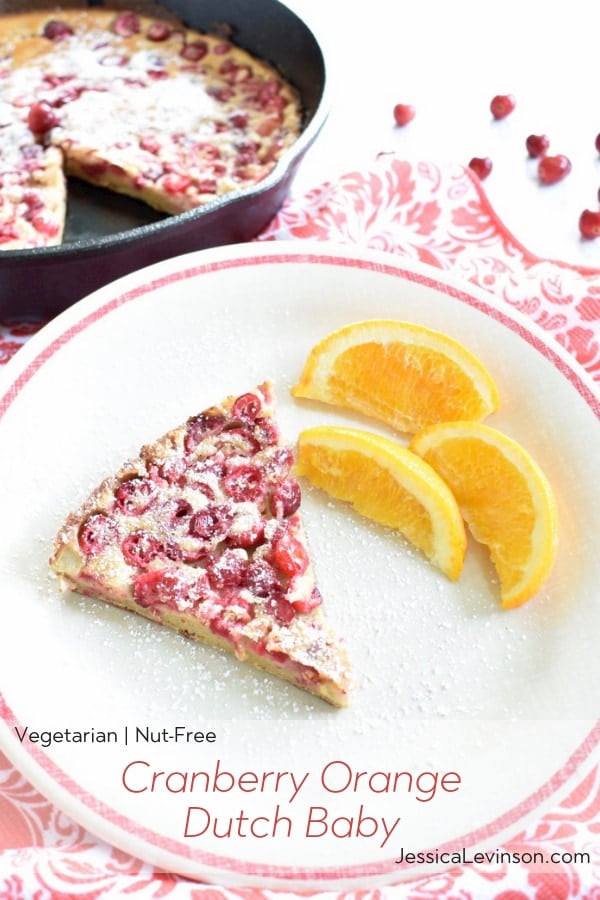 Disclosure: This page contains Amazon Affiliate links. If you purchase products through these link, your cost will be the same but I will receive a small commission to help with operating costs of this blog. As always, all thoughts and opinions are my own and I only recommend products I truly believe in. Thanks for your support!