Corn & Basil Cakes with Lemon Yogurt Sauce
July 27, 2020
Savory corn & basil cakes speak summer. They're great as a side dish or the main attraction, and especially delicious when cooked on the grill.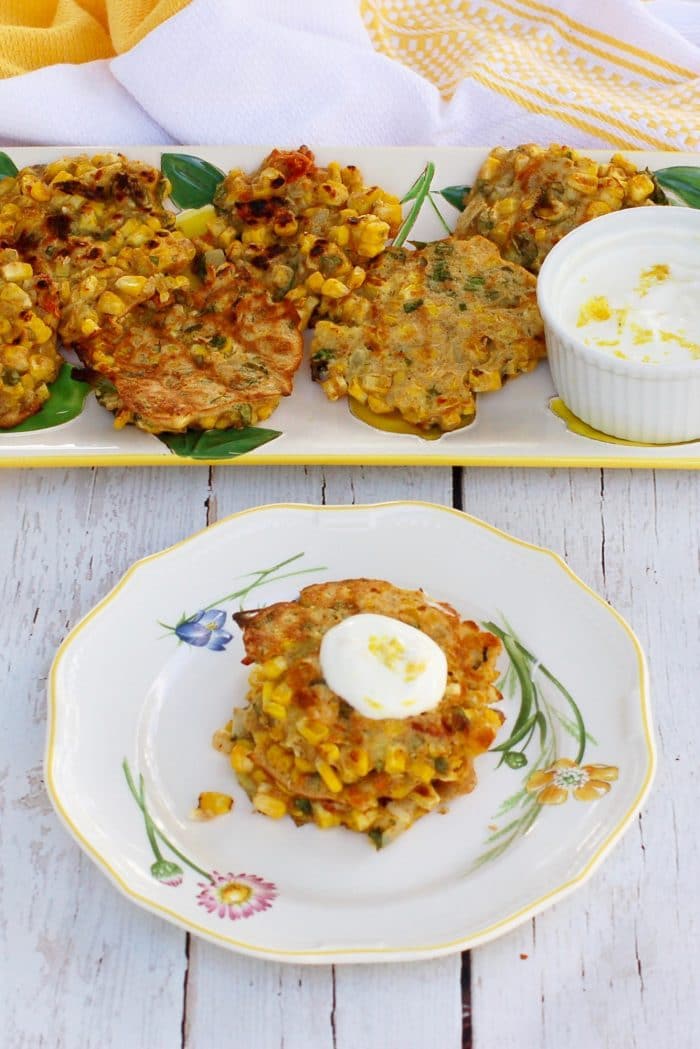 *Originally posted September 2013. Updated July 2020.* This page contains affiliate links. See below for full disclosure statement
Reasons to Love Corn
I love corn, especially during the summer when it's fresh off the cob. Despite some people's concerns about it being too high in carbs, debates about GMOs, and it's overall use in our food supply, corn is actually a nutrient-rich and delicious addition to the table – especially in the summer. Corn is a good source of fiber and antioxidants including vitamin C, lutein, and zeaxanthin, and it provides the B vitamins folate and thiamin.
Fresh corn is a vegetable, but did you know that dried corn – including popcorn – is a whole grain?! Farm-fresh corn is at it's peak from mid-August to mid-September, but depending on the climate, you may still find fresh, local corn until mid-October. In fact, corn is the Whole Grain Council's October Grain of the Month.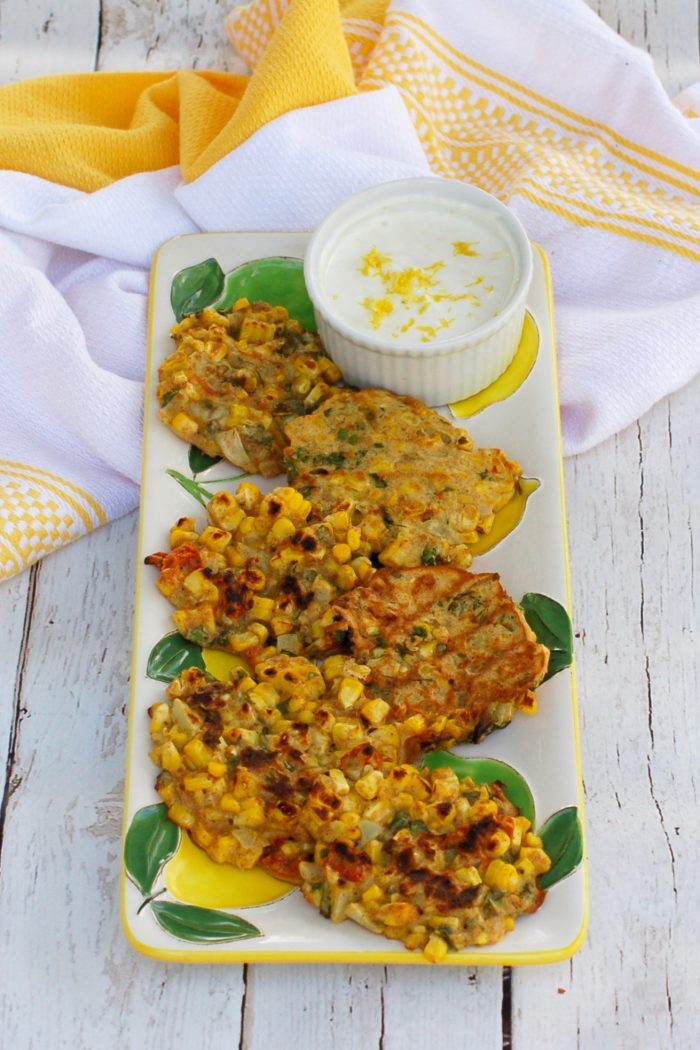 So Many Ways to Enjoy Fresh Corn
My family and I enjoy farm-fresh corn throughout the summer and when the summer's over I switch over to frozen corn so I can enjoy this nutritious and delicious veggie all year long. In addition to basic grilled corn on the cob, I make a variety of dishes including my Corn & Black Bean Quinoa Salad, Grilled Avocados Stuffed with Corn & Black Bean Salsa, Nectarine Corn Salsa, Mexican Corn Salad, a classic Corn, Basil, and Tomato Salad, Corn Tortilla Soup, and these Corn & Basil Cakes.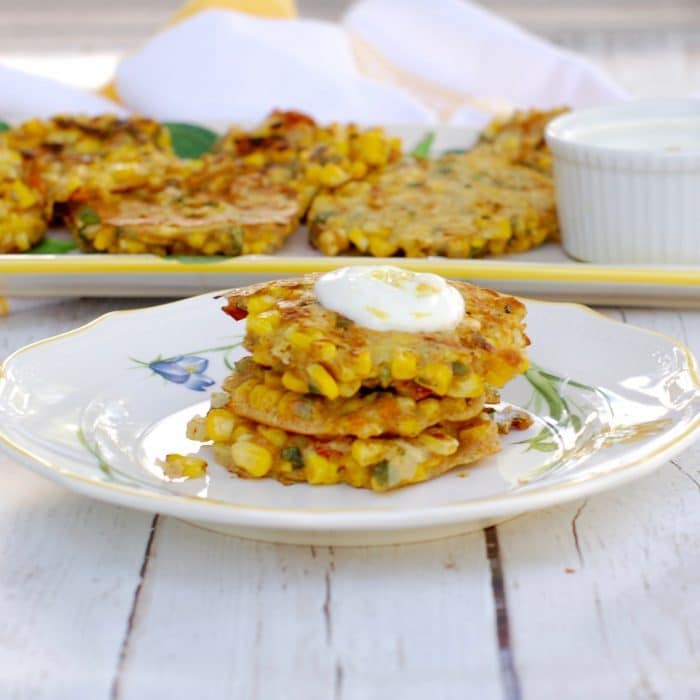 These corn and basil cakes were inspired by and adapted from this recipe at Eating Well, but I doctored them up a bit to add some more vegetables and flavor. And, to top it off, in the spirit of summer I grilled the cakes too. The end result was a nutritious and delicious recipe that has become a staple of our summer meal repertoire.
Although you can make these corn & basil cakes with frozen corn (which is just as nutritious as fresh), grab some ears while they're still in season and make a batch before the summer feeling is completely gone!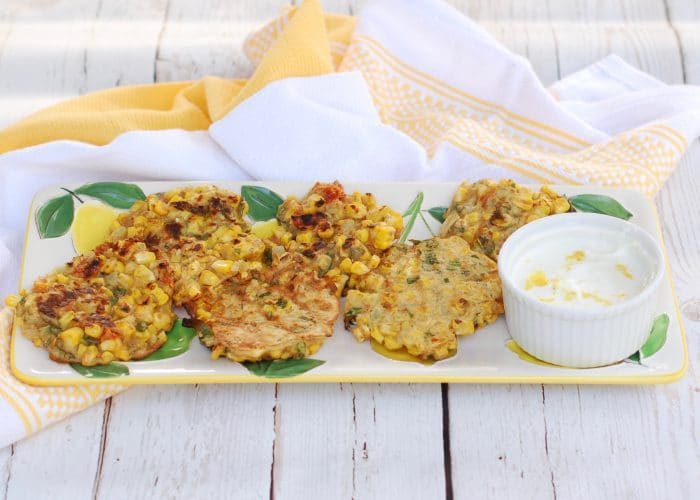 Looking for another savory summer pancake recipe? Try my Zucchini Pancakes with Feta!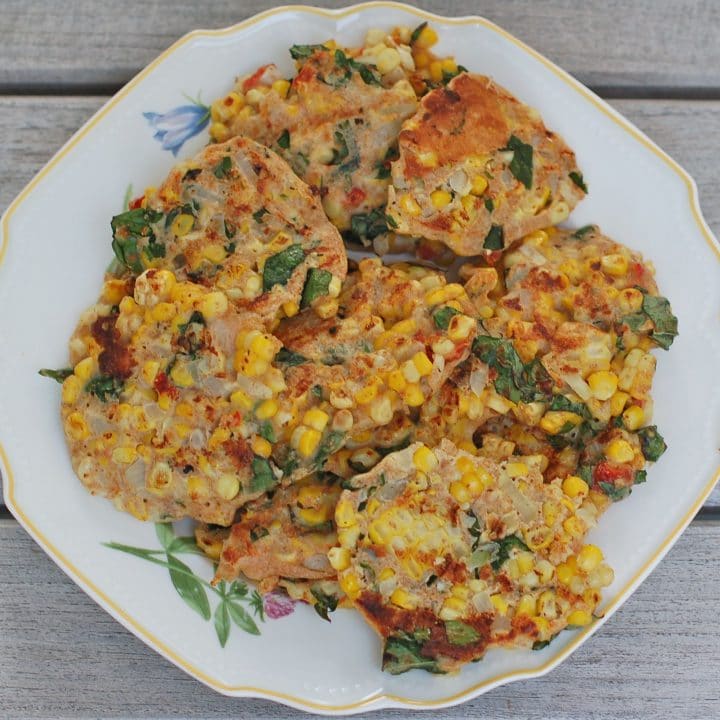 Corn & Basil Cakes with Lemon Yogurt Sauce
These savory corn & basil cakes with light and tangy lemon yogurt sauce are a great vegetarian side dish or main dish. Corn cakes can be made in a nonstick or cast iron skillet or on the grill during the summer. 
Vegetarian, Gluten-free friendly, Nut-Free, Kosher
Ingredients
For the Corn & Basil Cakes:
1/2 cup white whole-wheat flour or chickpea flour
1/2 teaspoon baking powder
1/2 teaspoon Kosher salt
Freshly ground pepper, to taste
1/2 cup nonfat or low-fat milk
1/2 cup part-skim ricotta cheese
2 large eggs, whisked
1 teaspoon minced garlic (1 clove)
1 tablespoon canola oil (if making in skillet, use another tbsp oil to coat the pan)
2 cups corn kernels (~ 2 large ears if using fresh)
1/2 cup chopped yellow onion
1/4 cup chopped sun-dried tomatoes
1/2 cup chopped fresh basil
Lemon Yogurt Sauce:
6 ounces nonfat plain Greek yogurt
1 teaspoon fresh lemon zest
1 tablespoon fresh lemon juice
Pinch coarse salt and freshly ground pepper, to taste
Instructions
To Make Corn & Basil Cakes:
Whisk flour, baking powder, salt and pepper in a medium bowl. Add milk, whisked eggs, ricotta cheese, garlic, and 1 tablespoon oil to bowl of flour and whisk until smooth. Stir in corn, onions, sun dried tomatoes, and basil.
If cooking on grill: Heat grill to about 400 degrees. Coat a large piece of aluminum foil with non-stick cooking spray and set on grill grates to heat.
If cooking on stove top: Heat oil in nonstick or cast-iron skillet over medium heat.
Using a 1/4 cup measuring cup, spoon the batter onto the foil/into skillet and cook until the edges are dry and the middle starts to bubble, about 2 to 3 minutes. Make as many cakes at a time as fit on the foil/in the skillet with each at least 2-inches apart.
Flip and cook until golden brown on the other side, 2 to 3 minutes more. Repeat with the remaining batter, making 10 to 12 cakes total. Reduce the heat as necessary to prevent burning.
To Make Lemon Yogurt Sauce:
In a small mixing bowl, combine yogurt, lemon zest, lemon juice, salt, and pepper. Serve with the Corn & Basil Cakes.
Notes
If using fresh corn, grill or sauté corn.
To grill corn, place cobs on heated grill grates, turning every 5 minutes until corn kernels begin to brown on all sides. To cut kernels, wait for corn to cool. Stand ears of corn on one end and slice kernels off with a sharp knife.
To sauté, cut kernels off the cub before cooking. Heat a small amount of oil in a nonstick or cast-iron skillet and add onions, followed by corn and sun dried tomatoes, and sauté until onions are translucent and mixture is fragrant. 
Recommended Products
As an Amazon Associate and member of other affiliate programs, I earn from qualifying purchases.
Nutrition Information:
Yield:

4
Serving Size:

~3 corn cakes
Amount Per Serving:
Calories:

384
Total Fat:

12g
Saturated Fat:

3g
Trans Fat:

0g
Unsaturated Fat:

8g
Cholesterol:

106mg
Sodium:

459mg
Carbohydrates:

51g
Fiber:

7g
Sugar:

12g
Protein:

23g
Nutrition information was calculated by Nutritionix. It may not be 100% accurate.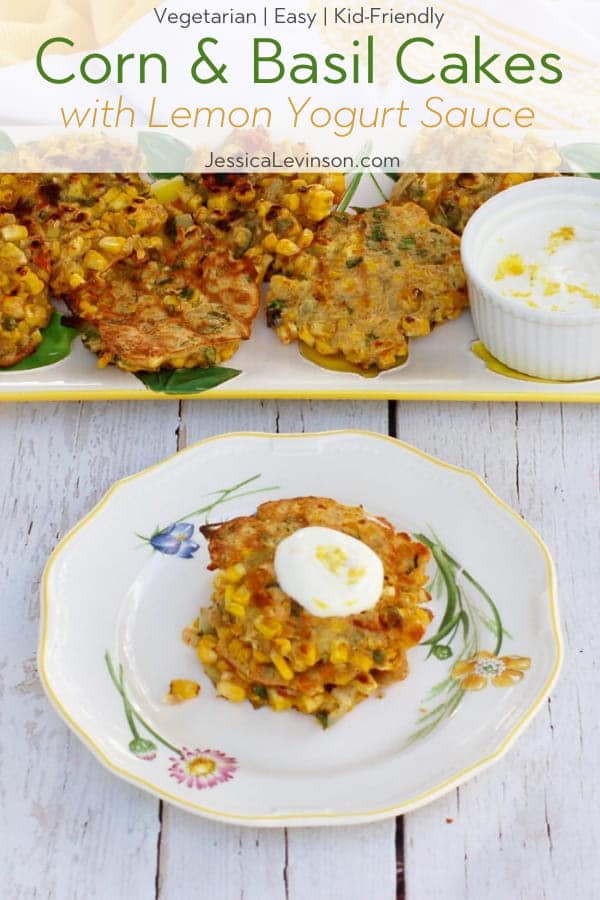 Are you a corn lover?
Do you have a favorite corn recipe?
Share with me in the comments below!
Disclosure: This page contains Amazon Affiliate links. If you purchase products through these link, your cost will be the same but I will receive a small commission to help with operating costs of this blog. As always, all thoughts and opinions are my own and I only recommend products I truly believe in. Thanks for your support!