Strawberry Kefir Smoothie
February 14, 2017
This bright and creamy Strawberry Kefir Smoothie is filled with good-for-your-gut probiotics and is a quick and easy breakfast or snack that will satisfy your tastebuds.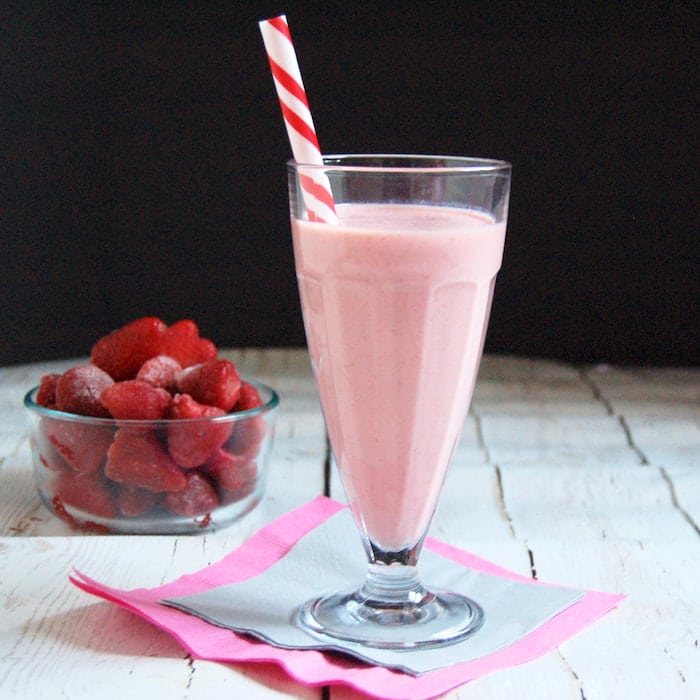 I'm not going to lie – I've never been the biggest smoothie fan. They're easy to make and depending on what's in them, they are refreshing and yummy, but I'm more of an "eat your fruits and veggies" type of girl. I like to chew my food – it's just more satisfying for me and keeps me satiated for longer. Plus, the thought of taking out the blender and doing more dishes isn't so appealing, especially in the morning when I'm trying to get my girls fed, teeth brushed, coats and shoes on, and out the door for school.
All that said, smoothies are popular for good reason. They are quick to whip up, they're an easy way to get in a serving or two of fruits and vegetables (which many of us are not getting enough of), kids tend to love them (my girls certainly do), and they can be made ahead, which is perfect for those rushed mornings I just described.
And you can't tell me this Strawberry Kefir Smoothie isn't pretty! Just look at that lovely pastel pink color – especially perfect for Valentine's Day today! It's also lots of fun to jazz up your smoothie with colorful straws and yummy toppings.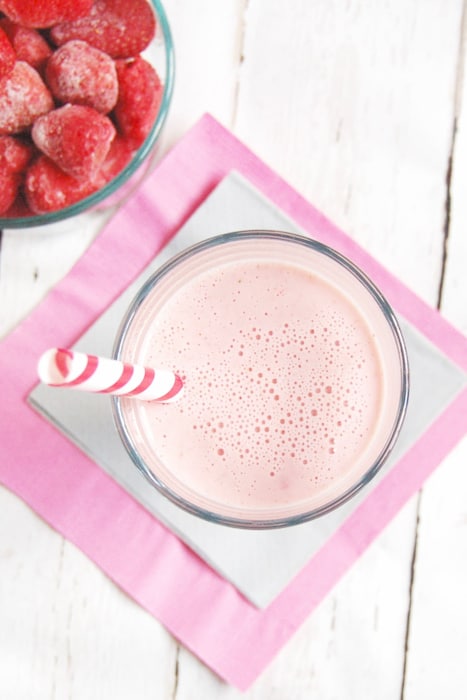 Kefir in Smoothies
Most smoothies are made with some combination of milk and yogurt, but lately my girls have been enjoying kefir for breakfast, so I decided to use the probiotic-rich beverage as the base for this Strawberry Kefir Smoothie. As recently explained, a diet rich in prebiotics and probiotics can help maintain a healthy gut, which is important for overall health.
Kefir is a drinkable liquid yogurt that's been cultured longer than yogurt, and with as many as 12 strains of good bacteria it's a good source of probiotics. It's also a good source of protein and calcium and is well tolerated by people who suffer from lactose intolerance.
Taste-wise, plain kefir (like plain yogurt) is pretty tart, which is why many people who drink it prefer a flavored variety. Like flavored yogurts, flavored kefir is higher in added sugars, but I personally believe the benefits of kefir and yogurt are so great that it's ok to have those added sugars if it's the only way you'll drink it. Just be sure to account for them in your overall diet.
Of course if you'd prefer to stick with plain kefir but need to sweeten it up a bit, you can puree it with your own fruit and/or sweeteners the way I do here.
Make it Your Own
This Strawberry Kefir Smoothie blends together plain kefir for protein, probiotics, and calcium, strawberries and honey for sweetness, and lemon juice for a bright finish. In the spirit of Valentine's Day, I topped the smoothie with cacao nibs, because who doesn't love chocolate or the health benefits you get from it?! If you want a more chocolaty smoothie to celebrate the day, try this Dark Chocolate Strawberry Smoothie!
One of the fun things about this recipe is that you can easily modify it based on your taste preferences or what's in your fridge and freezer. You can also make it a more filling breakfast by turning it into a smoothie bowl and topping it with some more sliced strawberries, chopped nuts, and/or your favorite whole grain cereal.
If you need a quick way to show your love to someone this Valentine's Day, whip up this smoothie and serve it with a kiss and hug. You'll make someone special very happy!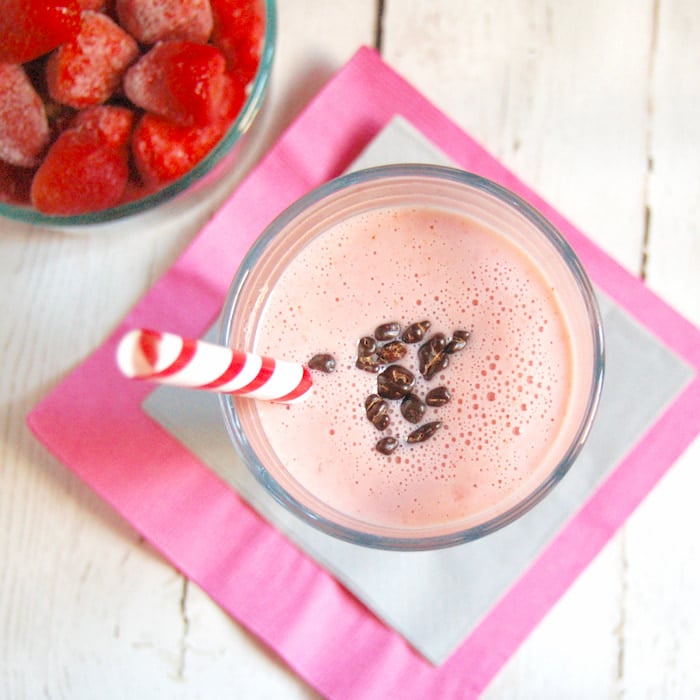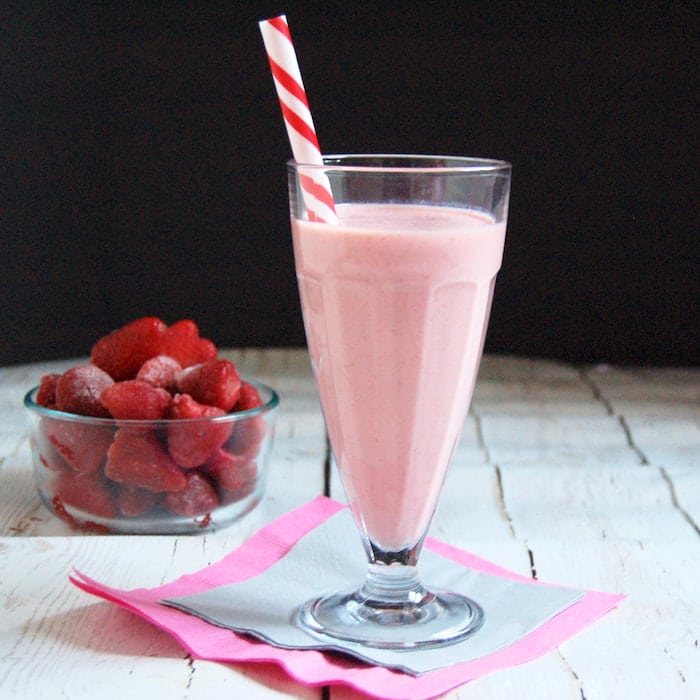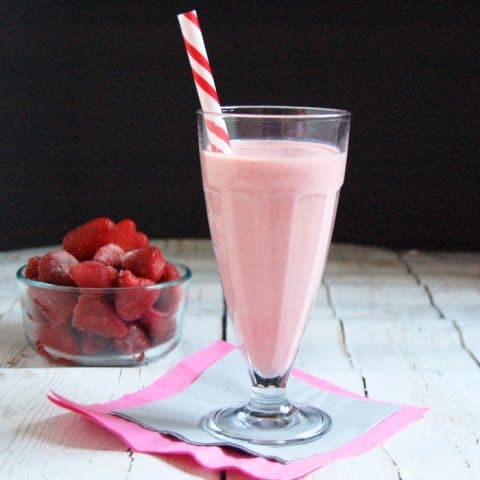 Strawberry Kefir Smoothie
This bright and creamy Strawberry Kefir Smoothie is filled with good-for-your-gut probiotics and is a quick and easy breakfast or snack that will satisfy your tastebuds.
Gluten-Free, Vegetarian, Kosher, Nut-Free
Ingredients
1/2 cup low-fat plain kefir
1/2 cup frozen strawberries (about 3 ounces)*
1 tablespoon lemon juice
1 teaspoon honey
Cacoa nibs (optional)
Instructions
Place all ingredients into a blender and blend until smooth.
Pour into a glass, top with cacoa nibs if desired, and enjoy!
Notes
*If using fresh strawberries, add ice to the blender.
Recommended Products
As an Amazon Associate and member of other affiliate programs, I earn from qualifying purchases.
Nutrition Information:
Yield:

1
Amount Per Serving:
Calories:

112
Total Fat:

1g
Saturated Fat:

1g
Trans Fat:

0g
Unsaturated Fat:

0g
Cholesterol:

5mg
Sodium:

242mg
Carbohydrates:

21g
Fiber:

2g
Sugar:

16g
Protein:

6g
Nutrition information was calculated by Nutritionix. It may not be 100% accurate.
Are you a smoothie drinker?
What's your favorite combo of ingredients?
Share with me in the comments below!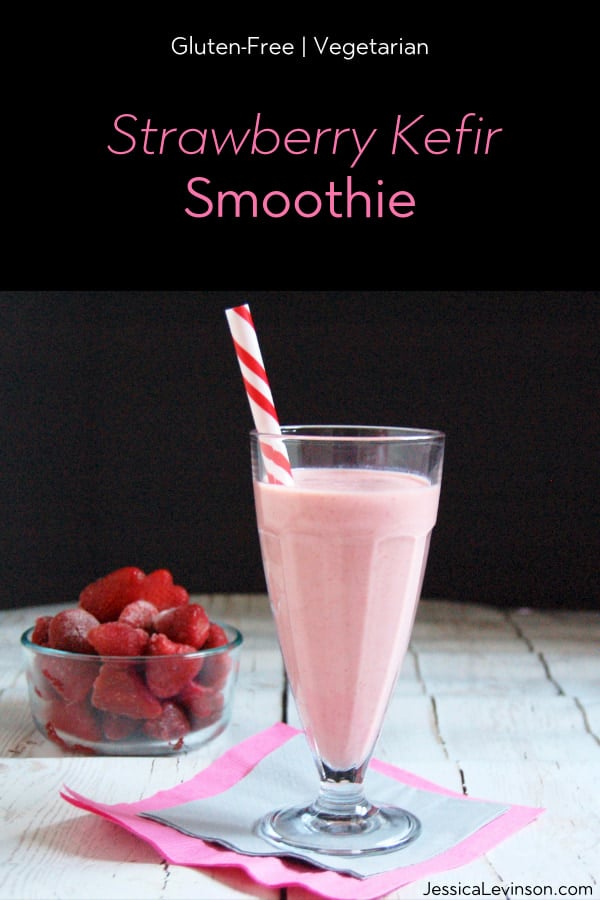 This recipe originally appeared in the February 2017 issue of Today's Dietitian Magazine. I was compensated for writing the original article, "Probiotic-Rich Kefir," and developing the recipe, but I was not compensated for sharing the column or magazine with readers on my blog. All opinions are my own.