Heart Health and Hearty Beef & Vegetable Stew
February 20, 2015
Celebrate Heart Health Month and do your heart and taste buds a favor by savoring this hearty beef and vegetable stew!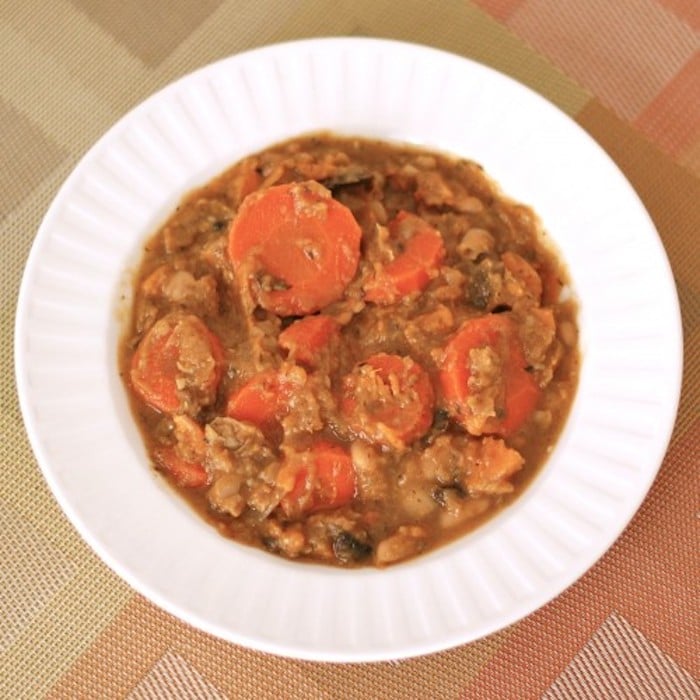 Beef gets an underserved bad rap when it comes to health, especially heart health. However, research shows that a heart-healthy diet and lifestyle that includes lean beef (like in this hearty beef and vegetable stew!) can reduce risk factors for heart disease, including elevated cholesterol and blood pressure.
Being that February is National Heart Health Month, I thought I'd share some highlights about beef's role in heart health and its overall nutritional benefits. Then you can rest assured as you dive into a bowl of this Hearty Beef and Vegetable Stew recipe, which will keep your heart warm, satisfied, and healthy during these cold winter months!
Beef and Heart Health
A 2014 study from Penn State University demonstrated that eating lean beef as a protein source, as part of a dietary pattern rich in fruits, vegetables and low-fat dairy (known as the DASH Diet) can help significantly reduce blood pressure. The study authors noted that these results suggest it's the total amount of protein – not the type – that is instrumental in reducing blood pressure as part of a DASH-like dietary pattern.
A 3-ounce serving of beef provides 150-170 calories (calories depend on cut of beef), about half your Daily Value for protein and more than 10 essential nutrients like vitamin B12, selenium, and zinc. Learn more about Beef's Big 10.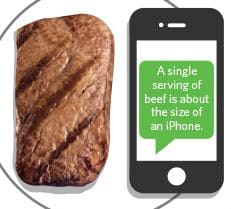 Whether grass-finished or grain-finished all cattle spend most of their lives eating grass. (I saw this firsthand on a sponsored beef farm tour in the fall of 2013.)
There are many lean cuts of beef, including flank steak, strip steak, bottom round roast, and top sirloin. Check out this Interactive Butcher Counter to see the nutrition facts and best cooking methods for all beef varieties.
If you keep kosher like I do, your beef choices are more limited. Be sure to check out my archived posts all about kosher beef here and here.
Beef is versatile and can be made in so many different ways: grilled, broiled, roasted, stir fried, pan fried, braised, stewed, slow cooked. You'll want to choose your cooking method based on the type of meat you purchase. Then the fun gets started with choosing flavors for marinades, rubs, sauces, and more!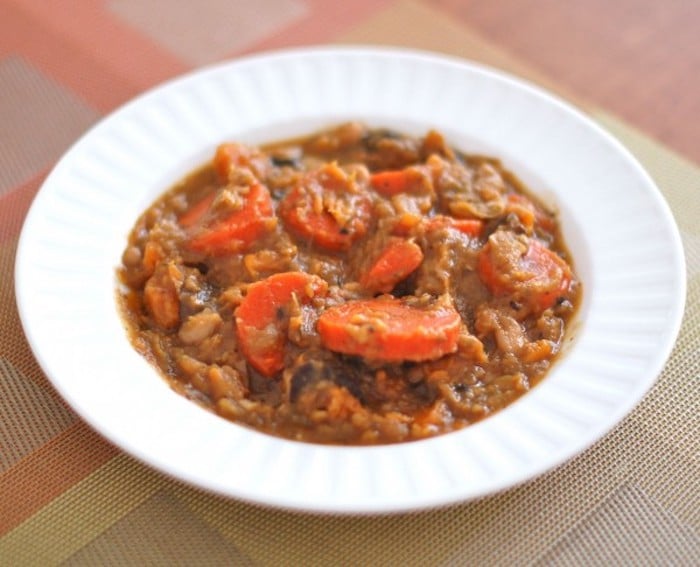 Hearty Beef & Vegetable Stew
Now are you ready to indulge in this flavorful hearty beef and vegetable stew made with mushrooms, sweet potatoes, carrots, parsnip, white beans, and lots of herbs and spices?!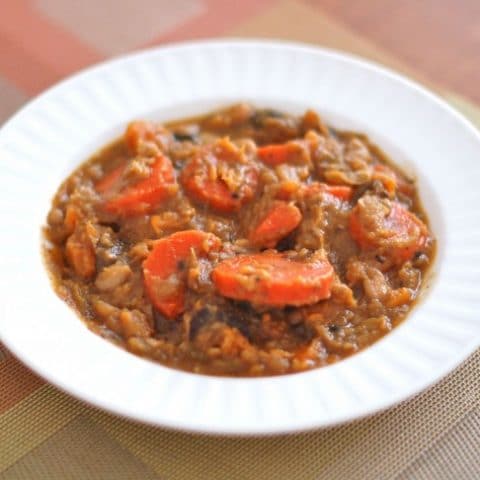 Hearty Beef & Vegetable Stew
Cook Time:
2 hours
15 minutes
Total Time:
2 hours
35 minutes
Warm up with a warm and satisfying bowl of hearty beef and vegetable stew full of nutrients and umami flavor!
Gluten-Free, Dairy-Free
Ingredients
2 teaspoons olive oil
2 pounds boneless beef chuck shoulder roast, cut into pieces
8 ounces sliced baby bella mushrooms
1 large onion, chopped (~2 cups)
2 tablespoons minced garlic
1 tablespoon chopped fresh thyme
1 1/2 teaspoons za'atar, divided
1/2 cup dry red wine
1 quart low-sodium beef or vegetable broth
1 1/2 pounds sweet potatoes,  peeled and cubed (~4 cups)
1/2 pound carrots, peeled & sliced into 1-inch thick rounds (~1 1/2 cups )
1/2 pound parsnip, peeled & sliced into 1-inch thick rounds (~1 1/2 cups)
1/2 teaspoon Kosher salt
Freshly ground pepper
One 15-ounce can no-salt added white beans, drained and rinsed
Instructions
Heat 2 teaspoons olive oil in a large Dutch oven over medium-high heat. Add the beef and brown on all sides, about 5 minutes. Transfer beef to a bowl.
Add mushrooms to the Dutch oven and saute for 3 to 4 minutes until they are beginning to brown and most of the water from the mushrooms has evaporated. Reduce heat to medium-low and add the onions. Saute 5 to 6 minutes until translucent and beginning to brown. Add the garlic, thyme, and 1 teaspoon za'atar. Saute 30 seconds to 1 minute until fragrant.
Add the wine and deglaze the pot by scraping the brown bits from the bottom. Once the wine has mostly evaporated, add the broth and bring to a boil. Add beef with juices back to the pot, cover, and lower heat to simmer for about 45 minutes, stirring occasionally.
Add sweet potatoes, carrots, and parsnips. Cover and cook another 45 minutes. Uncover and stir in beans, 1/2 teaspoon salt, remaining 1/2 teaspoon za'atar, and freshly ground pepper. Cook uncovered for another 30 minutes until the stew is thickened.
Notes
- This stew improves in flavor as it sits and continues to cook. If you make it ahead, reheat on the stove or in a 350 degree oven.
- This recipe does not call for a lot of salt because I use kosher beef, which is already salted. Add more salt to taste if desired.
Nutrition Information:
Yield:

6
Serving Size:

1/6th recipe
Amount Per Serving:
Calories:

445
Saturated Fat:

7g
Cholesterol:

107mg
Sodium:

308mg
Carbohydrates:

33g
Fiber:

7g
Sugar:

8g
Protein:

32g
Nutrition information was calculated by Nutritionix. It may not be 100% accurate.
Does beef play a starring role in your cooking?
If so, what's your favorite beef preparation?
Share with me in the comments!