Mushroom Onion Pesto Pizza with Truffle Oil
March 17, 2017
Sautéed mushrooms, nut-free kale pesto, fresh mozzarella and a drizzle of truffle oil pair beautifully in this gourmet homemade pizza.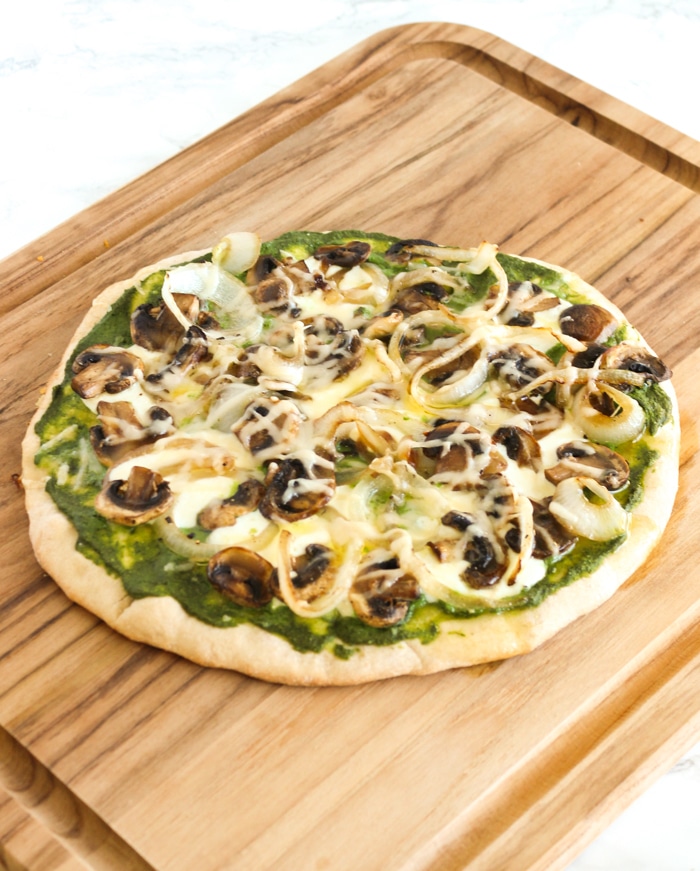 I've already told you about my love of pizza when I recently shared my Rosemary-Roasted Tomato Pesto Pizza. I mentioned that one of the best things about making pizza at home is that there are so many ways to make it your own – and make a pie that has something for everyone. To show you what I mean, I wanted to share another variation of homemade pizza that I like to make – this mushroom pesto pizza.
There are a few different components to this pizza, but as I mentioned with the other pesto pizza, you can feel free to use some prepared ingredients, swap the sauces, or use a pre-made crust. Whatever makes your life easier while still getting to enjoy the fun of homemade pizza as a family.
Ingredients & Preparation
Whole Wheat Crust
As with my other homemade pizzas, I make this mushroom pesto pizza on a whole wheat crust, using Trader Joe's pre-made dough. The dough comes in a 16 ounce package, so just cut it in half to make one pizza and save the other half for another time. If you're going to make two pizzas, be sure to double the mushroom and onion ingredients and the cheese. You won't need to double the pesto, as it makes 2 cups and you only use 1/2 cup to 3/4 cup per pizza.
If you don't have time (or can't stand the mess!) to roll out fresh dough, you can use a ready-made crust or lavash bread. Try to get a whole grain variety if you can.
Kale Pesto
This is the same lightened-up, nut-free kale pesto I use on the roasted tomato pesto pizza. As mentioned above, the pesto recipe makes 2 cups, so you have more than enough to make both of these pies on the same night or freeze the pesto and use it with the other half of the dough on another family pizza night. As with the crust, if you don't want to make your own, feel free to use pre-made pesto, just keep in mind most have nuts.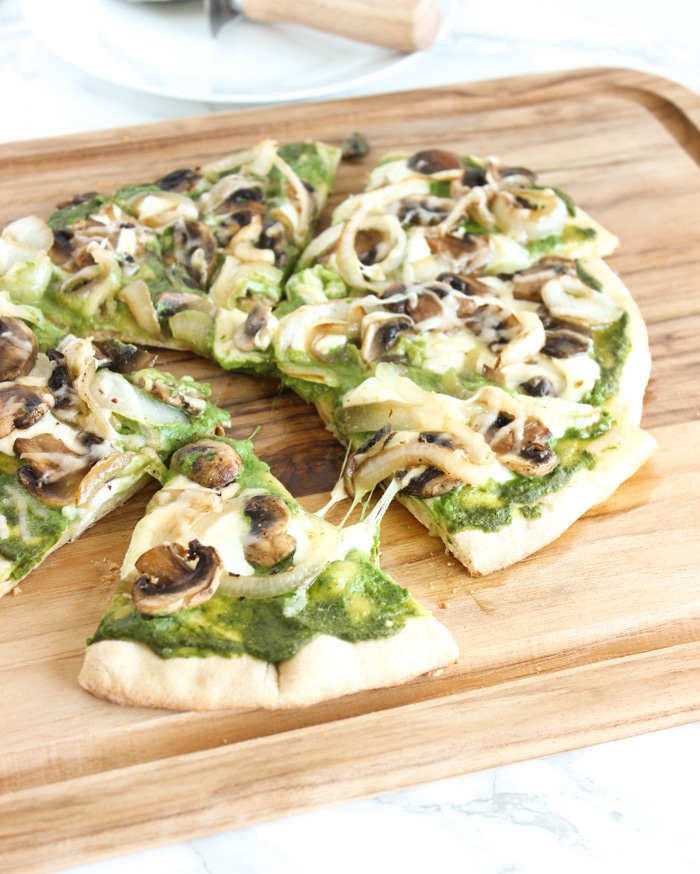 Sautéed Mushrooms and Onions
Mushrooms are one of my favorite pizza toppings and I always get them with onions. What I can't always order at a pizza parlor is thyme, which I add when I sauté the mushrooms and onions together at home. The pairing of mushrooms and thyme is not new here – you may remember seeing it in my Mushroom Leek Frittata and Homemade Tomato Sauce with Mushrooms (can you tell I like mushrooms?! 🙂 )
The pairing of mushrooms and pesto is also not a new one here – you can find it in my Mushroom Asparagus Pesto Frittata. If you haven't tried the flavor combo, get ready to enjoy – it's delicious!
Cheese
I use a ball of fresh mozzarella (not the part-skim kind) sliced into medallions and a bit of shredded Parmesan cheese for this mushroom pesto pizza. Parmesan and mushrooms are really delicious together and I like the punch of flavor the parm adds, but you can easily leave it off if you prefer.
The final pièce de résistance of this mushroom pesto pizza is the drizzle of truffle oil added when the pizza comes out of the oven before you slice it up and serve. You can absolutely leave the truffle oil out, but I highly recommend it for that gourmet element that just takes this homemade pizza over the top.
As always, serve the pizza with a side salad for an additional serving of vegetables and to round out the meal.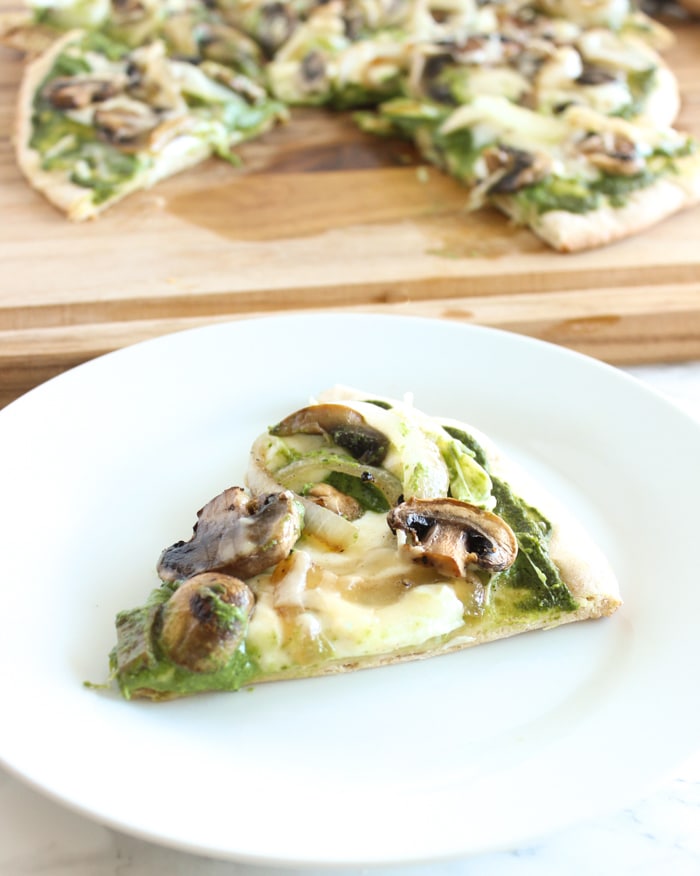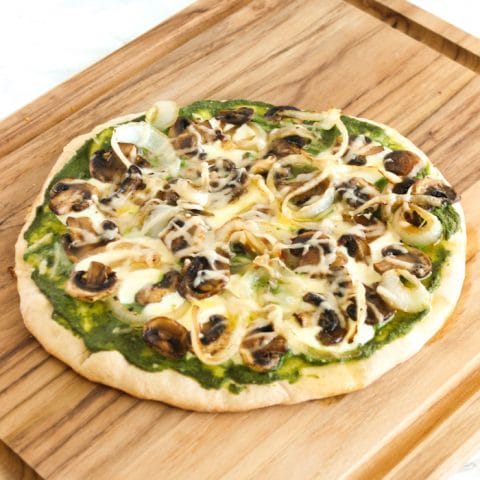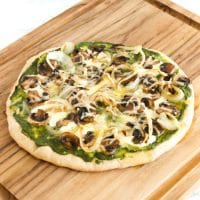 Mushroom Onion Pesto Pizza
Mushroom Onion Pesto Pizza is made on a whole wheat crust and topped with a nut-free kale pesto, mushrooms and onions sautéed with thyme, fresh mozzarella cheese, and a bit of parmesan. Finished off with a drizzle of truffle oil, this is one gourmet homemade pizza!
Total Time
1
hour
15
minutes
Ingredients
Kale Pesto:
5

ounces

chopped kale

2

cloves

garlic

, peeled

2

tablespoons

olive oil

2

tablespoons

lemon juice

1/2

cup

part-skim ricotta cheese

2

tablespoons

grated parmesan cheese

1/4

teaspoon

Kosher salt
Sautéed Mushrooms and Onions:
1

tablespoon

olive oil

1

medium onion

, sliced into half moons

1

clove

garlic

, minced

8

ounces

sliced baby bella mushrooms

1

tablespoon

fresh thyme

1/2

teaspoon

Kosher salt

Freshly ground pepper

, to taste
Pizza:
Whole wheat flour for dusting

8

ounces

refrigerated whole-wheat pizza dough

(I like Trader Joe's)

Olive oil for brushing

8

ounce

ball fresh mozzarella cheese

, sliced into medallions

1

tablespoon

shredded Parmesan cheese

(optional)

Drizzle of truffle oil
Instructions
For the Kale Pesto:
Bring a large pot of water to a boil and blanch the kale. Squeeze out excess water from the kale and add to a food processor. Add the remaining pesto ingredients and pulse until well combined and smooth. Strain the pesto to remove some of the excess moisture and set aside.
For the Sautéed Mushrooms and Onions:
Heat olive oil in a medium skillet. Add onions and sauté 5 minutes over medium-high heat. Add garlic and stir for 30 seconds until fragrant. Add mushrooms, lower heat to medium-low, and sauté another 5 minutes. Add thyme and cook 3 to 4 minutes more, until the liquid from the mushrooms has mostly evaporated. Remove from heat and set aside.
For the Pizza:
Preheat oven to 400 degrees F. Prepare a pizza stone or round pizza tray. If using a metallic tray, coat with oil or cooking spray.

Spread some whole wheat flour on the counter or non-stick rolling mat. Roll the dough into a medium-thin circle. Carefully transfer dough to pizza tray. Brush top of dough with olive oil and bake 2-3 minutes until dough is lightly cooked.

Spread about 1/2 to 3/4 cup kale pesto on lightly-cooked dough. Top with mozzarella medallions and mushroom onion mixture. Sprinkle with Parmesan, if using. Return to oven and bake 12 to 15 minutes until the dough is fully cooked and cheese is melted and starting to brown and bubble. Remove from oven and drizzle with truffle oil. Slice into six or eight slices and serve hot.
Recipe Notes
Pesto makes about 2 cups. Reserve remaining pesto in refrigerator or freezer for another pizza or to top pasta.

Have you ever had mushrooms and onions on pizza?
What about pesto in place of tomato sauce?
Share with me in the comments section below!