Gluten-Free & Dairy-Free Rhubarb Ginger Lemon Muffins
May 4, 2017
These Rhubarb Ginger Lemon Muffins are the perfect balance of tart and sweet and a delicious addition to a spring brunch! Plus, they're gluten-free and dairy-free!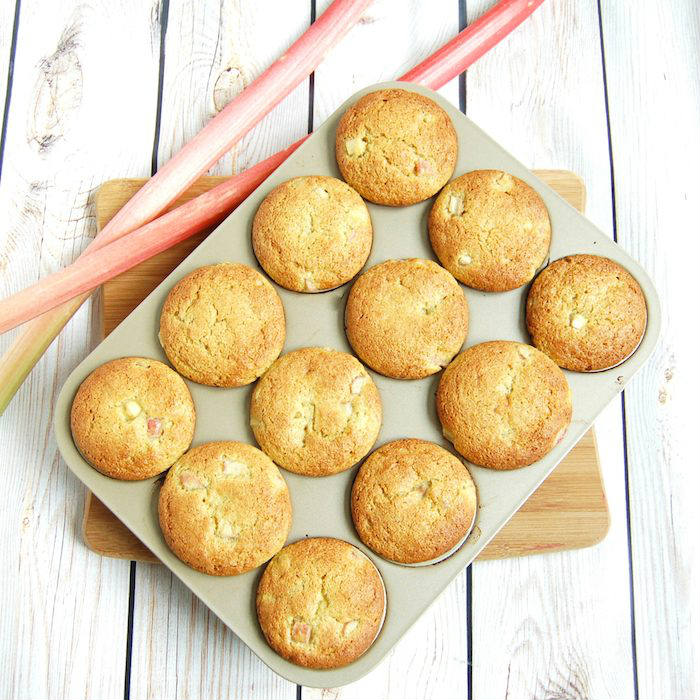 I am so happy that spring is here and that my favorite spring fruits and vegetables are making their way into supermarkets near me. The strawberries are finally flavorful, the asparagus are crisp and bright green as they should be, radishes can be found in bunches with their greens attached, and fresh rhubarb is available to make rhubarb ginger lemon muffins with!
What is Rhubarb?
Rhubarb is one of those vegetables (yes, it's a veggie, not a fruit) that people don't have a clue how to use. When it is consumed, it's often only in the form of pie or crumbles when paired with strawberries. It can be intimidating to buy a veggie that you're not familiar with, but that's also part of the fun of cooking. At least for me it is – my mind is always churning with new recipe ideas, some of which pan out (like my Southwestern Cauliflower Rice Casserole) and some don't (which you likely won't see here!).
I've experimented with rhubarb before with some great success – just try my Strawberry Rhubarb Mimosas and you'll see for yourself! But I want to do more with this veggie that's only available for three months of the year (April through June). On the savory side, I'm looking forward to making Cotter Crunch's Crispy Rhubarb Lemon Chicken Bake and I've seen recipes for roasted rhubarb, which I can't wait to try too.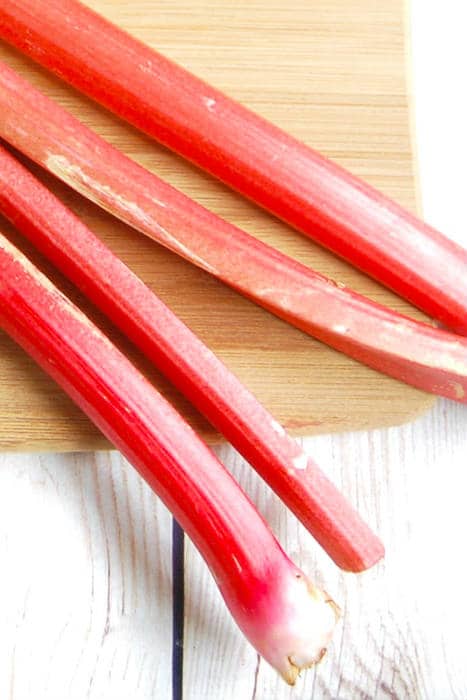 Taking Rhubarb Beyond Pies
As you know, there's no shortage of sweet rhubarb recipes, but I had never used rhubarb in muffins before so I decided to go that route for my next rhubarb experiment. These Rhubarb Ginger Lemon Muffins are one of those recipe ideas that's been churning around in my head when I started to think about spring, and one day while driving my girls to school I decided it was time to turn the idea into reality. And boy am I glad I did – and I think you will be too!
Rhubarb is a tart vegetable, which is why it is often paired with something sweet, but it also has citrus notes and goes really well with lemon and ginger. I love my desserts, but I don't like overly sweet muffins, especially if I want to have them at breakfast or brunch. These Rhubarb Ginger Lemon Muffins are just the right balance of sweet and tart, making them perfect for spring bridal or baby showers, Mother's Day brunch, or to have on hand for quick on-the-go breakfasts (just pair with some protein like yogurt to balance it out).
Chickpea Flour in Muffins? It Works!
At first I was going to make these muffins with white whole wheat flour, my go-to flour for baked goods. But I've been having fun experimenting with other flour-like ingredients like almond flour, almond meal, and garbanzo bean (chickpea) flour, and was curious to try making these into a gluten-free muffin by using one of them.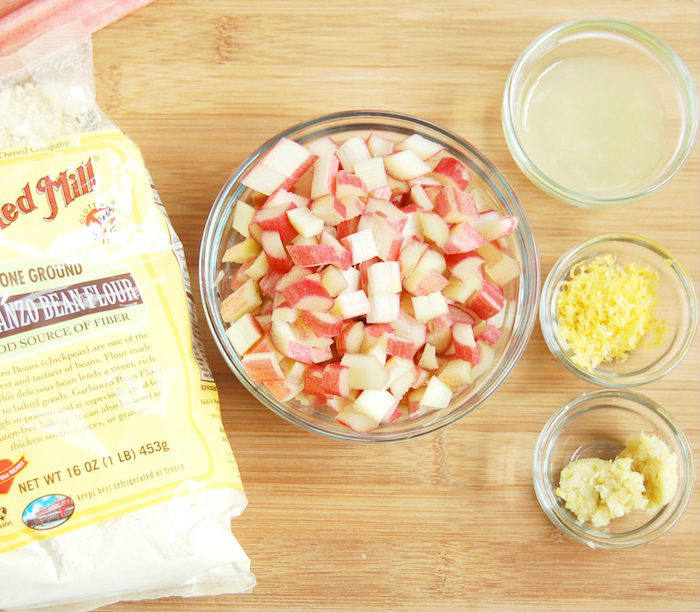 I went with the garbanzo bean flour and was so pleasantly surprised with how they turned out. Using a bean-based flour makes these muffins a good source of protein and fiber – now you can definitely feel good about eating them for breakfast! (If you're looking for more ways to use garbanzo bean flour, try my farinata recipe.)
I also wanted to keep the recipe dairy-free since a lot of people are looking for those kinds of recipes these days. Plus, since we keep kosher and don't mix dairy and meat, this is a great treat to have at the end of a meat meal. I often use yogurt to reduce some of the fat and maintain moisture in baked goods, but this time I used natural unsweetened applesauce, which always does the trick.
Like most muffin recipes, these Rhubarb Ginger Lemon Muffins are quick and easy to make. In one bowl you mix your dry ingredients, in another your wet, and then you combine them. Lastly, you fold in the diced rhubarb and portion the batter into muffin tins. Bake for 20 to 25 minutes, cool for about 5, and you have a dozen slightly sweet, slightly tart, and totally delicious muffins ready to serve!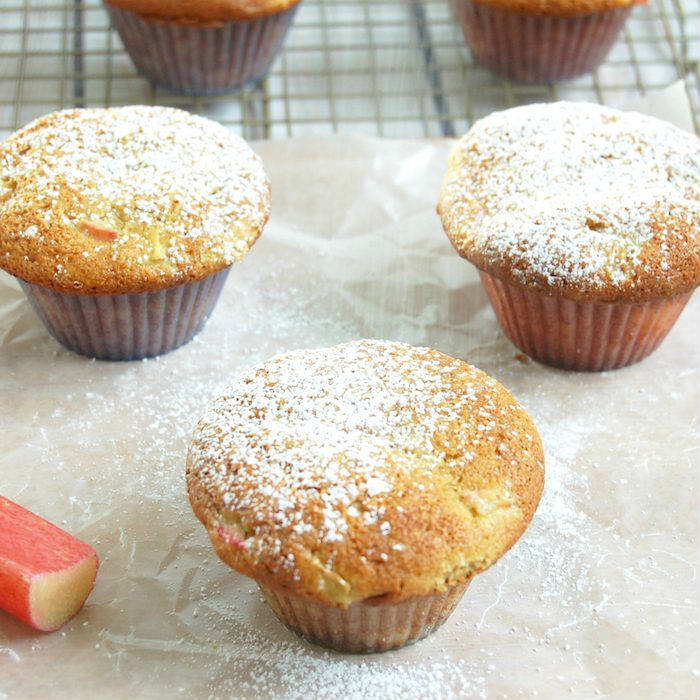 Serving Up Rhubarb Ginger Lemon Muffins
You can easily enjoy these muffins as they are without any toppings, but who doesn't love a sprinkling of powdered sugar?! That dusting also makes them look extra pretty. You can also make a lemon icing by combining powdered sugar and lemon juice (like the icing on these Lemon Poppy Seed Thumbprint Cookies), which can be drizzled on top before serving.
However you decide to top them (or not), I hope you enjoy them as much as my family and friends did. And more importantly, I hope they inspire you to cook with something new in the kitchen!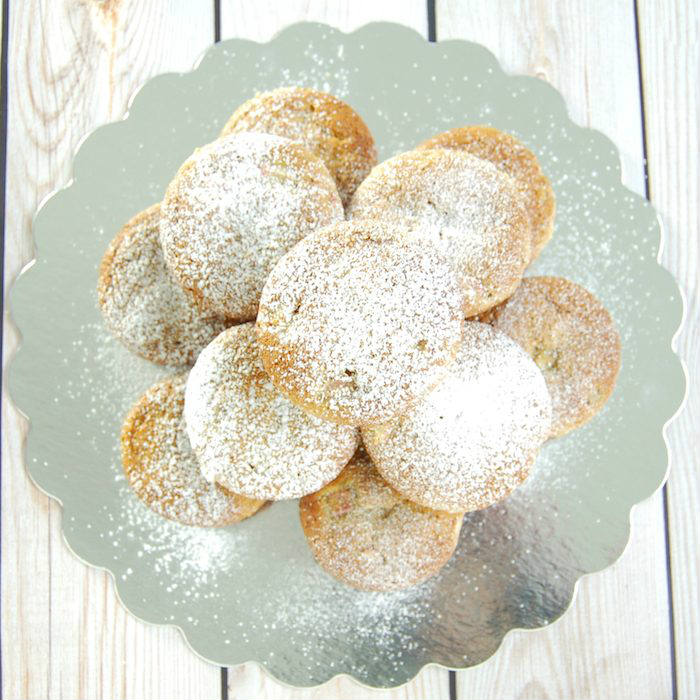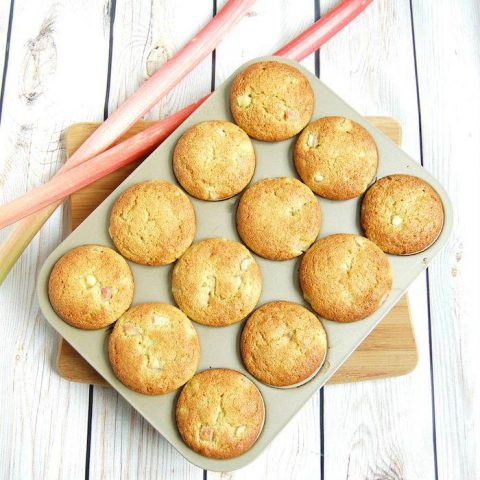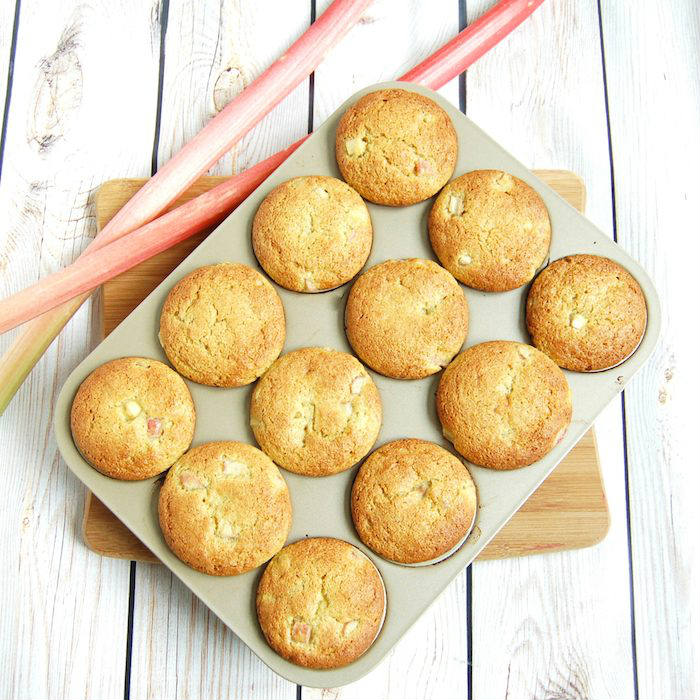 Rhubarb Ginger Lemon Muffins
Rhubarb, lemon zest and juice, and grated ginger add zing to these deliciously tart and sweet muffins perfect for spring bridal and baby showers, Mother's Day, or any brunch. Made with garbanzo bean (chickpea) flour and unsweetened applesauce, these muffins are also gluten-free, dairy-free, and a good source of protein and fiber.
Ingredients
Dry Ingredients:
2 cups garbanzo bean (chickpea) flour
2/3 cup sugar
2 teaspoons baking powder
1 teaspoon baking soda
1/2 teaspoon salt
Wet Ingredients:
2 large eggs
1/2 cup canola oil
1/2 cup natural unsweetened applesauce
1 teaspoon vanilla extract
1 tablespoon lemon zest, (from ~1 large lemon)
2 tablespoons lemon juice
1 teaspoon freshly grated ginger
1 1/2 cups diced rhubarb, (~2 stalks)
Powdered sugar, (optional)
Instructions
Preheat oven to 375° F. Line a 12-cup muffin tin with liners or spray with cooking spray.
In a large bowl, combine flour, sugar, baking powder, baking soda, and salt.
In a medium bowl, whisk together eggs, oil, applesauce, vanilla, lemon zest, lemon juice, and ginger.
Add wet ingredients to dry ingredients and stir until just combined, being careful not to over-mix. Fold in rhubarb.
Scoop 1/3 cup of batter into each muffin cup. Bake for 20 to 25 minutes, until golden brown on top and a toothpick inserted into the center of muffins comes out clean.
Remove from the oven and let cool for 5 minutes before transferring to a wire rack to finish cooling. Serve sprinkled with powdered sugar, if desired.
Notes
Store in an airtight container lined with paper towels on the bottom and top for 2 to 3 days.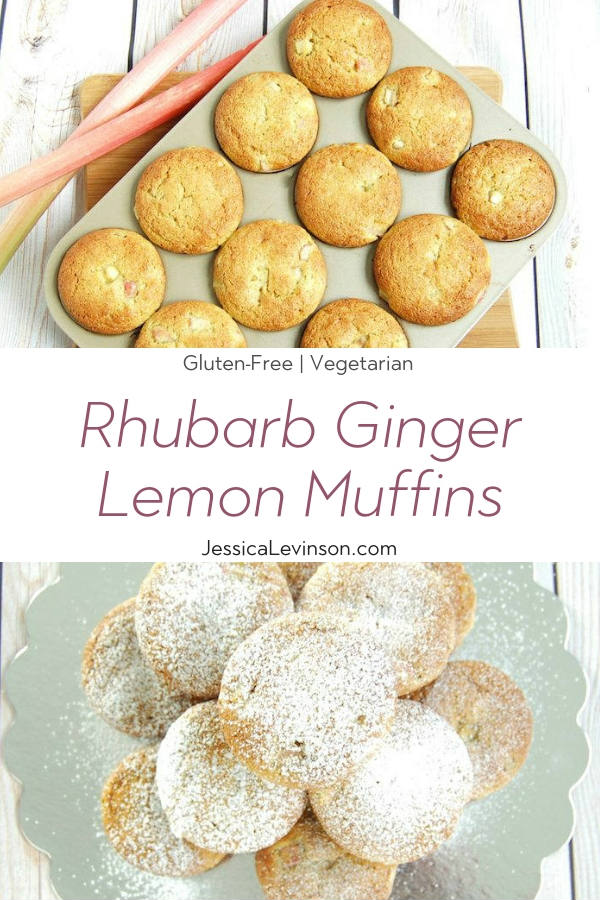 Have you cooked with rhubarb yet?
If so, what's your favorite rhubarb recipe?
Share with me in the comments below.