Chocolate Pear Bread
December 8, 2015
Rich Chocolate Pear Bread looks decadent, but it's full of good-for-you ingredients. A delicious addition to brunch or a holiday party.

This post was originally sponsored by Chobani as part of a partnership. I was compensated for my time, but as always all opinions are my own.
Chocolate and peanut butter are a well known and loved combo. Same for chocolate and strawberries. But chocolate and pears? I bet that pairing (no pun intended!) isn't the first thing that comes to your mind. Well, I'm here to tell you it's time you give it a try. Preferably in the form of this Chocolate Pear Bread.
Preparation & Ingredients
I'm not a big baker, but quick breads are easy enough, and as the name suggests, they don't take a lot of time. The formula is pretty foolproof – whisk together dry ingredients (generally flour, sugar, some combo of baking powder/baking soda, and any spices you include), whisk together wet ingredients (generally oil, eggs, and vanilla), and then mix the two together until combined.
The key with quick breads is to make sure you don't overdo it on the mixing – go too wild with the whisk and you risk a tougher end product.
This Chocolate Pear Bread has the extra step of folding in chopped up pears and lining the top of the quick bread with sliced pears for a decorative touch. I've made this same recipe in a round baking pan and used more pear slices on top, arranged in concentric circles like you would do when making an apple tart. That makes for an even prettier presentation, and is more cake-like, but it also takes a wee bit more time.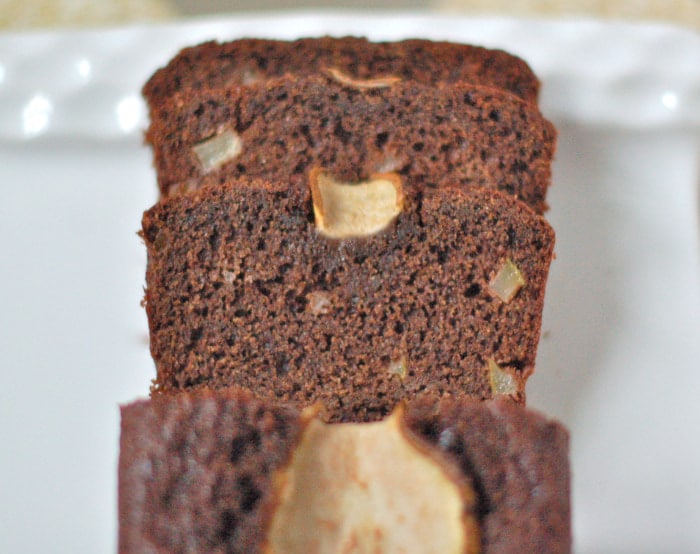 The quick bread form of this chocolate pear bread is perfect for weekend brunch. It's also a nice addition to the office holiday party or a homemade gift when dining at a friend's house. Or you can simply make it to enjoy on your own with a cup of coffee or tea (or a glass of milk for the kids).
Nutritional Goodness of Chocolate Pear Bread
While my Chocolate Pear Bread looks and tastes decadent, you'll be surprised by the nutritional goodness it provides.
It's a good source of calcium thanks to the inclusion of Greek yogurt, which makes it super moist and satiating.
It's also a good source of fiber thanks to whole grain flour and fiber-rich pears.
Are you ready to try this chocolate pear flavor combo? Here's the recipe!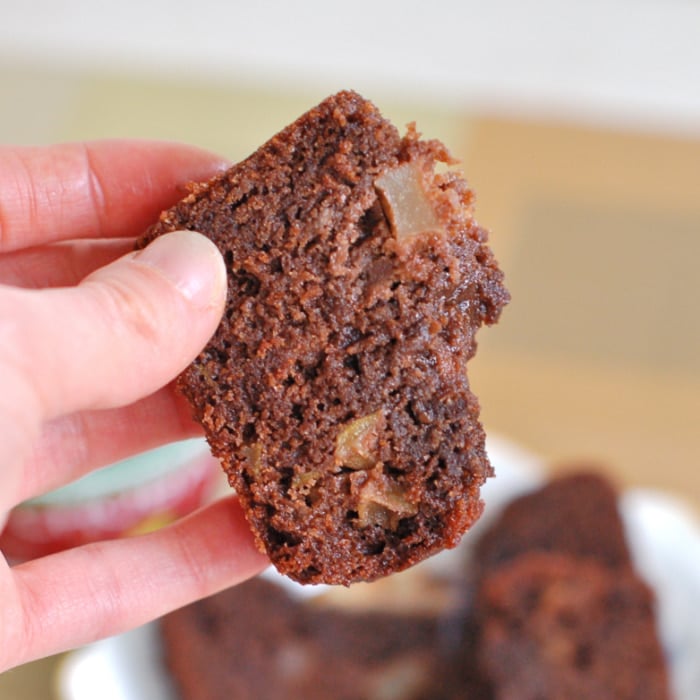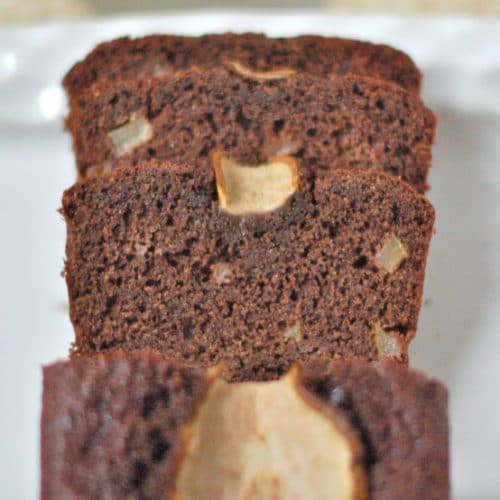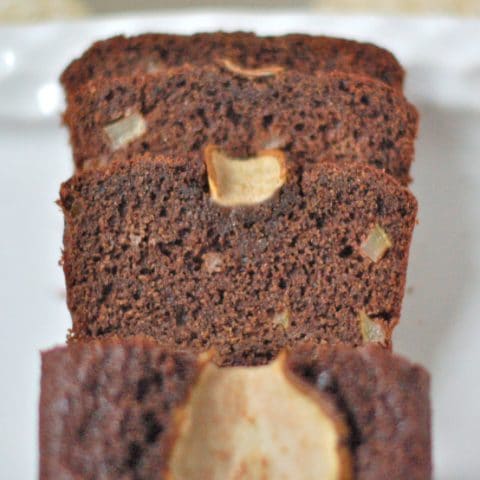 Chocolate Pear Bread
Total Time:
1 hour
15 minutes
This rich chocolate quick bread studded with sweet pears is easy to make, moist, and delicious. Plus it's a good source of fiber and calcium.
Ingredients
Dry ingredients:
1 1/2 cups white whole wheat flour
1/3 cup unsweetened cocoa powder
1/2 cup + 2 teaspoons sugar
1 teaspoon baking powder
1/2 teaspoon baking soda
1/4 teaspoon table salt
1/2 teaspoon cinnamon
Wet Ingredients:
2 large eggs
1 teaspoon vanilla extract
1/2 cup canola oil
5 ounces plain, non-fat Greek yogurt
1 cup chopped pears, (pear should be ripe, but firm)
2 to 3 medium-thick slices of pear
Instructions
Preheat oven to bake at 350 degrees F. Grease a loaf pan with cooking spray and set aside.
In a large mixing bowl, whisk together flour, cocoa powder, sugar, baking powder, baking soda, salt, and cinnamon.
In a small mixing bowl, whisk together eggs, vanilla, and oil until smooth. Add the yogurt and whisk again until smooth.
Make a well in the dry ingredients and gradually mix in the wet ingredients. Do not overmix. Fold in the chopped pears. Batter will be thick.
Pour batter into greased loaf pan and make a row of the sliced pears down the center of the loaf. Bake for 55-60 minutes, until a toothpick inserted into the center comes out clean.
Remove from oven and rest for about 10 minutes. Run a knife around the edges of the loaf and turn cake onto a wire rack to let cool completely.
Nutrition Information:
Yield:

15
Serving Size:

15 Servings
Amount Per Serving:
Calories:

171
Have you ever tried the combination of chocolate and pears?
What's your favorite chocolate pairing?
Share with me below!