Crispy Cauliflower Rice (aka Cauliflower Concón)
March 18, 2015
Crispy Cauliflower Rice sauteéd with burnt onions, garlic, and cilantro is a vegetarian, grain-free, nutritious, and delicious way to cook the vegetable of the year!

This post was updated February 2020
Cauliflower Everything
Cauliflower is hot! No doubt it has been the most talked about vegetable over the past year. I love roasting cauliflower as a side dish, and my Golden Roasted Cauliflower is a big hit with the kids, especially when I call it popcorn! I've also made a pureed soup with cauliflower as the base. But cauliflower is being used in a variety of other ways too.
Everything from cauliflower steaks, mashed cauliflower, Buffalo cauliflower wings, and cauliflower pizza crust have been made and cauliflower "rice" is becoming all the rage. I have been intrigued, as I often am when I see new culinary trends online, but I hadn't set out to try some of these myself until a few weeks ago, when I finally got on the cauliflower "rice" bandwagon.
As I planned my menu for the week, I decided to make Ropa Vieja, a traditional Cuban dish with pimiento peppers, olives, braised meat, and cilantro. When I made it once before, my children's Dominican babysitter made a side dish of burnt rice, also known as concón. I have had burnt rice on many occasions (as I have previously mentioned, cooking rice hasn't always been my strong suit), but concón is not just any burnt rice – it's a delicacy in the Dominican Republic (where we happened to be last week!).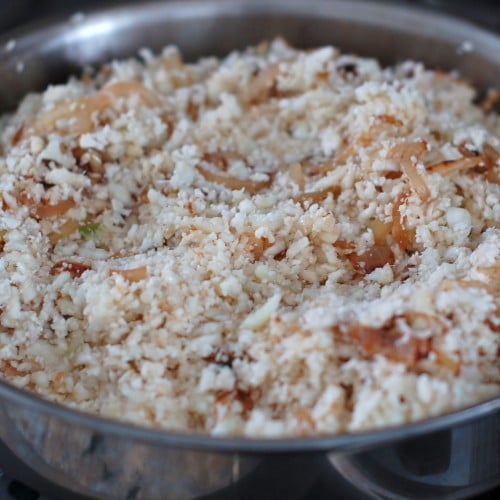 Cauliflower Concón
Concón is the crunchy rice at the bottom of the pot, the part most people complain about when cleaning said pot, but the part of I like best. I know I'm not alone – Serena at Teaspoon of Spice recently wrote about this for her USA Rice Recipe ReDux contest entry!
Anyway, back to the ropa vieja with concón. When I decided to remake this dish, I figured what better time than now to try making cauliflower rice in the style of burnt rice – neither of which I had ever made. The babysitter told me how she makes traditional concón and from there I came up with this recipe for Cauliflower Concón, aka Crispy Cauliflower Rice.
I had a feeling my husband was going to be skeptical about this recipe as he often is when I makeover tried and true recipes, but it turned out he loved the cauliflower rice, as did the guests we had for dinner that night. Like actual rice, it's tasty and nutritious on it's own, but it's especially fabulous for soaking up sauces, like that from a hearty stew like ropa vieja! The Crispy Cauliflower Rice was such a hit that the following week I made it again. And I have no doubt it will be a staple side dish in my house for a long time to come.
Update: Since making this Crispy Cauliflower Rice, I have experimented with cauliflower rice in a variety of other ways. Here are some other recipes to try: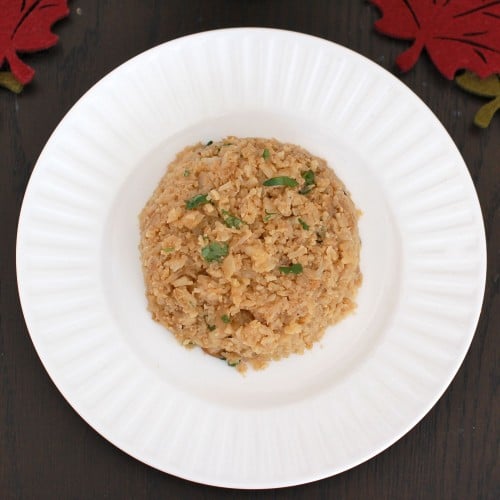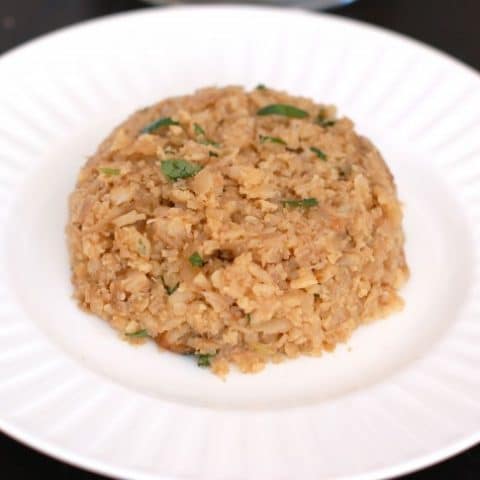 Crispy Cauliflower Rice (aka Cauliflower Concón)
Crispy Cauliflower Rice is a modern take on the traditional Dominican side dish, Concón. A perfect side for vegetarians and grain-free diets.
Gluten-Free, Grain-Free, Vegan, Nut-Free, Kosher
Ingredients
2 heads cauliflower, cut into florets (or 1-2 bags riced cauliflower)
1 tablespoon canola oil
2 large onions, sliced into half moons
2 tablespoons minced garlic
1 teaspoon coriander
1 cup chopped cilantro
2 tablespoons lime juice
1/2 teaspoon Kosher salt
Freshly ground pepper
Instructions
In a food processor, pulse cauliflower florets until finely grated and rice-like granules.
Heat canola oil in a straight-sided sauté pan over medium-high heat. Sauté onions for 8 minutes, then lower heat to medium and continue cooking, stirring often, for another 3-5 minutes until onions are nicely browned. Add garlic, coriander, and cilantro and stir for 1-2 minutes until fragrant and cilantro is wilted.
Add riced cauliflower to pan and carefully toss with onions. Cover and cook 15 minutes. Stir in lime juice, salt, and pepper. Remove from heat and serve hot.
Recommended Products
As an Amazon Associate and member of other affiliate programs, I earn from qualifying purchases.
Nutrition Information:
Yield:

12
Amount Per Serving:
Calories:

48
Sodium:

111mg
Carbohydrates:

8g
Fiber:

2.5g
Sugar:

3g
Protein:

2g
Have you ever made cauliflower rice?
What's the most interesting way you've prepared cauliflower?