Roasted Cauliflower Soup with Pistachio Harissa Pesto {Recipe}
March 18, 2014
I am often asked how I come up with my weekly menus. The answer is a variety of sources: Ingredients in my fridge to use before they spoil (e.g. cilantro, leftover coconut milk); what's in season and is a good price at the supermarket or farmers markets; the theme for the monthly Recipe ReDux or a recipe contest I want to enter; recipes I find online that inspire me. So a couple of weeks ago when I found cauliflower on sale at ShopRite, I didn't want to pass up the opportunity to get this vitamin C-rich vegetable, but wasn't so keen on making a side dish of roasted cauliflower again (although it's a family fave!). While at the supermarket I thought about making a roasted cauliflower soup, but knew that I would want something with it to add some pizzaz. I did a quick Google search to get some inspiration, and one of the first results was for EA Stewart's Creamy Cauliflower Soup with Pistachio Harissa Pesto. 
EA is a fellow registered dietitian and Recipe ReDuxer and the author of The Spicy RD blog. I had some different ideas for my soup, but EA's pesto sounded amazing and like the perfect garnish for the soup. (Plus, I had lots of pistachios leftover from the Pistachio Health Institute Recipe ReDux contest.) I also loved that I would be able to make a recipe from someone who I know and socialize with over Twitter and various social media sites! I made a couple of changes to EA's Pistachio Harissa Pesto recipe, one in particular was using sriracha instead of red pepper flakes, which I knew would make my husband happy – it's his latest obsession!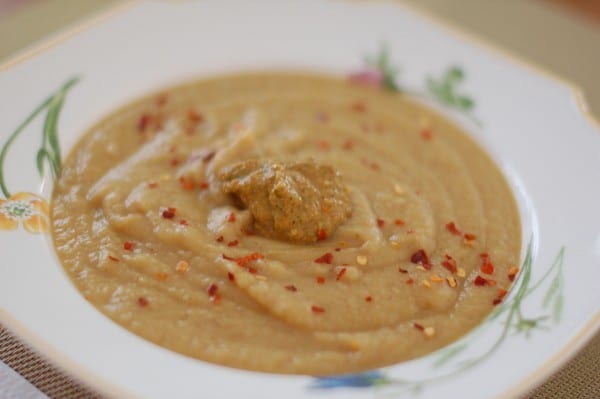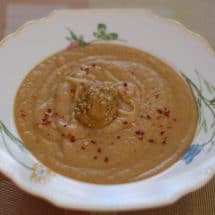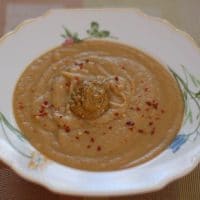 Roasted Cauliflower Soup with Pistachio Harissa Pesto
Total Time:
1 hour
5 minutes
Roasting cauliflower brings out its sweetness and the addition of parsnips adds creaminess without any dairy. Mix in the spicy, nutty pesto for an added flavor boost!
Ingredients
For the Soup:
2 heads cauliflower, chopped into florets
3 to 4 parsnips, peeled and cut into chunks (about 1 1/2 cup total)
2 tablespoons + 1 teaspoon olive oil, divided
1 large yellow onion, chopped
4 garlic cloves, minced
2 quarts low-sodium vegetable or no-chicken broth
2 cups water
3/4 teaspoon Kosher salt
Freshly ground black pepper or white pepper
1/2 teaspoon ground cumin
1 teaspoon white wine vinegar
1 tablespoon lemon juice
For the Pistachio Harissa Pesto (adapted from The Spicy RD, EA Stewart):
1/2 cup canned or boxed chopped tomatoes
1/2 cup shelled pistachios
1/2 cup chopped fresh cilantro, plus extra for garnish
1/4 cup olive oil
1 teaspoon sriracha sauce, or more if you prefer it spicier
1 teaspoon ground coriander
1 teaspoon ground cumin
1/2 teaspoon Kosher salt
Red pepper flakes for garnish, optional
Instructions
For the Soup:
Preheat oven to 400 degrees F. Toss cauliflower and parsnips with 2 tablespoons olive oil and spread on a large foil-lined baking sheet. Roast for 15 minutes, tossing halfway through cooking time.
Heat 1 teaspoon olive oil in a large soup pot over medium-high. Add onions and sauté 3-4 minutes until translucent. Add garlic and sauté 30 seconds more.
Transfer roasted cauliflower and parsnips to the pot. Add broth and bring to a boil. Reduce heat and simmer for 30 minutes. Remove from heat and, in batches, carefully transfer soup to blender or food processor. Puree until well-blended and no chunks remain.
Return pureed soup to the pot, add 2 cups water and the remaining soup ingredients. Simmer until soup is to desired consistency and heated throughout.
For the Pistachio Harissa Pesto:
Place all the pesto ingredients (except for red pepper flakes) in food processor and belnd until it's a smooth consistency.
Serve Roasted Cauliflower Soup topped with Pistachio Harissa Pesto. Garnish with cilantro and red pepper flakes.
 What inspires your menus?